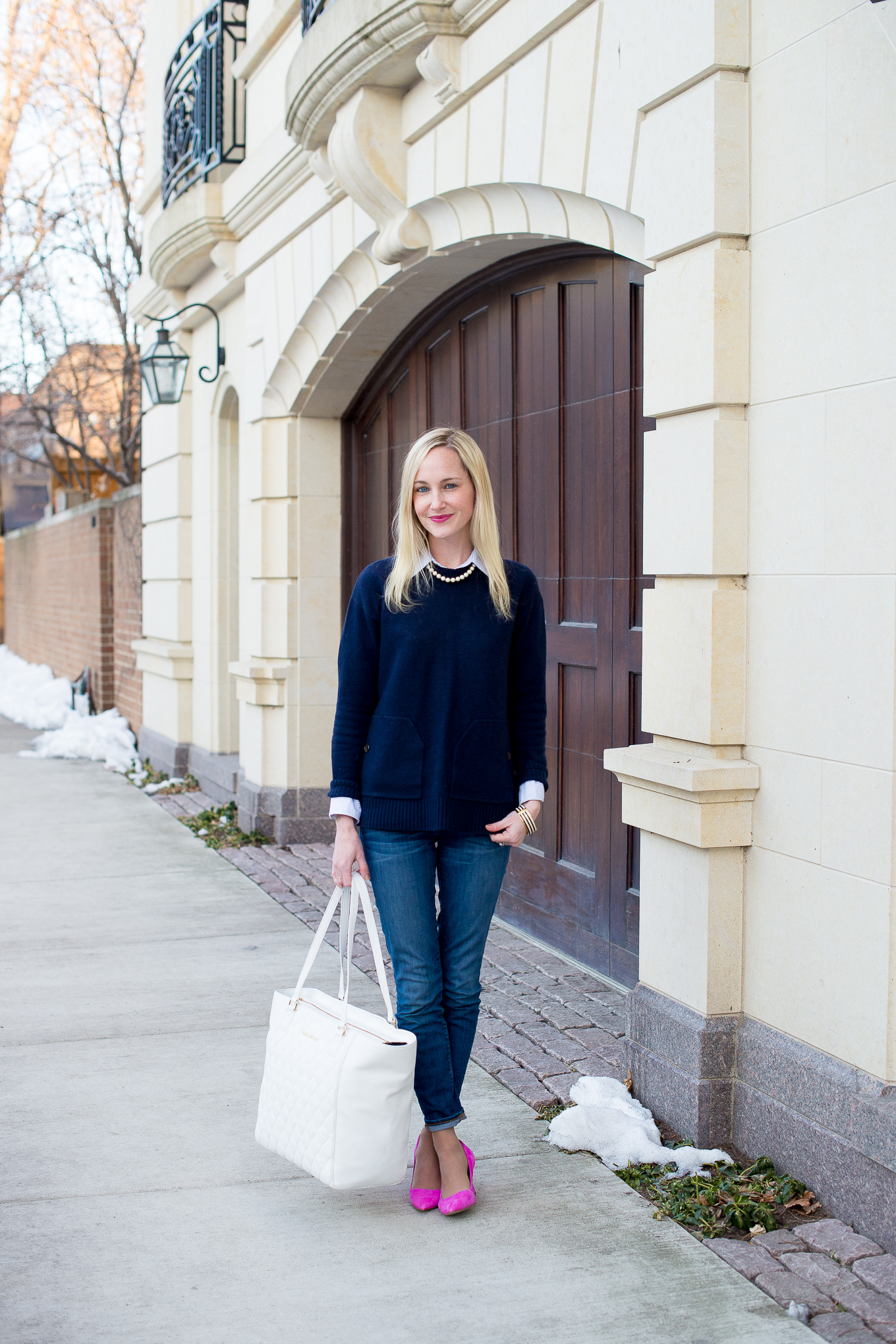 J.Crew Factory Sweater (On major sale! Take an additional 30 percent off with code "HURRYSPRING." One of my favorite sweaters this season.) / Vera Bradley Tote (c/o) / Ralph Lauren Oxford (On major sale! Such a steal!) / C.Wonder Pink Suede Pumps (Old, similar here, here, here, here and here) / Henri Bendel Bangle (c/o — Old, newer bangles here) / Kate Spade Pearl Necklace (Old, newer version here. And how cute is this one?!) / J.Crew Jeans (Mine are actually the old "Miller" wash, but the "Kelly" is very similar. And has a better name, hehe) and Pearl Earrings
Life has been crazy over the last few days. Actually, that's an understatement. All is well, but I'm exhausted and my head is cloudy. I feel like I have a zillion things to do and am being pulled in too many directions… so please excuse me while I take mental health day.
I used to be convinced that taking breaks during stressful times was pretty much the worst thing you could do for your sanity. Who wants to feel even more buried upon returning? Now, though, I realize that they're sometimes necessary, and that they can give you that extra bit of energy to power through. They also help prevent meltdowns. (And I've definitely had my fair share of meltdowns over the years. Mom and Dad can attest to that, haha. Sorry, guys.)
So what's on the agenda today? Lunch with a best friend from NYC who's in town for business. And that's it.
The to-do list will be there tomorrow, right? ;)