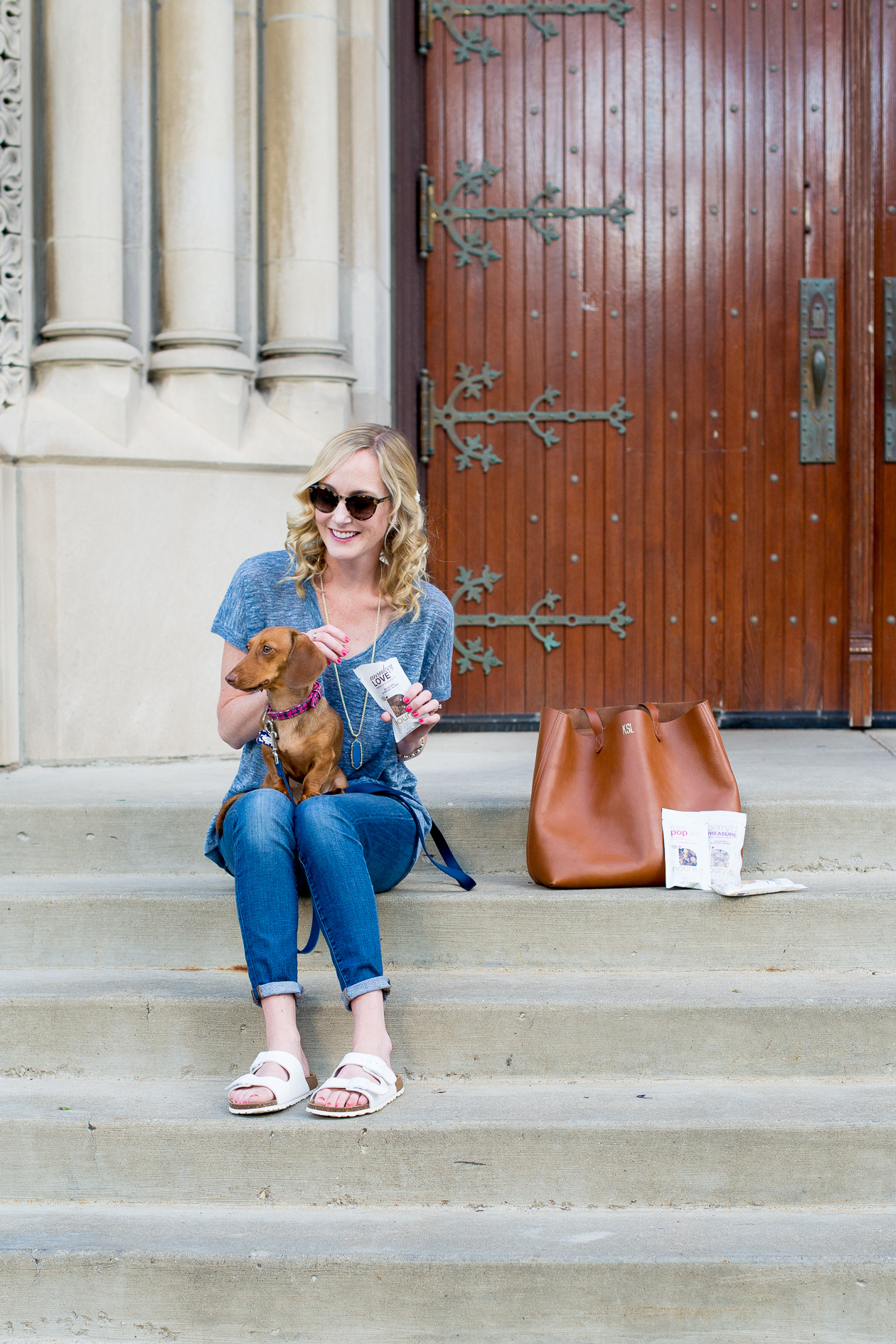 Use code "KELLYINTHECITY" to take 10 percent off your Nourish Snacks order now through the end of July.
I love working from home. I know that many people find it difficult, and I totally understand why. But it really suits me. (I mean, how could it not suit me after working in the South Bronx for so long?!)
That said, working from home comes with its fair share of challenges, too. For one, I'm a night owl, and the rest of the world (Mitch included) is not. And then there's the whole finding-the-motivation-to-shower-at-a-normal-hour thing. Why is it SO HARD to get myself in there before 2 p.m.?!
Finally, there's the issue of healthy eating.
While I'm grateful that I don't struggle with my body image, I definitely struggle with maintaining an appetite as a result of losing a good deal of my sense of smell–apparently very tied to appetite–from chronic sinus infections and an operation I had when I was a little girl. (Or that's what my doctor thinks, at least.)
I know, I know. Sounds great, right?! Not so much, though. I rarely feel hungry–or feel the desire to eat–yet I get ridiculously sad, grumpy and overwhelmed when I don't eat. And I get sick a lot.
In the Bronx, making sure I was eating right was a bit easier. Mitch and I ate breakfast together on the go while commuting, and we ate lunch every day with the fifth period lunch staff. And Mitch made sure I got a snack during the commute home. (Best husband ever.) Likewise, we always had dinner together.
Now, though, my schedule is beyond lax, Mitch and I don't spend our workdays together, and neglecting healthy eating is the norm. I mean, if there's a pile of candy bars sitting on my desk, I'll 100-percent eat them. But that's not exactly healthy, you know? And don't even get me started on my summer schedule. Talk about inconsistency and unhealthy eating habits!
A few weeks ago, Nourish Snacks somehow sensed that I was struggling, and sent me a bunch of their snack packs.
HOLY HAPPINESS, guys.
Nourish Snacks are so good. I love that they're made with simple yet wholesome ingredients, making them seriously healthy. They're also packed with nutrients like protein, fiber and antioxidants… and they're gluten- and dairy-free. The 100-percent natural snacks are packaged in fewer-than-200-calories pouches, too. And did I mention how amazingly good they taste?! (I actually look forward to snacks. It's a miracle!)
Honestly, Nourish Snacks have been a life-changer for me. Because they keep me energized and focused, I tuck a couple of them in my tote whenever I leave my apartment, and I keep a basket of 'em on my desk at home. (What?! Don't judge, haha.) They're the perfect healthy "emergency food" for when I feel myself fading, and they also remind me to stop, take a break, and make a meal.
Founded by NBC's TODAY Show Nutritionist Joy Bauer, Nourish Snacks can be found in select Starbucks (I see 'em all over Chicago and New York!) or ordered online. (Side note: Joy Bauer is also a New York Times best-selling author, a columnist for Woman's Day Magazine, the official nutritionist of the New York City Ballet, and the creator of JoyBauer.com. Inspiration, much?!)
At this point, I seriously think I've tried 'em all. But my favorites–as evidenced by these photos–are "Berry'd Treasure," "Miss Popular,"  Mr. Popular," and "Monkey Love." While I highly suggest trying the Sampler Collection to find your personal favorites, I'm also a big fan of the Office Collection (used by Tripadvisor, Dropbox and AOL), College Collection and Beach Collection. Shipping is free when you spend more than $25!
Have you tried Nourish Snacks? If not, pick some up the next time you're at Starbucks… or place an order online! Use code "KELLYINTHECITY" to take 10 percent off your order now through the end of July. And be sure to check out the Nourish Blog. I loved seeing Hallie in this post, and I couldn't get enough of these summer recipes!