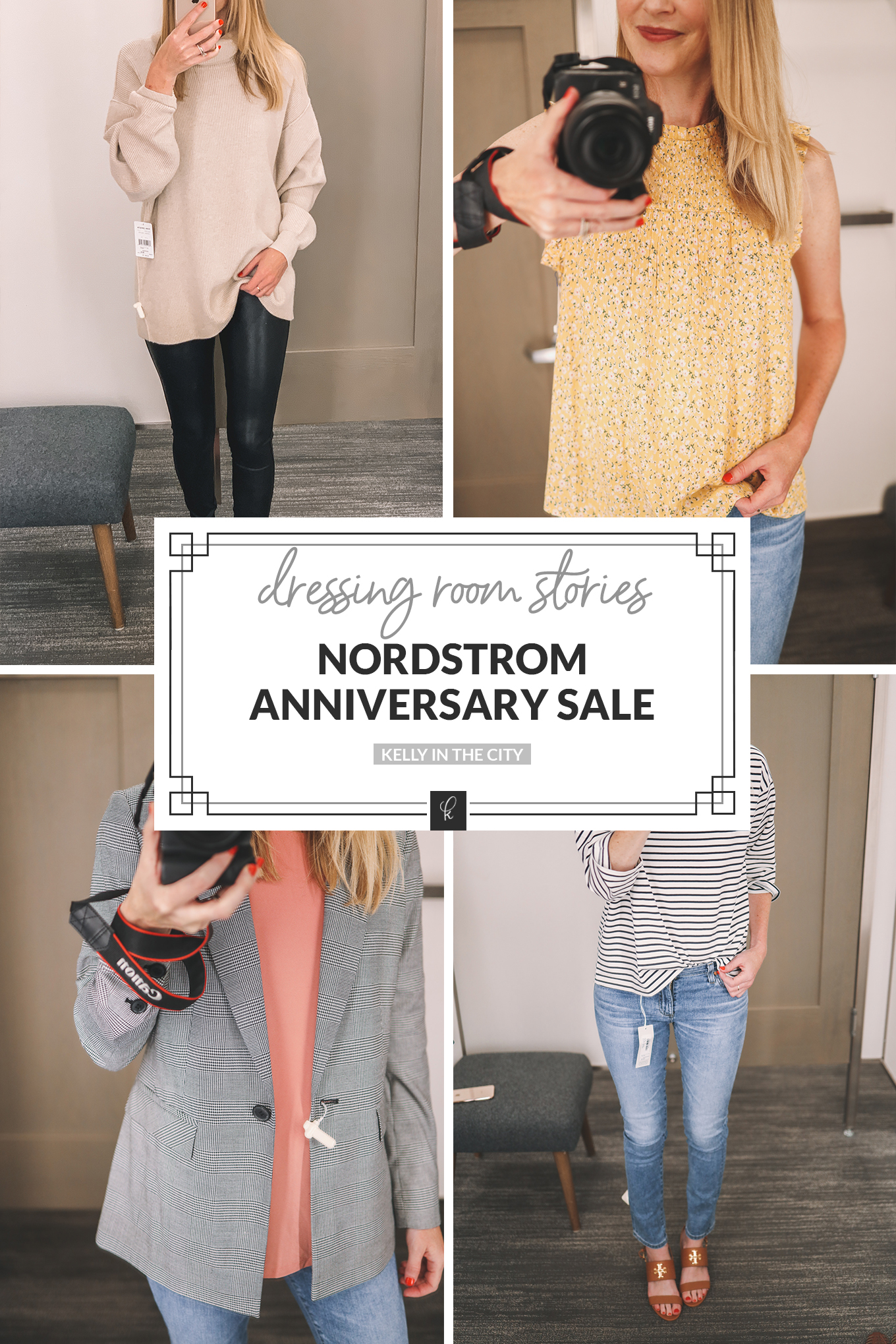 Okay, Friends! I'm back with a little Nordstrom Anniversary Sale "try-on session," where you'll be able to see how everything I tried in-store actually looked. I'm also giving away $200 to shop the second day of the sale!
Two things, though, before we get to it:
My iPhone is on the fritz. Right now, it can only take photos at "2x," and even then, it only actually lets me take the pic about half the time. Haven't had a chance to bring it in to get fixed or replaced, so I brought my regular camera and travel lens into the dressing room. 🙈 At least it makes for some funny pics, though, right?!
To enter today's $200 giveaway, simply tell me about what you're up to this weekend in the comment section at the end of this post! (The Larkin Fam is headed to our gym's rooftop tonight to watch a movie together. We've never done this before and we're SO excited!) Also, be sure to leave your email in the following non-spamming format so we can get in touch with you: kelly [at] gmail [dot] com.
Edit: Congrats to Kristie H. for winning this giveaway!
And congrats to Maggie M. and Katie M. for winning the last two giveaways! (Previous posts: Sneak Peek of the Nordstrom Anniversary Sale and "The Preppy Girl's Guide to Shopping the Nordstrom Anniversary Sale.")
Aaaaand here's the try-on session: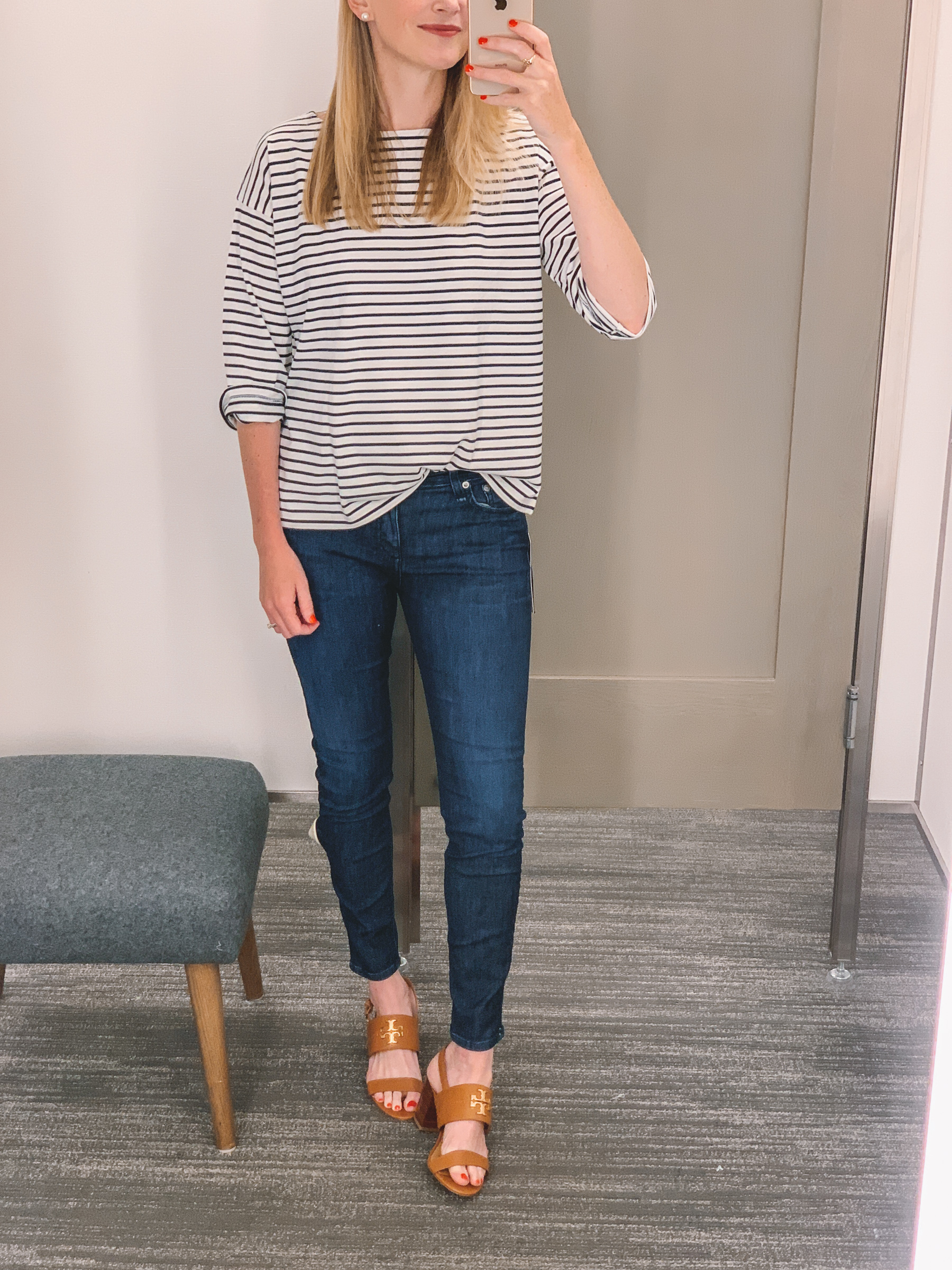 Wore this in a lot of these photos. Love it but be aware that it runs BIG. I wore an XXS and I usually like my tops/sweaters in small/medium sizes!
I bought these the other day in the store because I knew I'd be able to wear them with so many of my outfits through the end of the season and even into the beginning of fall. They're not a tight fit, so there's no risk of blisters… yet they don't fall off my feet. I went with my normal size and they're perfect.
Moving on from AG, haha, Rag & Bone always has amazingly soft and stretchy jeans, and the "Cate" pair is no exception. They were a bit longer on me than they are on the model which was nice, but still technically ankle cut. Probably the most versatile denim pick from the entirety of the sale! TTS.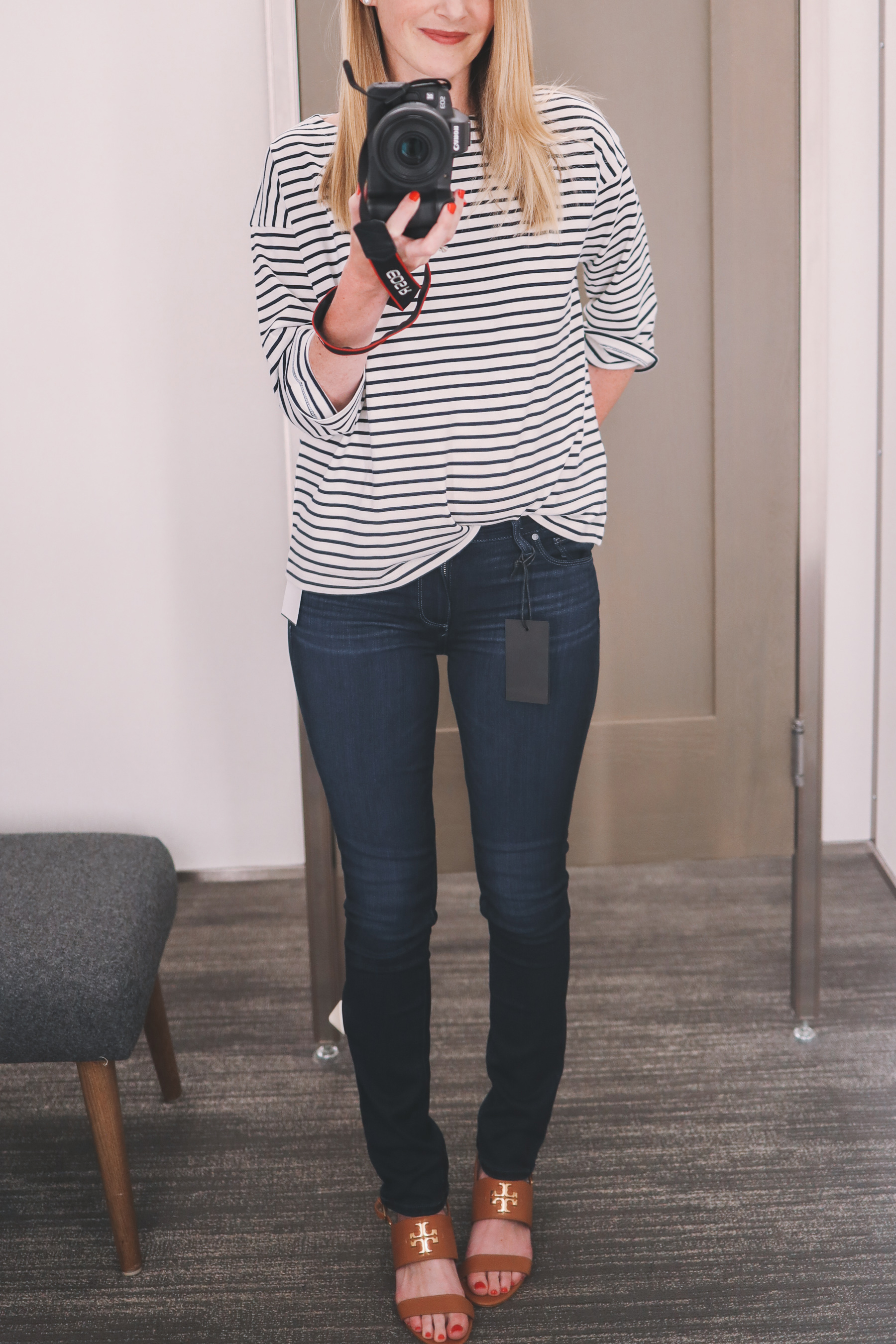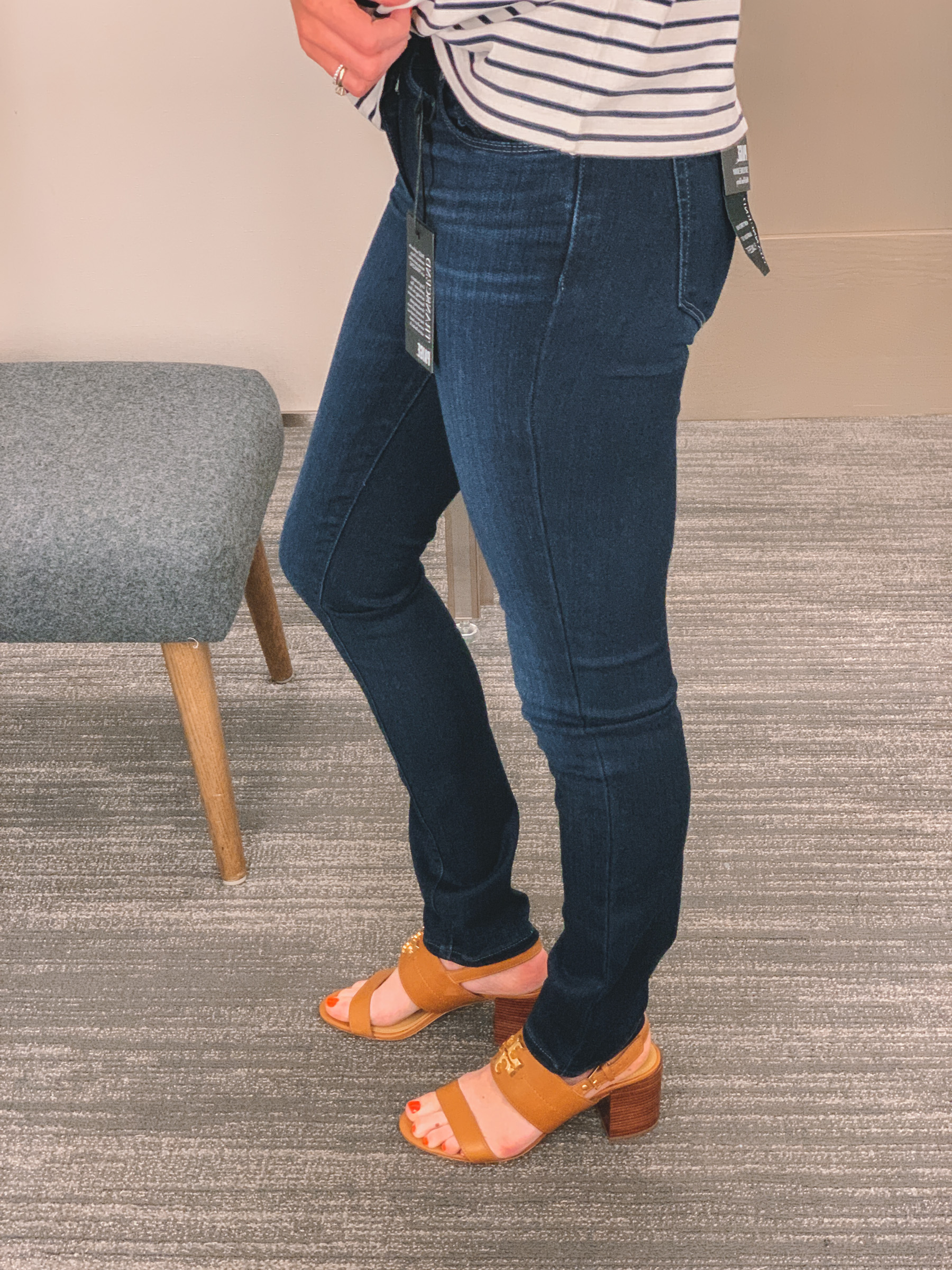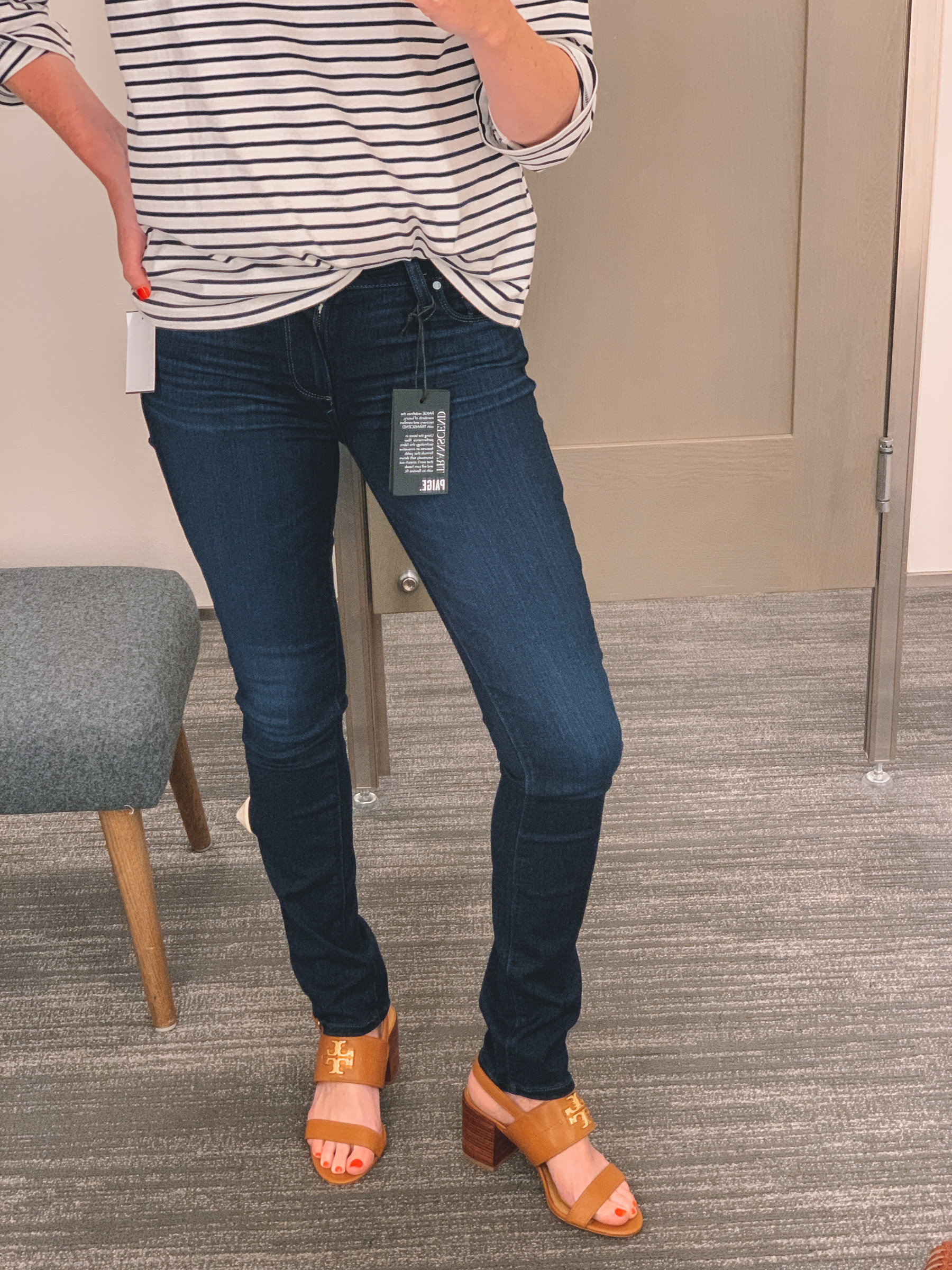 I'm going to go ahead and say pass on these. I thought that they were a little too tight around the waist, and that they were too loose in the legs. (Not tapered enough around the ankle, either.) I also would have had to hem them, and I hate having to hem jeans. 🙈 One more chore to add to the to-do list? No thanks, ha!
The Paige Verdugo Skinny Jean is definitely better. I guess I forgot to snap a photo of them, but they looked and felt SO much nicer–like they were made for me, and not a supermodel. Highly recommend that pair! They fit TTS.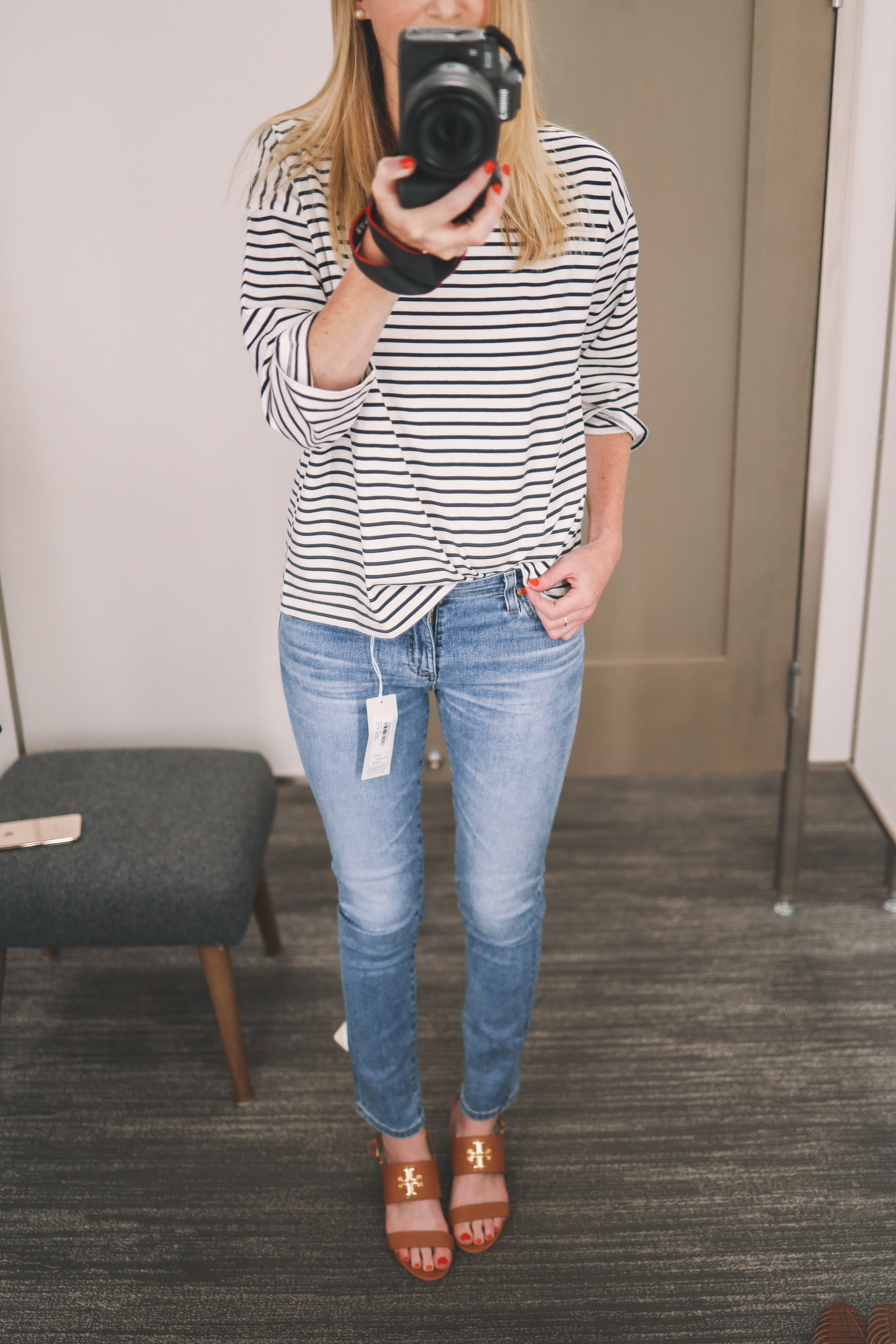 Took these home with me! They're so cute, they feature just the right amount of stretch, and they're perfect for weekends and/or "mommying." I also love that they're skinny but not skin-tight. They run TTS.
Shop all Anniversary Sale AG jeans here.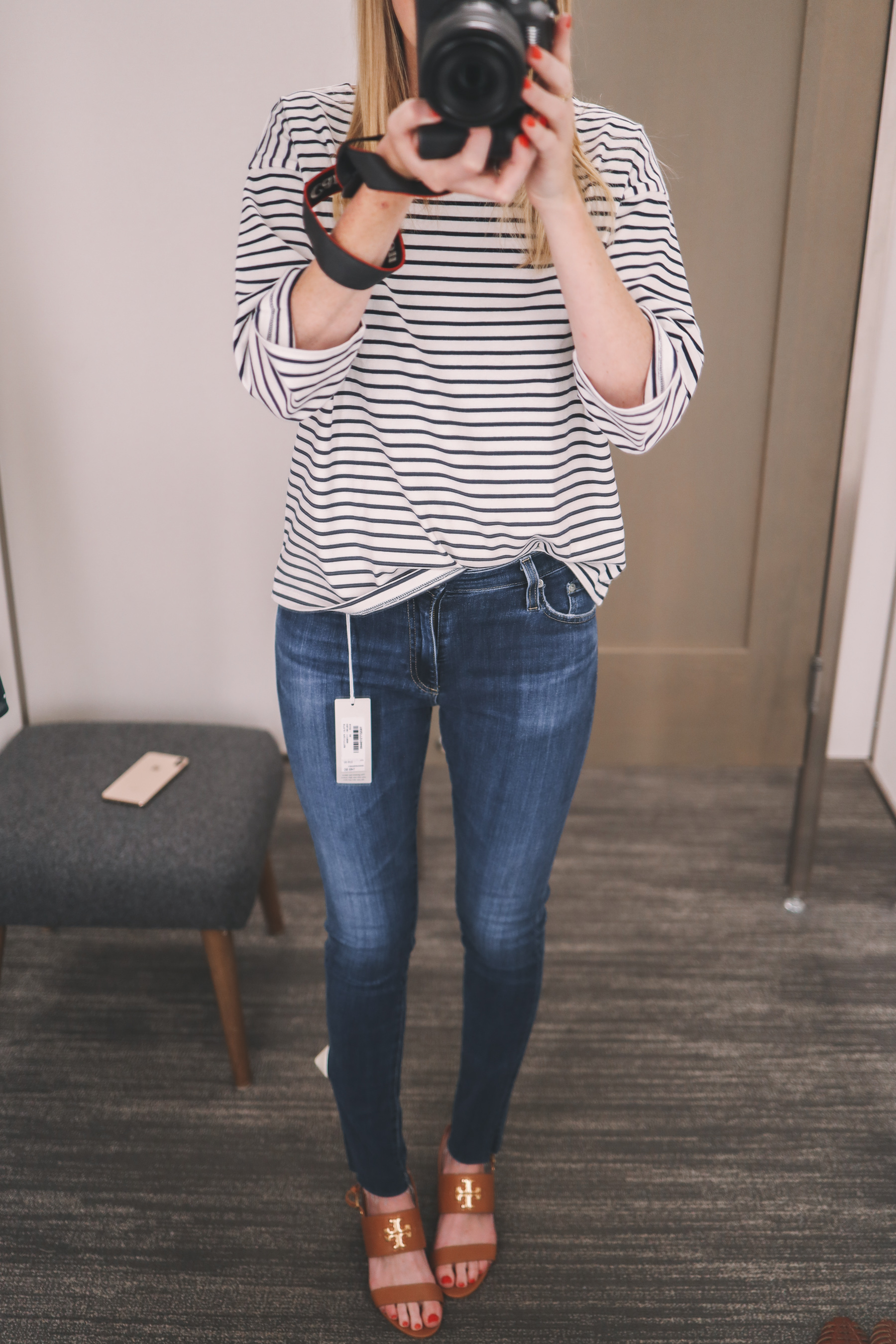 Clearly I'm AG all the way. ;) I'm not the biggest high-waisted fan, but these were actually comfy on me. I went up one size. I love the amount of stretch that AG puts into their jeans. It's just enough to make 'em super soft and comfy but not too much that they'll lose their shape throughout the day. Bottom line: you can't go wrong with any of the AG pairs that are included this year!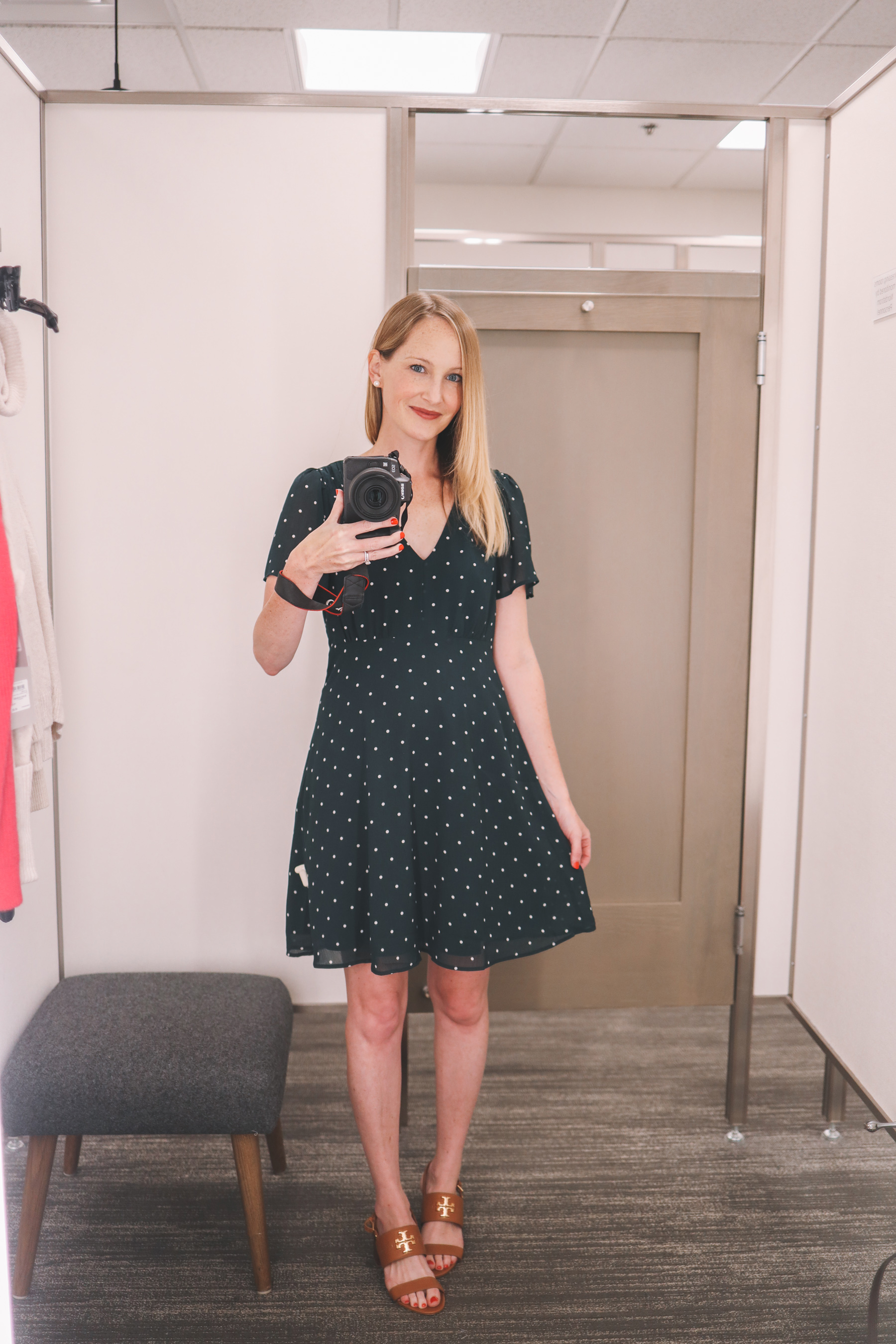 This one came home with me! I can't lie: At the moment, dresses don't look great on me postpartum, but BOY is it (finally) hot here in Chicago and I need a few that fit. This one really looked nice when I went up a size. (I wish it was an inch or two longer, but beggars can't be choosers. 😉)  You'll be seeing on the blog in an outfit post soon!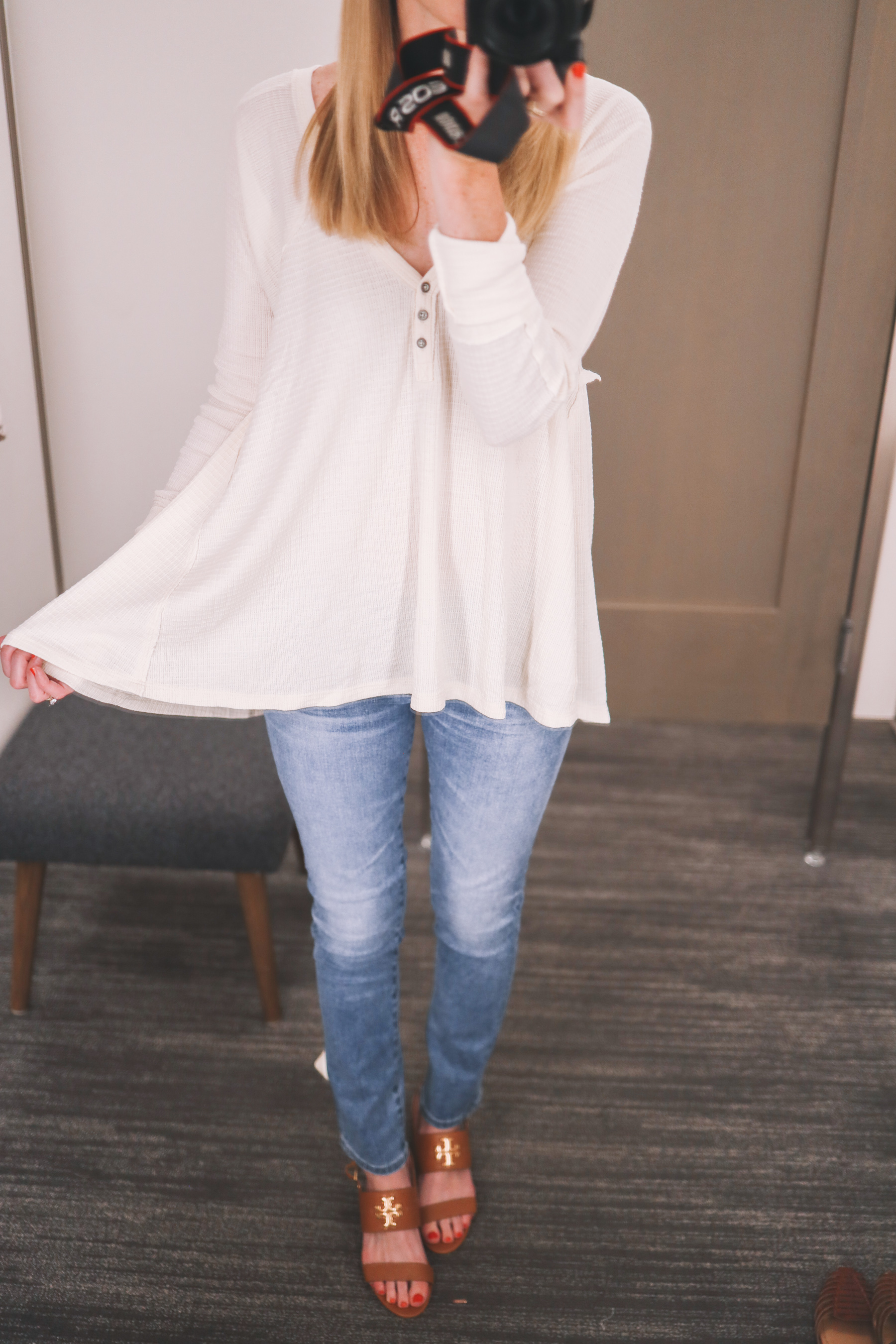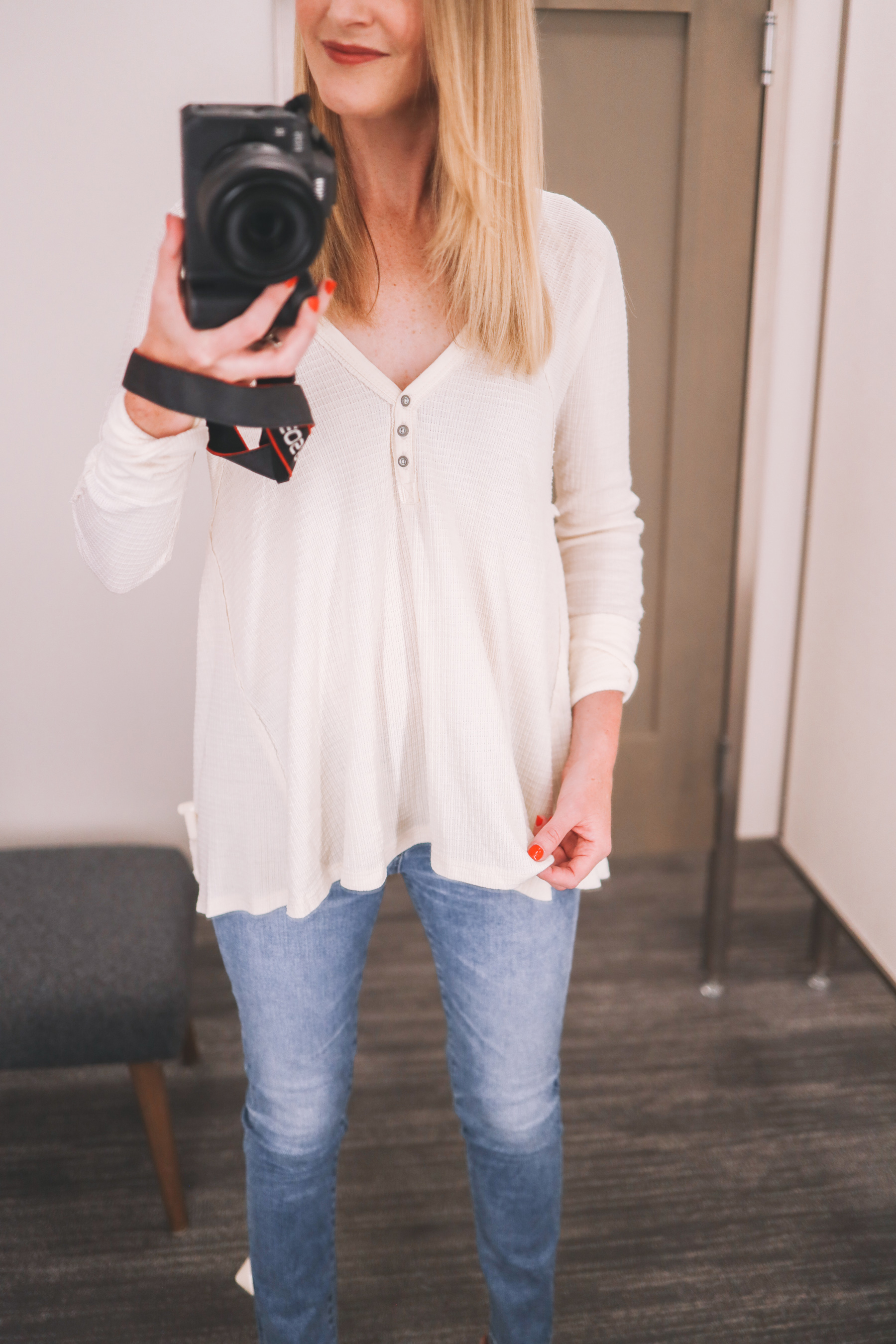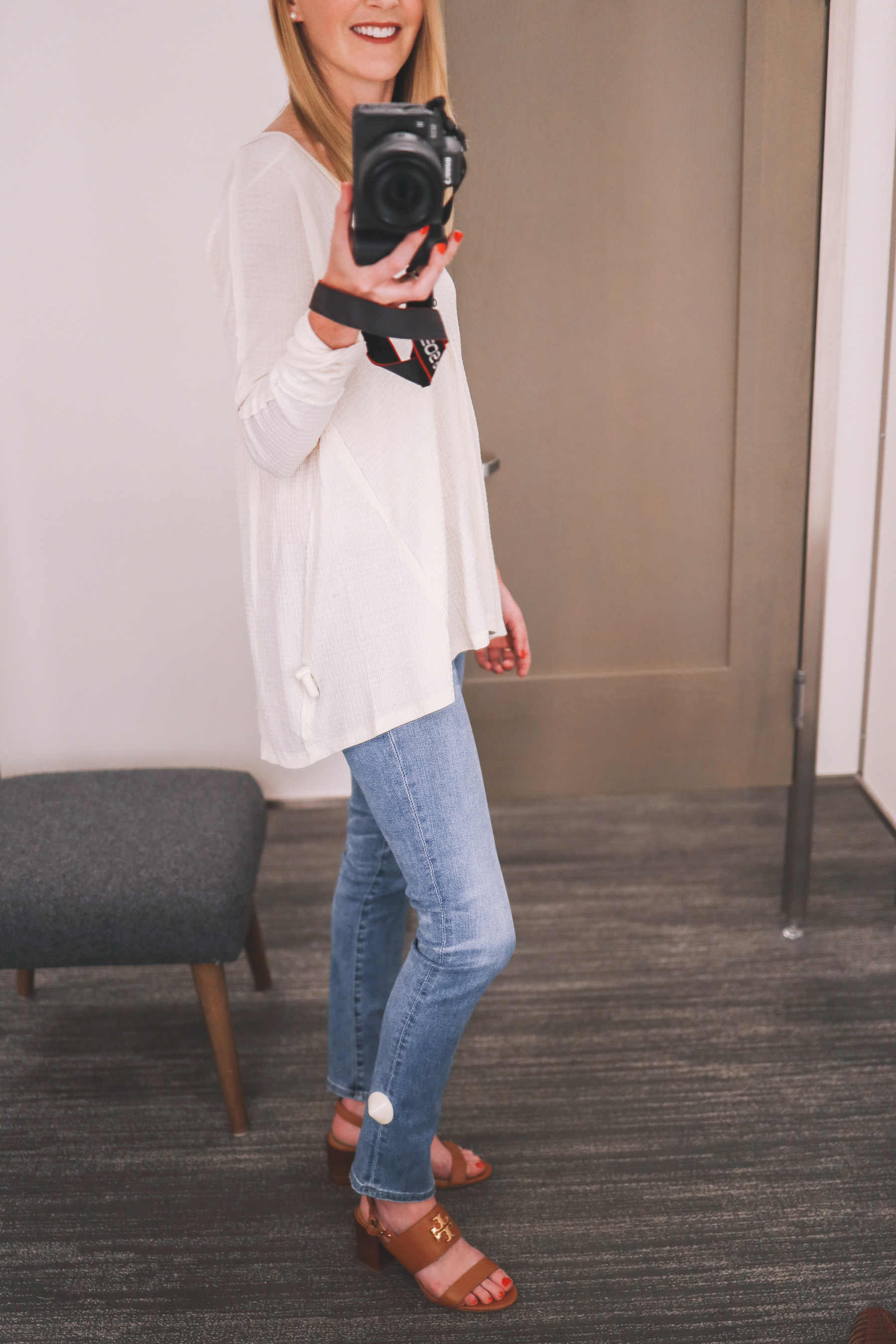 I probably wouldn't have gone for this if I'd only seen it online, but I adored it in person. It falls in all the right ways! Size down. I'm wearing the XS here and it's still very flowy! (I normally like my tops in a small or medium.)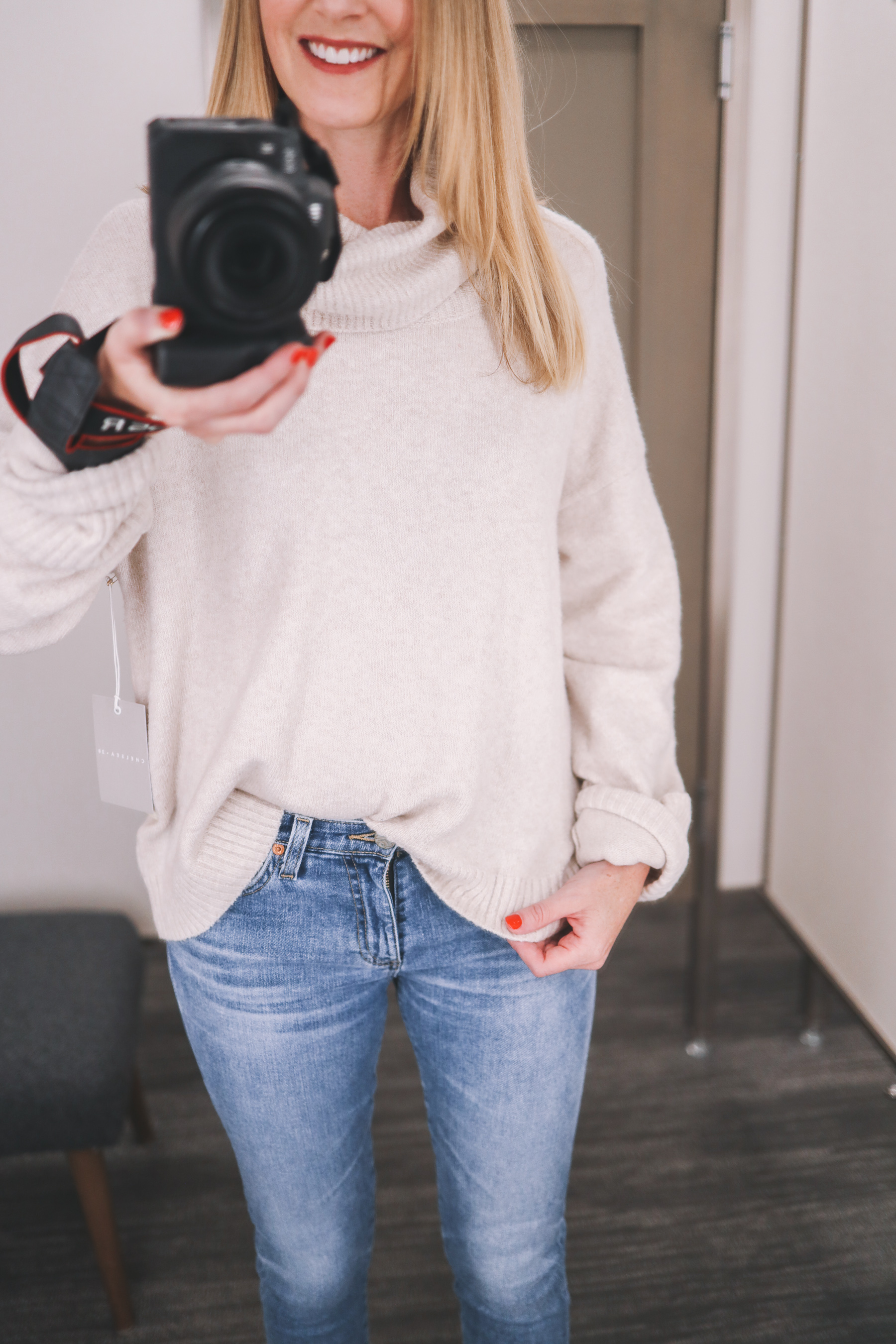 A great slightly oversized sweater! I'm wearing a size small here. Love the extra length on the arms and the general softness of the sweater. It looks adorable tucked into one side of your jeans/pants.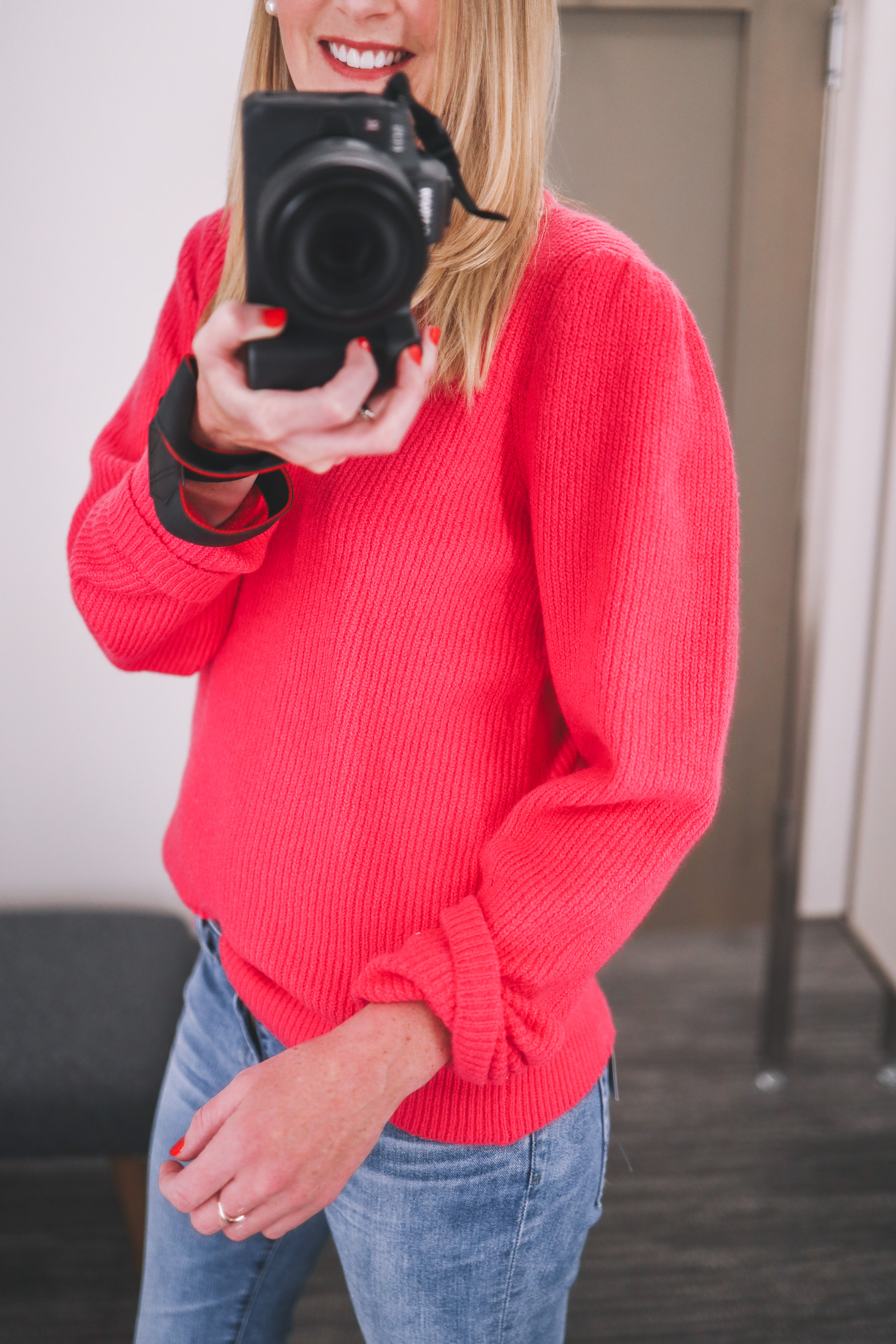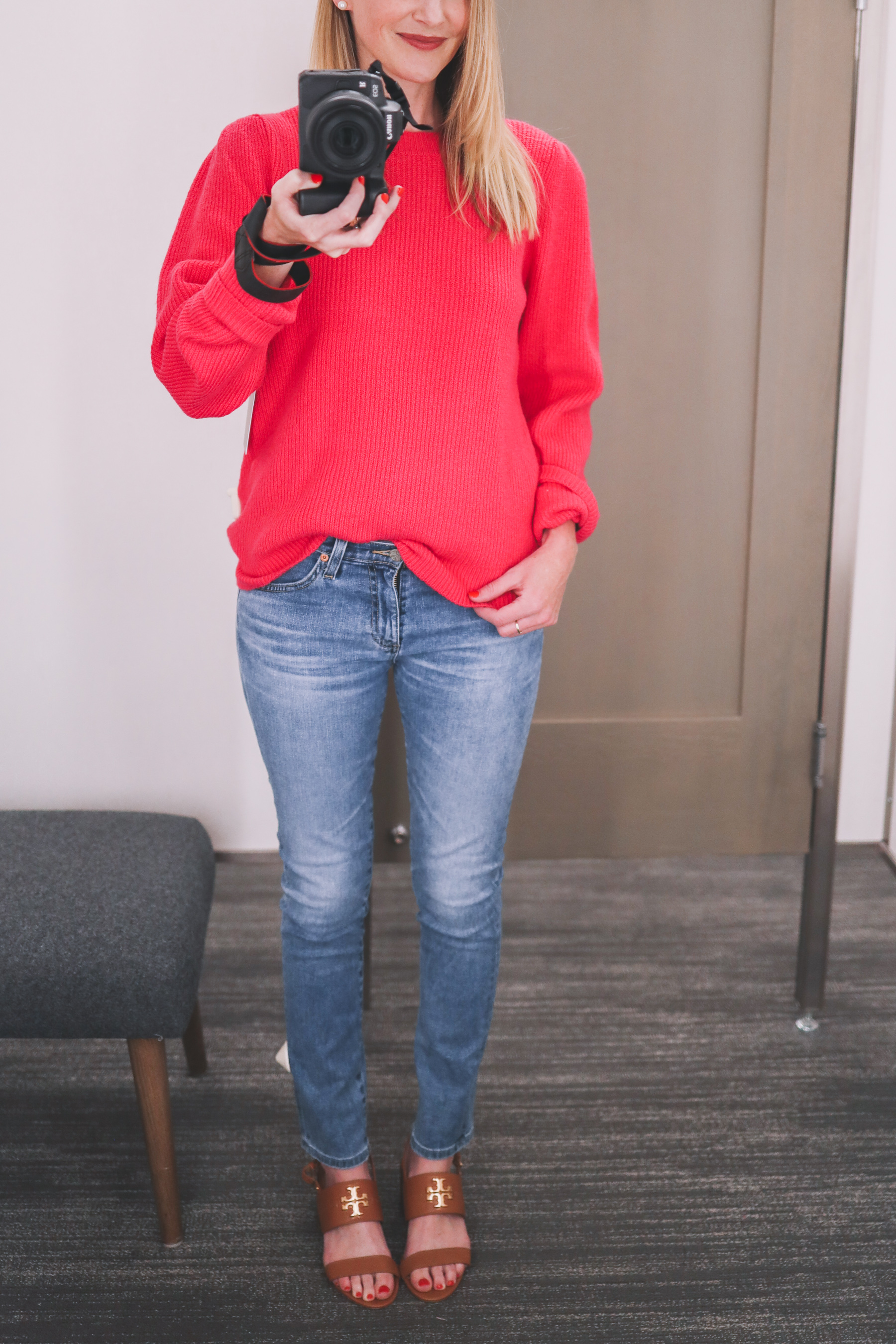 Same thing with the tucking here! The puffed sleeves on this number are pretty cute, and the color is spectacular. This sweater runs small, though. I'm wearing a large here and I wouldn't have gone down a size! Unless you like your sweaters very fitted, I would go up one or two sizes for a more relaxed look.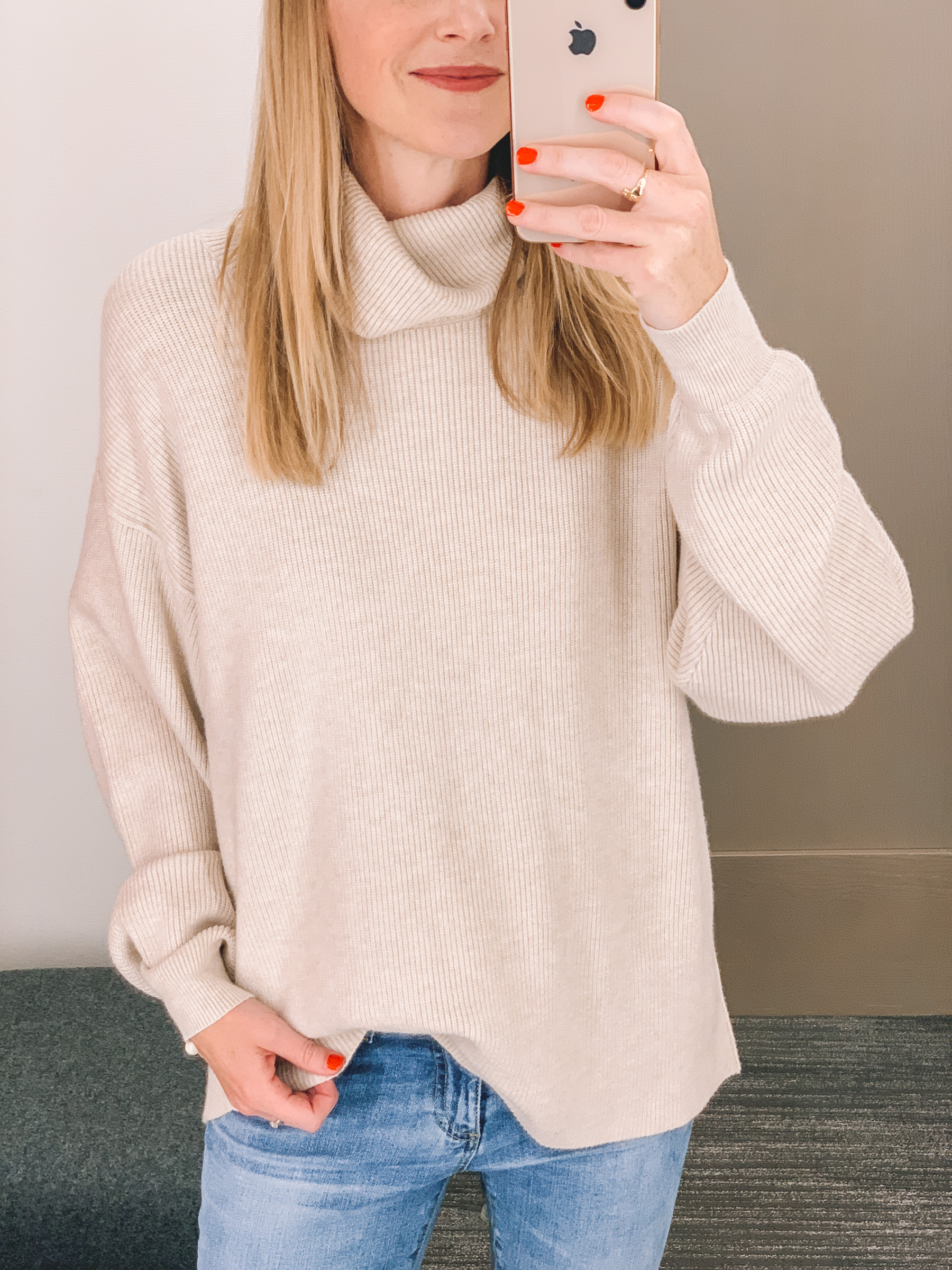 I loooooove this. One of my favorite picks from the sale, for sure. (Free People always has the best sweaters!) Take note, though, that this one runs VERY large. I went for the XS and was still swimming it. (In a cute way, haha.) But yeah: definitely size down.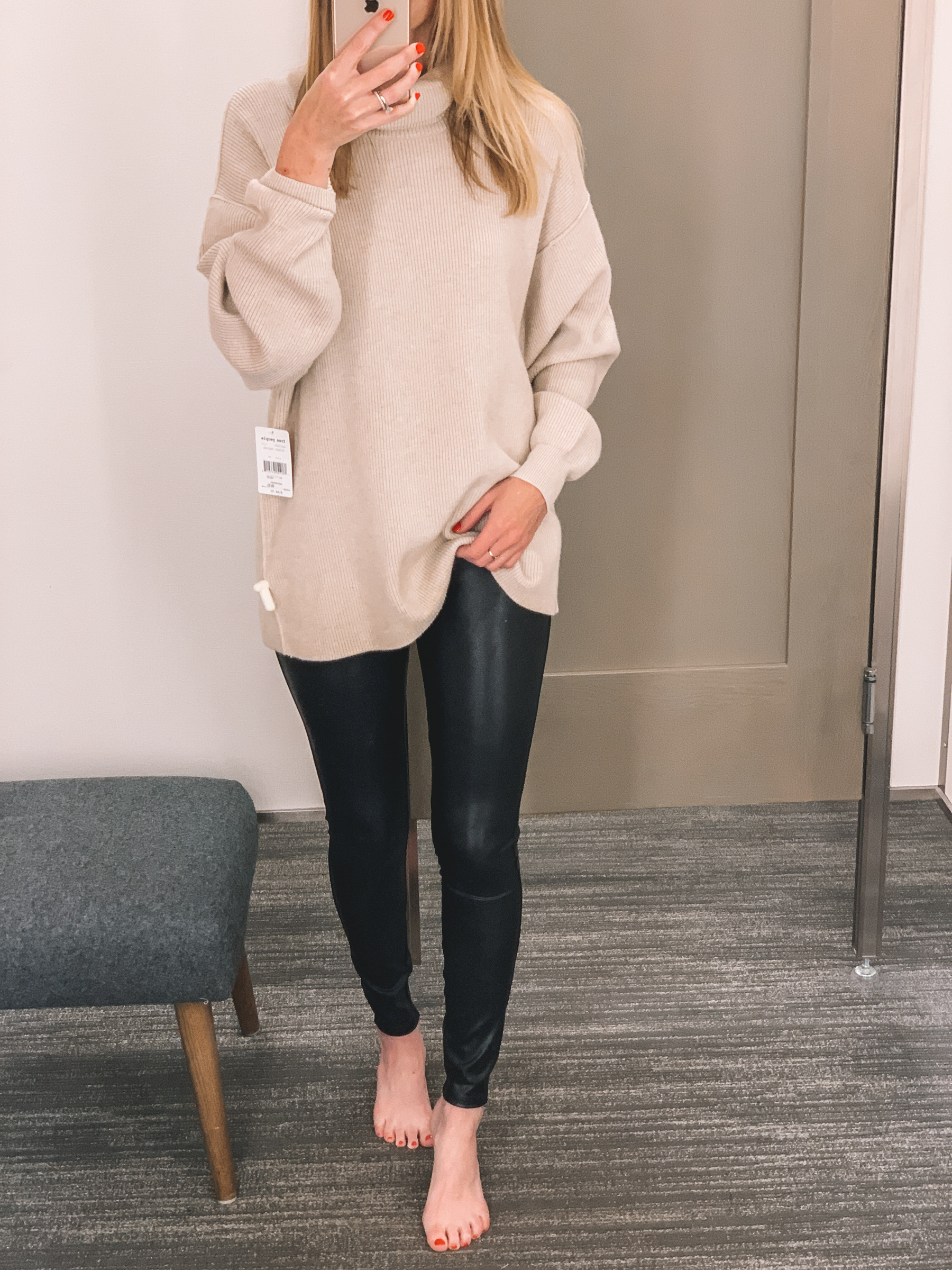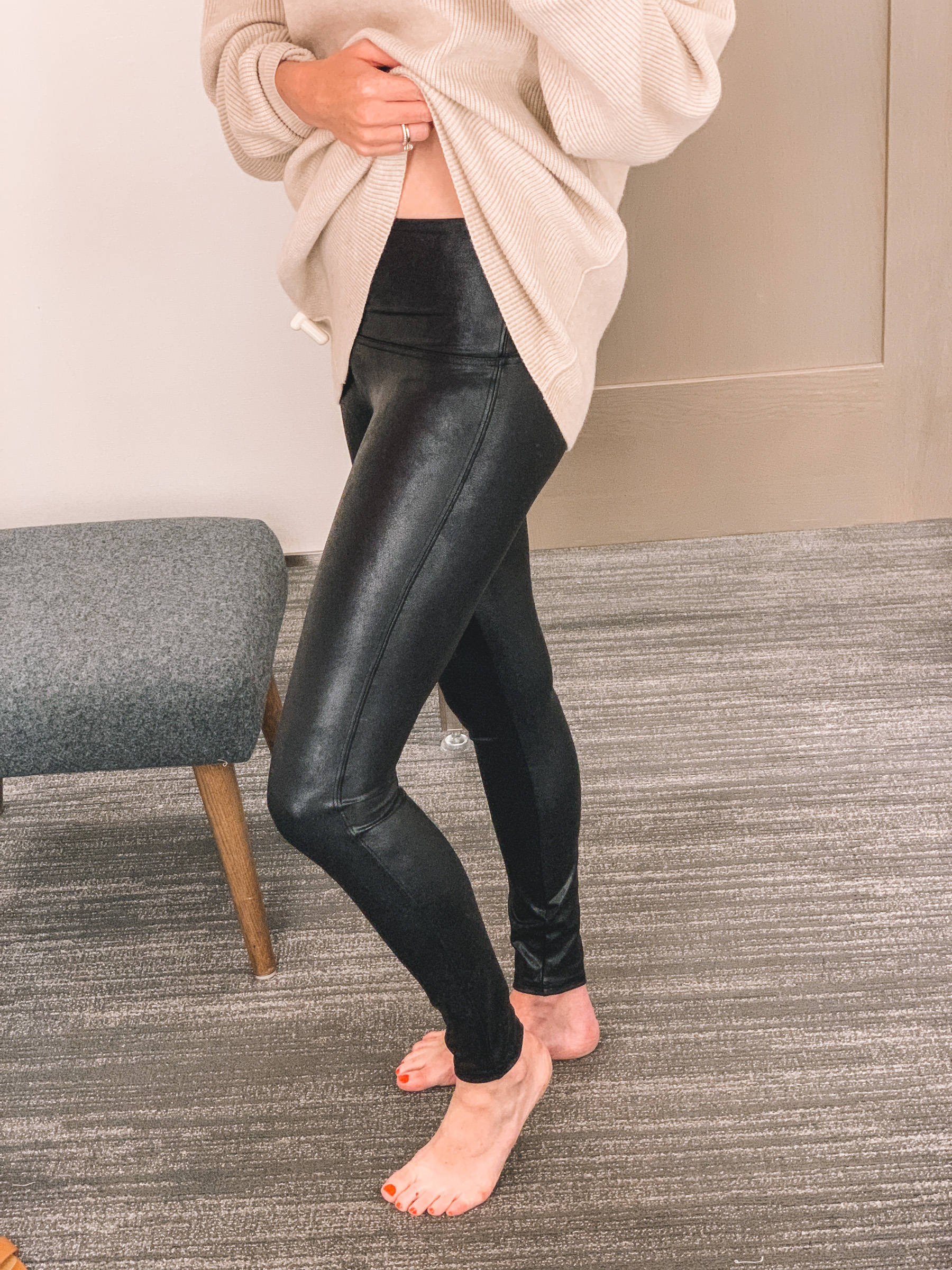 Get these! I feel like Tuckernuck made the faux leather legging look "preppy," and I'm here for it. Both the Spanx and Commando pairs are awesome–insanely comfortable!–and you really can't go wrong with either. The Spanx feature a longer fit and the Commando are ankle cut. (With Spanx, I did go up a size. I tried up to a large and honestly they all looked good–and about the same! So don't stress too much about the size. They're magic pants, haha.)
(Not shown.) The alternative. Same price and look but ankle cut, as I mentioned. I wear them when I'm wearing pumps. I went with a size small so my underwear lines didn't show.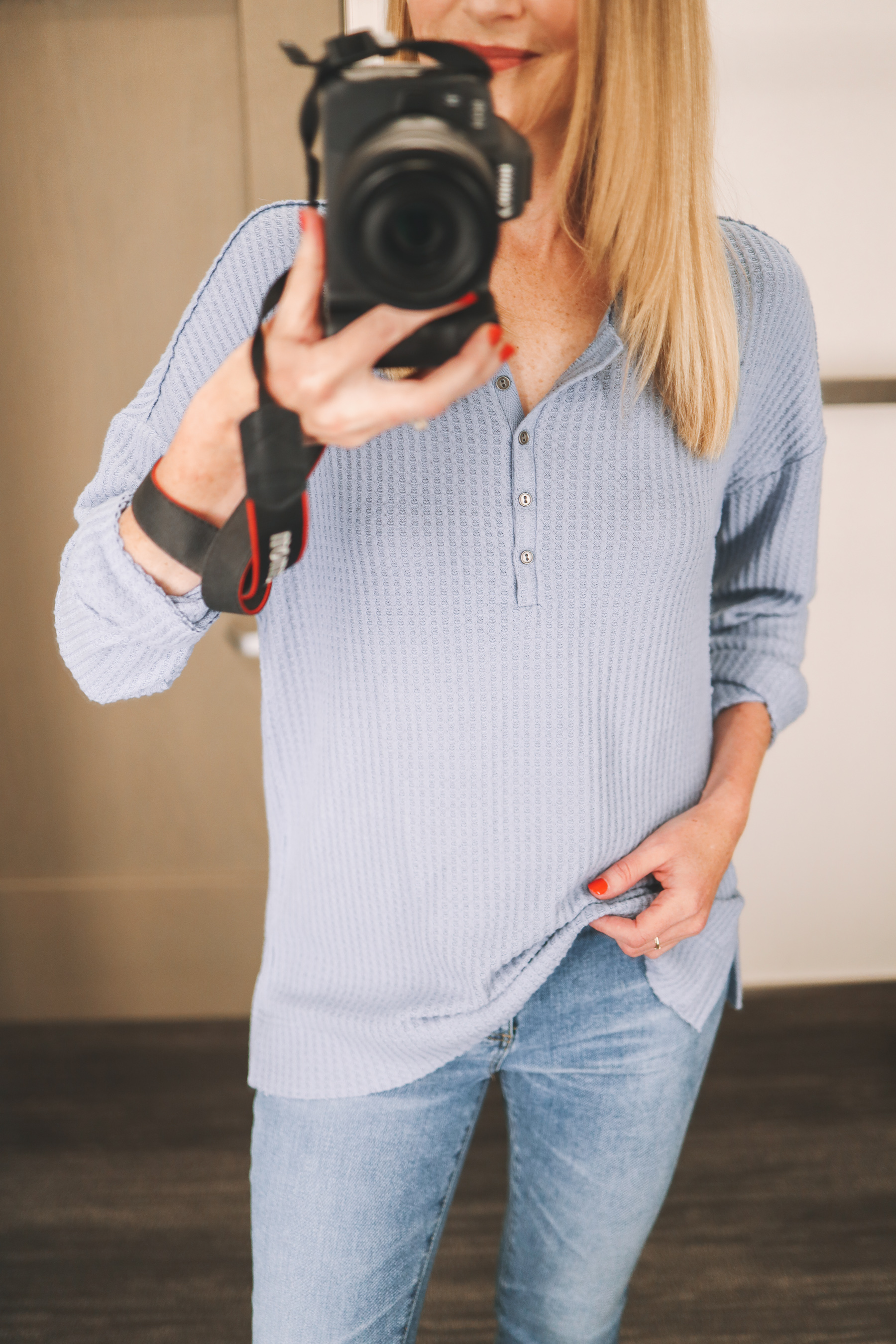 Very soft! I went with a size small and it's still pretty large. I would recommend going down one full size. (The cozy top comes in a bunch of other colors, btw!)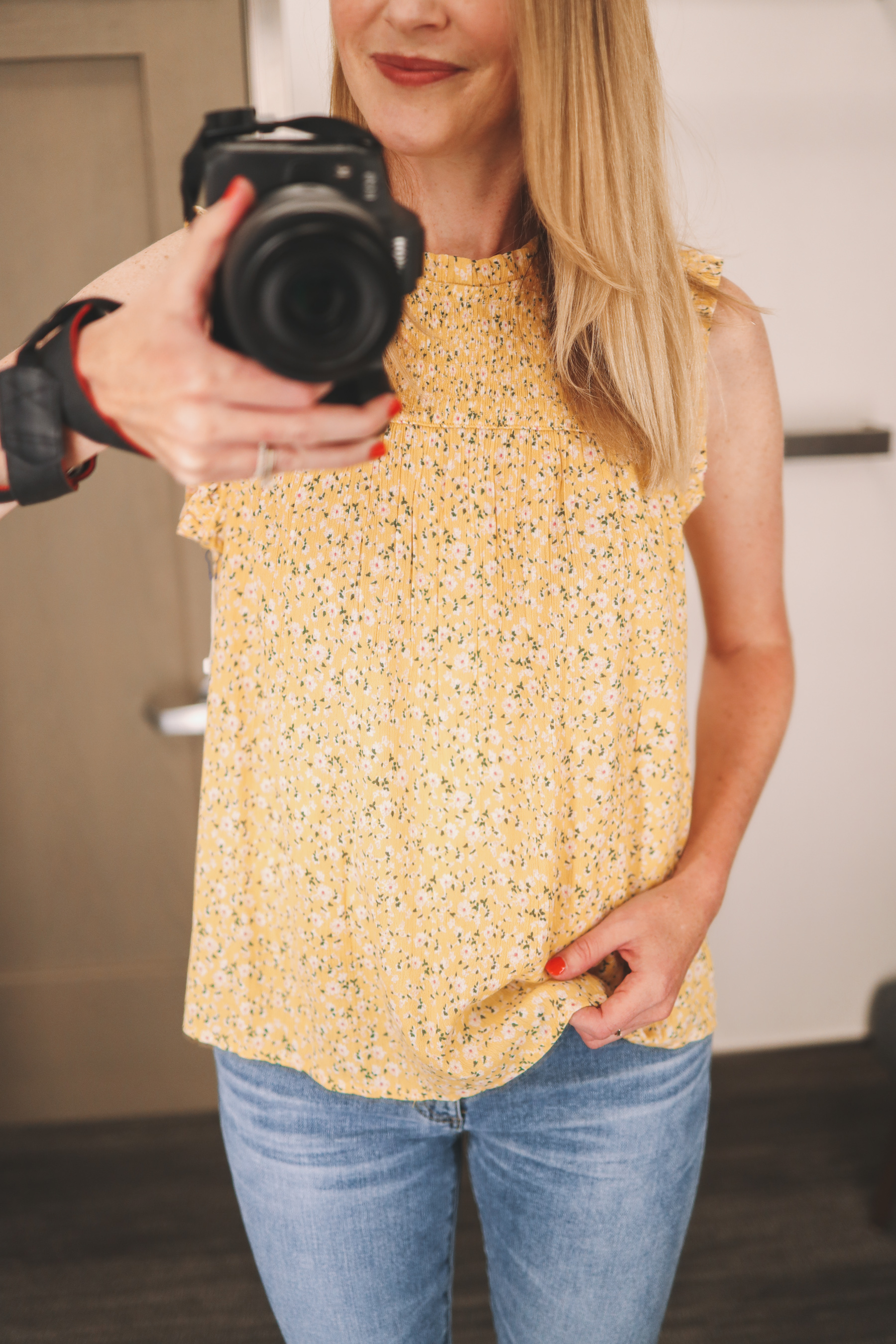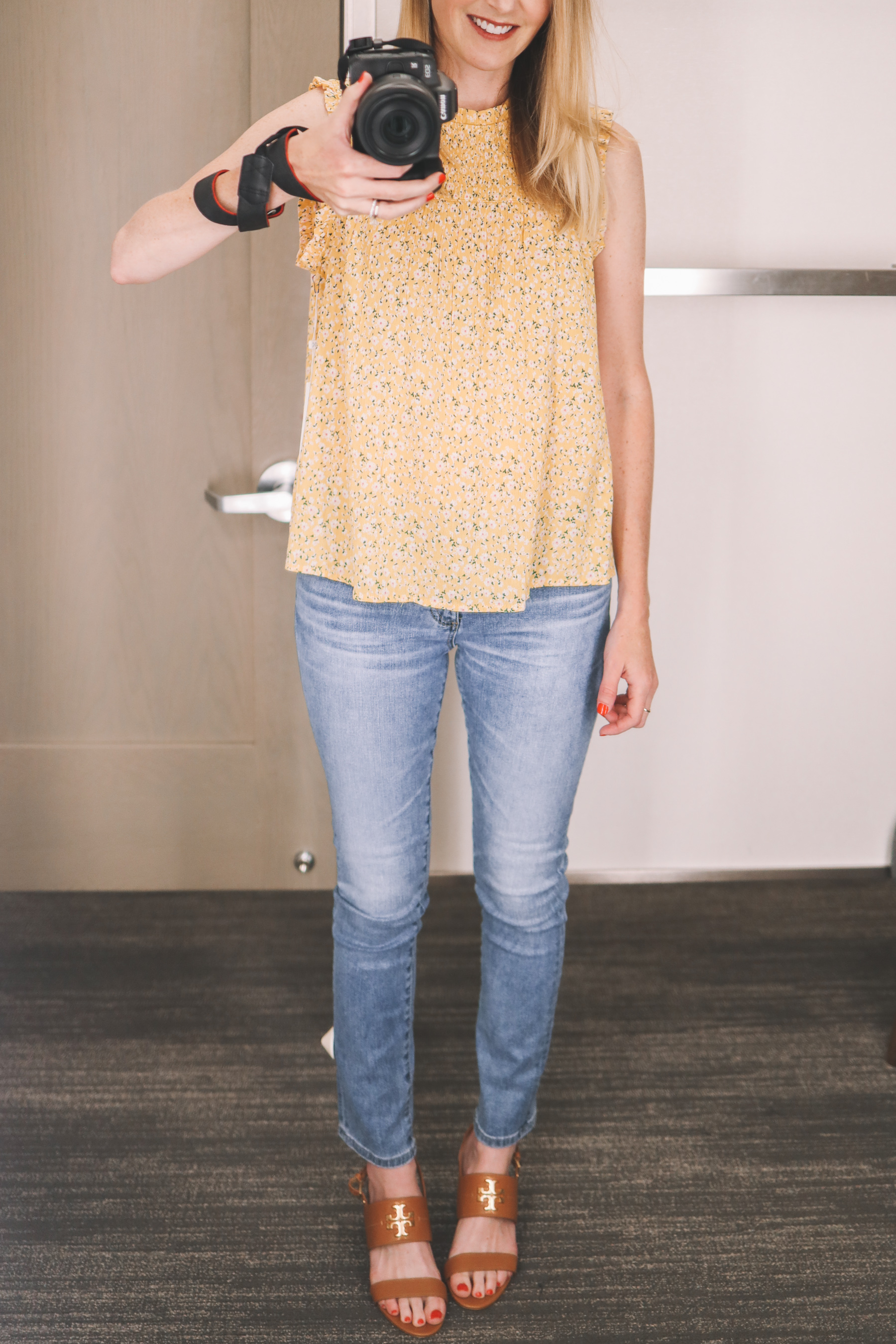 I brought this one home with me from the store! Perfectly flowy and flattering; I'm wearing a small, which is the normal size I reach for in tops. Doesn't it kind of remind you of Liberty London?!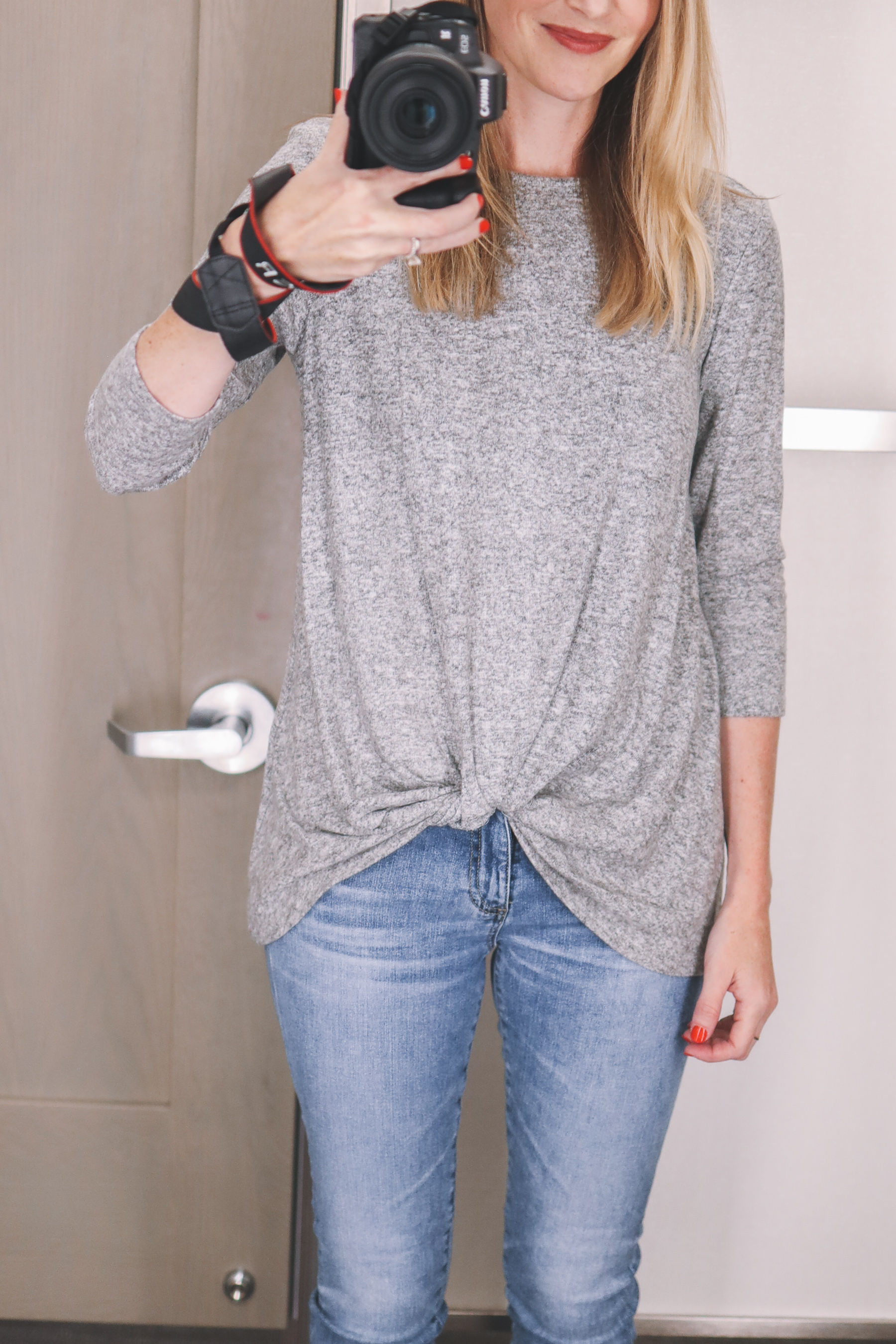 Get this! I've had mine for years and it's one of the softest articles of clothing in my closet. :) A great lounge/weekend top. It runs large. Size down.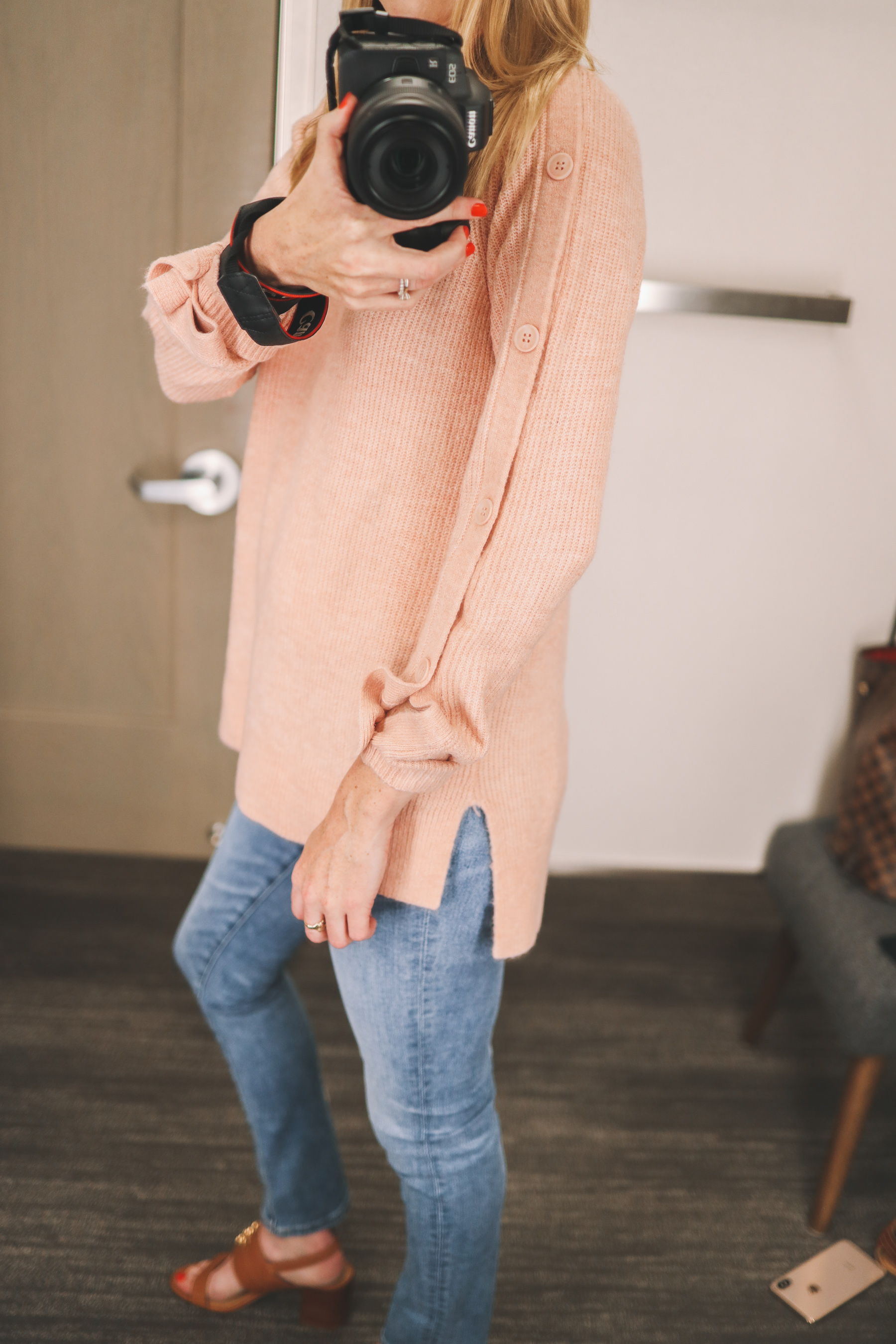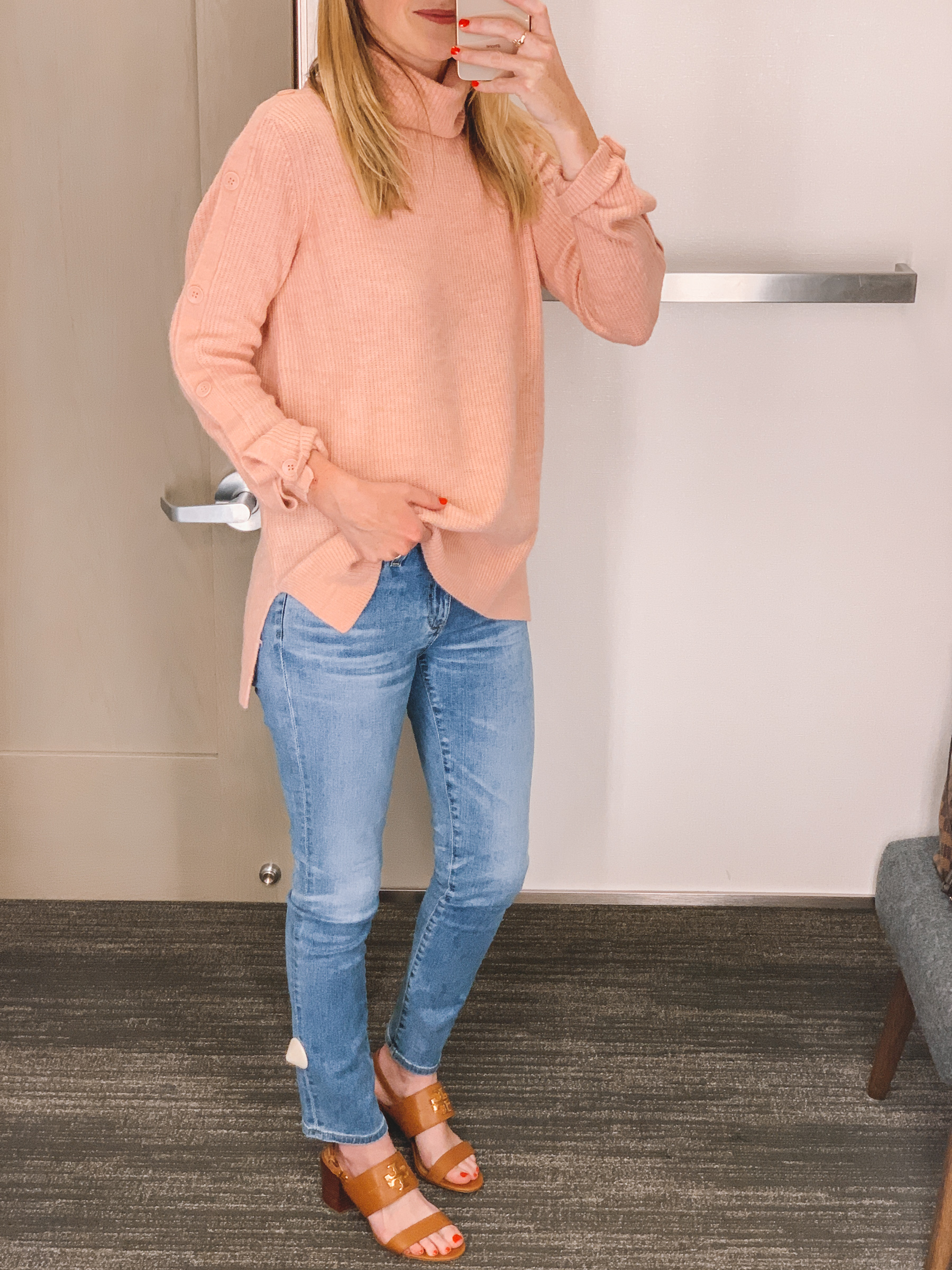 My favorite from the try-on session! The buttons down the arm are just too cute. It also comes in cashmere. I'm wearing a size XS here so I'd say it runs large and long.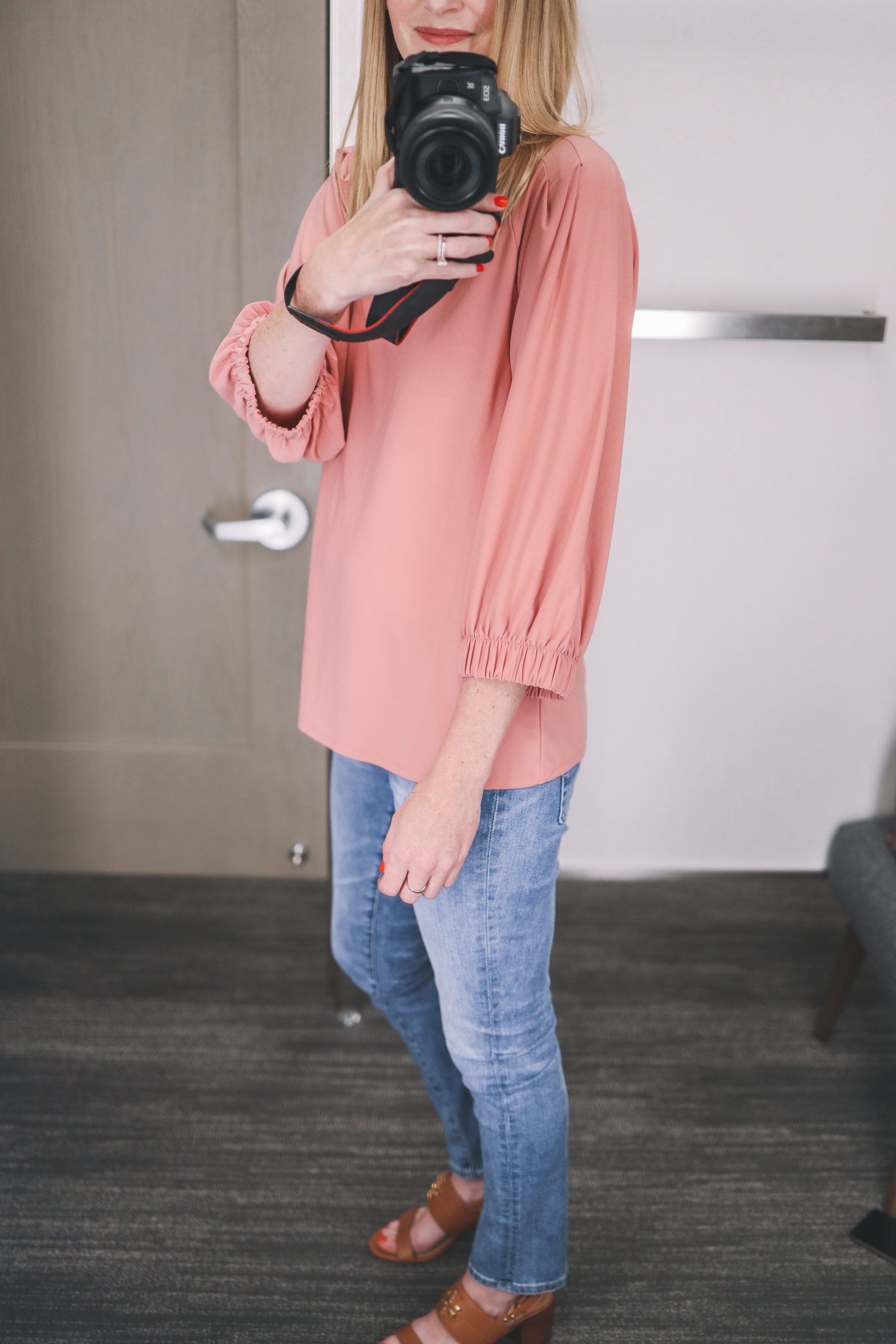 An easy work that's perfect for the office or nights out! I'm wearing a size small here so I'd say it's forgiving but TTS.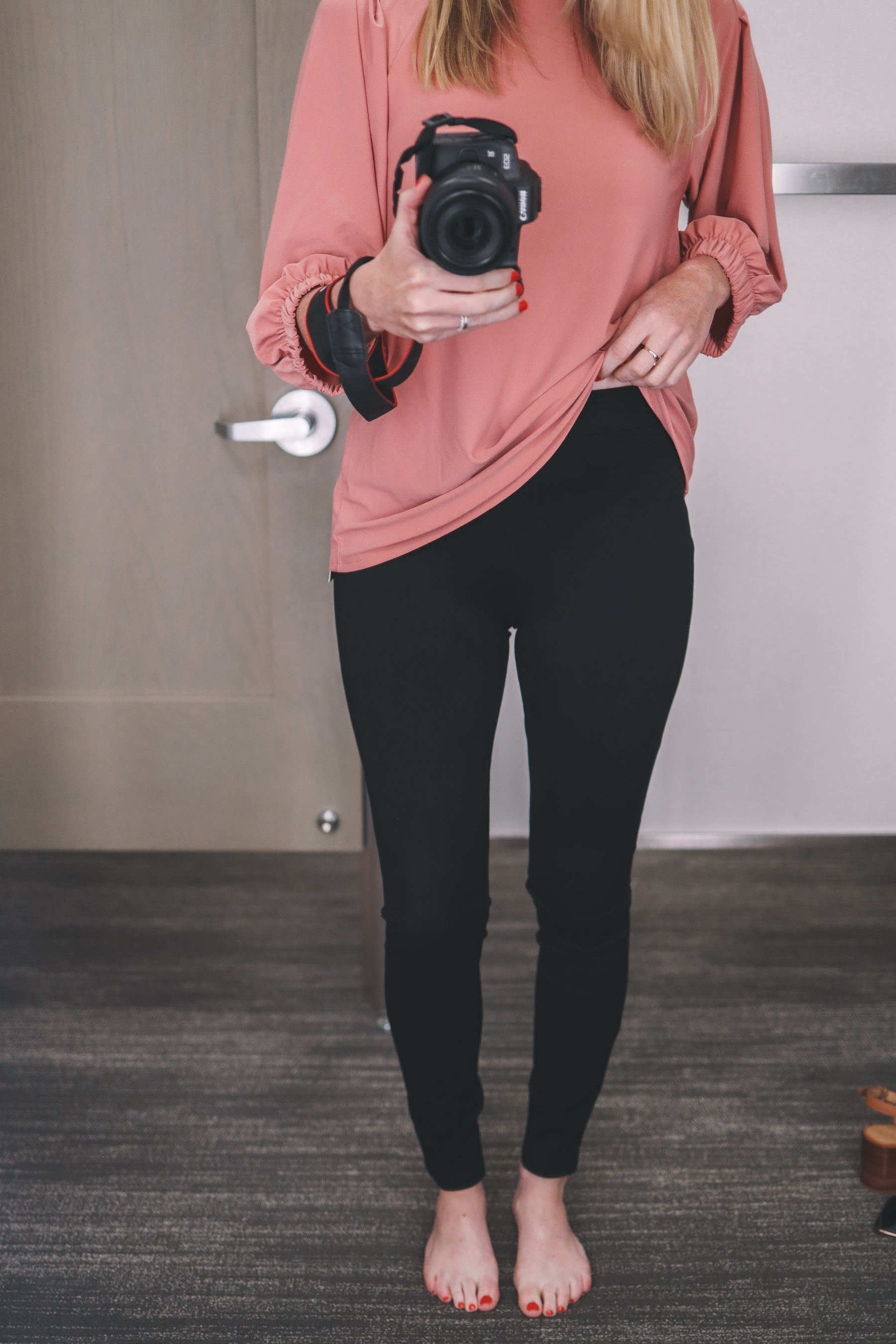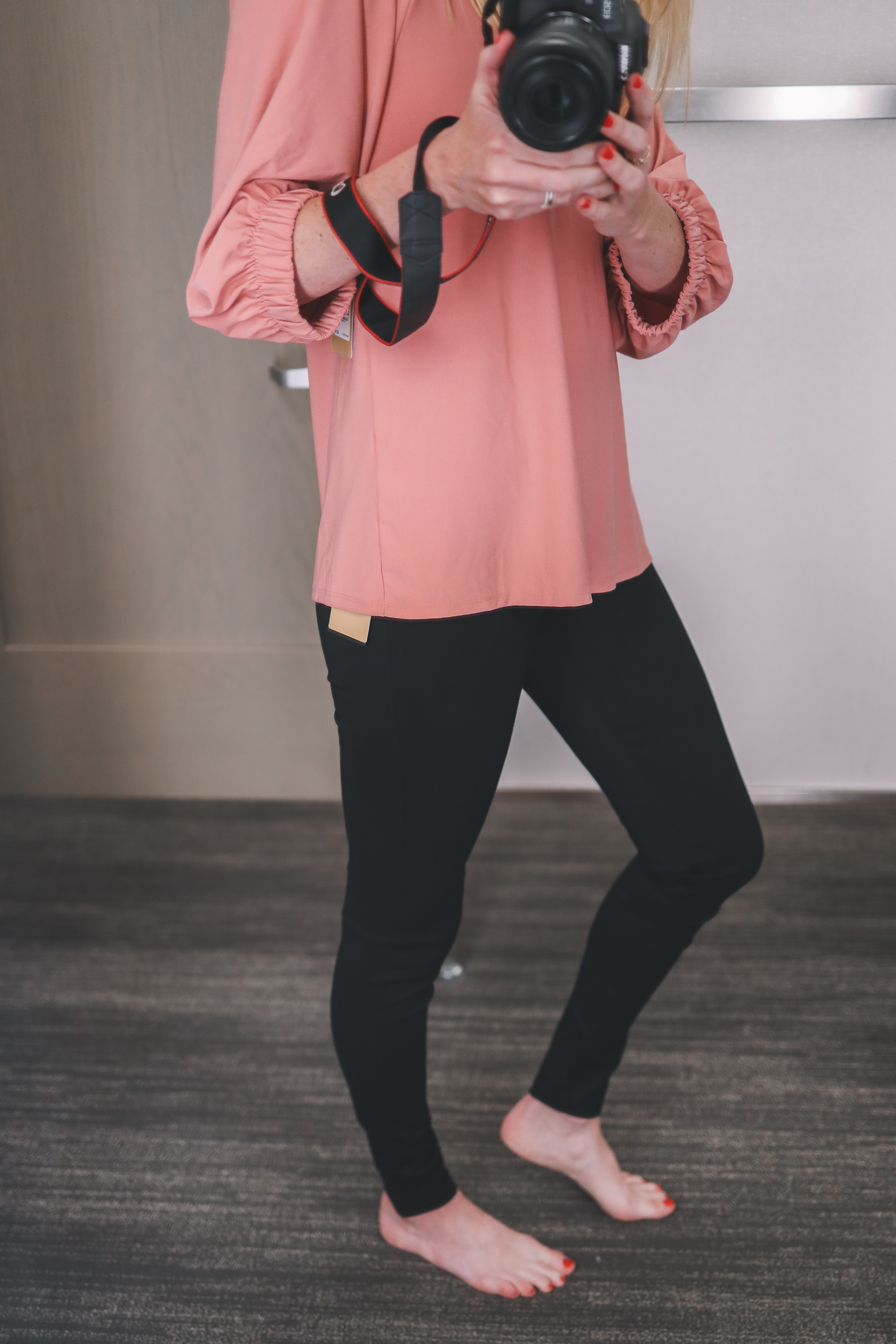 Leggings that are thick enough so you can wear 'em to work. I love mine! TTS.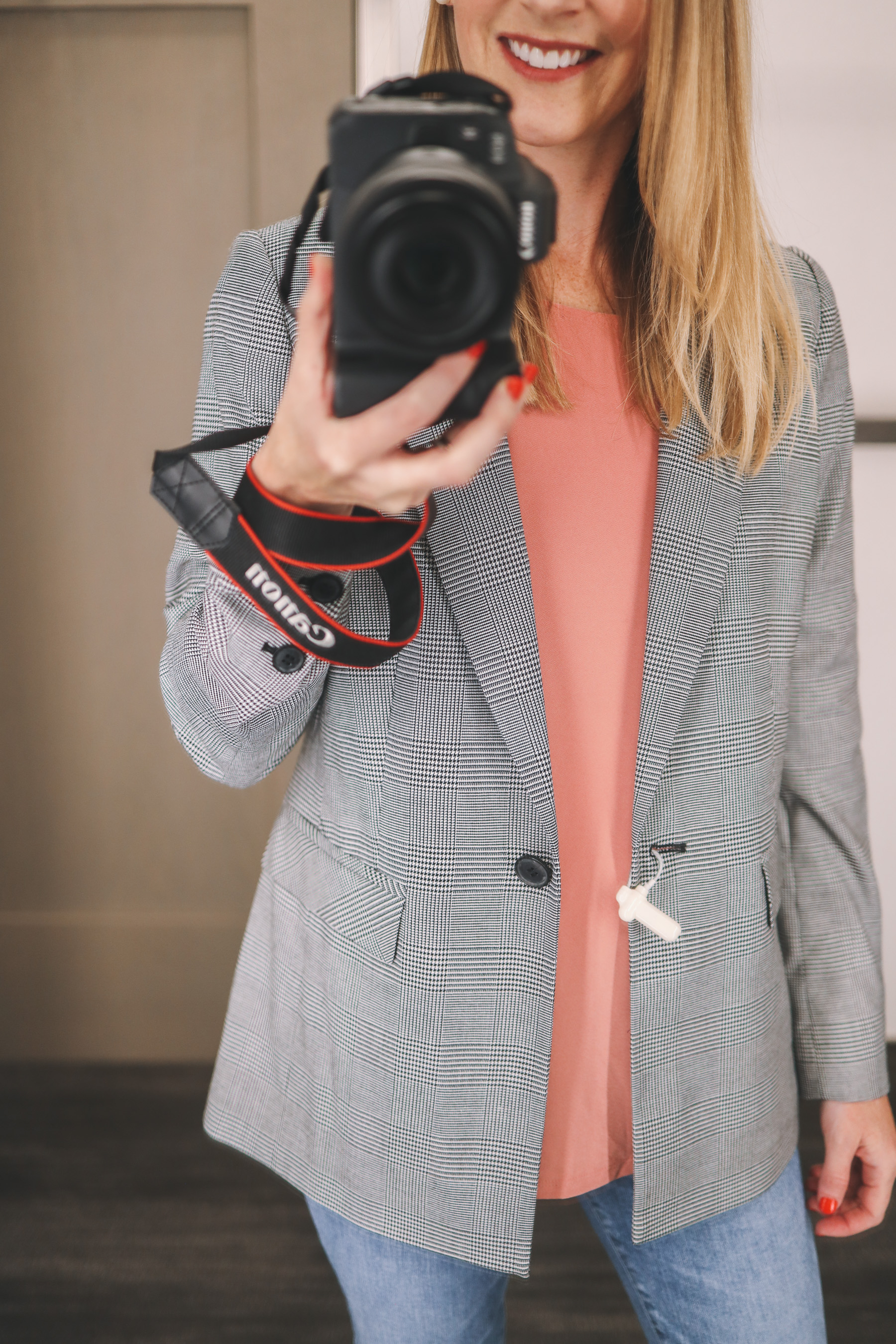 Isn't this cute?! Very academic. It runs large; go down one size for a more tailored fit.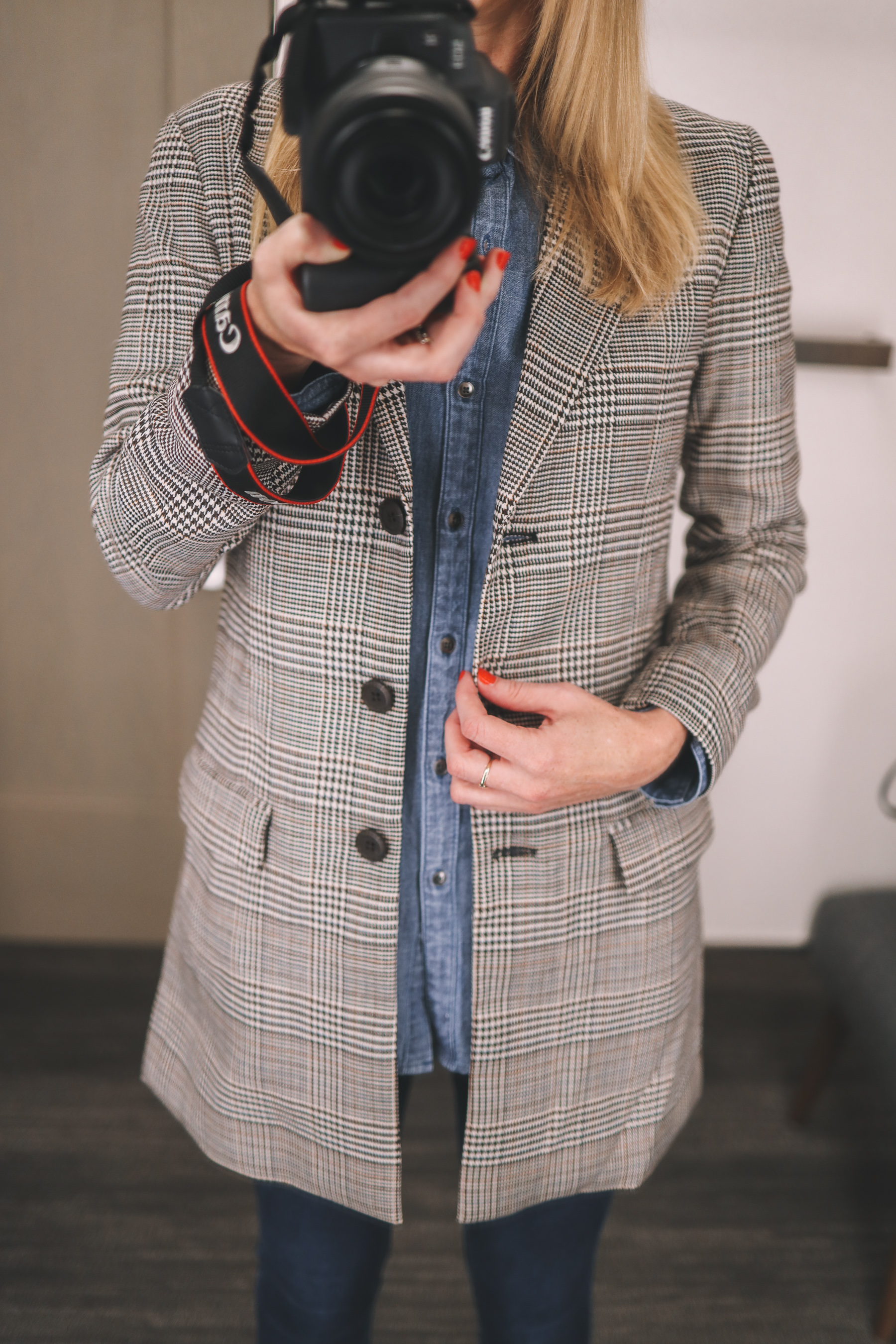 This one is even better, though! Out of all the blazers, actually, I loved the BB Dakota one the most, which was surprising! It was just very flattering, I suppose because it doesn't have shoulder pads and it's longer in length. LOVE. IT. Took my normal size. I know it'll be a staple this fall!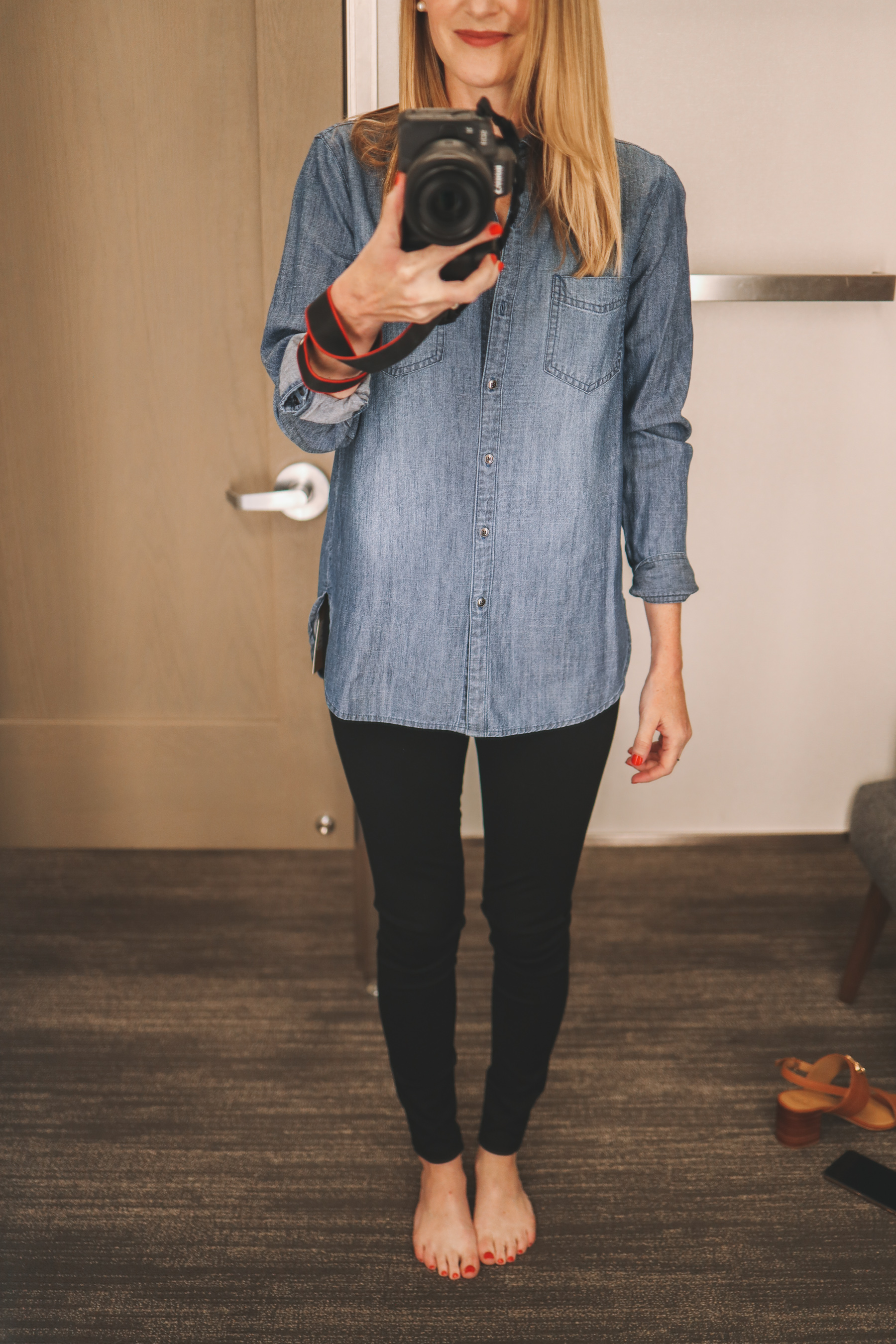 It's a soft one! I can't stand chambray tops that are stiff. ;) Size down.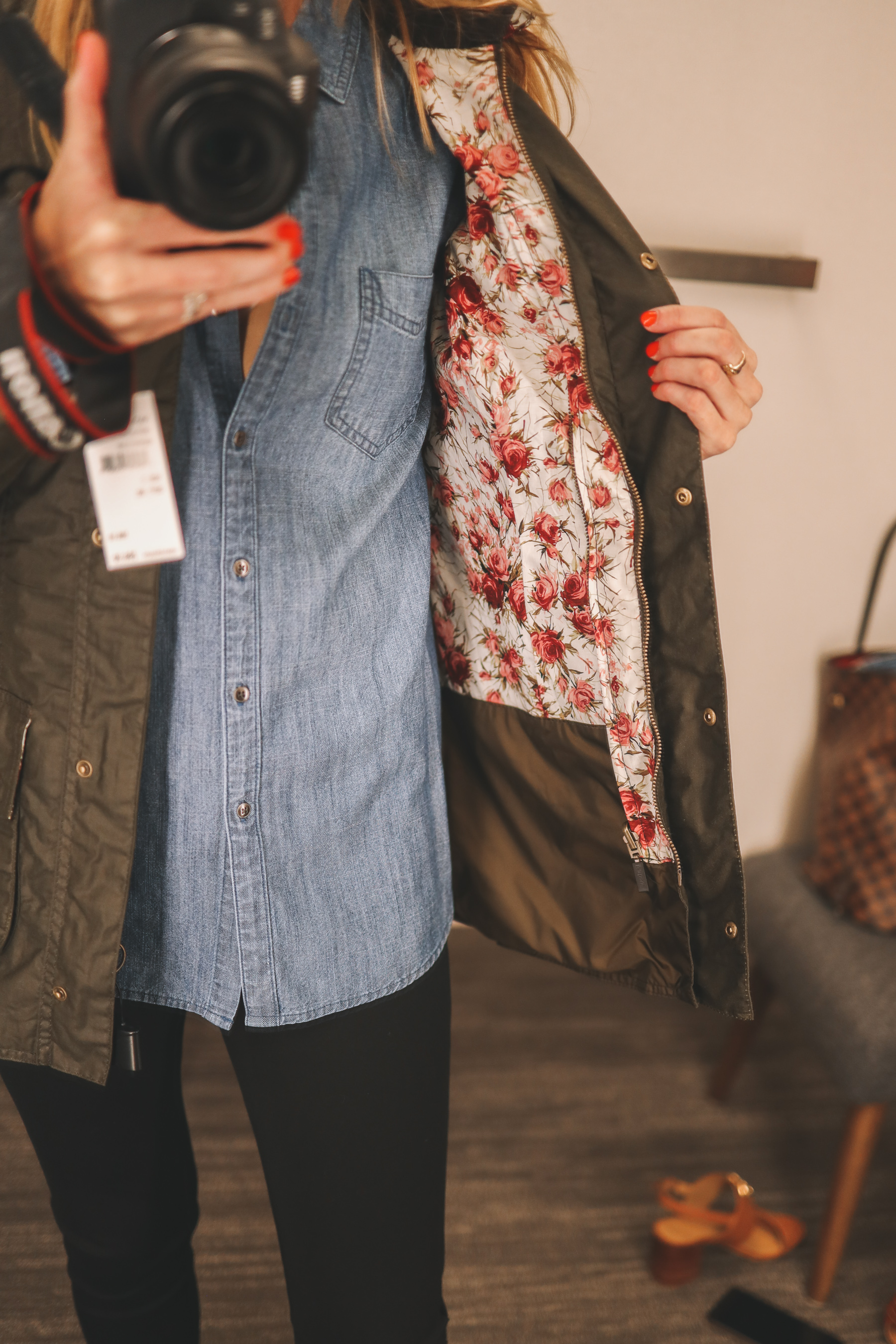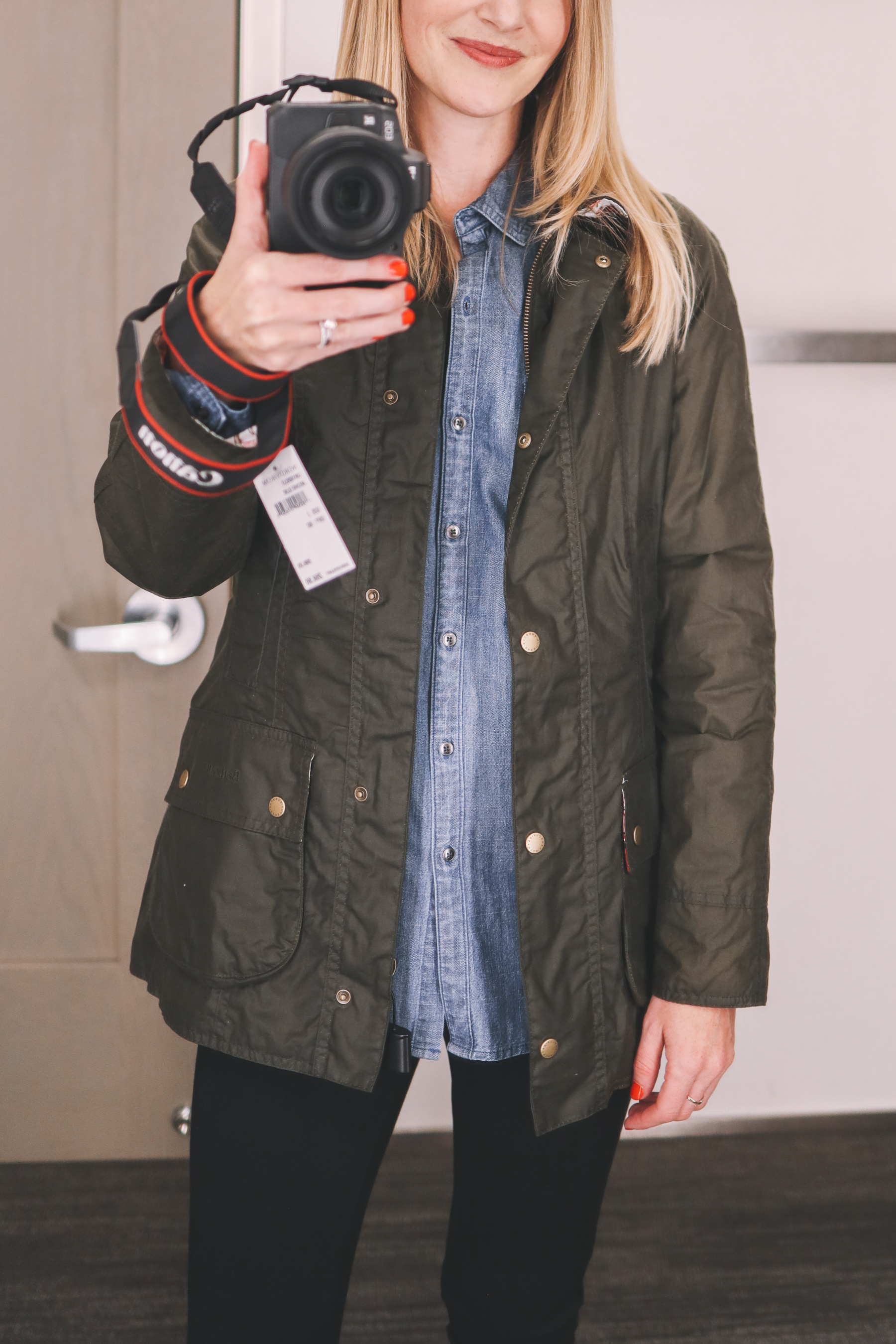 I tried on all the Barbour coats, and this one is my favorite! It features a similar cut to the classic Beadnell, but it has a beautiful floral lining that provides extra warmth and coziness, which is something the original does not have! I LOVE it. My biggest complaint with the classic Beadnell is that it isn't the warmest. But so excited that I'll be able to wear this one throughout the entirety of the fall!
If you're planning on buying this coat, note that it runs a little small. I'm wearing a U.S. 4 here (which is my normal Barbour size), but I think if there had been a U.S. 6 available, I would have gone with that. (See all Anniversary Sale Barbour products here.)
A cute tailored overcoat! I wouldn't be able to wear this during Chicago winters, but the start of one? Just maybe. ;) Excellent for fall and spring. Wearing an XS here and it's a perfect fit.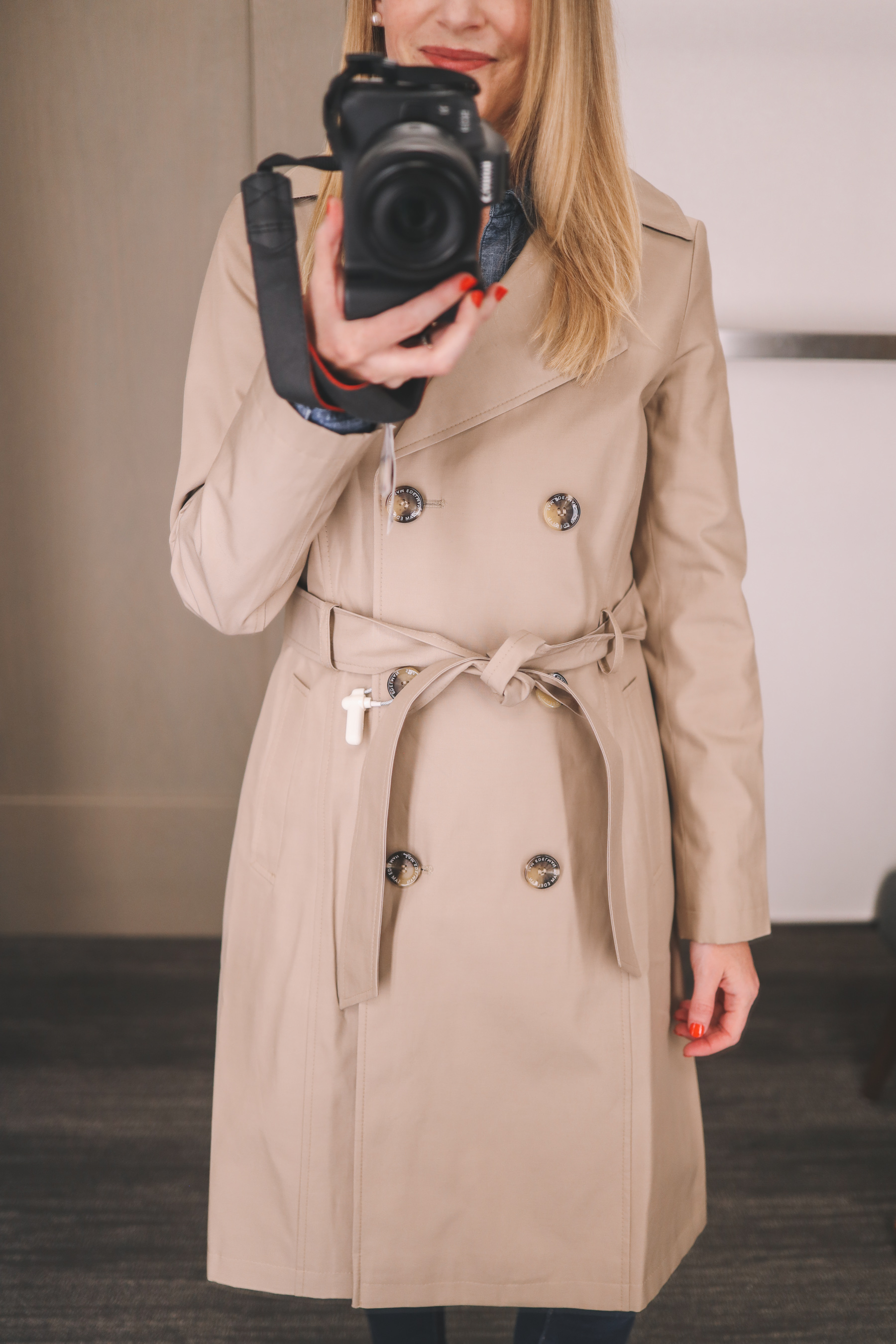 Every prep needs one, and this one is substantial and clearly well-made! TTS but roomy. Wearing an XS here.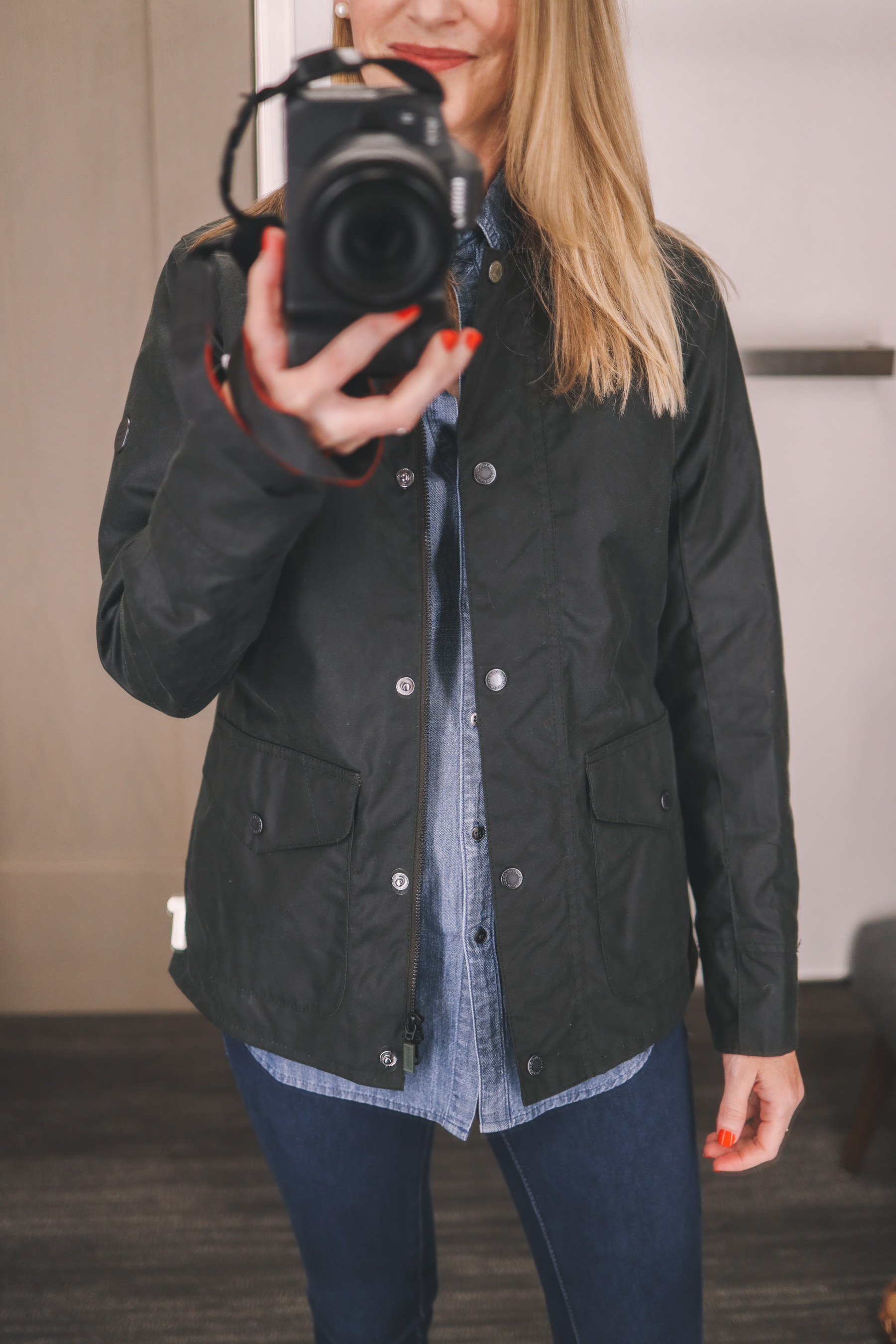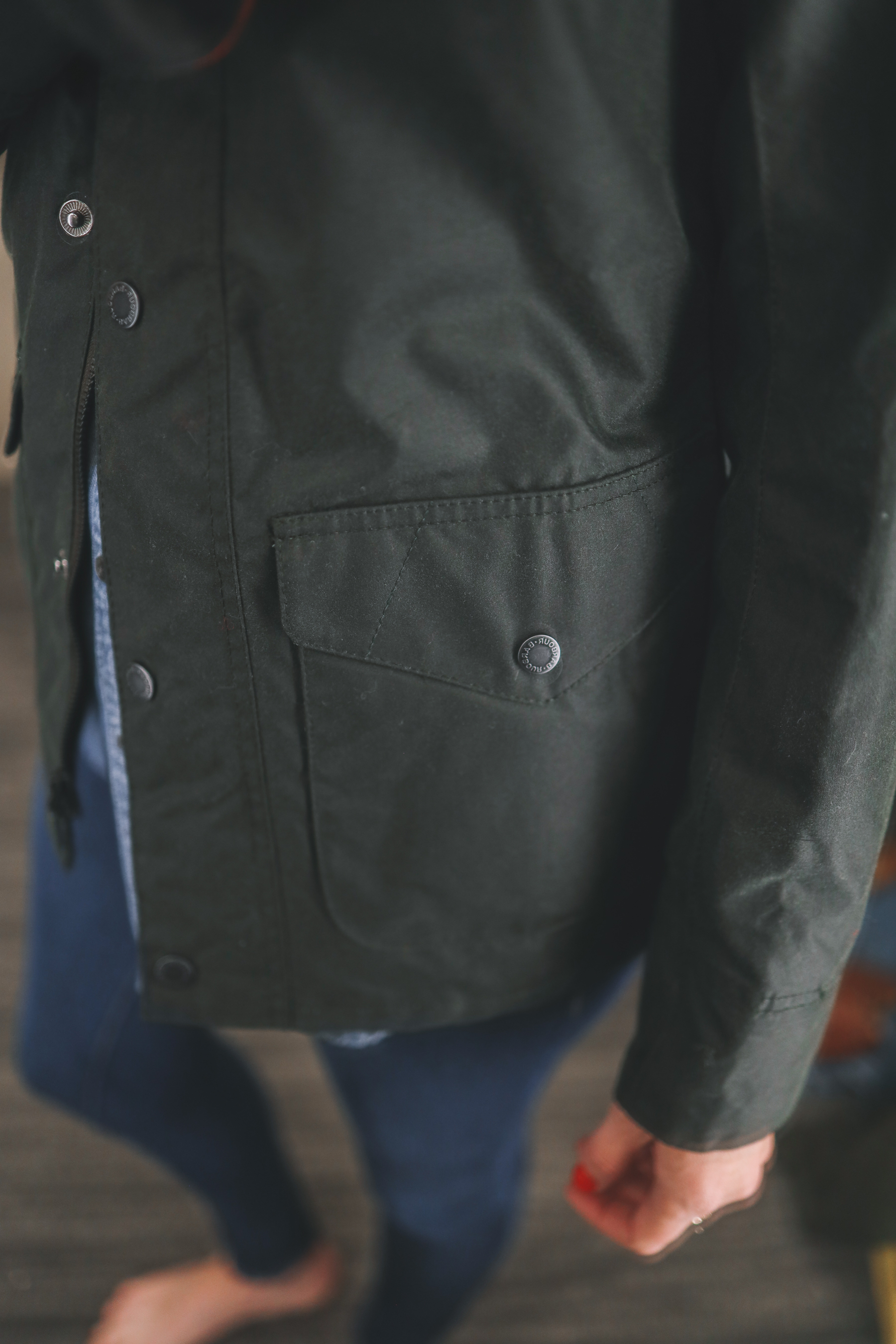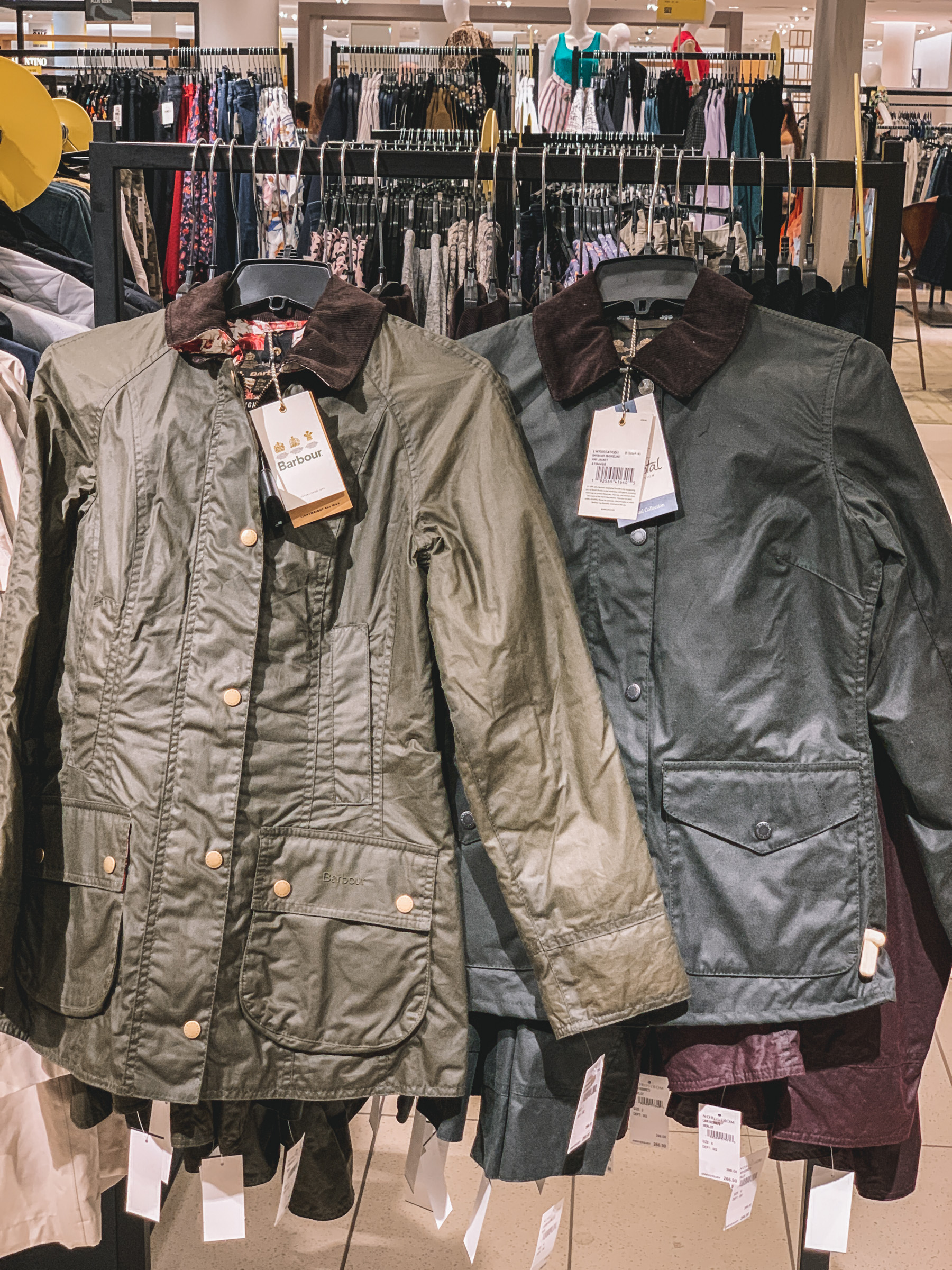 As you can see, the Shoreline runs a bit shorter than the Violet, and it doesn't have that cotton floral lining. ;) It does, however, feature a more relaxed and timeless "Barbour fit," which is more in keeping with the brand's original pieces. According to Barbour, sizes 2-6 run small; size 8 is true to size; and sizes 10-14 run large. (Order your normal Barbour size or go one size up. Don't know your Barbour size? It's usually one or two sizes up from your normal. If you're a size 0 or 2 in other brands, for example, you'll likely be a size U.S. 4 in Barbour.
Hope this helps!