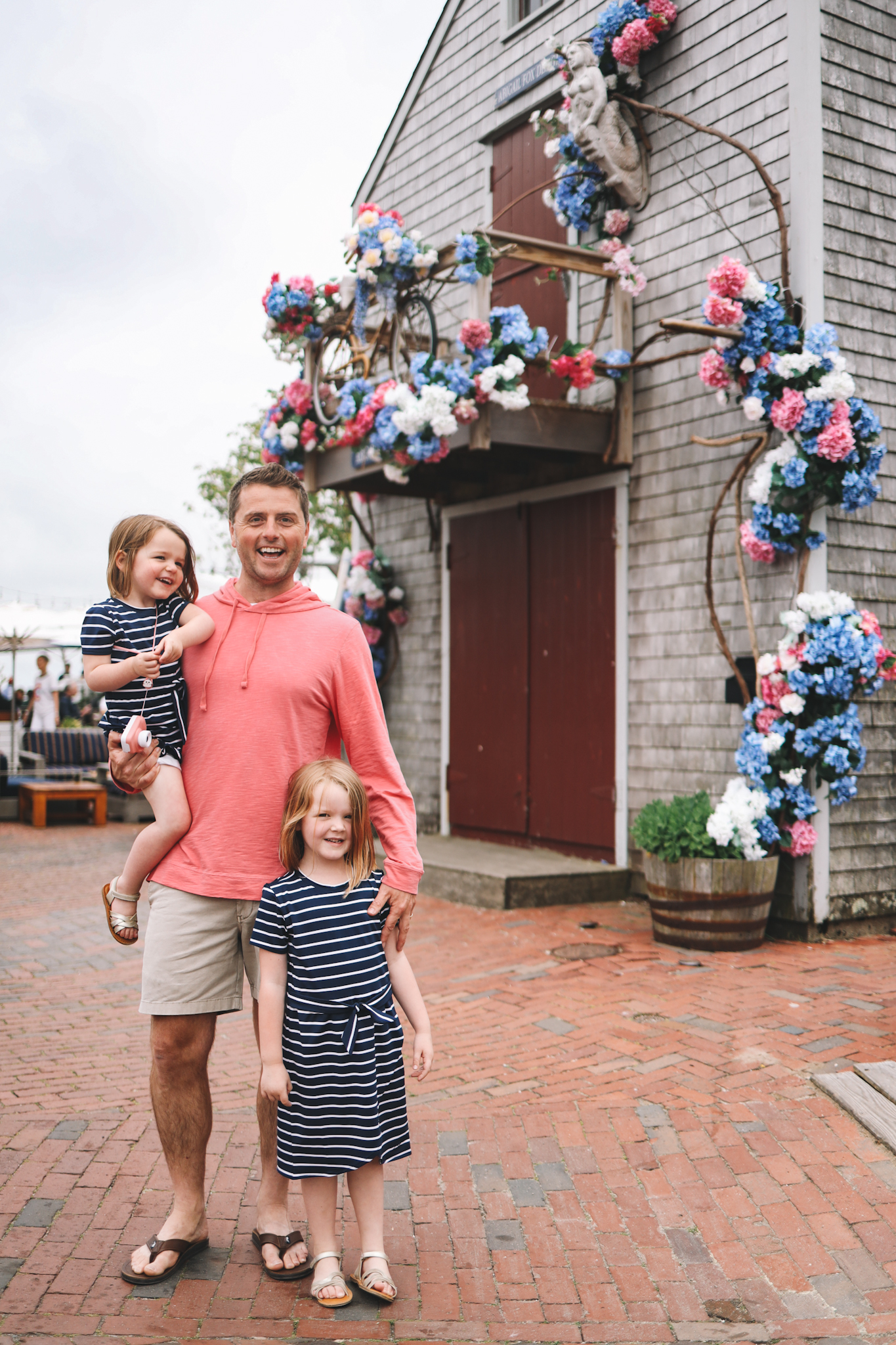 Mitch's Pullover, Shorts and Sandals / Girls' Dresses and Jean Jackets / Dad's Shep Shirt
Mitch and I decided to fly to Nantucket early because of #LarkinLuck 😜 and all the problems with delayed and cancelled flights that have been occurring as of late. We could not imagine missing Sammy's wedding! But this came with quite the bonus: Having some extra time on the island with family. ♥️
We actually had a entirely free day in the middle of the trip, so we made it a special "Pa Day." (The girls call my dad "Pa.") His birthday and Father's Day fall in the same month, so we celebrated both by doing all the Nantuckety things: a walk out on the docks, ice cream in town, a visit to the Children's Beach, and dinner at Slip 14.
I decided to dress Emma, Lucy and Mitch in Vineyard Vines so I could snap a few photos for an Instagram collaboration, and my dad coincidentally wore Vineyard Vines that day, too. To be fair, he owns approximately 4,000 Shep Shirts and lives in them 😆, but oh my. I will forever be grateful to the brand for these photos of the girls with their Pa! (Side note: My brothers and I gave Dad this Shep Shirt for his birthday. Isn't it fun?! He was cracking up!)
Anyway, VV is the perfect Father's Day gift for dads this month—and the perfect gift for birthdays and other special occasions. From the Father's Day Gift Guide and Custom Shop to the personal and sentimental ties and Dads & Lads Collection, there are so many options for the special guy in your life!

Hope you enjoy the photos from our special day. Definitely some framers in there! :)
Shop the post:
Mitch's Pullover, Shorts and Sandals / Girls' Dresses and Jean Jackets / Dad's Shep Shirt