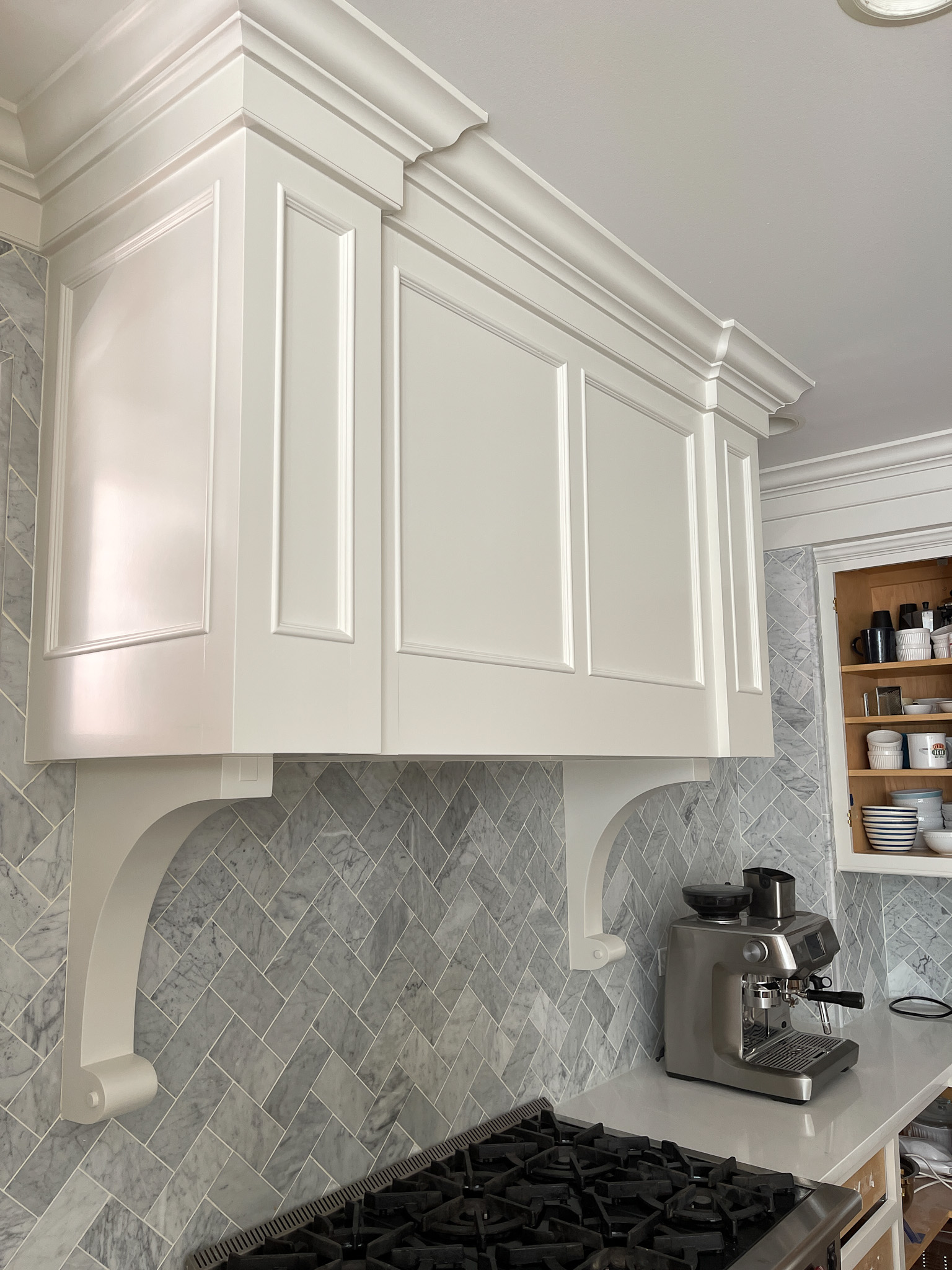 Please excuse the mess, but I finally have a kitchen update for you! Today I'm sharing some photos of the in-progress space. (Unedited because I typically think unedited photos show true color best!)
I'll note here that I'm a little mortified of the state of things, but YOLO. The painter haphazardly threw everything back in the door-less cabinets, and the sight of it—along with all the dust and grime—is causing me heart palpitations. 😆 Will be taking this opportunity, though, to scrub the tile and purge unneeded kitchen stuff. We clearly have way too many mugs and kids' plates/bowls!
Cabinet paint color: Benjamin Moore Dove Wing
Molding/ceiling/wall paint color: Benjamin Moore White Dove
So… why is this taking so long?! The cabinet painting started back in March, but I pulled the breaks on it. 🙈 This pained me since I wanted more than anything just to be done, and my stubborn self did not want to admit that I'd made a mistake or come to terms with that. But I really hated the color I'd selected. HOW COULD I HAVE MESSED UP SO BADLY?!
Answer: There are approximately one zillion whites to choose from, and I'm probably missing some rods and/or cones. ;) In all seriousness, I was **convinced** that I was going the safe route by choosing a very popular bright white—Benjamin Moore Chantilly Lace, one that looked so beautiful in so many of my friends' kitchens and in countless gorgeous Pinterest photos! But I failed to take into account that our house really isn't a "bright white" home. And it looked weird.
Luckily, I figured this out before the paint job was actually finished. And since the older yellowing oil-based paint required several coats to cover, I think we only ended up needing to add one additional coat to make the switch. (Chantilly Lace almost acted as a primer!) Not that bad. But woo-ee. It was a rollercoaster. I'd liken it to how people often feel when they drop their phones. It's not that big of a deal! Yet it elicits some very strange and inappropriate emotional responses. Shock. Panic. Regret. Denial. Anger. Grief. (Come on. Tell me you can relate to this, haha.) And then, finally, reluctant acceptance.
Once I reached the "reluctant acceptance" stage, I had to go back to the drawing board and figure out what white would actually look good… and that took me way longer than I thought it would.
I read somewhere recently (I believe in Architectural Digest) that when it comes to older houses, it's usually best to make design choices that are right for the home. We live in a very traditional, 1800s vintage city house with limited natural light on the first floor. Not a coastal house, not a house with tons of floor-to-ceiling windows, not a new construction house. I was insistent that a tried-and-true bright white would brighten things up, but really what it ended up doing was make the space feel cold and stark. In the end, it was a muted white that felt right!
Btw: Don't let this scare you off if you're thinking about using Chantilly Lace! Again, it looks stunningly perfect in a lot of my friends' kitchens. It's a lovely white and works so well with homes that feature brighter white paint elsewhere.
We went through the little color rolodex thingy a gazillion times, and ordered countless samples from Samplize. And the color we kept coming back to, again and again, was Benjamin Moore Dove Wing. (It was, coincidentally, the color that Kira originally recommended, too. 🤪) It was a creamy off-white that didn't show yellow and also worked with our Carrara marble backsplashes, warm grout, and brass fixtures. Even Benjamin Moore said it complemented both cooler and warmer tones! Seemed perfect, especially when paired with Benjamin Moore White Dove for the molding, ceiling and walls. So we put samples of Dove Wing everywhere, and observed them at different times of the day over the course of a month to make sure we loved the color.
And we did!
(Btw: Many thanks to my friends—Kira, Bradley, Natalie, Nicki, Carly, Shaheen and others!—for helping so much with the decision-making process. Love all of you so much!)
We recently pulled the trigger and had the painter come back to finish the job. (Poor fellow.) And I LOVE it. Mitch was like, "Cool. It's… still white. But I'm happy you're happy!" 😂
Despite what my husband thinks, it really is a huge change! (I wish I'd taken photos of the coat of Chantilly Lace, but you can kind of see it in the photo of the pendant lights in this blog post. The Samplize square paint samples of Dove Wing are hanging on the cabinets, so you can see the difference!)
With any hope, the cabinet doors will arrive in the next week or so. Yes, this project has taken forever, and I'm ready for it to be over. But I'm glad that we took the time to get things right. Cross your fingers for a final reveal soon!