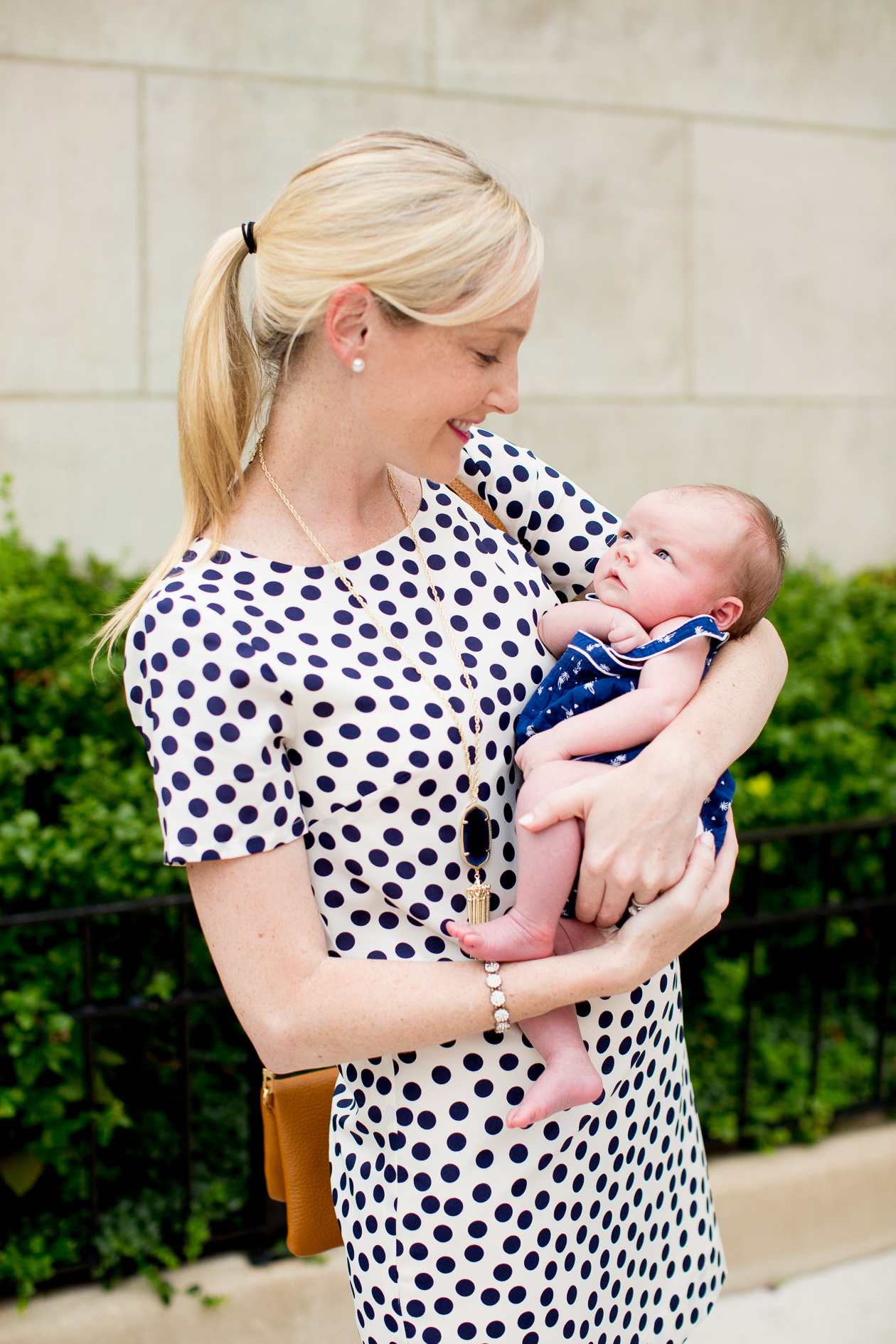 J.Crew Factory Dress (Old, similar here, here and here) / Kendra Scott Necklace c/o (More colors here, here and here) / GiGi New York Clutch c/o / Similar Bracelet / Sole Society Pumps c/o (On sale! Even cheaper here. Also LOVE these!) / Pearl Earrings

Even though Mitch and I were "trying" for a long time and wanted a baby more than anything, and even though I had ample time to let the idea sink in, I'm still in shock that I'm a real life mother.
For years, I wondered how my identity would fare if and when I became "Mom." Would life come to a crashing halt? Would I identify more with "Mom" than "Kelly"? Who, exactly, would I be?
The answer is a lot simpler than I thought it would be. I'm both. And no, there hasn't been a crashing halt.
And the most significant change I've felt is not that I've had to sacrifice parts of who I am, but that life just has so much more meaning to it now. Even little things, like doing the laundry or running errands, are more enjoyable because Emma exists. But am I still the same old Kelly? Absolutely. I am still a wife, a daughter, a sister, a friend… and I still have the same interests and hobbies and passions. I'm totally still me.
Before Emma arrived, I also wondered how transitioning from life without kids to life with kids would go. As much as I wanted the latter, I wondered whether I'd miss being able to drop everything and jump on a plane or go out with friends until the wee hours of the morning. I wondered whether I'd miss sleep.
The answer is yes, I suppose I do miss those things. But only a little bit. And I don't miss them because those times were better than my current life. I miss them only because I'm a nostalgic person, and when you look back on the past, isn't it so easy to remember the highs and forget the lows… or what was missing? Life with Emma is incredible. Truthfully, this past month has been the best of my life, and I'm constantly amazed at how each stage of life is better than the next.
Today, my priorities have shifted. I don't really want to travel like crazy, have wild nights, or sleep until noon. I mean, okay: maybe a little part of myself wants that. ;) What I really want, though, is to be with my little family. I want to take Emma on long walks around Lincoln Park, read her books and watch her eyes light up in awe, and take in the sound of her breathing and little sighs as she sleeps, curled up in the crook of my arm. My priorities changed naturally, all on their own, the moment the nurses placed Little Emma on my chest.
Isn't it crazy how that can happen? And how quickly another dimension can be added to a person?
I love being a mother. Like, I really, really love it. Yes: some days are more challenging than others, and I'm constantly worried whether I'm doing a good job. But everything is more fun–and more meaningful–with Emma. I've never felt a love like this before. It's intense and overpowering and beautiful all at once, and it's a love that can move mountains.
I just can't believe she's ours. And as hokey as this sounds, it feels like I've waited my whole life to be her mom.
Shop the post:
J.Crew Factory Dress (Old, similar here, here and here) / Kendra Scott Necklace c/o (More colors here, here and here) / GiGi New York Clutch c/o / Similar Bracelet / Sole Society Pumps c/o (On sale! Even cheaper here. Also LOVE these!) / Pearl Earrings