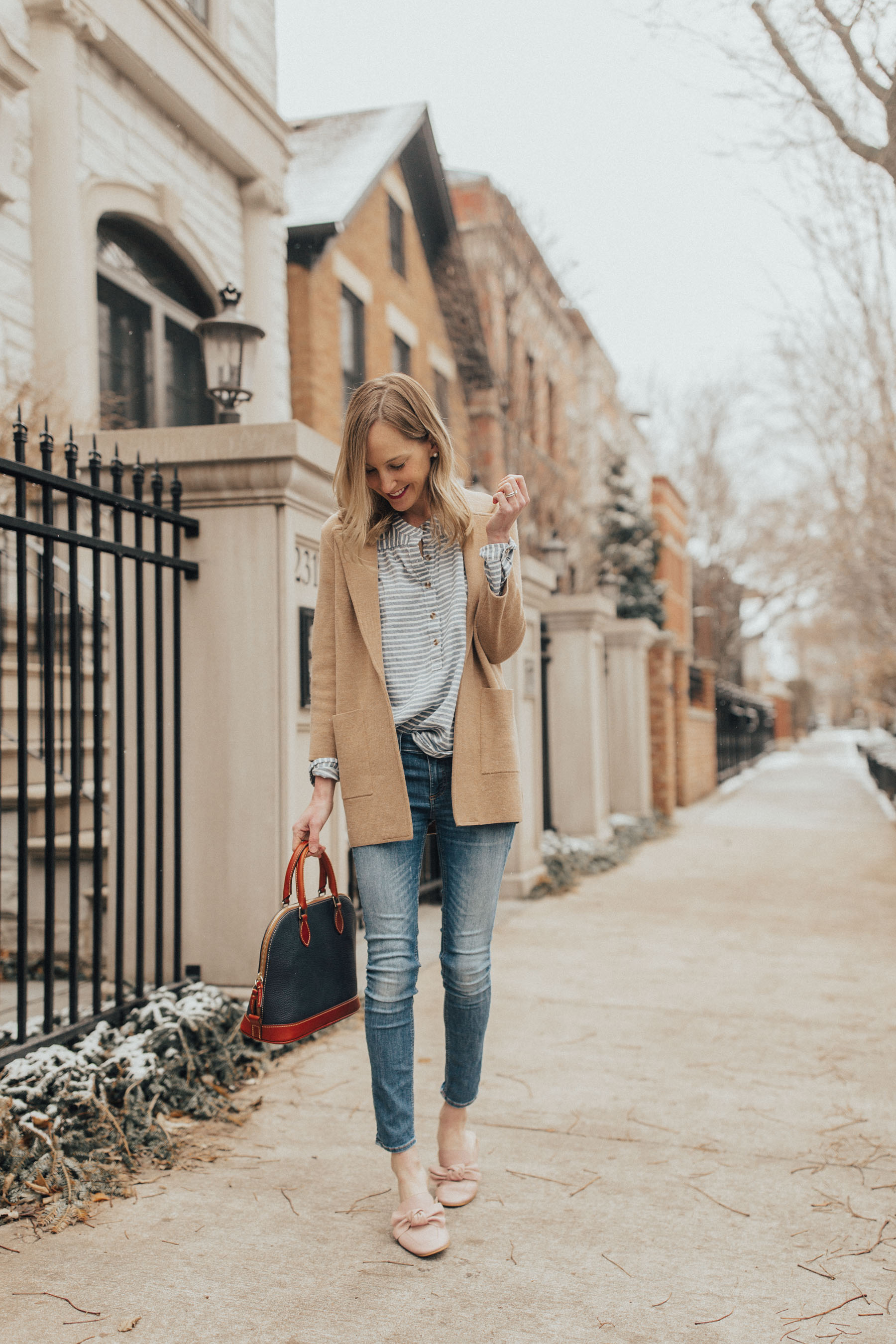 Bow Mules (They're back! I love the pink, white and navy.) / Flannel Button-Down (I'm wearing a small. Also love this one in buffalo check, this one in pink, and this one in gray.) / Sweater Blazer (It's back! Also love this one and this one.) / Navy Satchel / Initial Necklace / Jeans (Also love this pair which is on sale, and just got this darker pair and I'm obsessed.)
Hiiiii, Friends!
I've been a bit of a downer this week. I know it's because of the weather; it's been incredibly difficult to maintain a positive outlook and be productive in the face of such gloom. But I worked "overtime" yesterday so I could spend today with Emma and Jess (#treatyoself)–and I know that'll help. ;) Definitely lucky to have this wonky work schedule and some fabulous ladies in my life. ❤️
Anyway, I thought I'd formally address the hair situation today!
It's weird; I think the new shade looks startlingly different in real life as opposed to what it looks like in photos. But take my word for it: it's so much darker than it used to be… and while I was a tad shocked and full of regret at first, I now LOVE it.
Never going back.
I told the backstory here, but the gist is that I've always had fine, thin hair, and I exacerbated the problem when I became addicted to highlighting and straightening because of a particular boy. (Cough, cough.) And then I had a baby with said boy, which made things even worse. (Half my hair fell out. Worth it, but oy.)
After years and years of abusing my locks, though, I decided to stop completely. Not only did I want healthier and thicker hair, I was tired of the expensive and time-consuming maintenance that came along with the blonde. My ideal night was not one spent at the salon; it was one spent with my family. I didn't have a lot of free time as it was, and I certainly didn't want to pay someone to take more of it away! So I threw out the straightening iron, gave in to the waves and curls, and went back to my natural color.
Note: I did balayage, btw, which means it'll get even darker over time as the color grows out. I did it with Nicole at Salon Soca. If you're looking for someone, I adore her and have been going to her since I first moved to Chicago!
And you know what?! I'm still me. And if I'm being honest, I think I feel more like myself than I did when I had the blonde hair.
As silly as it sounds, embracing my natural hair has been pretty freeing. It's one less thing to worry about, and it takes some of the vanity out of my life. I also now recognize that I clung to the blonde, thinking that I needed it. But I do not need it. ☺️
New year, new look, new (easier) lifestyle.
Same person.
❤️
Style notes:
Bow mules: They're BACK, guys! I'm crazy obsessed with these shoes, as they're buttery soft and require no break-in time. I also get a zillion compliments every time I wear them. (Yes, they look somewhat inappropriate for the weather in these photos, but these pics were snapped on a 50-degree day! It's been a little crazy here in Chicago, haha.) Anyway, they run true to size, and I couldn't recommend them more. I also love the navy and white pairs!
Flannel shirt: I can't believe I'm loving Abercrombie, but there it is. Everything is so affordable, and there are some real gems! This flannel shirt is an obsession, and I actually own a couple of them. Doesn't look like flannel, but is flannel, making it super warm and absolutely perfect for the girl who's always cold. :) I'm wearing a size small for a slightly oversized fit and think it's great. (Also love this one in buffalo check, this one in pink, and this one in gray.)
Sweater blazer: Also back in stock! Adore this number and wear it all the time. Goes with nearly everything! Runs pretty big, though. I took mine in an XXS, which is weird for me.
Jeans: BEST JEANS EVER. They're just so soft. If you're looking for a pair of jeans that feel like sweatpants but don't lose their shape throughout the day, you're welcome. ;) (Also love this pair which is on sale, and just got this darker pair and I'm obsessed.)
Satchel: These bags remind me of my childhood, and I'm amazed at how well-made they are for the price. Something I'll have forever, for sure!
Initial necklace: I rarely change my jewelry up these days because I'm so short on time in the mornings. So this little number stays on nearly all the time. I love it, and it makes for the perfect Valentine's Day present, too!
Over and out.
Shop the post:
Bow Mules (They're back! I love the pink, white and navy.) / Flannel Button-Down (I'm wearing a small. Also love this one in buffalo check, this one in pink, and this one in gray.) / Sweater Blazer (It's back! Also love this one and this one.) / Navy Satchel / Initial Necklace / Jeans (Also love this pair which is on sale, and just got this darker pair and I'm obsessed.)
SaveSave