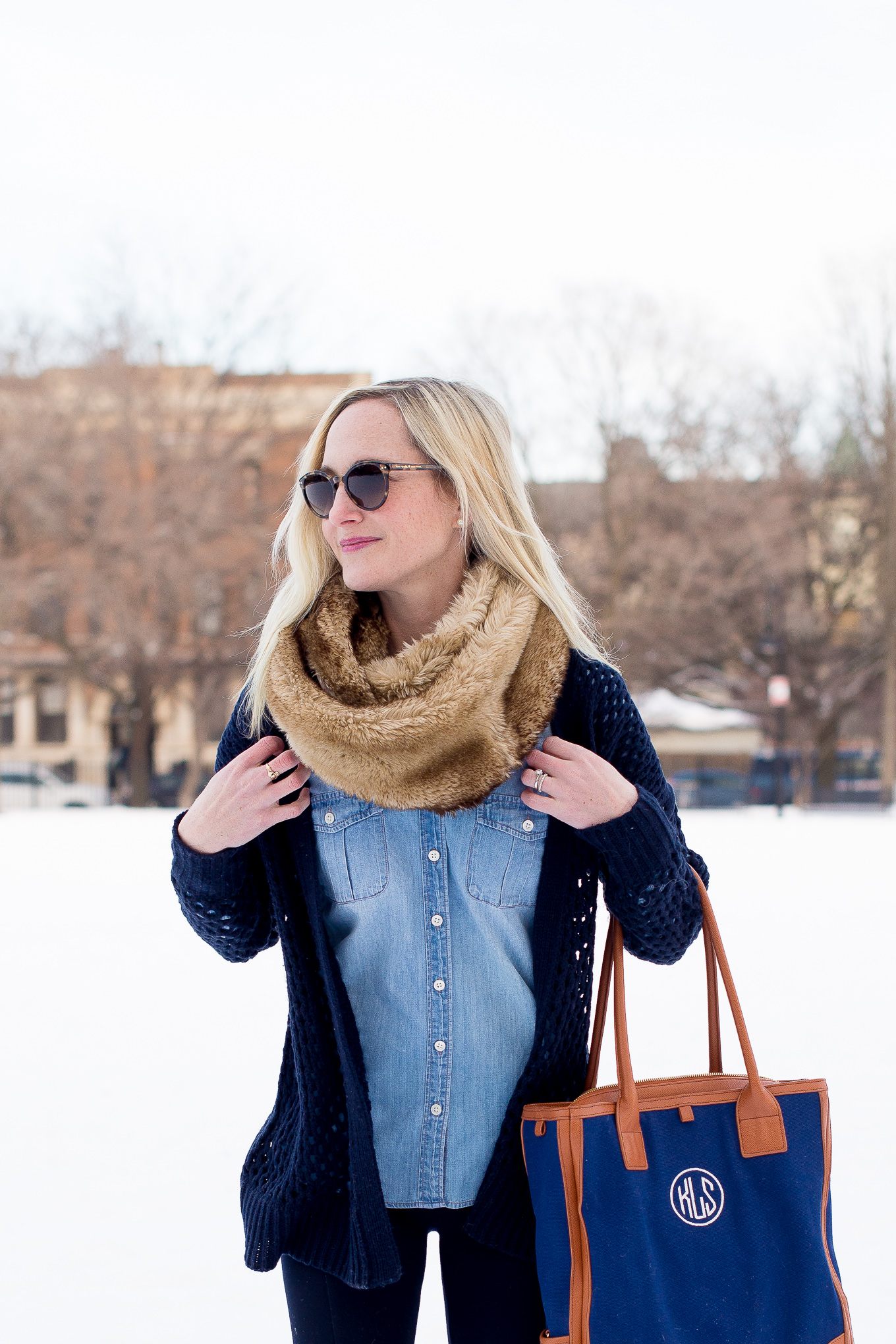 J.Crew Chambray Keeper Shirt, Pearl Earrings and Pearl Necklace (Old, newer style here) / Cinco Powell Tote (c/o) / Dex Sweater (c/o) / Zara Leggings (Old, similar here) / Piperlime Faux Fur Infinity Scarf / Kate Spade Sunnies (Old, newer styles here) / Sorel Boots
When was the last time you took a weekend for yourself? Blocked off the calendar, and told yourself that you weren't scheduling anything? No work, no chores, no outings, no trips, no social functions?
I can't remember a weekend like that.
Before I go any further, I should probably mention that this past weekend didn't entirely fit that description. Up until Wednesday, in fact, it was shaping up to be one of our busiest. But we cancelled nearly everything, and it came close to fitting the above description.
So what'd we do? We stayed within a five-block radius of our apartment, and kind of vowed that we weren't going to try to "accomplish" anything. We watched movies, slept in, spent some quality time on the couch, had lunch at a nearby diner, talked, took Noodle to the park (where these photos were taken–so I suppose I did accomplish something), spent some more quality time on the couch, ate frozen pizza, went out for dessert, talked some more, and fell asleep on the couch. And that's about it. Nothing too exciting, but really nice. Good for the mind. And body, come to think of it.
It took a couple of days away from normal life to realize that I'm not great at just being. Even during pretty average weekends, I like to feel that I'm achieving… something, whether I'm chipping away at to-do lists, getting to know the city better, or maintaining relationships. But there's something to be said for waking up on a Saturday or Sunday morning and not having a plan. There's something to be said for giving yourself a break, and taking in the stuff you don't regularly notice or appreciate. Life doesn't have to be crazy frantic all the time in order for it to be meaningful and good. Meaningful and good can be calm and easy and simple.
And I think I need more "calm and easy and simple." Because it suits me.
Today, I'm feeling positive and fresh. It's a new week, the world is beautiful, I am blessed, and anything is possible.
Onward…