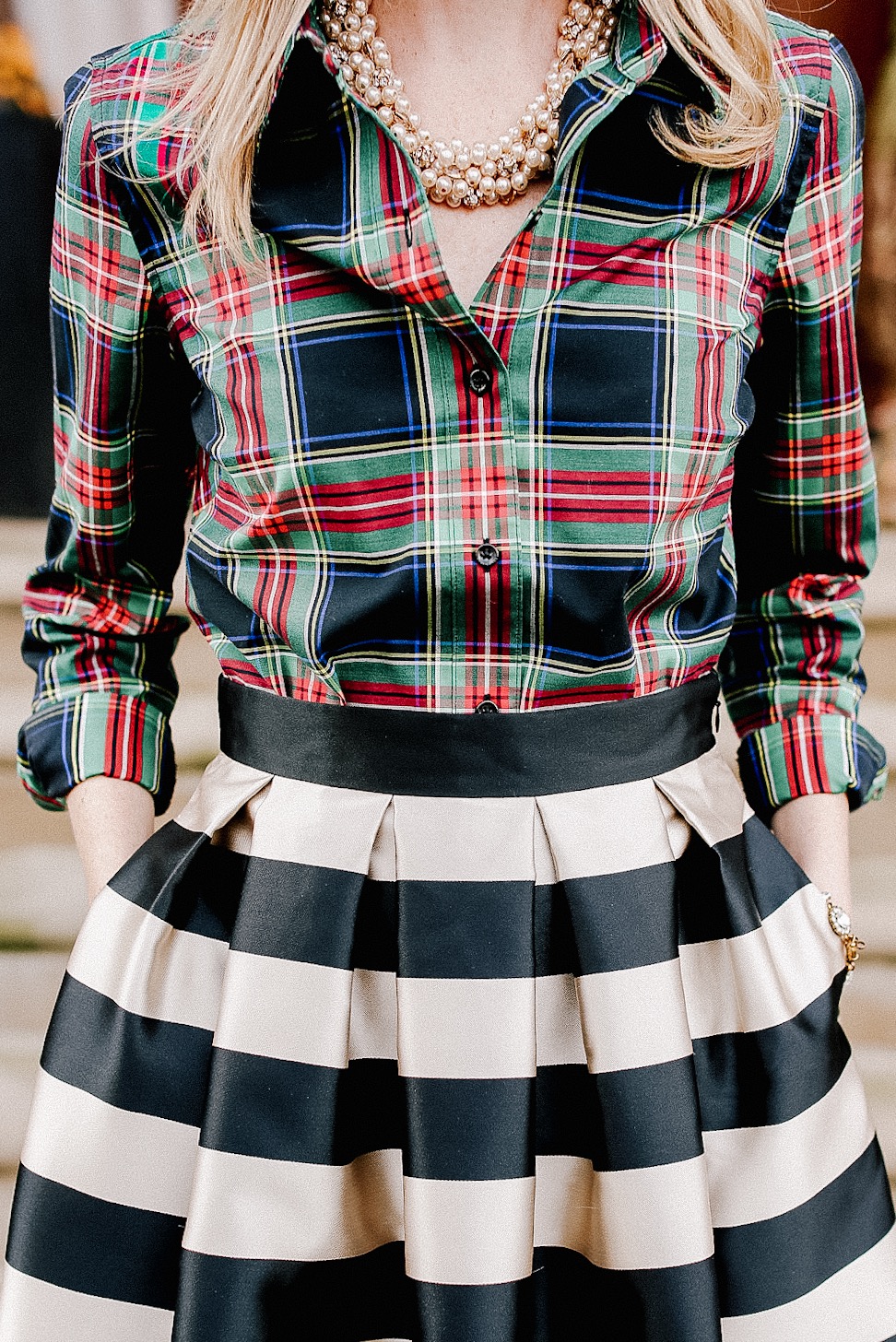 Tartan Shirt (50 percent off with code "CYBER.") / Would pair it with this Sequin Skirt, this Sparkly Tweed Skirt, or this Black Tulle Skirt (50 percent off with code "CYBER.") / Nearly Identical Bracelet (50 percent off with code "CYBER.") — And love this Newer Similar Necklace!
GUYS.
Quick post tonight, but it's pretty much the best day of the season for #60daysofplaid. 😂 J.Crew came out with the BEST new arrivals–so many of which are tartan–and everything is 50 percent off with code "CYBER." I'm so excited!
Here are my favorites:
The perfect shirt: It's so versatile–especially if you live in a colder climate. I love that it's super festive but has sleeves, which is hard to find in a holiday top, and that it really dresses up black skirts and pants. Looking for a fun skirt to pair with it? Try this Sequin Skirt, this Sparkly Tweed Skirt, or this Black Tulle Skirt.
Flannel PJs: These are my FAVE. They sold out quickly last year, so I really recommend grabbing them now! The flannel is amazingly soft, and Stewart plaid PJs are hard to find.
The best scarf: I can't believe that it came back! I'm SO excited about this for one for you guys, because it's undoubtedly the scarf I wear the most during the holiday season. The best part? It comes in three different colors, all of which are fantastic.
Ruffled collar plaid shirt: I got this so the ruffled collar would stick out of my solid-colored sweater. Warm and festivity; boom!
Easy Pants in velvet plaid: One of the two items I'm most excited about! I LOVE J.Crew's Easy Pants, and not just because I'm pregnant. ;) They're insanely comfortable and flattering, and they look like dress pants but feel like pajamas. When I saw these, I nearly passed out. (I was also hungry.) So, so excited that I'll be able to wear plaid pants this season; definitely thought it was off the table for me!
Favorite pumps: The other item I'm most excited about. ;) Like, cutest plaid pumps ever, am I right? Without a doubt, the cutest of the season, but it looks like they're selling out quickly. (I mean, it's the bow. Come on.) Can't get these reviewed on the blog fast enough!
Tippi Sweater: Since Chicago is so horribly cold, I have a tough time wearing slinky numbers during the holidays–or even stuff that isn't knit or wool. But this plaid number is a SWEATER! Tucked into dress pants or a cute skirt, it'll look fancy but keep you warm.
Popcorn sweater: This isn't plaid, but a great popcorn sweater is hard to find, and this one comes in tons of colors. It'll look great paired with tartan, too!
Bow flats: A-dorable. A must-have shoe for the holiday season; I love that it's super Christmassy and fancy yet flat–great for moms and others who are on their feet all day!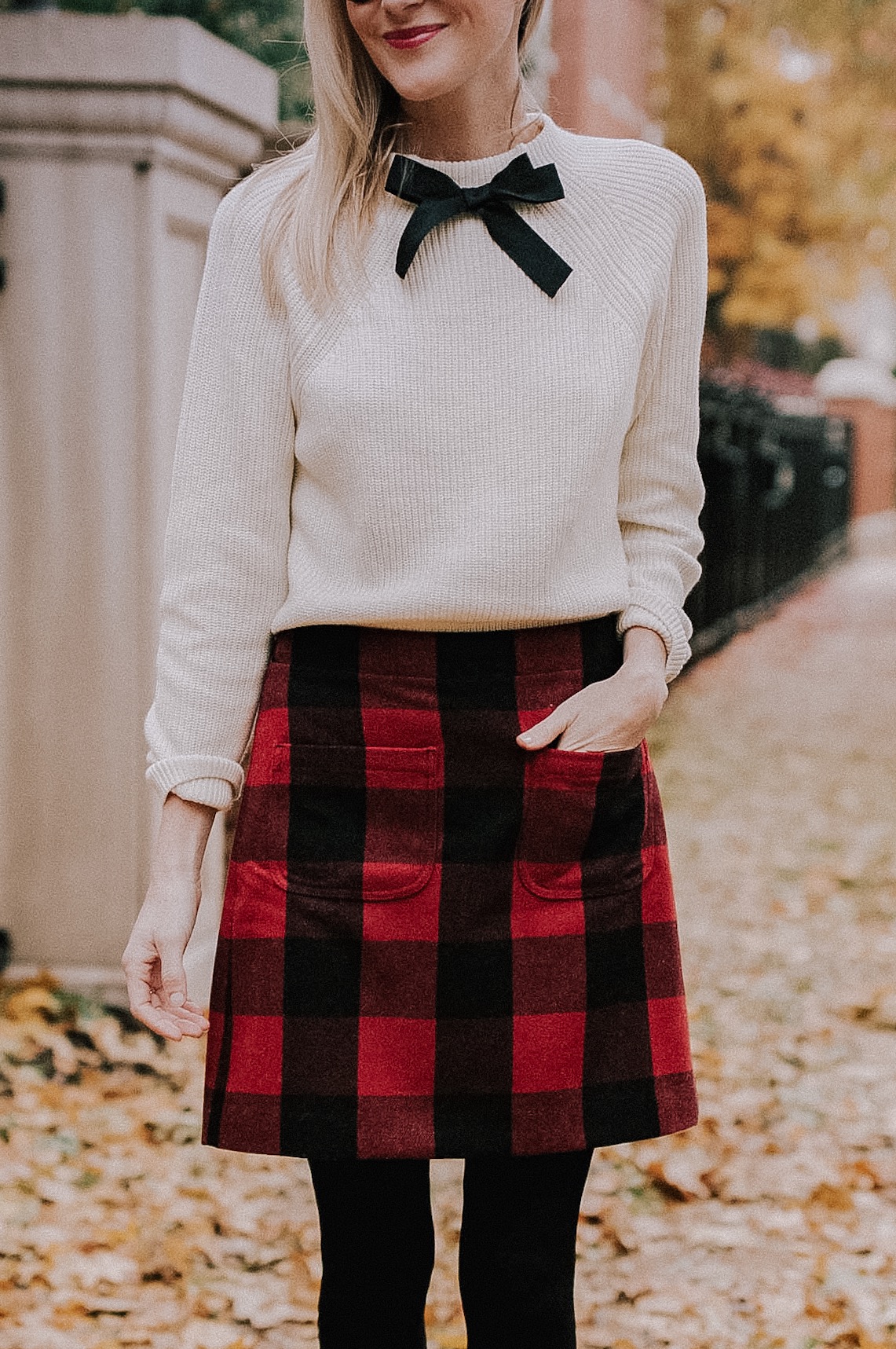 J.Crew Factory also has some amazing new arrivals in plaid! Use code "ADD2CART" to take 40 to 50 percent off.