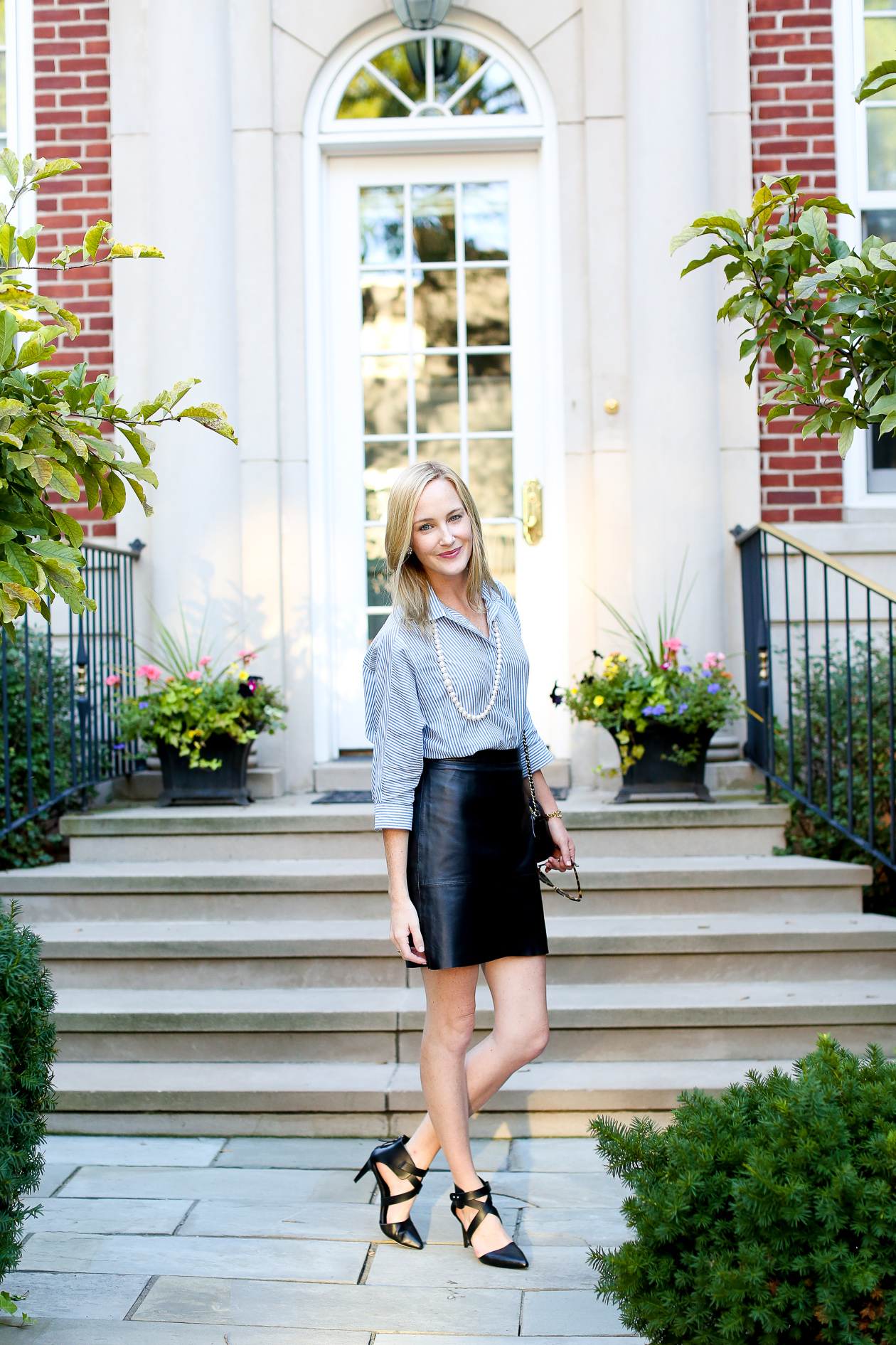 Joe's Jeans Pumps c/o DSW / LOFT Top c/o / French Connection Skirt c/o / Emma McKinstry Bracelet c/o / Kate Spade Bag (Old, similar here) and Sunglasses (Old, similar here and here) / Hazel & Marie Necklace c/o / Moon and Lola Earrings
Surprise, surprise: I (yet again) skipped out on Fashion Week. Why is it that something comes up nearly every time?! Fall 2015 didn't make sense because I'll be on the East Coast next week to visit my parents, and we're dealing with some pretty major house problems right now. (As if I haven't made that clear enough, haha.) But it's totally fine… because honestly, sometimes Fashion Week is a bit intense. (Many a time have I walked into an event and immediately turned around because I'm nervous and out of my element, feeling short and Chanel-less, and 100-percent sure that I'll be pegged as a fashion blogger impostor.)
Because let's be serious: I love looking at pretty clothing, shoes and bags just as much as the next girl does, but the truth of the matter is that I don't know a whole lot about fashion.
Why, then, Kelly, do you have this blog?!
Because I like fashion. I'm not an expert, and I'm not a trend-setter. And I'm the first to admit that I spend way more days in jeans and cable-knit sweaters than I do dressed up. But I really enjoy following what looks designers are parading down their runways, and what trends the normal people–like you and me–are adopting. It's fascinating.
But back to Fashion Week. As for the attendees, I loved seeing the Chanel bags (hence my quilted look-alike), the all-season strappy pumps (how perfect is my Joe's pair from DSW?!), and the different takes on the classic button-down. In case you're wondering, this was my favorite collection of street style looks. Of course, some of it has me running for the hills. ;) Still, so much of it is incredible. And isn't the photography jaw-dropping?! I also liked this one and this one.
In terms of the shows, my favorite is always Ralph Lauren, partially because of the extremes the brand goes to every year to make it memorable (this year it was held at my favorite rooftop); partially because of the way preppy, classic pieces are paired with trendier ones; and partially because of the attendees' attire. Like I said, I tend to steer clear of "trendy," but Ralph Lauren definitely makes me think outside the box! :)
This year, I fell completely in love with RL's unexpected look of the blue striped button-down tucked into a bold skirt, and the black leather romper and strappy black sandals that Selena Gomez wore to the show. While it might not be appropriate to wear the bright floral skirt that Ralph Lauren featured (considering it's nearly October), I recently combined inspiration from New York Fashion Week attendees, the Ralph Lauren show and Selena's attire… and came up with this fall-ready look!
I wore this outfit for a much-needed night on the town last week with Mitch, and I felt both true to myself and kind of trendy. (#Success!) What were your favorite trends from Fashion Week?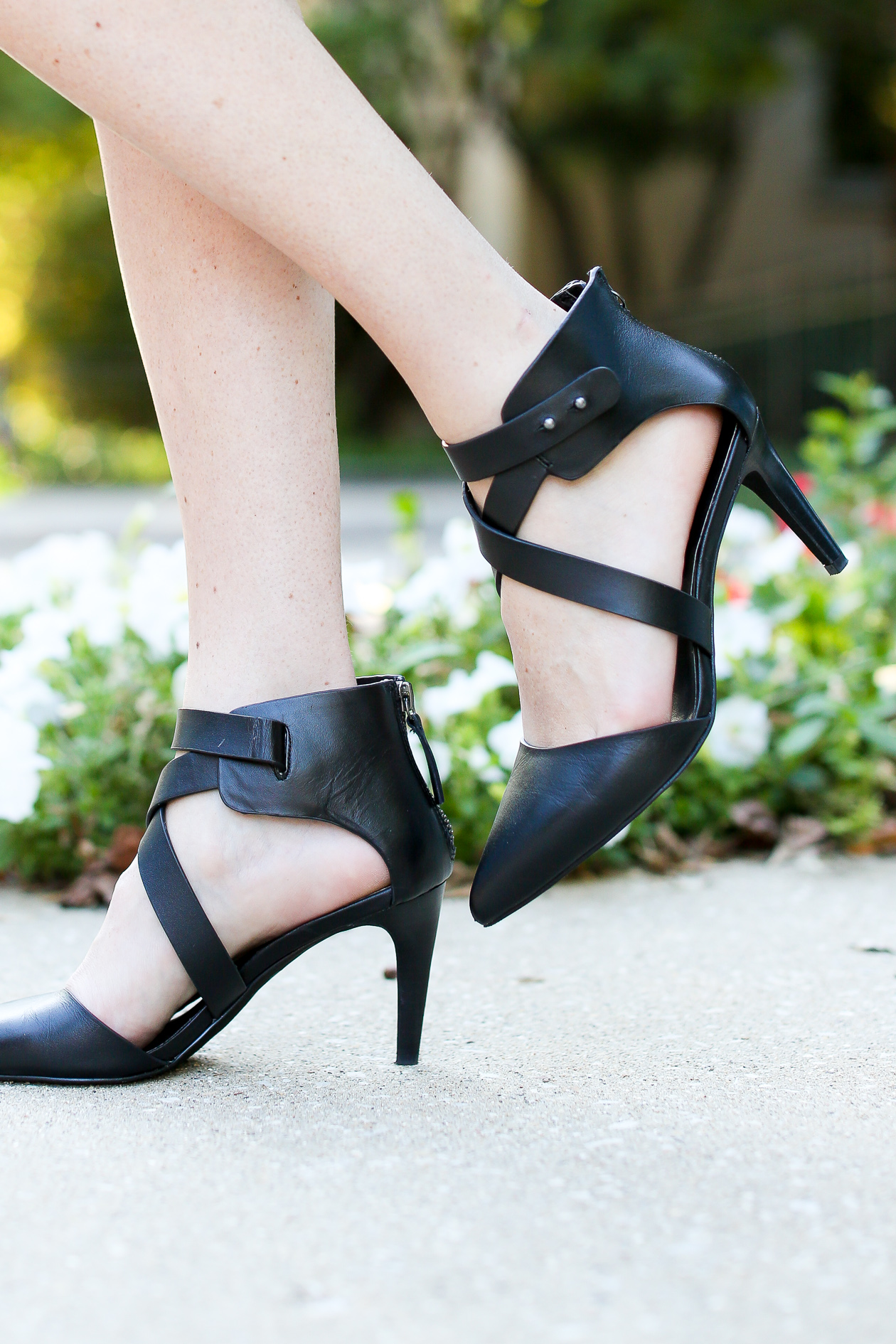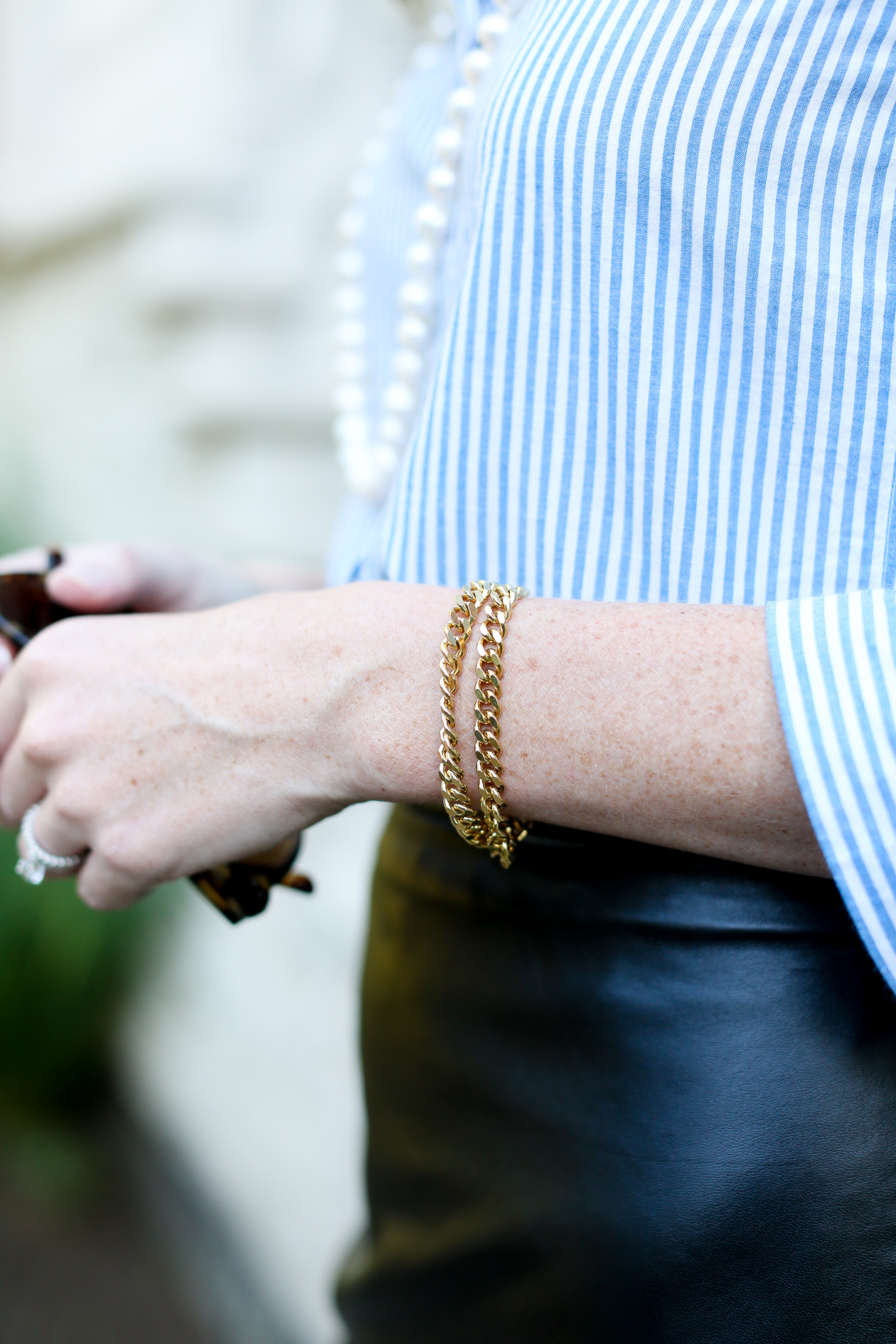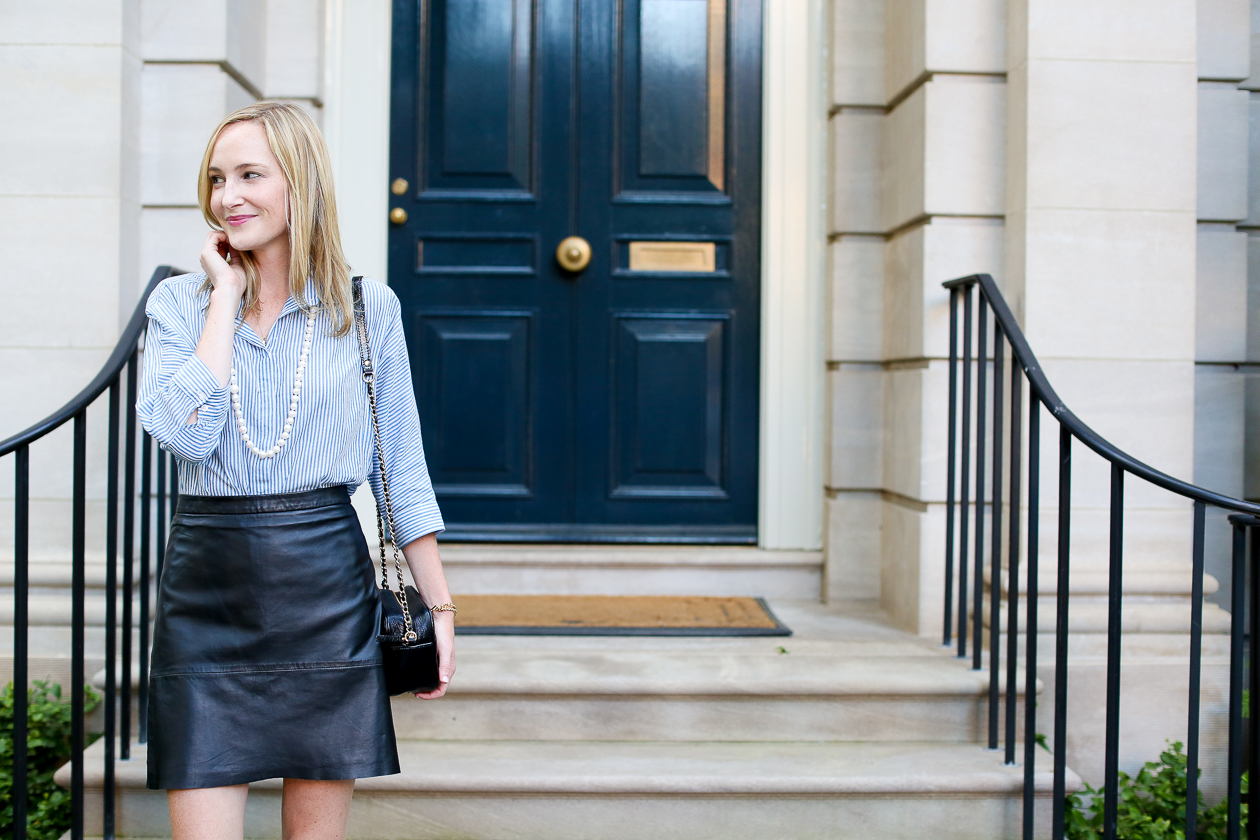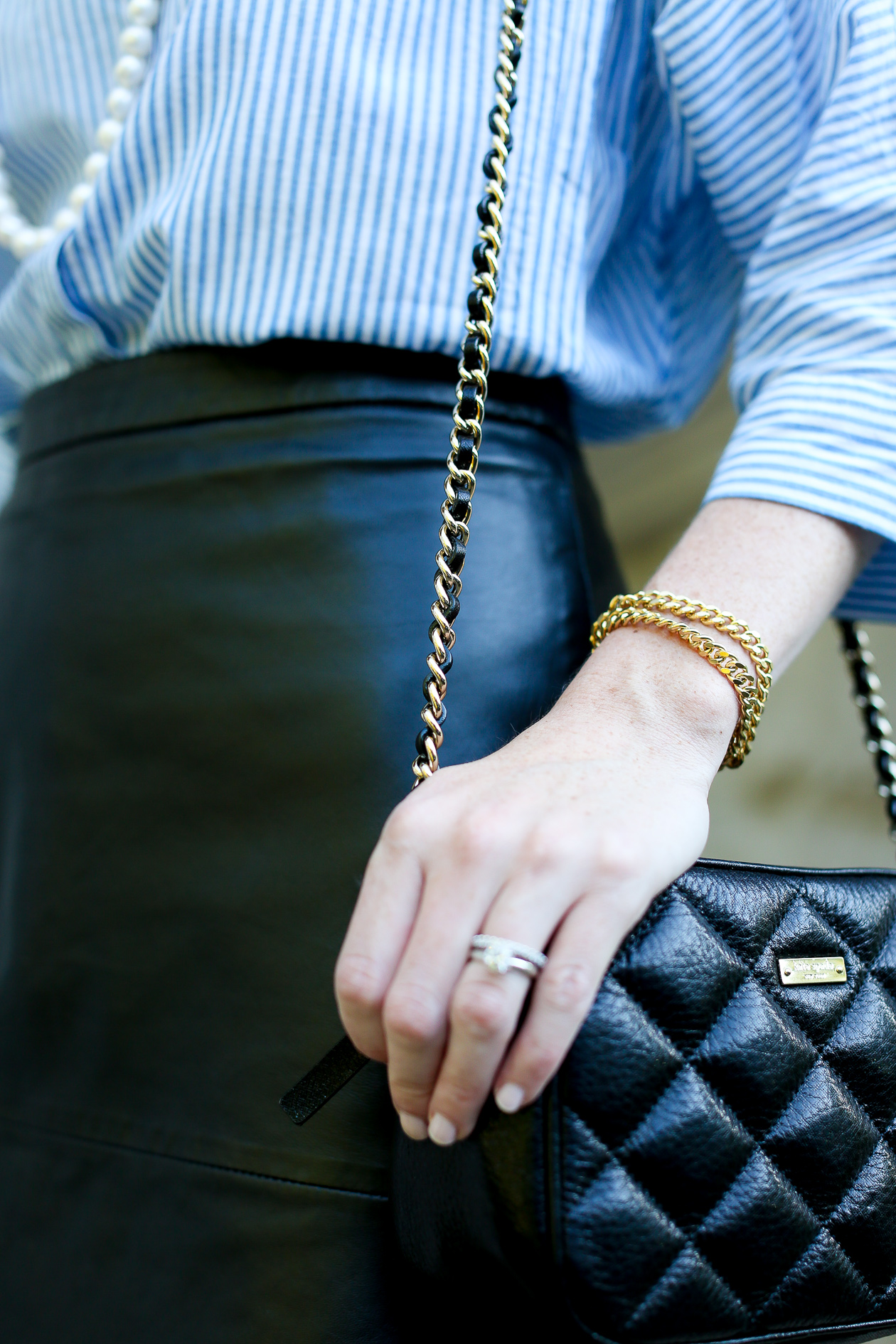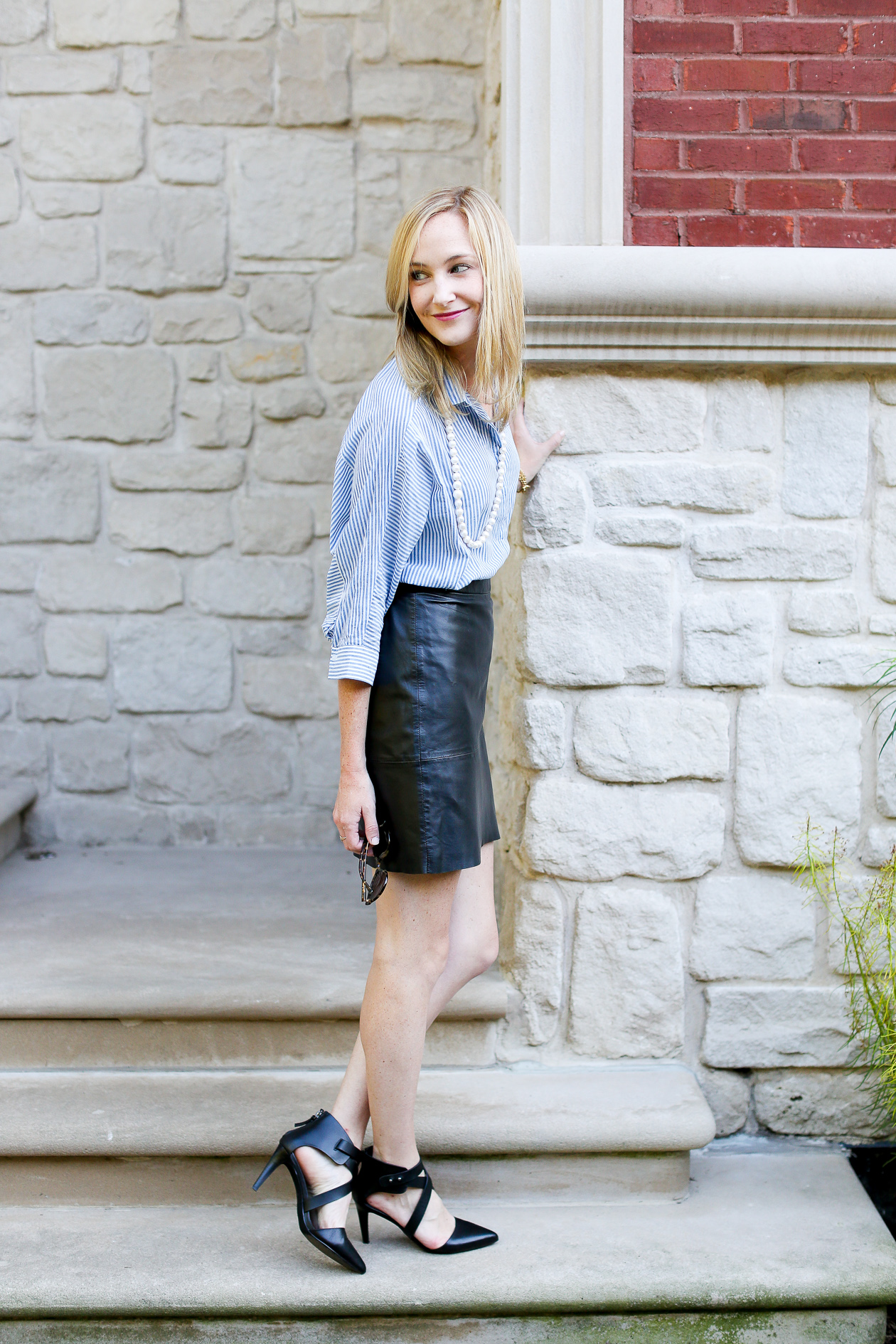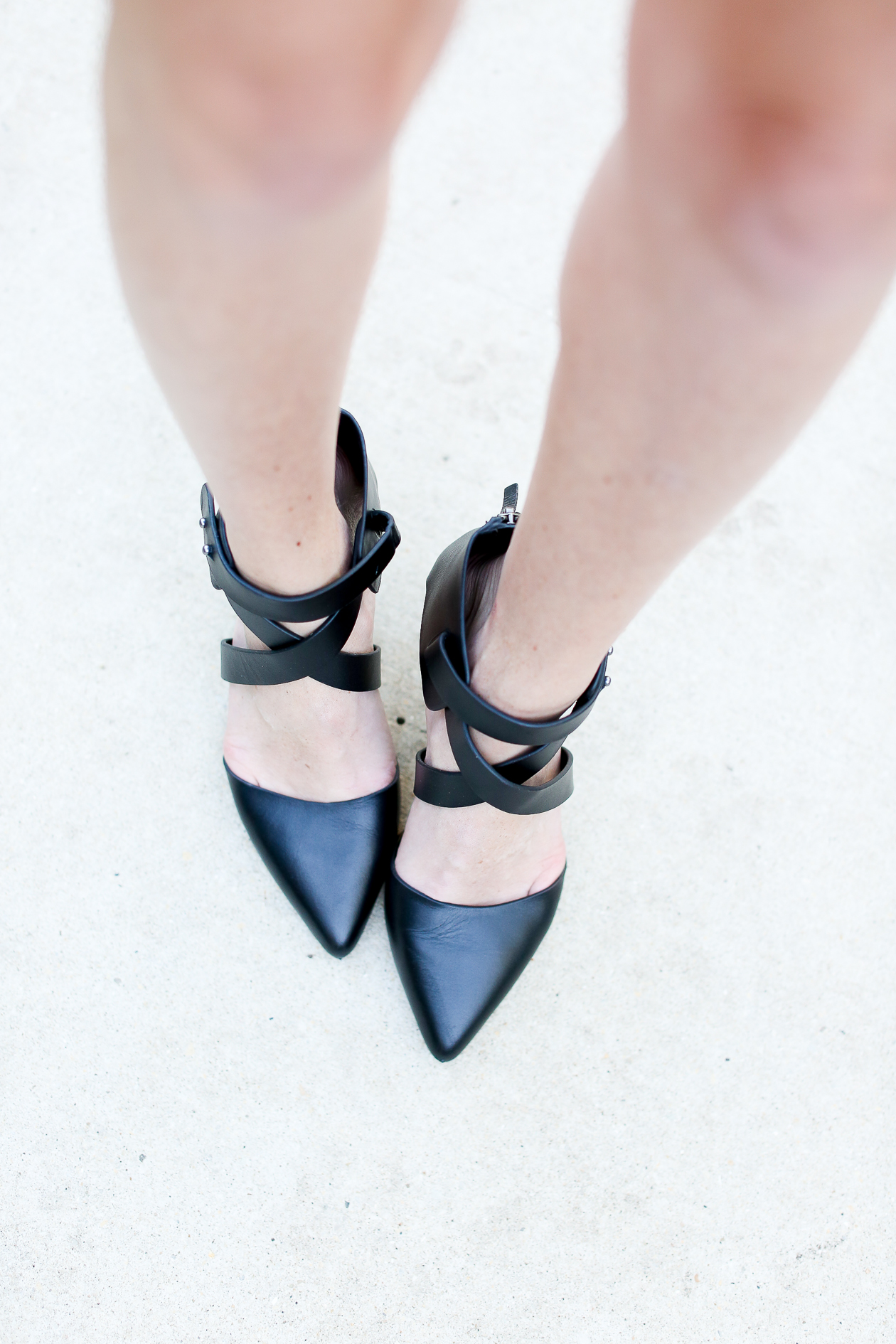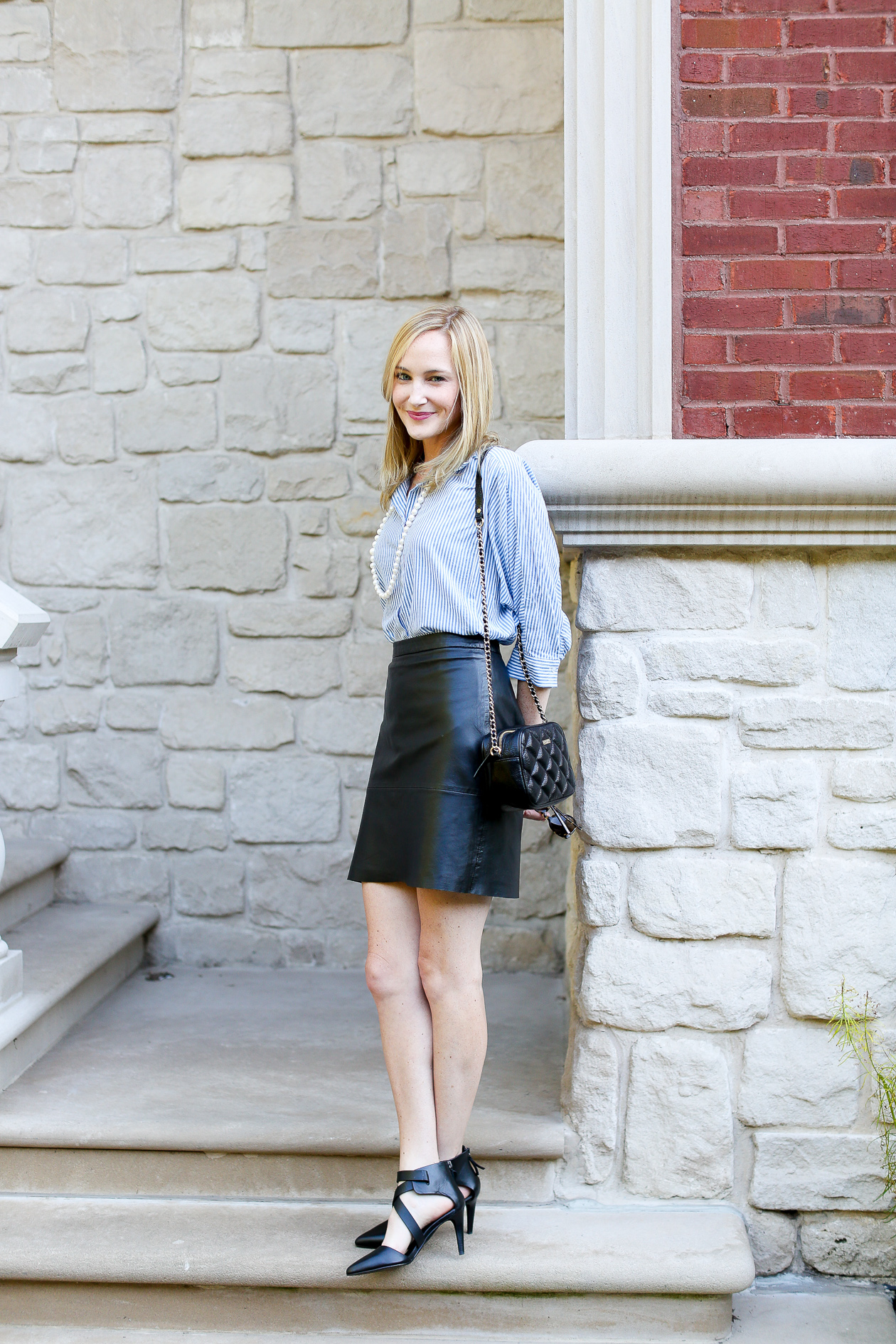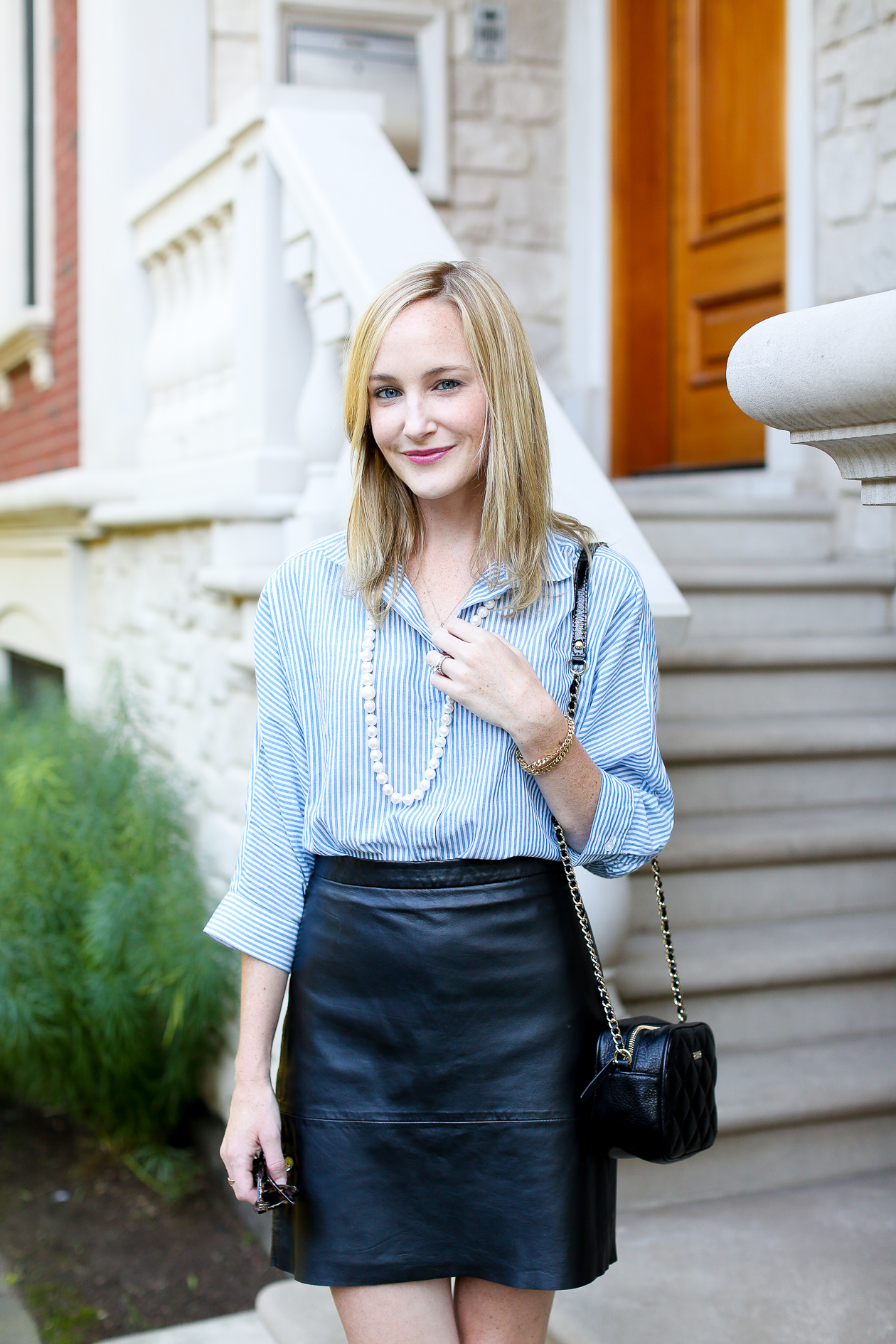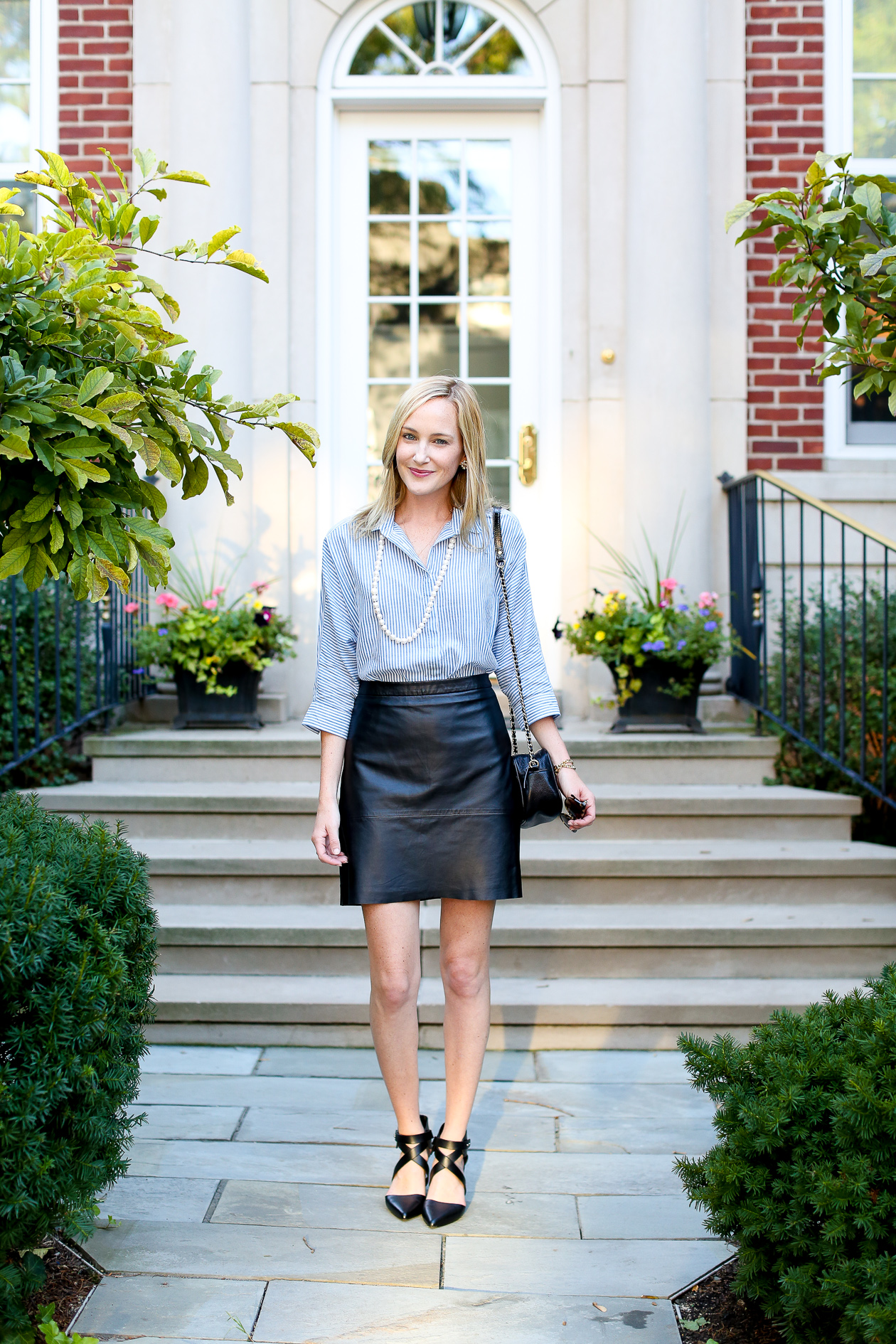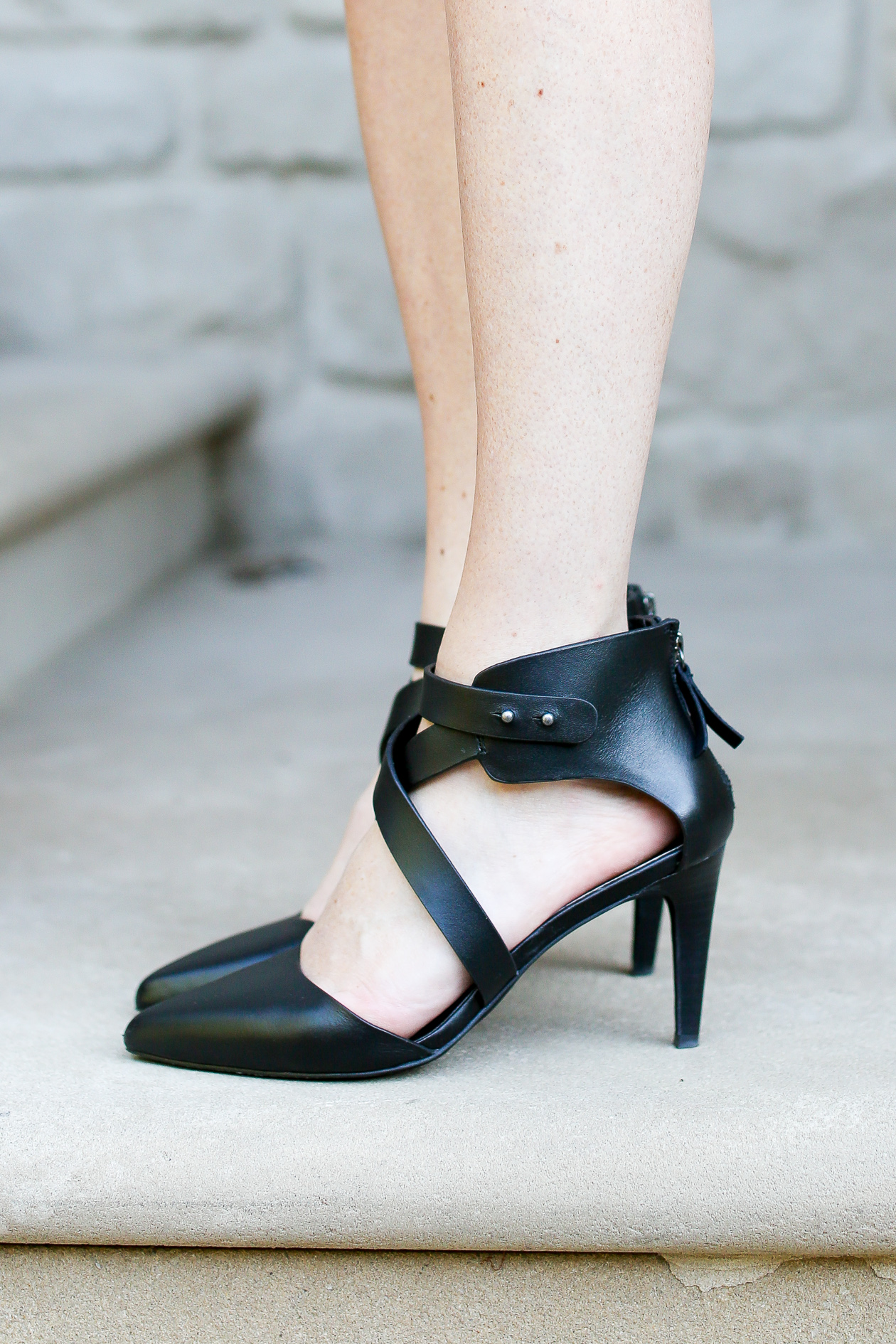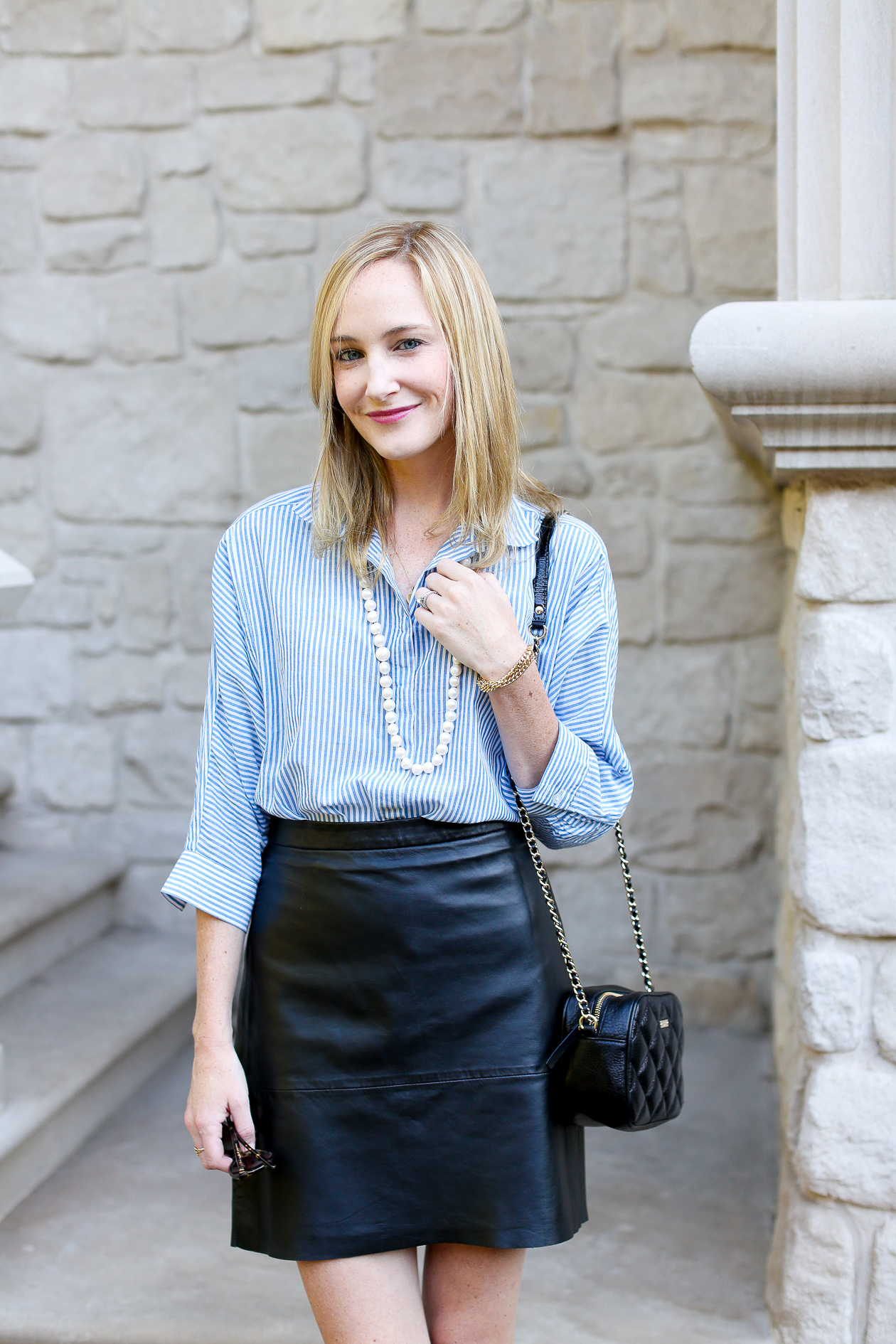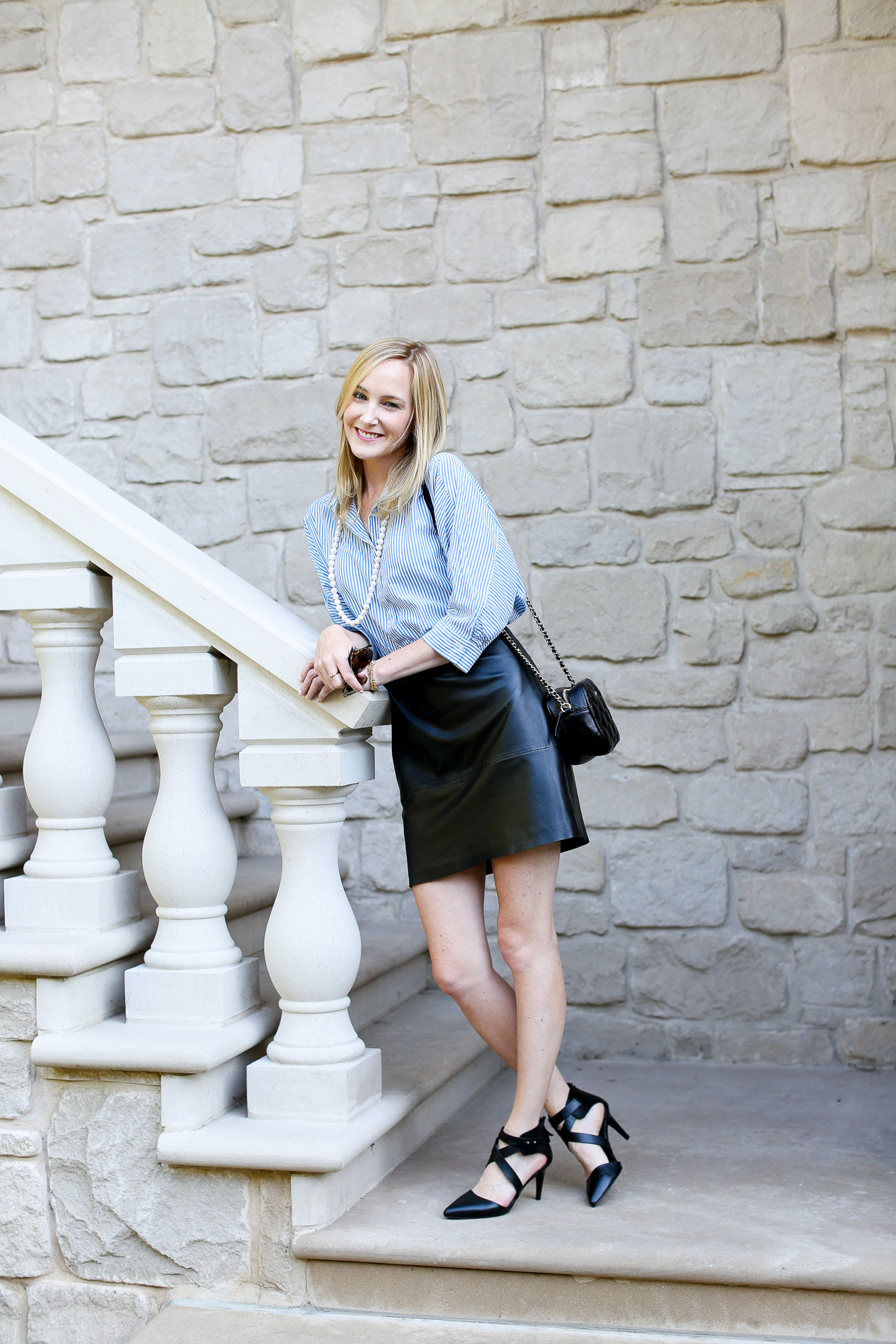 Disclosure: This post was sponsored by DSW through their partnership with POPSUGAR. While I was compensated by POPSUGAR to write a post about DSW, all opinions are my own. As always, thank you for supporting the partnerships that keep Kelly in the City up and running!