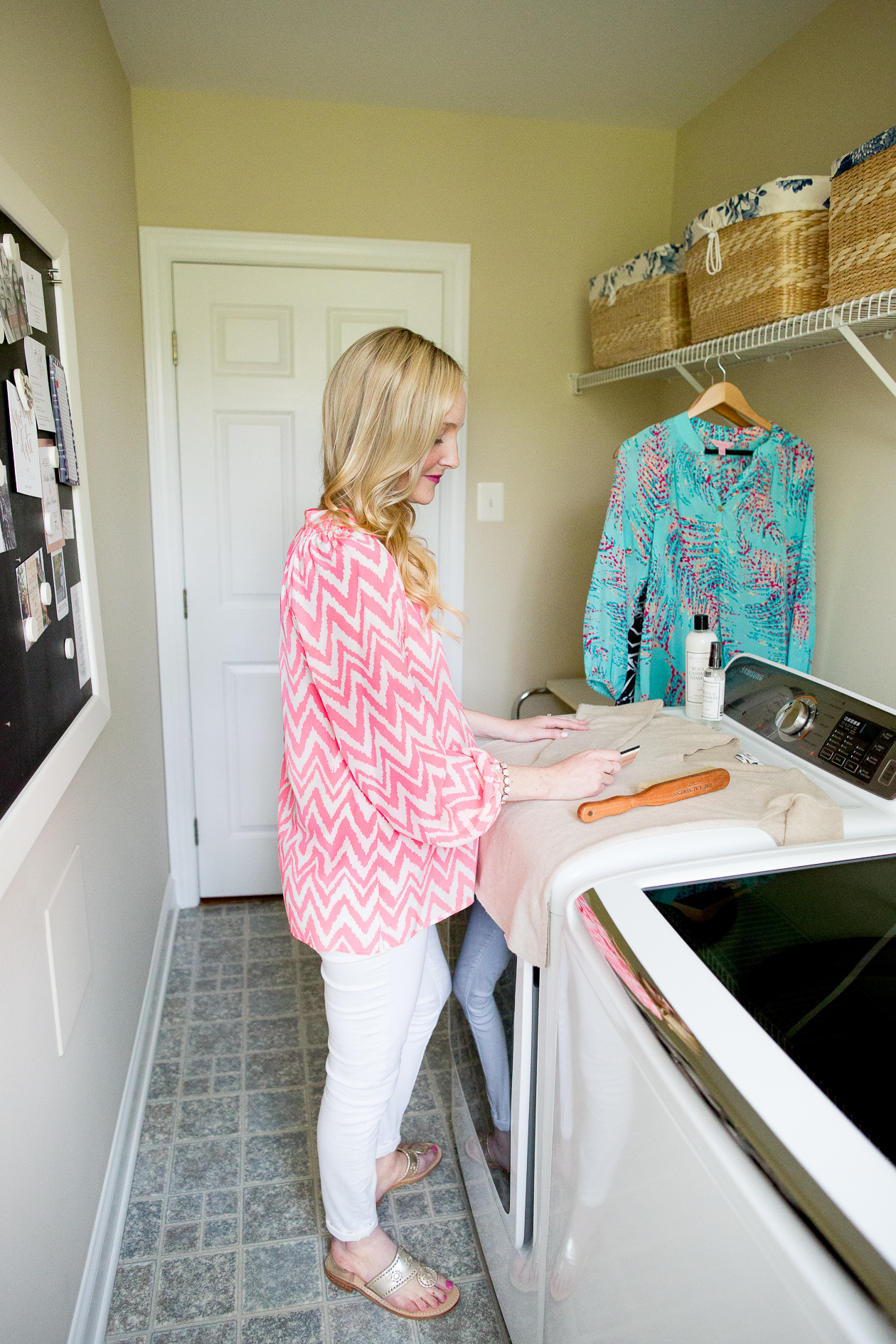 Taking care of my nicer clothing stresses me out. It costs so much money to bring it to the dry cleaner, and I'm always so nervous that it'll be ruined there. (Did I ever tell you about the time my favorite red coat was wrecked?! Or the time my friend's dry cleaner burned down–with half her wardrobe inside of it–back in New York?! SO SCARY.)
Lately, I've been really wanting to make the switch from dry-cleaning my nicer pieces to taking care of them at home. Mitch and I have been swamped with house-related chores, and whatever chores we can knock off the to-do list simplifies our lives and helps us maintain some sense of sanity! ;) So today, I'm posing an important question to my friends at The Laundress:
How should I clean and care for cashmere at home?
I've submitted my question to the experts at The Laundress via this online form. (Update: here's the answer!)
The Laundress–a New York-based eco-friendly line of detergent, fabric care and home-cleaning products–was founded by Gwen Whiting and Lindsey Boyd. The Cornell graduates were getting pretty annoyed with just how much money it cost to maintain their new "working world" wardrobes, and how quickly their investment pieces required replacement. Today, Gwen and Lindsey's company is shattering the myth that everything labeled "dry-clean only" means "dry-clean only." In fact, the girls say that 90 percent of of those pieces are actually machine-washable!
Needless to say, I can't wait to share the answer to my question with you, and start taking care of my cashmere at home. Stay tuned: I'll be publishing next week!
Have your own laundry-related question? Feel free to ask the experts here! Oh, and now until June 2nd, solution-oriented kits from The Laundress, like the Wool & Cashmere Kit, Everyday Laundry Kit and Dry Cleaning Detox Kit, are 25 percent off. Customers can build their own kit of four or more products and save 25 percent, too!