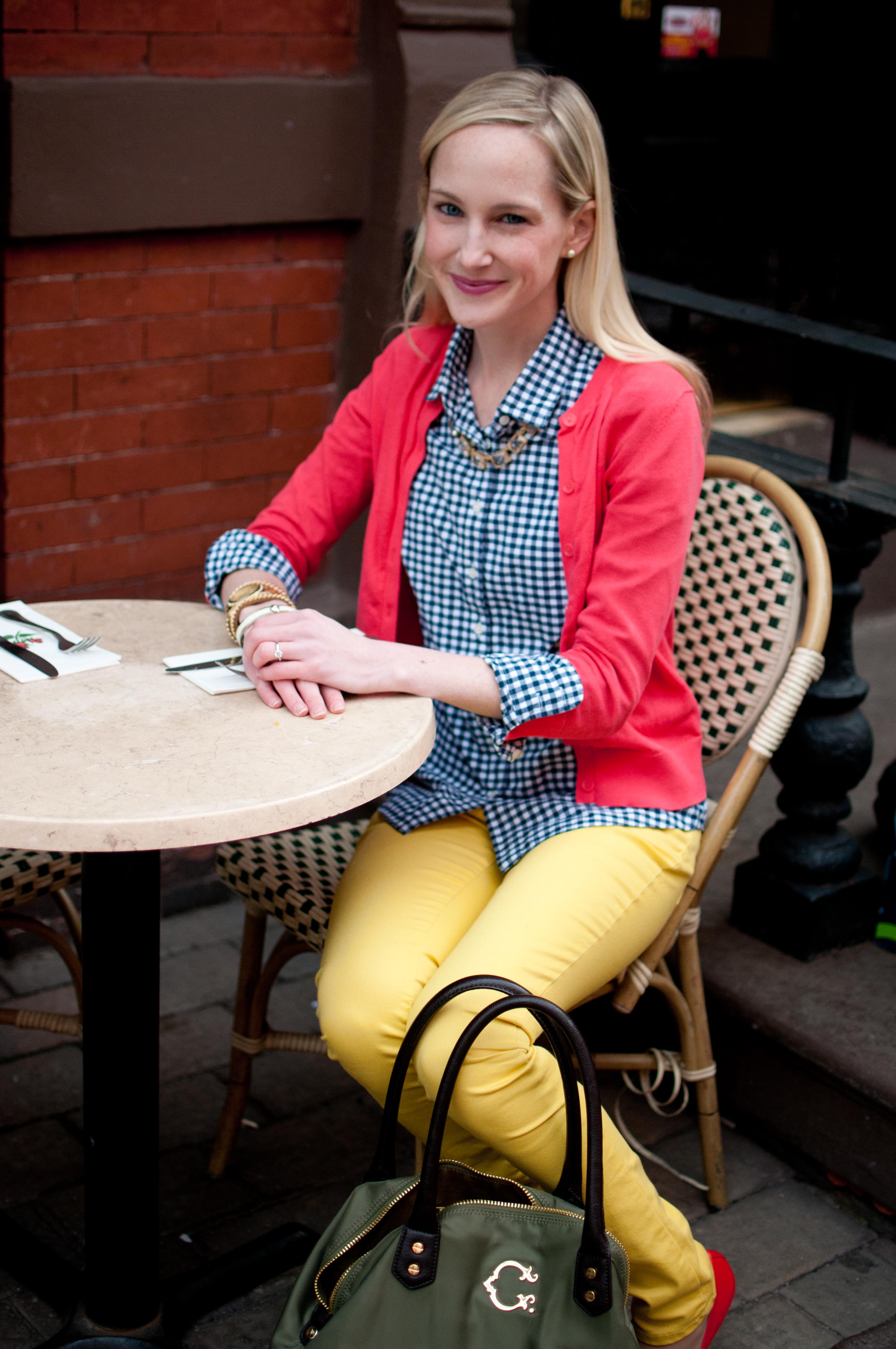 Sweater: Ann Taylor Loft (On sale! And take an additional 50 percent off with code "SPRING50") / Bag: C.Wonder / Jeans: Target, other colors here (on sale!) and here (on sale!) / Gingham Shirt: J.Crew / Flats: C.Wonder, here in gold and black, and here in mint and pink / Earrings: J.Crew / Watch: MICHAEL Michael Kors / Wrap Bracelet: Tasha / White Bangle: Henri Bendel / Necklace: C.Wonder (On sale! Sign up for their newsletter or share one of their products on social media to receive free shipping, too!) / Lipstick: Clinique
Yesterday was an awesome day, simply because I got to see my dad. We went to this fabulous little Italian place called "Via Della Pace" on 7th Street in the East Village, and talked over wine for three hours. There's nothing like father/daughter dinner night. When I first moved to New York City back in 2006, Dad and I met up for dinner every single week at Patsy's Pizzeria on 60th and 1st, a few blocks away from my awful apartment. (Think: studio converted into a two-bedroom. Believe it.) At the time, I was falling head over "heels" ;) for the city, but I was also all kinds of confused, both in my professional and personal lives. Transitioning from college life to adulthood can be difficult! Dad was always there to pick up the pieces when I felt like everything was falling apart, and nothing was going as planned. Today, I'm lucky that this has changed, and I've figured out the important things. I thankfully no longer feel that mix of trepidation, confusion, excitement and, well, misery all at once on a constant basis. But one thing remains the same: I always want to see Dad. Life is just better when my week includes him. And I can't imagine not being able to bounce my crazy ideas off him, ask for his advice, and have long talks about life. I love my Dad more than I could ever explain.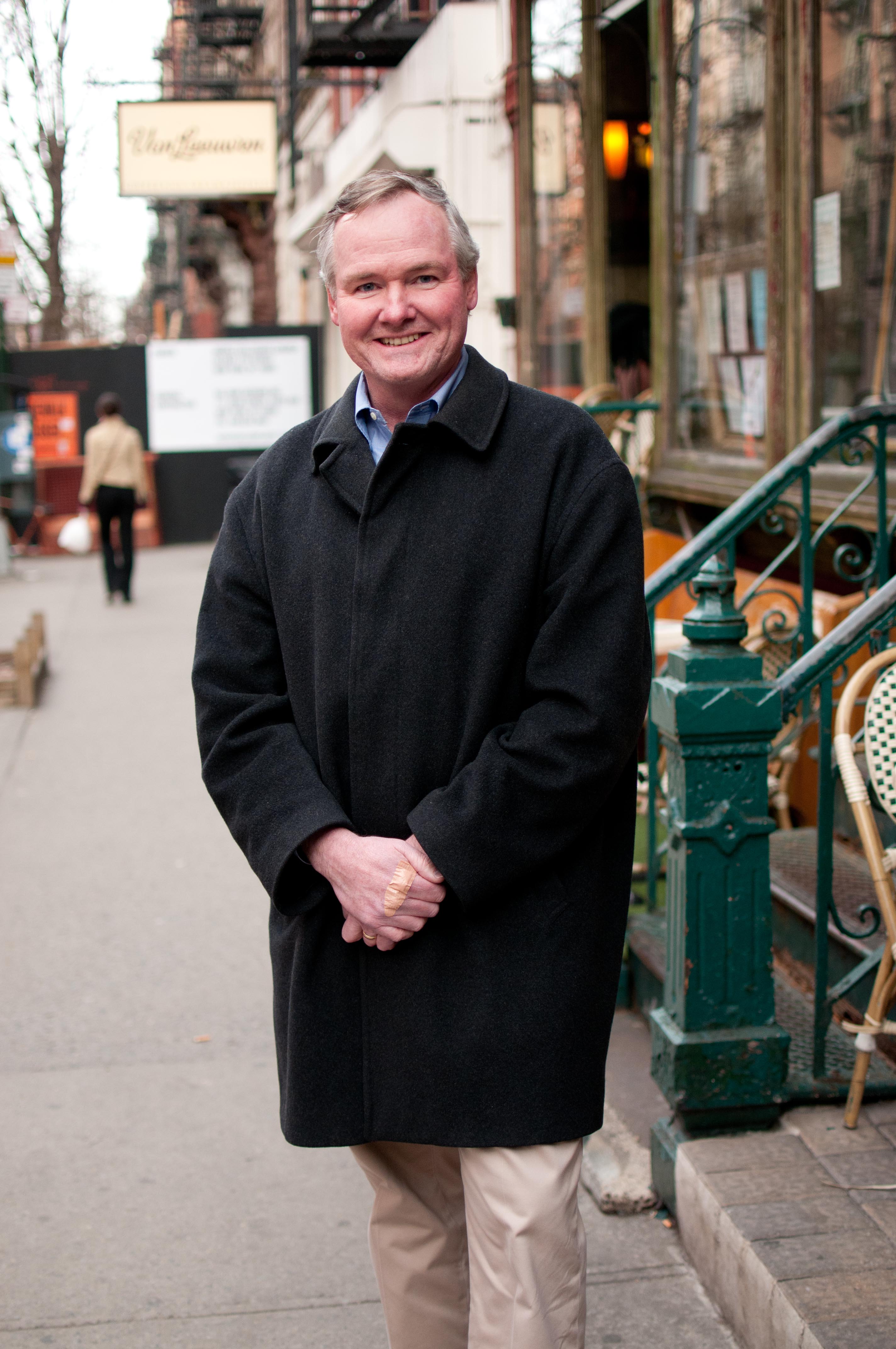 Adorable fact about this post? Mitch was unavailable to take the photos, so good old Dad took them. He did such a great job! And he really got into it. My dad is probably one of the funniest people you'll ever meet. And in typical Dad style, he really played the part of the artsy photographer. ;) I couldn't stop cracking up. But seriously. Dad, if you're reading, thanks so much. You're quite talented!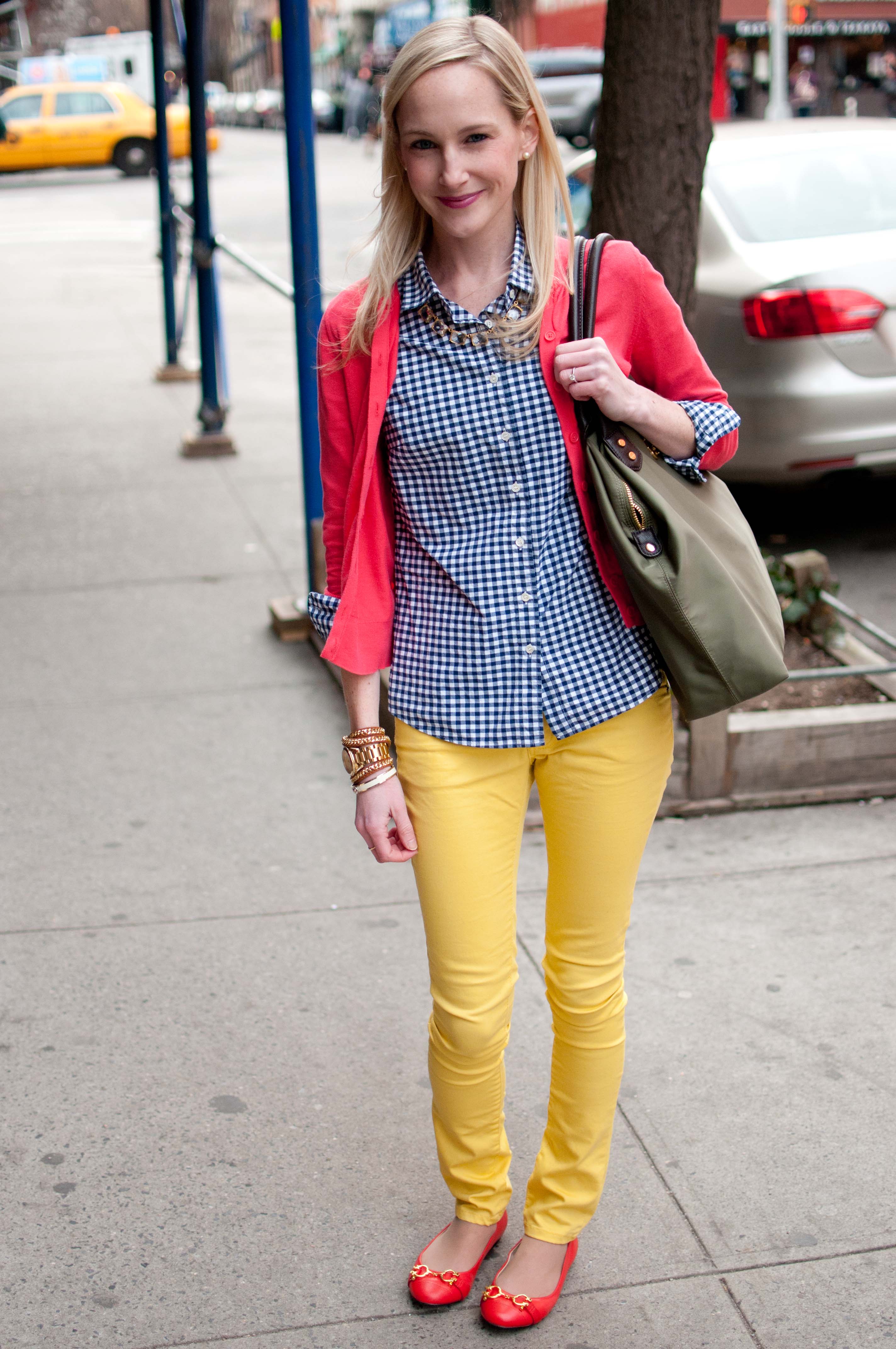 As you might be able to tell from the photos, I'm totally decked out in C.Wonder today. Why? For me, C.Wonder screams warm weather and happiness, and warm weather–and even more happiness–is right around the corner! Have you checked the forecast?! New Yorkers, get ready for some lovely weather next week. I, for one, will be picnicking in Central Park. :)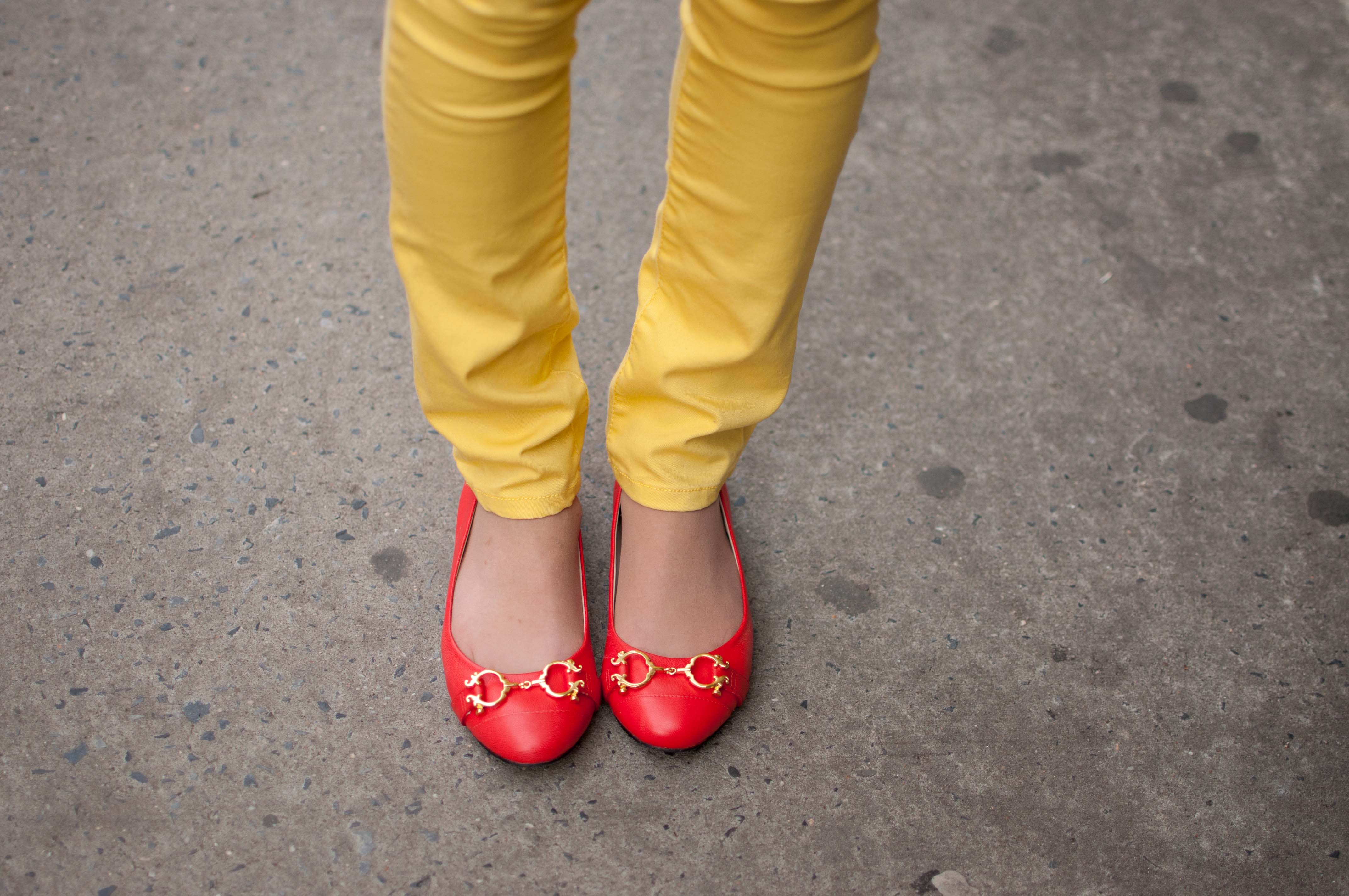 Before I met Dad for dinner, I took the 5 and 6 trains down to Spring Street to walk around SoHo. School gets out at 3 p.m., and I wasn't meeting him until 5:30, so I had some time to kill. And where better to kill time than in SoHo?! I mostly window-shopped, occasionally stopping to browse. Now, I can't reveal too much here, as pretty much all of my family and friends are privy to this blog, but I got something major accomplished while in SoHo today. I found gifts for my bridesmaids! It was completely unexpected, but I am thrilled. I love them! This is kind of a tease, isn't it? I desperately want to spill the beans, but I'll have to wait until July to blog about it. What I can say is that it was such a fun experience. I had my mom on my cell phone and about 30 of these things laid out in front of me. Mom and I must have discussed the issue for at least 30 minutes, which is a lot when you're just standing in a store, looking at the products! Luckily the salespeople didn't mind one bit. ;) When I finally made up my mind and made the purchase, the salespeople were so cute. They packaged everything adorably, and wanted to know every detail about the wedding, my girls, and my guy. So, so excited. Still loving the wedding planning process!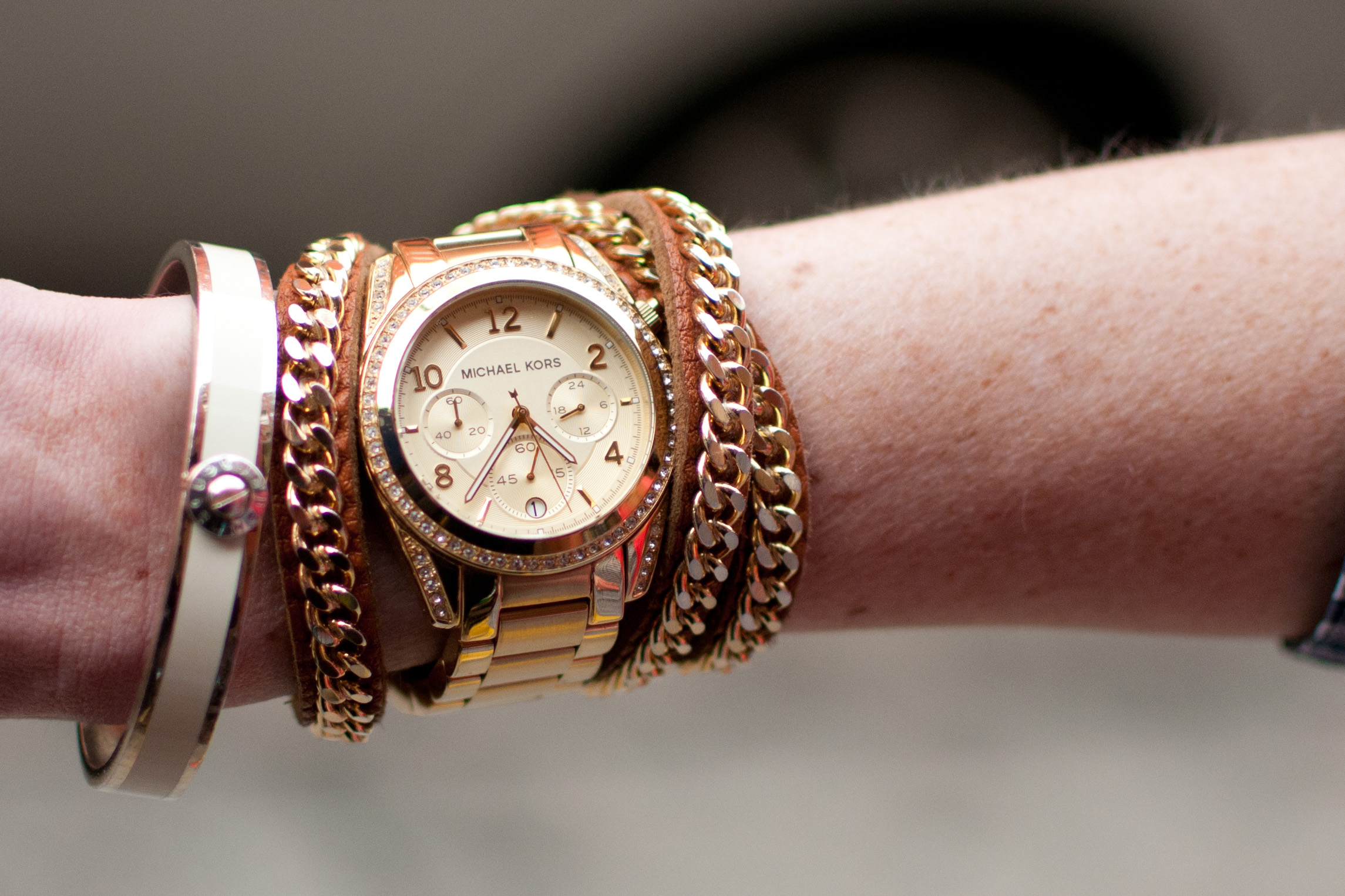 After school today, Mitch and I are headed down to meet Erica for drinks and dinner in the West Village. I'm so excited, as it's been two weeks–the longest we've ever gone, I believe–since we've seen each other! On Saturday, I'm hoping to meet Tara, my best friend from college (and beautiful bridesmaid), in Manhattan, and then meet up with Darby and Jason, two of our closest friends, in Williamsburg in Brooklyn for some skee-ball. (Fun fact: Darby and Jason also met at the same school where Mitch and I teach, and they're engaged! They're getting married in August. Awww.) On Sunday, I hope to either do my taxes or wander Manhattan looking for a bridal shower dress. Hmmm… I wonder which idea will stick. ;) Woop! It's the weekend! What do you have planned?!
C.Wonder Tote