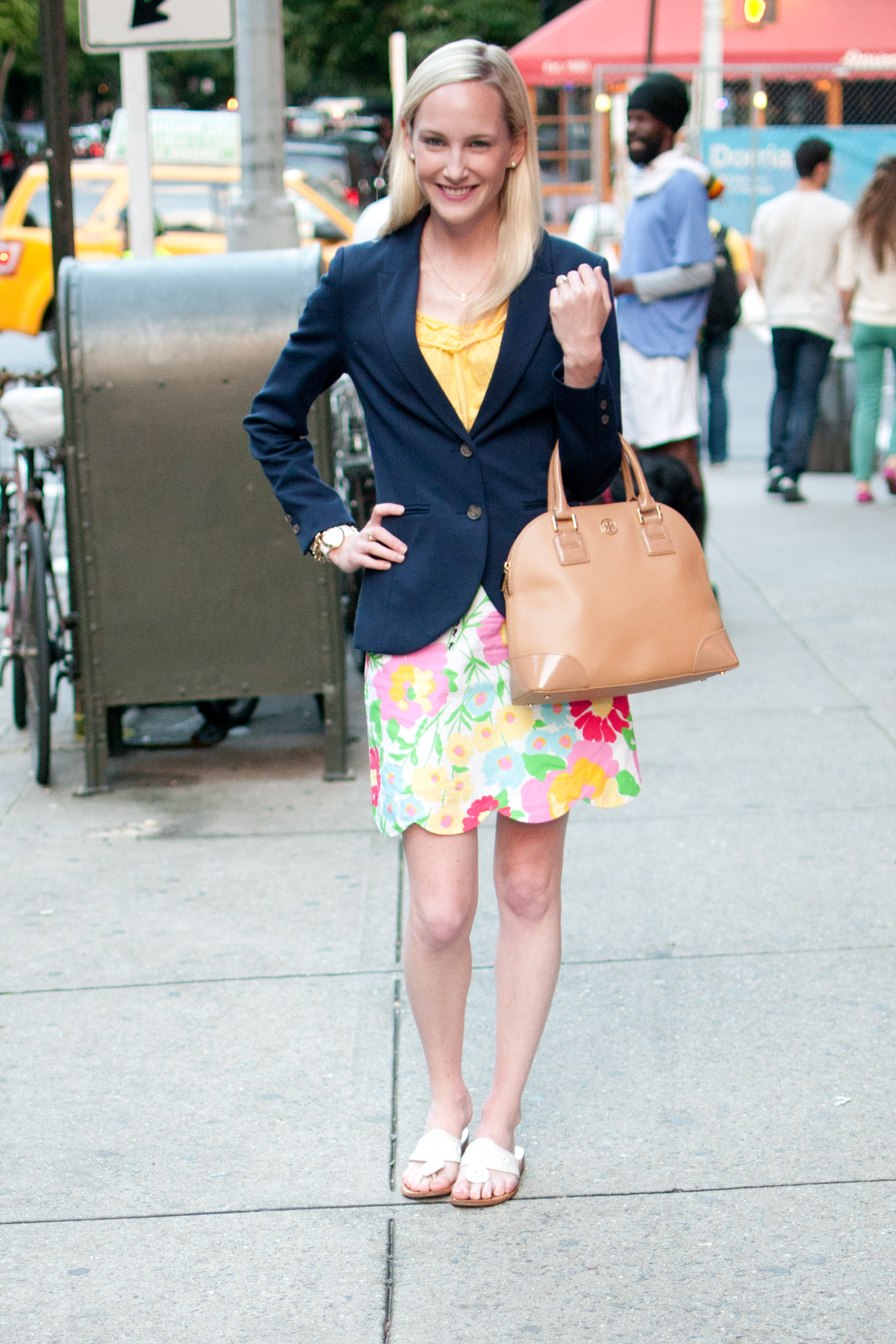 Last night, I met my best friend, Erica, on the Upper East Side for dinner and drinks at Jackson Hole. (Last time we tried, we weren't so successful.) It was wonderful. It had been so long since we'd had a girls' night! To boot, the weather was gorgeous. It almost hit 80 degrees! Good thing, too. I spilled an entire beer in down my shirt and into my lap. Bravo, Kelly. Way to be coordinated. ;) 
Skirt: Lilly Pulitzer (Sold out), but loving this hot pink scalloped skirt, this striped scalloped skirt, and this seersucker scalloped skort!  / Top: Joe Fresh (Old), similar here / Sandals: Jack Rogers, also loving the cork version, and hello?! These?! What a steal! / Bag: Tory Burch, also available in black and in the larger size / Earrings: J.Crew, more affordable version here (Only $14.95 today!) / Necklace: Kate Spade, similar here / Watch: Marc Jacobs, but also obsessed with the teal, brown and rose gold, black, and gold/multi-colored versions! / Blazer: H&M (Comes in navy in the store), similar here and here / Bracelets: Henri Bendel and J.Crew Factory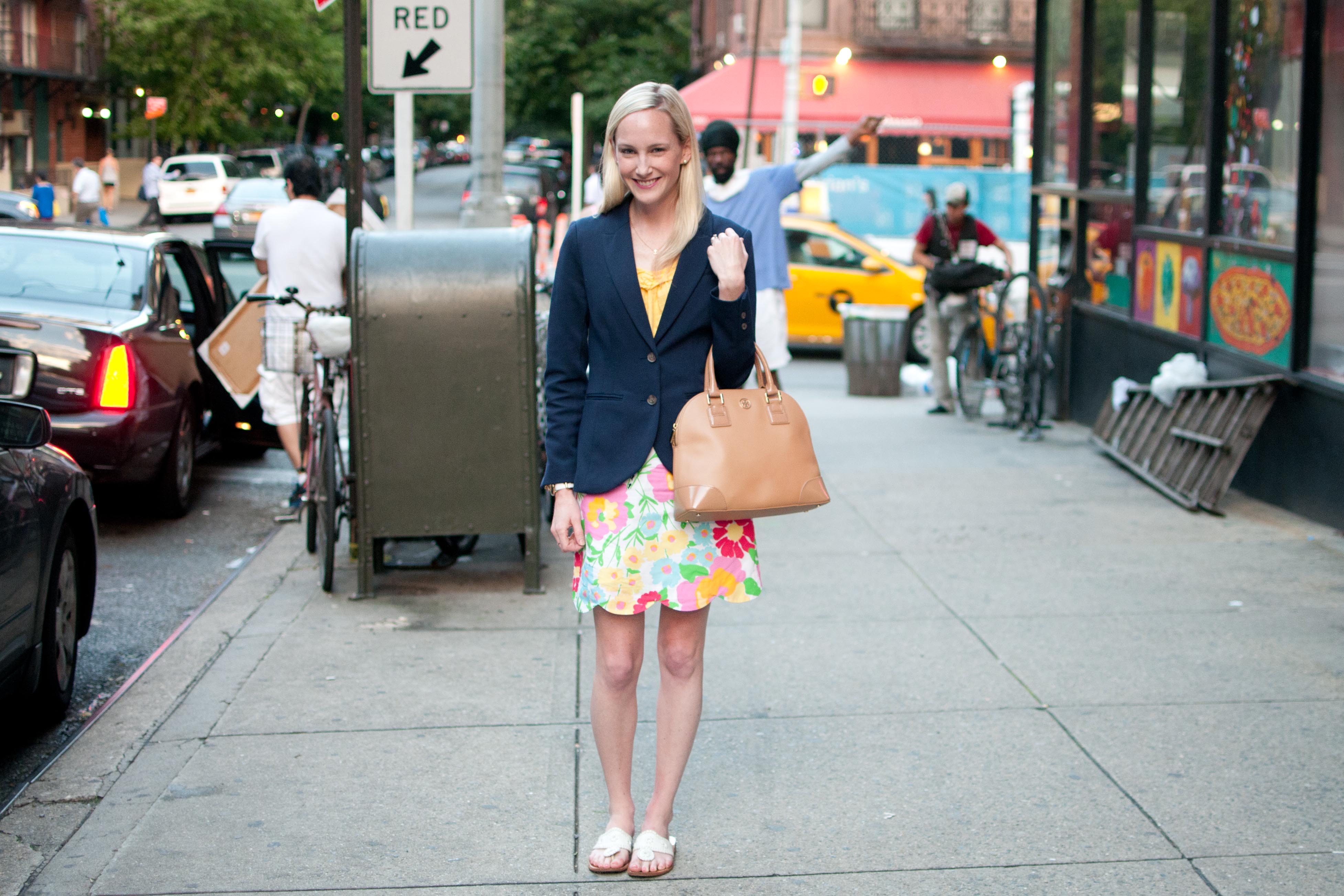 Before I go own, let's talk about the guy who's photo bombing the above shot. It's part of the reason I'm cracking up in today's pictures. He eventually walked over and asked if we'd like to take a "real picture" with him. When we politely declined, he offered us modeling tips. I love New York. ;)
Erica, thank you for taking today's blog photos! (P.S. — We'll go back to Nantucket posts tomorrow. I just felt like we hadn't seen "Kelly in the city" in a while! Oh… And sorry about the bag/sandals repeats. I'm going to kick this soon! Ha.)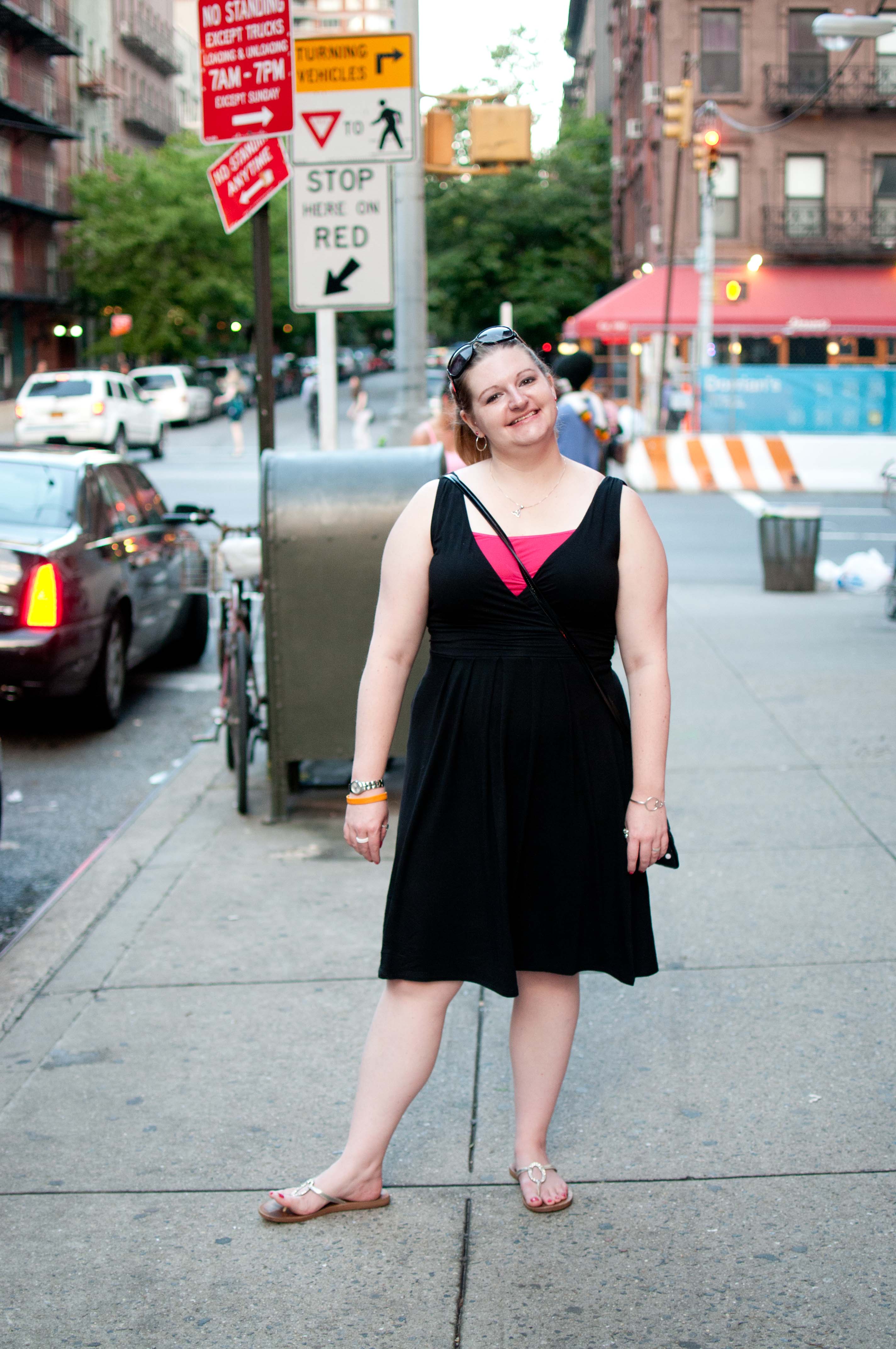 And now for some huge news. Erica is leaving New York City. In two weeks, she's moving to Milwaukee. I know the move is for the best for her–she needs to be closer to her family–but I can't imagine life without her. I can't imagine not getting together for our weekly dinners and not going out for happy hour together on Fridays. I can't imagine not hanging out in her UES apartment, and not wandering around the city together on sunny days. I can't imagine not being able to see her whenever I want. But I just need to keep reminding myself that she'll only be a plane ride, road trip, phone call, email or text message away. [Pause. Getting choked up here.] I know I'm probably stepping on a lot of toes by saying this, but I'm pretty sure I'm Erica's biggest fan. (Go ahead! Challenge me! Let's duke it out. ;)) She's like a sister to me.
Erica, I love you. Thank you for being my best friend, and sticking by my side through thick and thin. My years in New York have been unbelievably fun and meaningful all because of you. While we'll be 900 physical miles apart now, I know we'll always be close. (Close like whoa.) You are irreplaceable, and you've changed my life in more ways than you'll ever know. You better get a two-bedroom out in Milwaukee, by the way. ;) xoxo
Okay. I need to stop. More on all of this later, when I'm not so teary!
And don't forget to enter the Florence Adams giveaway! (See my current obsession from the boutique here!)