We're more than half-way through October, (how did that happen?!?) This means the fall holidays we've all been looking forward to are approaching fast. 
I love entertaining in my home, and Fall is the perfect time to throw fun, festive parties! From spooky Halloween themed parties to Thanksgiving dinner, there are so many ways to decorate for Fall entertaining!
I've rounded up some tablescape (which is a fun way of saying table setting or decor) decorating ideas to help you plan that perfect Fall dinner party! So, no matter what type of hosting you do this season, you'll be more than ready to give all your friends and family a fall home tour.

16 Fall Tablescape Decorating Ideas
All White Everything
Something about using all white decor just screams class and luxury. For the fall season, we're talking about white pumpkins, a white centerpiece, white coasters, white place mats, white tableware, and more. What I love most about this tablescape idea is that even though everything is white, you can still add a pop of color. You can go all white, sprinkle in a classic fall color here and there, or add in a neutral black, tan, or beige. Something like this beige centerpiece or table runner.
Black And White
Halloween decor is not always the most sophisticated. We've all seen those 7 foot tall yard skeletons. But, it can be done in a more classy way! Black and white create a cool, graphic look. Start with white accessories, like this pumpkin serving bowl and matching coasters on top of a black table runner. Then, you can have as much fun as you want! Keep it classy with some fun wine glasses, or diy some little ghosts to bring the graveyard to your dining room!
Classy Velvet Pumpkins
Velvet pumpkins are totally trending this year. I don't know about you, but I've been seeing them everywhere. They give off such an effortlessly chic vibe, which is why I love them for a classy and festive tablescape. I'm in love with this navy blue set, because it strays from the classic orange. And, how cute are these mint green ones? If you're going for more classic colors, this set is adorable as well.
Fall-Inspired Plaid
If you know me, then you know I love a good plaid moment. During the holiday season, plaid can be such a game changer and it can elevate almost any tablescape. Start with a plaid statement piece, like these black and white plaid pumpkins, or this plaid table runner. Then, complete your tablescape with matching place mats, candles, and cutlery.
Cozy Terracotta
A table setting you can use throughout the whole season? I think yes! I would put these orange candles along the center of the table. Then, some textured woven serveware will soften up the look of these terracotta plates, giving your dining room a cozy feel! Feel free to finish up with some pumpkins. During this festive season, you can never have too many pumpkins.
Witches Dinner Party
No one knows how to throw a dinner party quite like a witch. A plum floral designer arrangement, surrounded by velvet pumpkins and lots of candles should set the tone. Then, add black plates and flatware to match this covered server. And a cauldron, of course. Don't worry, you don't have to serve any eye of newt. Instead, use the cauldron for serving the blood of children, oops, I meant sangria!
Enchanted Forest
Another very spooky tablescape. Something about these glass pumpkins just feels so magical. Imagine them lit up by candlelight! This wood charcuterie board adds to the foresty feel. Plus, everyone loves charcuterie. Some tall black branches in a vase as a centerpiece, candles, candles, and more candles. This tablescape is truly enchanting!
Farmhouse Style Thanksgiving
That rustic Fall look I was talking about before? You just can't go wrong. Especially with a family holiday like Thanksgiving. Decorate your table with plaid pumpkins, and serve stuffing out of this super cute green Le Creuset! Add some simple tealights and maybe even a classic cornucopia
Preppy Fall
Straying away from the classic fall colors, create a preppy look with blue glass pumpkins, plaid linens, and simple white dishes. Super cute, and it's not a big deal if you leave your dining table this way until after the Christmas tree goes up..
Autumn Leaves
Make the inside of your home match the beautiful fall foliage with this tablescape idea. Pair these bold merlot dishes with a neutral dried floral arrangement in a simple vase. Now, for the fun part, pick up a few of these glass display domes and then head outside! Grab some pine cones and leaves, and display them on your table! Now you have a super fun and easy diy fall craft to-do with the family.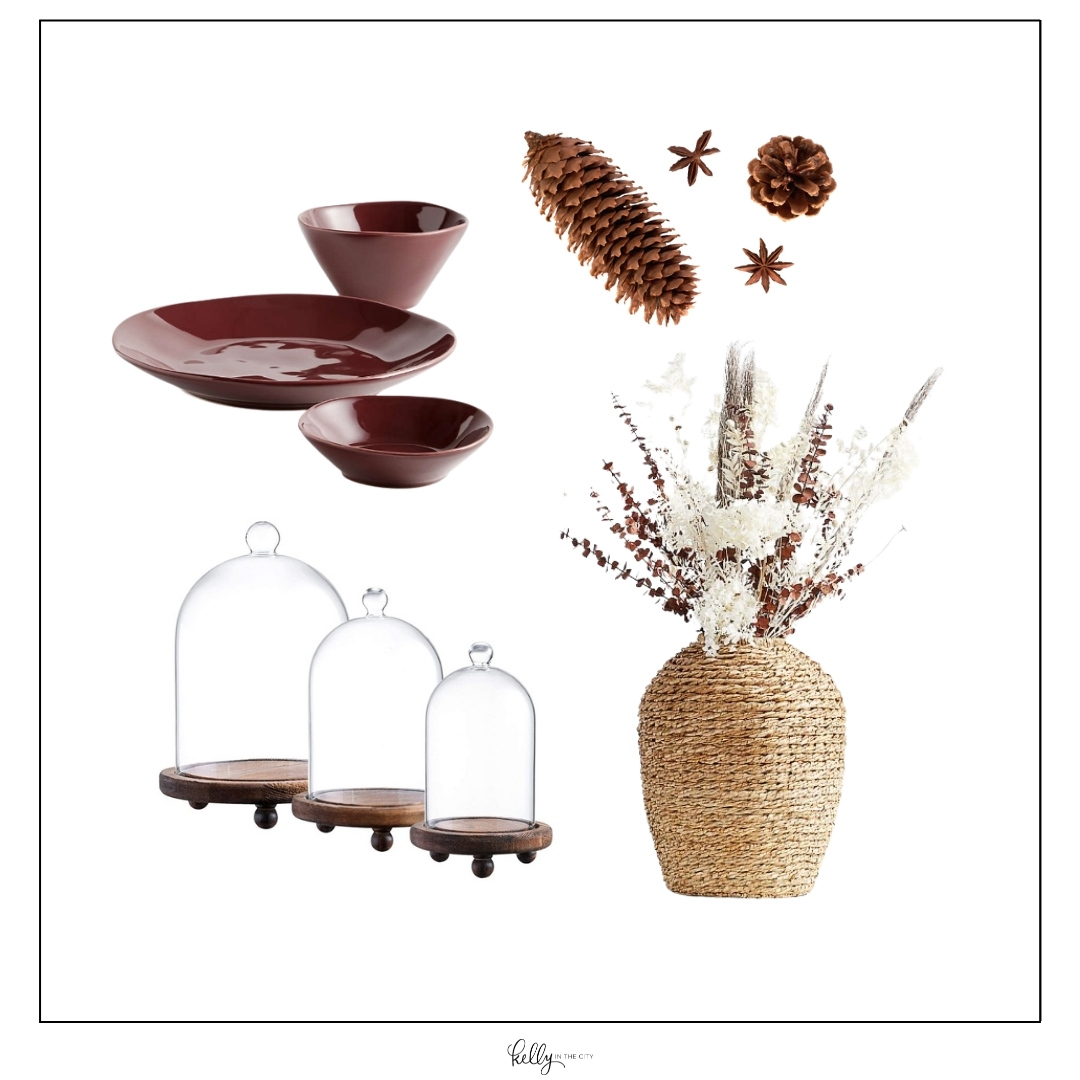 Maple Leaf
Lean into the fall foliage theme even more and create a maple leaf inspired fall table setting. Start with a burgundy table runner, and pick up a pouch of artificial maple leaves. Then, spread the maple leaves along the table runner, and place a fall-inspired centerpiece right on top of the leaves. I just love how the leaves create a simple, yet elegant, backdrop for your chosen centerpiece.
Vintage Vibes
Thanksgiving is such a nostalgic holiday. The smell of turkey roasting always takes me back to a simpler time, before I was the one who had to cook it! Those were the days… Anyway, bring a vintage look to your Turkey day dinner with these fun illustrated plates. Then, some rustic candle sticks make for a fun and easy centerpiece!
Earth Tones
I seriously love neutrals. They look so classy and they're so easy to style. You could use these coupe plates all year round. Bring in the Fall vibes with cute pumpkin shaped accessories. And a Reed garland (only 1 left! Similar HERE) ran down the table like you would a runner completes the look! So cute!
Colorful Pumpkins
Fall is the most colorful season of them all, so why not go all out! Cover the table in these adorable mini pumpkins and pumpkin candles. Then, top with colorful dishware like this kitchen set from Amazon! With so many pumpkin color options to choose from, don't be afraid to mix and match your dishware.
Fall Glam
Maybe you're having Friendsgiving with your most fashionable girlfriends? I love the classic, rustic fall look but sometimes glam is called for! A few brass pumpkins surrounding this gold lantern as a centerpiece. Then, some gold flatware and your most luxurious plates on top of an orange table runner will definitely please the crowd!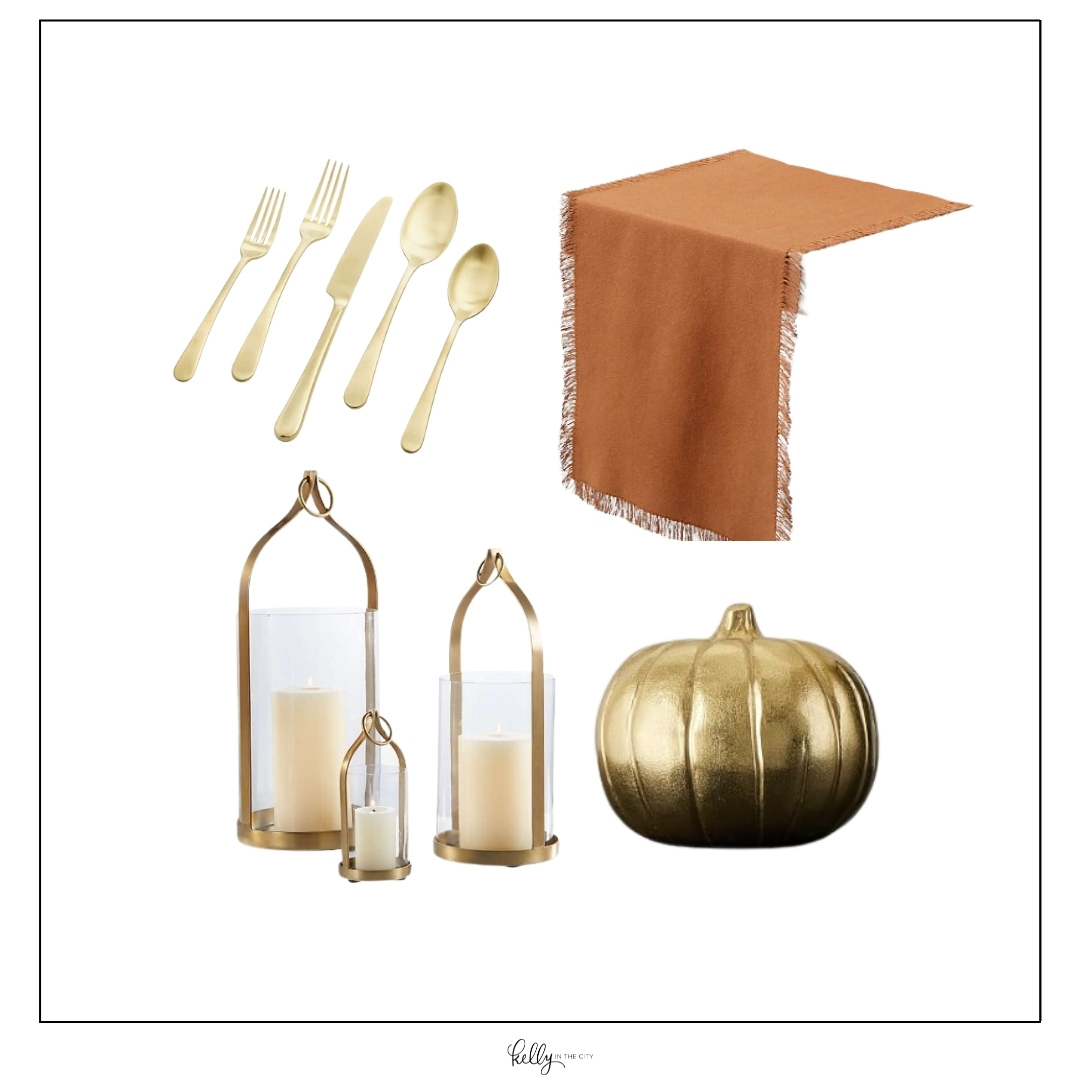 DIY Gingham Pumpkin Display
Sometimes a quick DIY is the best way to throw an epic tablescape together. These DIY gingham pumpkins are so quick and easy to make. If you have kids, it's an activity that will keep them busy too! Win, win mamas! Opt for a few different colors, and definitely a few different sized pumpkins. Once the pumpkins are painted, display them on your table as a centerpiece. You can do as many as you want, and even add some dimension with candles or a runner underneath. Trust me, this one is a winner!

What beautiful fall tablescape will you create this year?
I hope you enjoyed this roundup of fall table decorations. Let me know all about your tablescape ideas below! Whether you're going the full diy fall tablescape route, or grabbing some decorations off of Amazon, I can't wait to see what you all put together. For more on all things home and lifestyle, head on over to the blog!