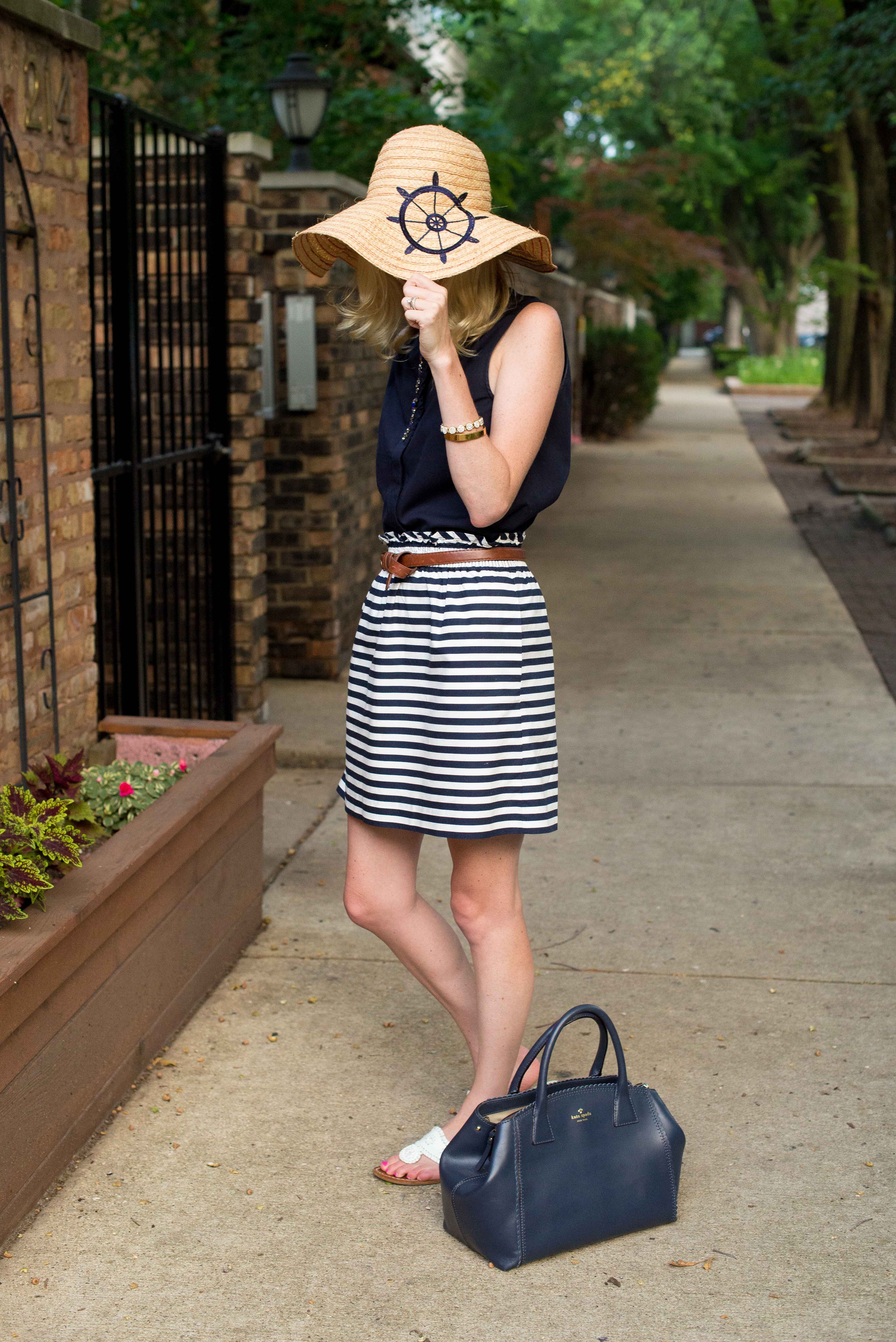 Jonathan Adler Hat (c/o) / J.Crew Skirt (Sold out, similar here, here and here with wider stripes) / Kate Spade Scalloped Bag (Old, but I love this brown scalloped bag!) / Jack Rogers Sandals / J.Crew Top (Sold out) / Kate Spade Bangle / Armed & Readi Pave Bracelet (c/o) / J.Crew Pearl Earrings / Brown Belt (Unknown, similar here)
"Summertime and the livin' is easy."
I finally feel like it's summer. The apartment is unpacked, we've decorated (or things look acceptable, at least), and most moving-related tasks have been completed. (I love this article about moving across the country. I can identify!)
This past week, we checked off several big chores: registering the car, getting new license plates, obtaining a city sticker, petitioning for a zoned parking permit, and getting new driver's licenses. Ugh. Guys, I had to take a written driving test. Didn't see that coming! I've had Pennsylvania, New York, and New Jersey licenses, and I never once had to take a test in order to switch over to a new state. I suppose I should have done some research about the requirements for switching over to Illinois, but I think I was fried from the relocation itself and all the work that comes along with moving cross-country. I just didn't think about it.
I know I've mentioned this before, but I don't drive. I mean, I technically can drive, but it's been eight years since I last drove on a regular basis. And while I don't foresee driving very often in Chicago, I definitely didn't want to lose my license! After all, I'm sure I'd pick it back up again with some practice.
Thankfully, after sweating bullets and taking at least an hour to complete a 35-question test, I passed by the skin of my teeth, haha. But the blank road signs that you need to identify by shape and color? Yikes. I need to brush up on my signage knowledge. Sheesh.
One / Two / Three / Four / Five / Six / Seven / Eight / Nine
Anyway, how cute is this Jonathan Adler hat? I'm obsessed. We visited my in-laws' at their lake house yesterday (had to drop off Walter), and it was the perfect accessory for lounging by the water. (No sunburn!) It's also going to be great for my upcoming trip to the Jersey Shore. Yup–right as we start to get settled, we're getting back on the road. I can't wait for some quality family time on the beach, though.
Back to Jonathan Adler. I've always been a huge fan of the company's furniture, rugs and decor, but recently discovered that its handbags and accessories are freakin' adorable! The dachshund bag?! #swoon (Haha!) Check out my favorites above!