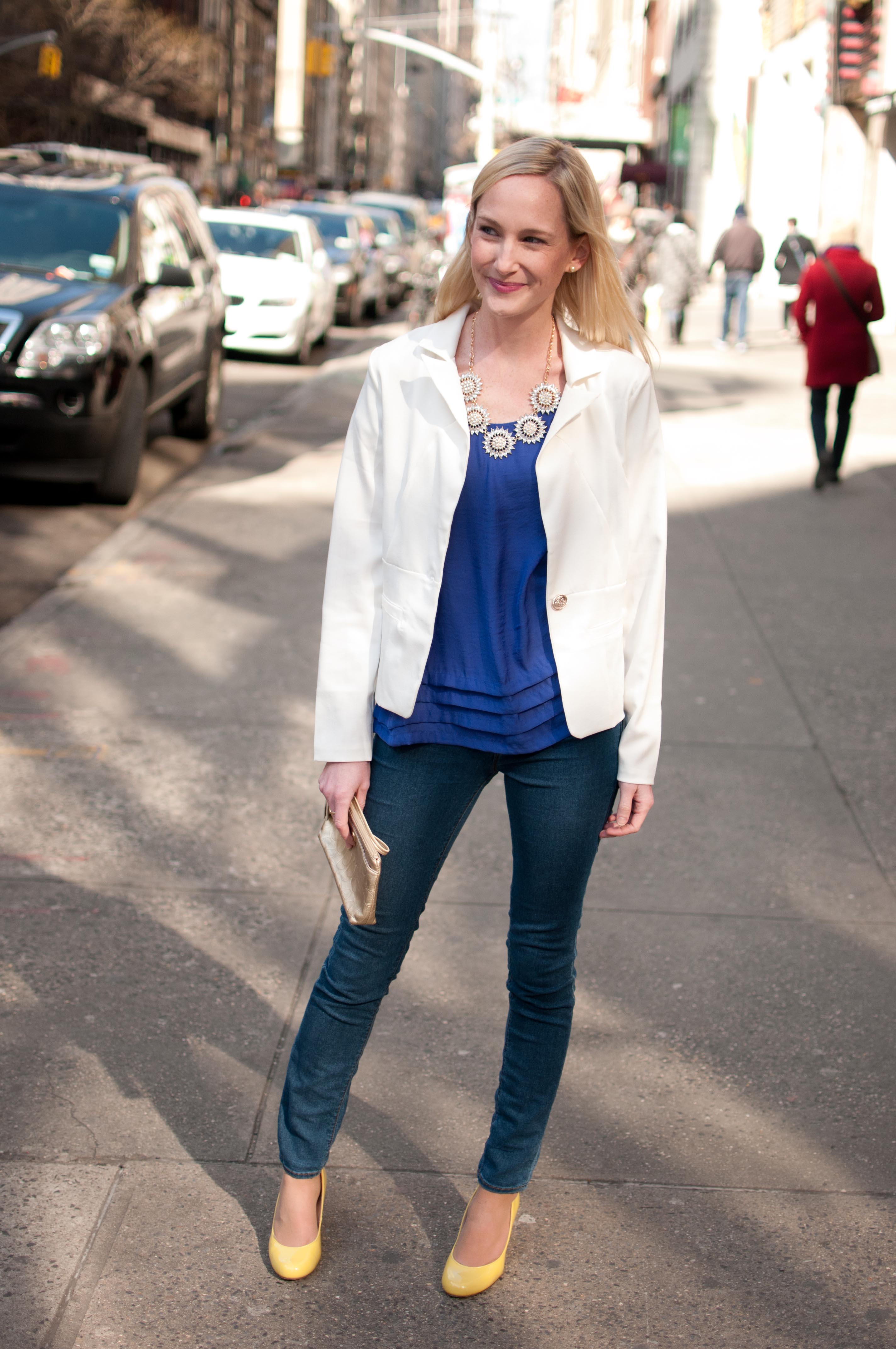 Jeans: J Brand, similar here and here / Top: Target, similar here / Blazer: NYC Boutique, similar here and here in eyelet (loving it!) / Necklace: Kate Spade hand-me-down, similar here and here / Earrings: J.Crew / Pumps: Unisa (and on sale here!) / Clutch: Coach, similar here (kind of getting into Coach again!) see other wristlets here / Watch: MICHAEL Michael Kors / Bracelet: J.Crew, similar here and here
Anyone who lives in the New York metropolitan area knows that there's no way the weather was nice enough today to wear just a light blazer. (It was in the 30s and 40s, and windy. Ugh. I can hear that awful wind howling outside my apartment right now!) But I'm tired of my winter wardrobe! It's getting dull. I want so badly to break out all stuff that's tucked away deep within my closet and dresser drawers. It's been so long! ;)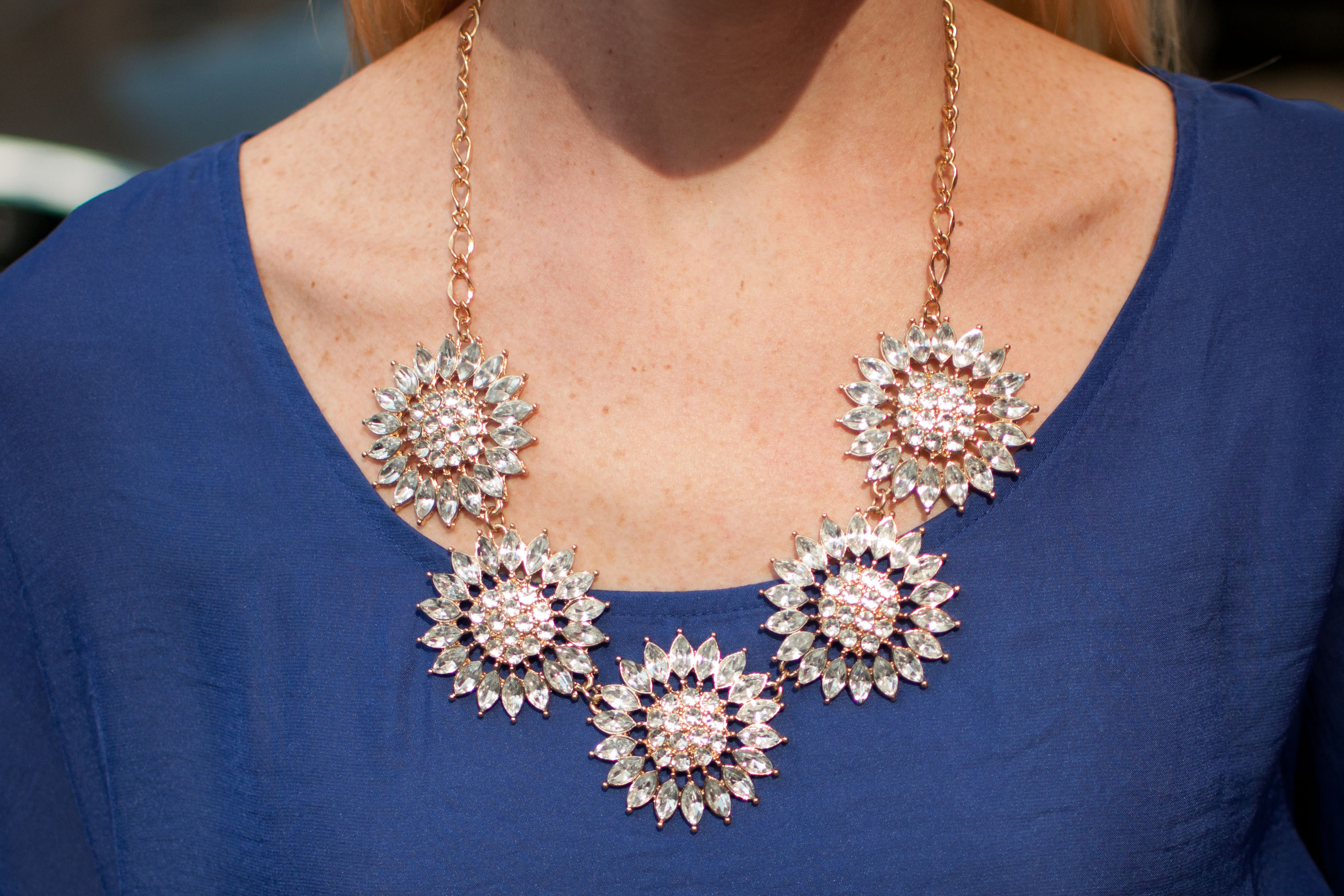 The blazer (similar here and here in eyelet) I'm wearing today was purchased from a boutique in the East Village when I first moved to Manhattan. I love this light jacket, as it's slightly oversized and way comfortable. The only problem is that I can't remember exactly where I got it rom! Back then, I had no idea where I was going during my long lunch hour walks around the Village and SoHo. I didn't even have a smart phone to guide me. I've tried many times to recount where I got the blasted thing, but alas. I cut the tag out because it was itching my neck, so I think it shall remain a mystery. ;)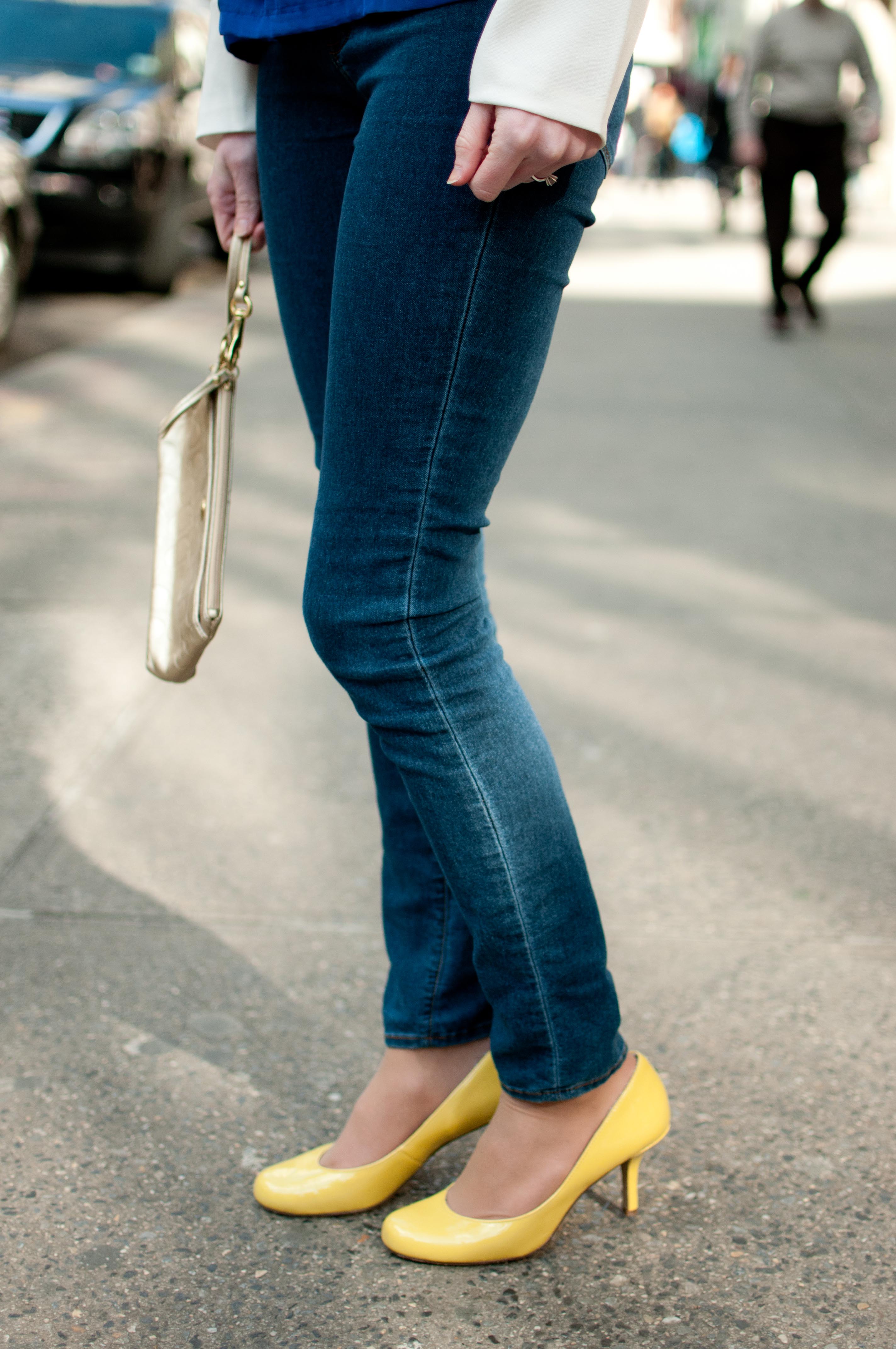 My bright yellow pumps (Unisa, in many different colors… and on sale here!) are definitely favorites. I love them so much that I purchased them in teal, too. They're reasonable, they're only three inches, and they don't kill your feet! Now, by no means am I saying that you can painlessly walk five miles in them. But I can comfortably stay on my feet for seven hours in my classroom! That's pretty good in my book. I judge all my pumps this way. If I can get through a day of teaching in them, they're keepers! 
Of course, taking these pictures wasn't exactly a picnic considering how cold it was. But all in the name of fashion, I suppose! I threw off my puffer coat on 5th Avenue for a hot two minutes so Mitch could snap the photos. ;) I'm such a sport.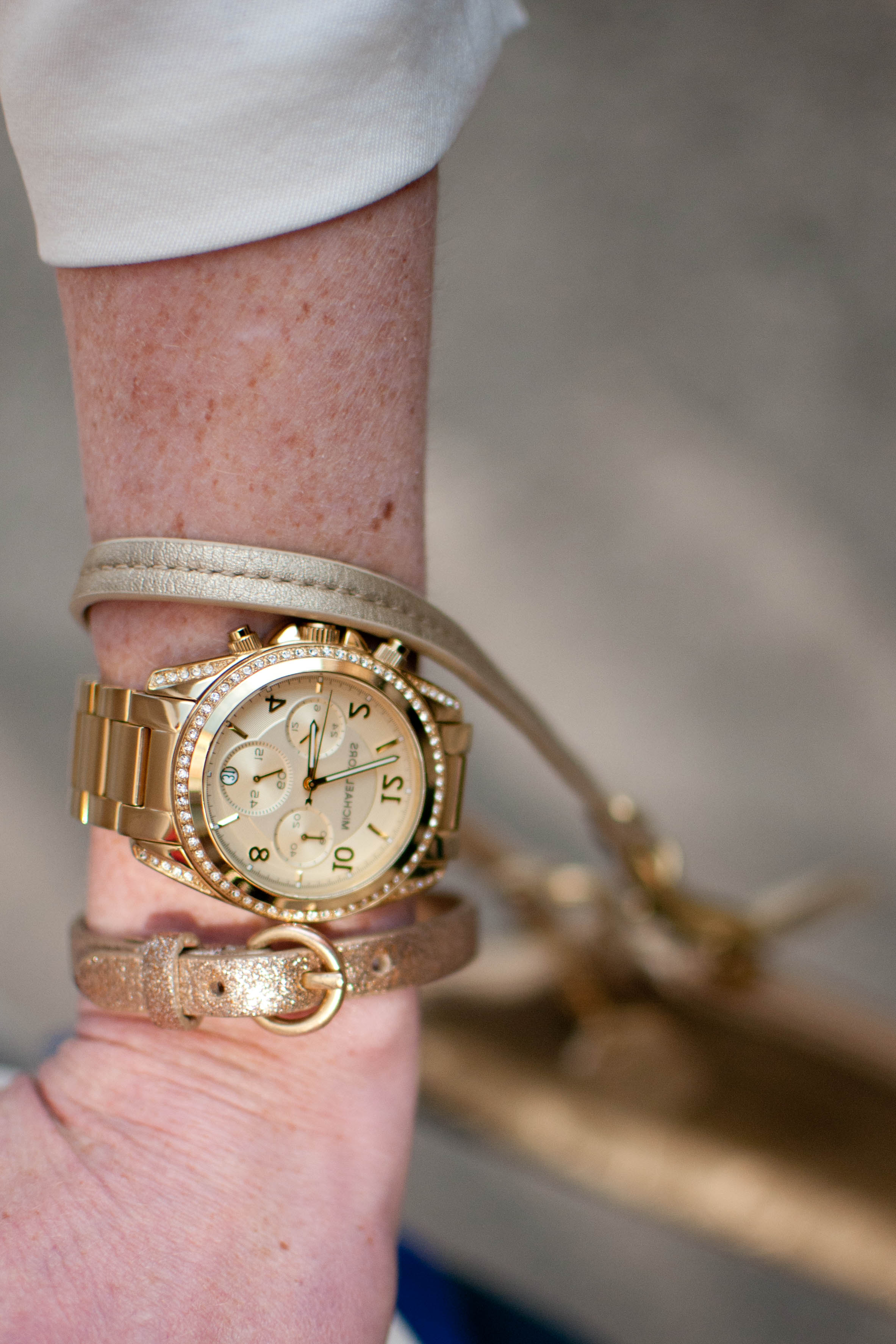 After taking the photos, I wandered into Rent the Runway's NYC sample sale on 5th between 27th and 28th. (If you scroll to the bottom of this post, you can see photos from the sale.) I was really excited about it, as I have a zillion showers and weddings to attend this year (some of them being my own ;)) and am in desperate need of dresses. I was expecting to find deals on some amazing frocks, but found that the dresses weren't in great shape and they were extraordinarily overpriced. Granted, they were designer dresses, but they'd been worn. Many times. Worth $100+? I think not. Many of them even had stains and tears! Oh well. It's back to RueLaLa for me. Here's hoping the Lilly Pulitzer dress I recently nabbed works for my own upcoming bridal shower!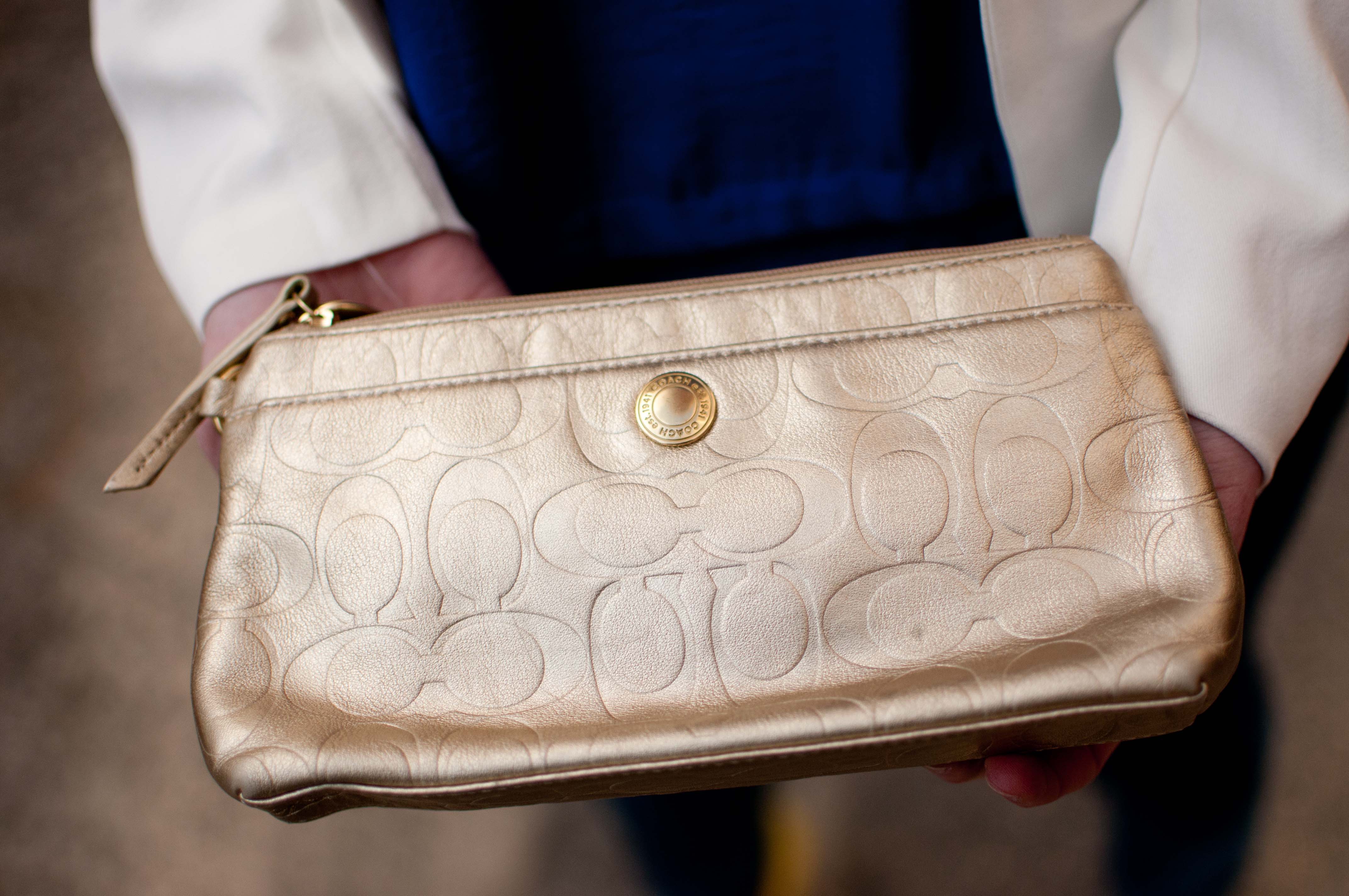 Let's talk about Coach for a moment. Up until a few months ago, I had very little interest in the brand's bags. But recently, and I'm going to blame the fabulous Blair Eadie here ;), I've started really loving some of them. (Especially the Coach Vintage Classics, like the Court Bag and Classic Leather Shoulder Purse!) Right now, I'm coveting the Coach Legacy Leather Medium Candace Carryall because it kind of resembles a Celine bag. I also love the Coach Saffiano Leather Mini Satchel. My mom used to own a bunch of Coach bags that resembled the Coach Classics, but she sadly gave them away years ago because they were no longer in style. (Can't blame her. They really weren't in style at the time!) Anyway, we have a few Coach bags lying around the house, but none that have the classic vintage style. While clutch I'm carrying today does sport the brand's famous "C" pattern (which I don't love), it's metallic leather… and I love pretty much anything metallic. ;)