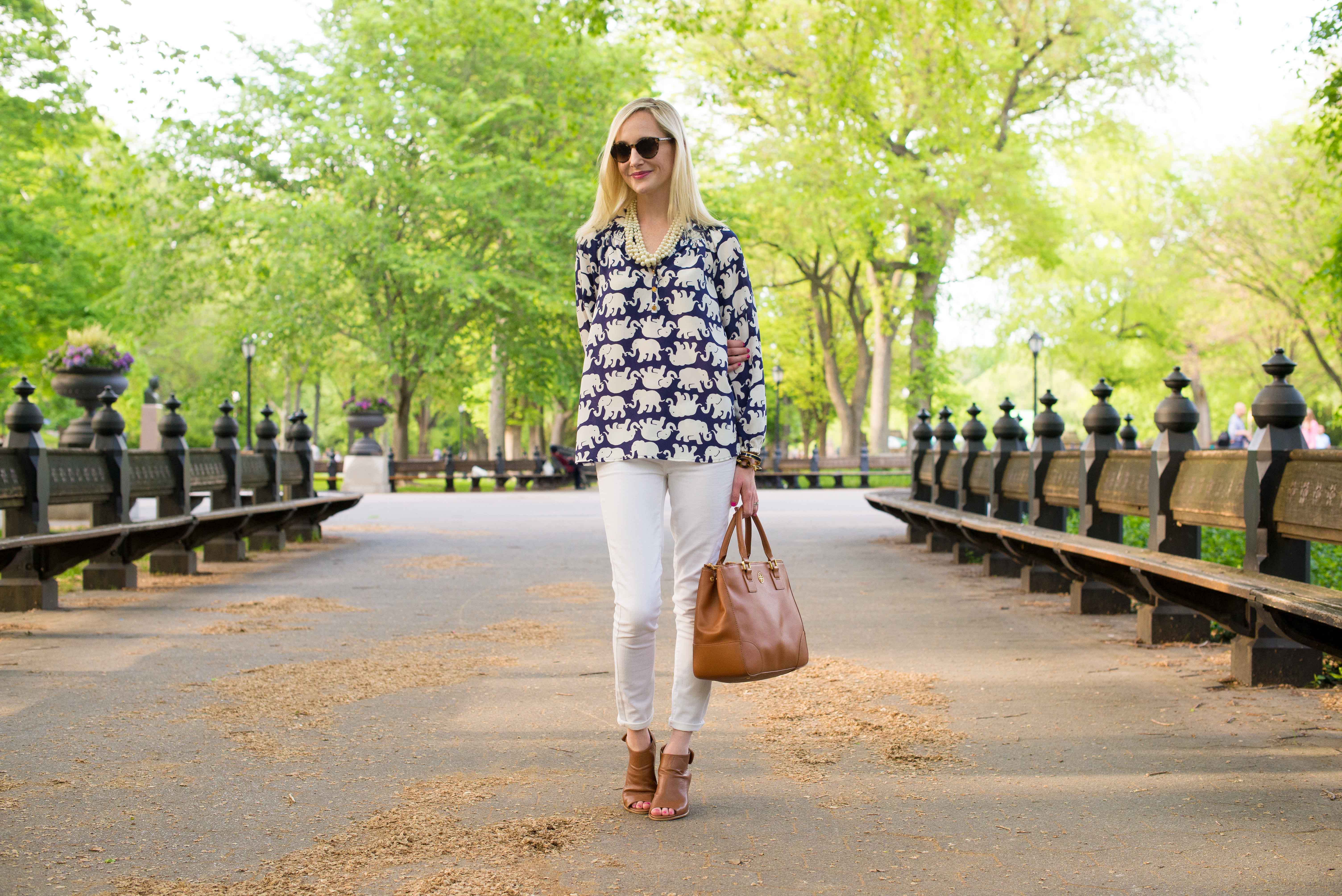 Top: Lilly Pulitzer (Sold out, but some still available here and here), other "Elsa" tops here (Current favorite) / Bag: Tory Burch / Booties: Steve Madden / Necklace: J.Crew / Bracelets: C.Wonder (50 percent off discount applied automatically in cart… And check out the C.Wonder Flash Sale! Up to 75 percent off!) and C.Wonder (Sold out, but I LOVE this Tory Burch tortoise bracelet on sale!) / Earrings: J.Crew / Lipstick: Clinique ("Pudgy Peony") / Watch: Marc Jacobs, and love it in brown and black!
Yesterday, Mitch and I walked from the West Side of Harlem to the East 50s. The walk was over five miles—and we were hauling all our stuff from school—but we couldn't resist. The weather was perfect.
Isn't it amazing how much of an impact sunshine and warm temperatures can have on a person's demeanor? For me, these things have the power to change everything, as I've long dealt with daylight (and lack thereof) problems. This past winter was a particularly challenging one (ugh, right?!), and on top of that, this past academic year has probably been the most difficult of my teaching career. Maintaining a positive outlook, not getting defeated, and not allowing my job to take over my personal life have been constant battles for me, and they're battles that I've unfortunately lost on a few occasions. Over the last couple of weeks, though, there's been a noticeable change. I'm happier. And I credit this to spring.
At this point, there are roughly 25 days left in the academic year. Woo! After school, I'm going to spend as much time outside as possible. I'm going to attend outdoor concerts, eat at new establishments with seating that spills out onto the street, explore, go on long walks, and take photos. I'm going take in this crazy, beautiful, unpredictable city we live in, and make up for lost time. Thank you, spring, for finally arriving!
Anyway. ;) After our walk last night, we had dinner at my aunt and uncle's gorgeous Midtown apartment to celebrate my cousin Paige's birthday. It was so fun! The whole family had just returned from a vacation in Greece, and two of my other cousins—Annie and Paige—had just finished up study abroad and work abroad programs in Spain and Italy right before the family trip. As you can imagine, we had a ton to catch up on! Man. My family is so much more adventurous than I am, haha. Today, I'm a bit bummed, as my cousins left this morning for Nantucket… and won't be back until the fall. I really hope to see them at some point over the summer! Have fun, guys! Love you so much!
On to Thursday…