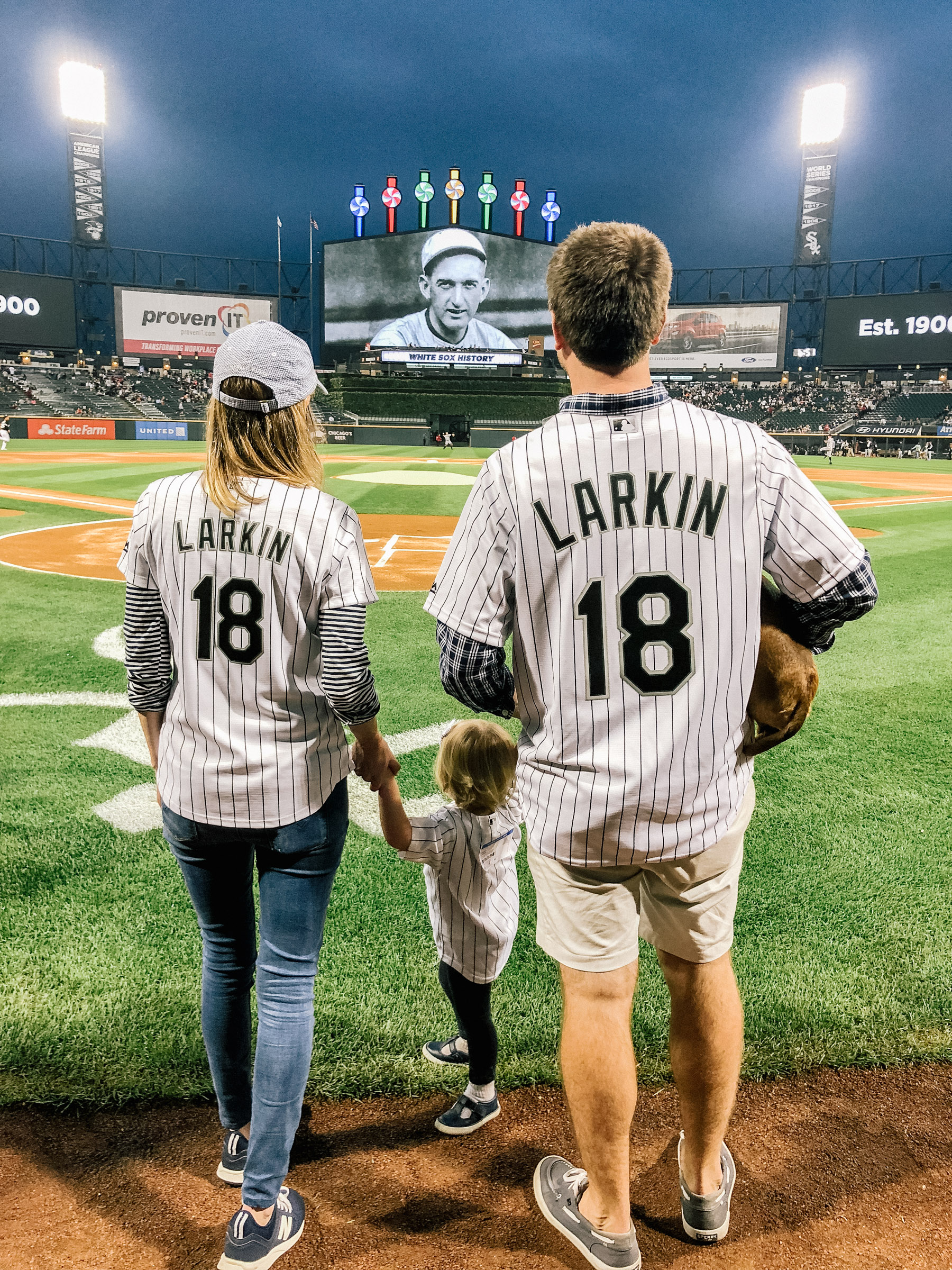 After I had Emma, I decided to pull the breaks on blogging events in an effort to maintain a better work/life/family balance.
Turning them down is always a little hard. They're typically amazing opportunities that I don't deserve, and I so wish that I could do it all and actually go. After all, they're how I met my very best friends here, and we had so much fun at 'em back in the day. I'm grateful; my first years in Chicago would have been really tough without these events.
But there are a lot of them–or there are in the two cities I've lived in, at least. And very quickly, a girl's overbooked calendar can lead to her demise. ;) While I say that somewhat facetiously, it's true: I've learned over the years that I can't do it all. I've traded my party pumps for bath time and story time and bedtime… and I love those things even more. That said, I go every once in a while! There are some that I just can't pass up–especially the family-friendly ones!
A few months ago, Noodle received an invitation to attend a White Sox game over Memorial Day Weekend. The CUTEST, right? We were really excited about it, but unfortunately just couldn't make it work with our calendar. We stayed in touch with the Sox, though, and when they e-mailed us about yesterday's "Dog Day" game, we were like, "Done." 😂
So I thought I'd walk you through the experience!
I'm not going to lie:
Getting everyone to the stadium was no small feat, haha. We timed the day out so that nap time ended right before we needed to get in the car, and we made sure that Noodle got a loooong walk beforehand so she'd be a bit more relaxed. We also packed a big bag with everything we could possibly need: rain coats, umbrellas, backup outfits for Emma, snacks, drinks, doggy bags, doggy treats, emergency pacifiers, games–you name it and we had it. And before leaving our neighborhood, we grabbed McDonald's so everyone's bellies would be full. (I know, I know. Not the best, but Emma eats her whole Happy Meal, and full toddlers = happy toddlers.)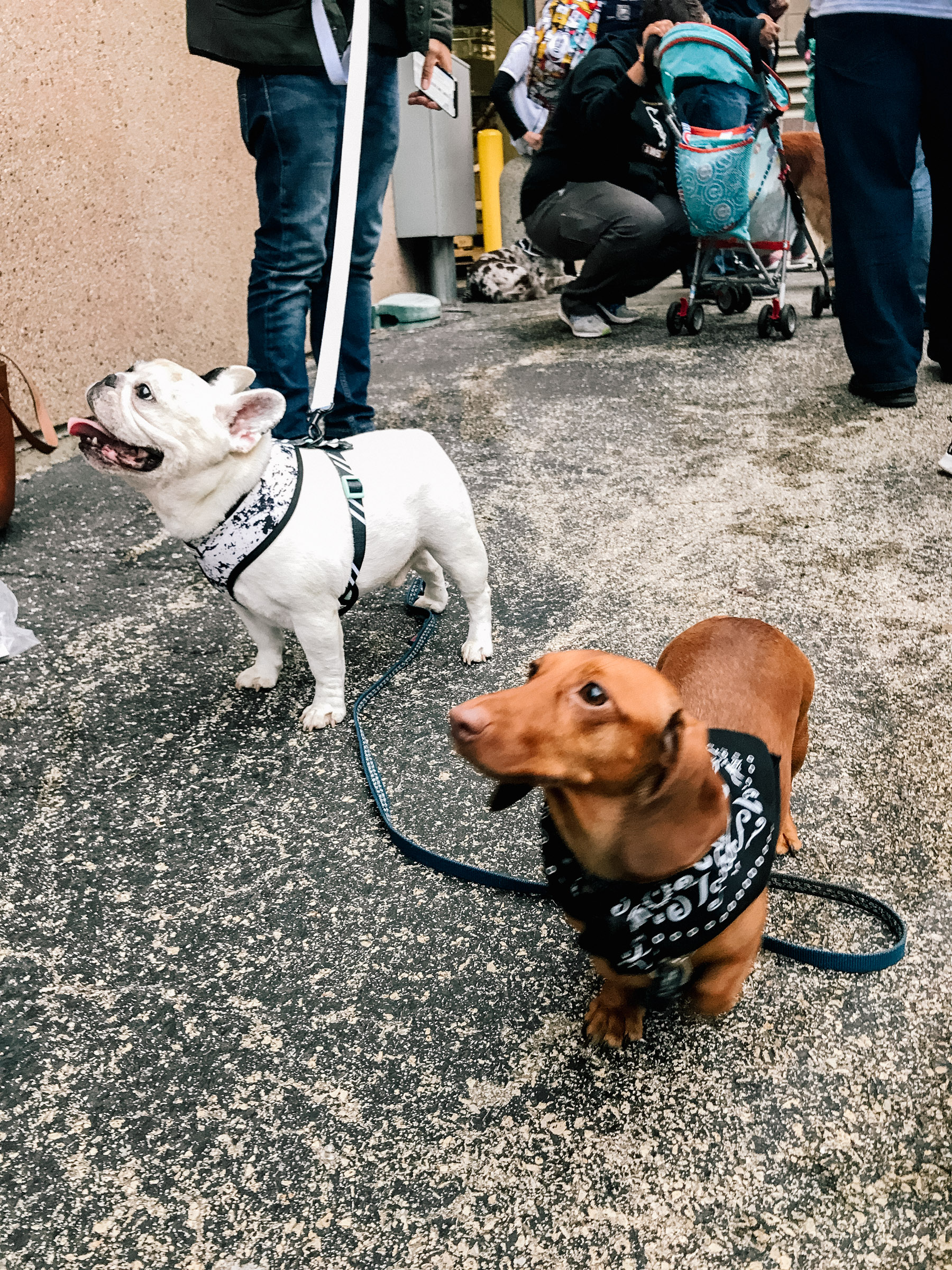 When we arrived, we met with our White Sox contact right outside the stadium. She introduced us to the other "influencer" who'd come: @MannytheFrenchie. I apparently live under a rock and hadn't heard of him, but when I looked him up, I was like, "GUYS, YOUR DOG HAS OVER A MILLION FOLLOWERS?!" to his owners. 😂 They laughed and shrugged.
The best was when I Instagram Storied the dogs together. I couldn't believe how many messages I received about Manny! (Including one from Jess, of course, because she has issues, haha. Love you, Keys.)
So obviously I had to get a pic of Noodle with "the world's most followed and popular Bulldog on the Internet." A-dor-able!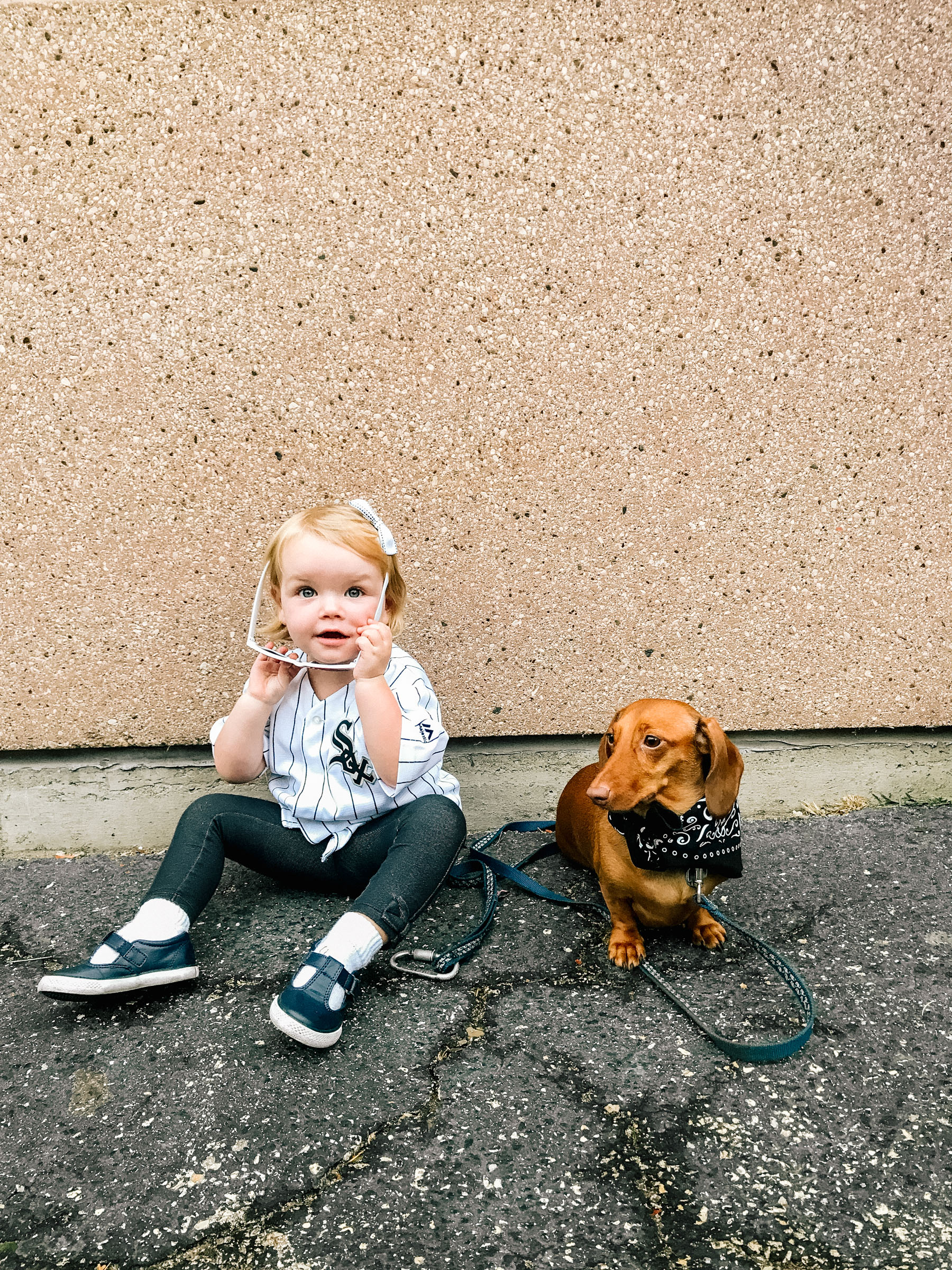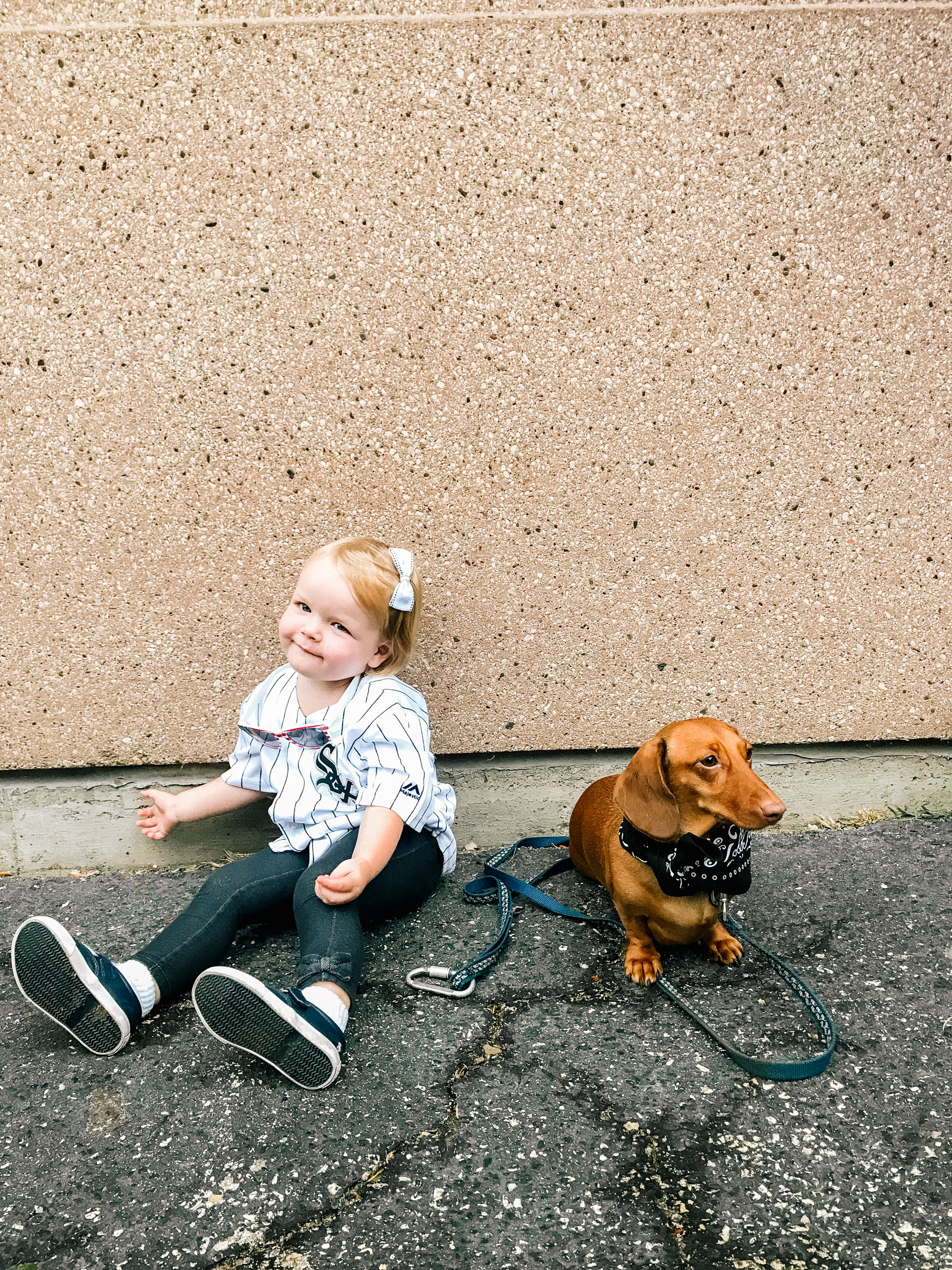 After that, our contact graciously gave us jerseys with our names on the backs as well as some fun White Sox swag which Emma and Noodle loved. She also gave us all our "VIP" passes as well as a rundown of how the event would go: We'd first walk in the "Dog Day" parade on the field, and we'd peel off by home plate so we could take photos on our own and with the Sox photographer. After that, we were free to go to the designated doggy seating area so we could watch the game. Easy peasy!
One of the best parts about this event was that there weren't any social media requirements.
While we were guests of the Sox and they covered our costs, we weren't paid, and therefore posting was just encouraged. :)
Often, I am required to put up Instagram Stories and other social media posts while I'm at events, and it's stressful. Re-reading that, I realize how ridiculous that probably sounds, but the best explanation I can provide is that it's difficult to juggle social media while talking to other people, taking care of a child (+dog, in this situation), and trying to participate in things. There's so much to remember to include–from hashtags, social handles, and brand messaging to "swipe up" links, disclaimers and discount codes–and some companies want to approve everything in real time before I post, too. (Lots of e-mailing and texting back and forth!) I completely understand why–I would too if I were on the brand side!–but I tend to post less and make more mistakes when I have to do this.
Anyway 😉, the whole thing was incredibly relaxed and FUN. You can see our videos from it on Insta Stories; I made a "highlight" for the game in case you didn't catch our videos day-of!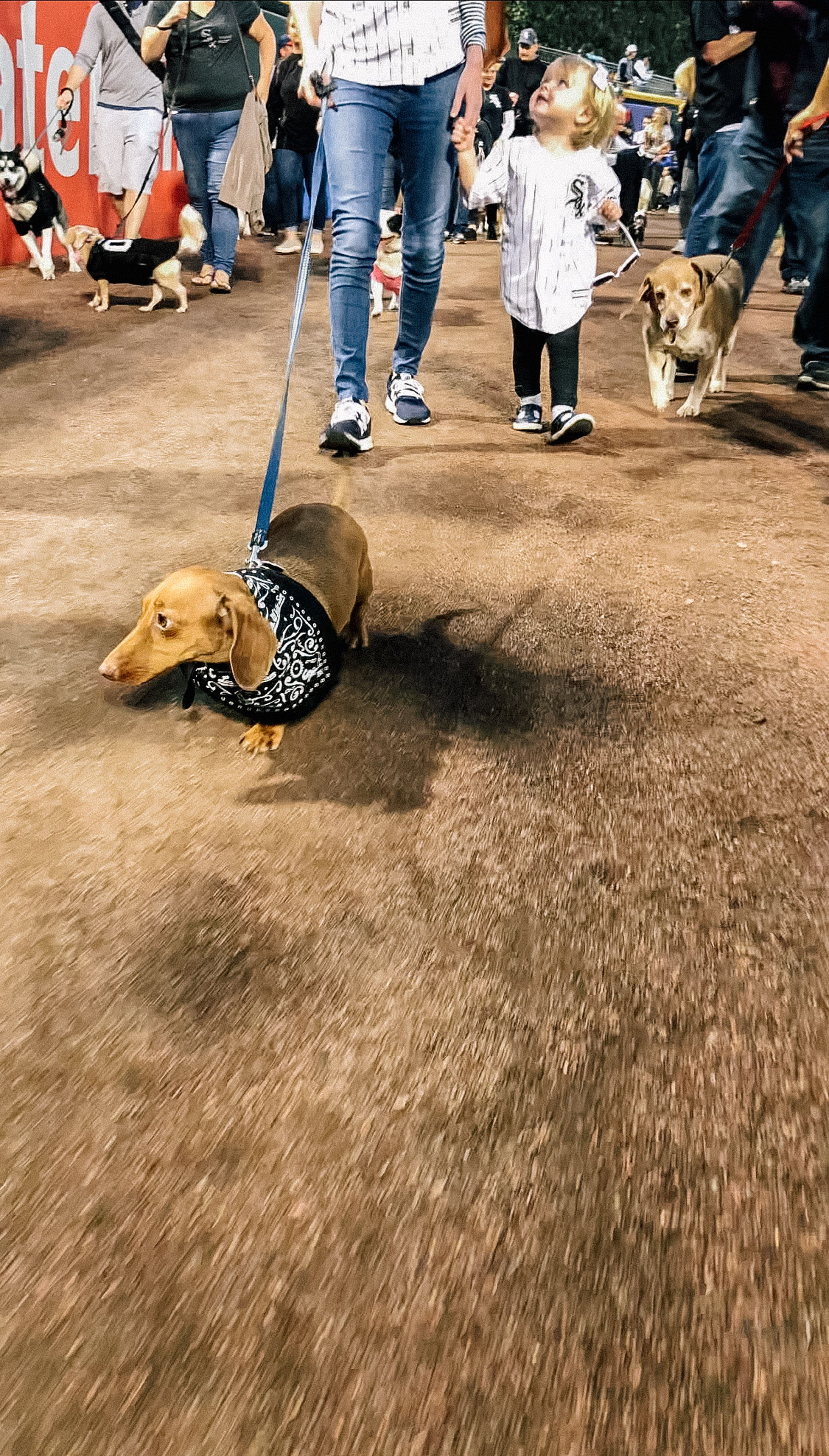 Here we are during the dog parade.
Rumor has it that over 300 dogs were in attendance with their owners! It was really something. All the dogs were amazingly well-behaved, and Noodle had the time of her life. :)
Mitch and I were initially a little worried about how Noodle would handle the event. She suffers from anxiety, and always has. (A baby gate was dropped on her back at the breeder's when she was eight weeks old, and she almost died.) The poor thing is usually a shaking mess if we stray too far from our home, though recently, we've seen some significant improvement. Like, we took her on a walk down one of the busiest streets in Lincoln Park, and her tail was wagging the whole time. And in just in general, she's far less skittish.
Not sure if you can make out her blurry tail in the above photo, but it's wagging! She loved being with all the other dogs, cruising around the stadium, and even sitting in our seats. I'm so happy we brought her, and we'll definitely be bringing her again next year!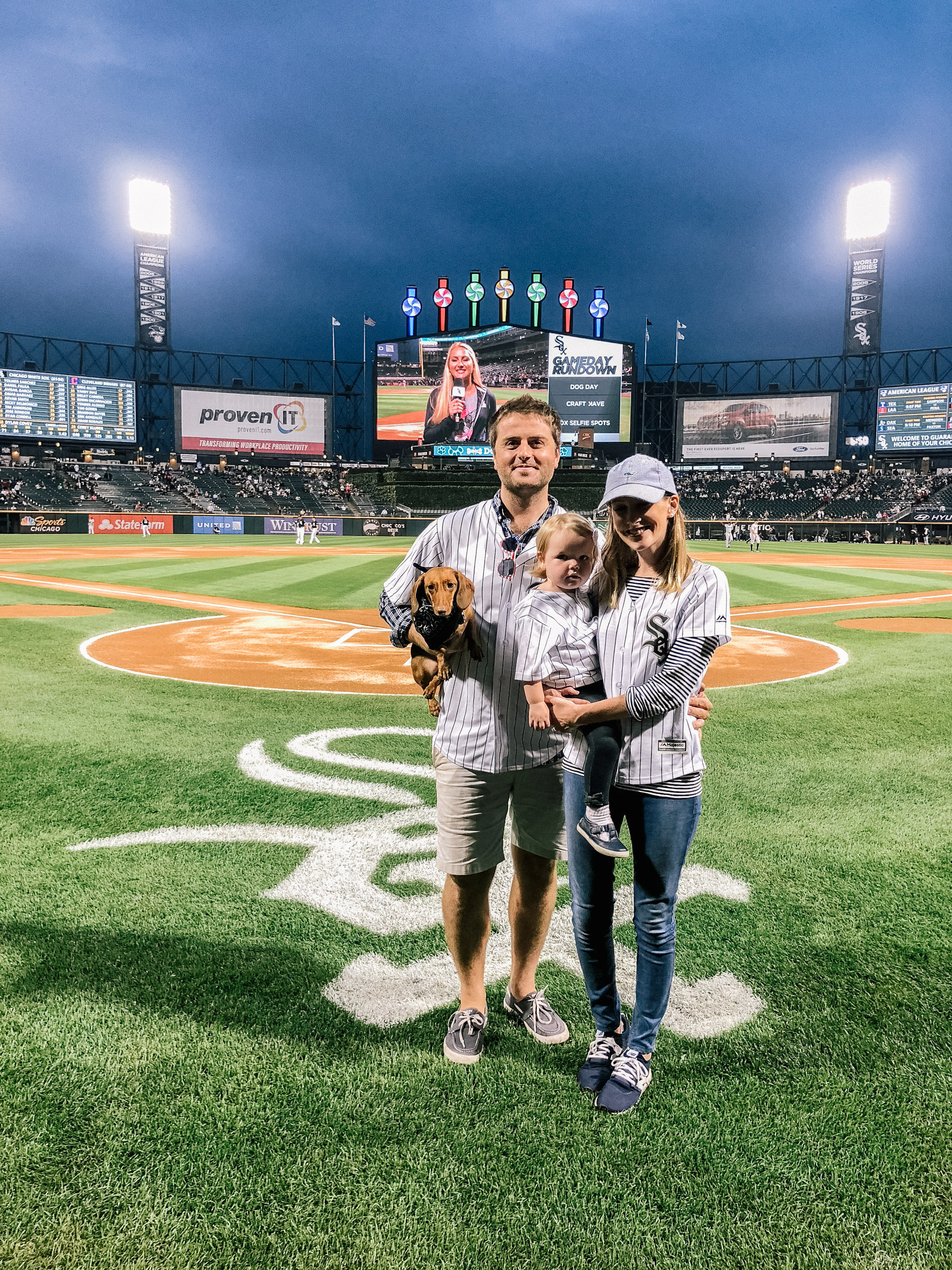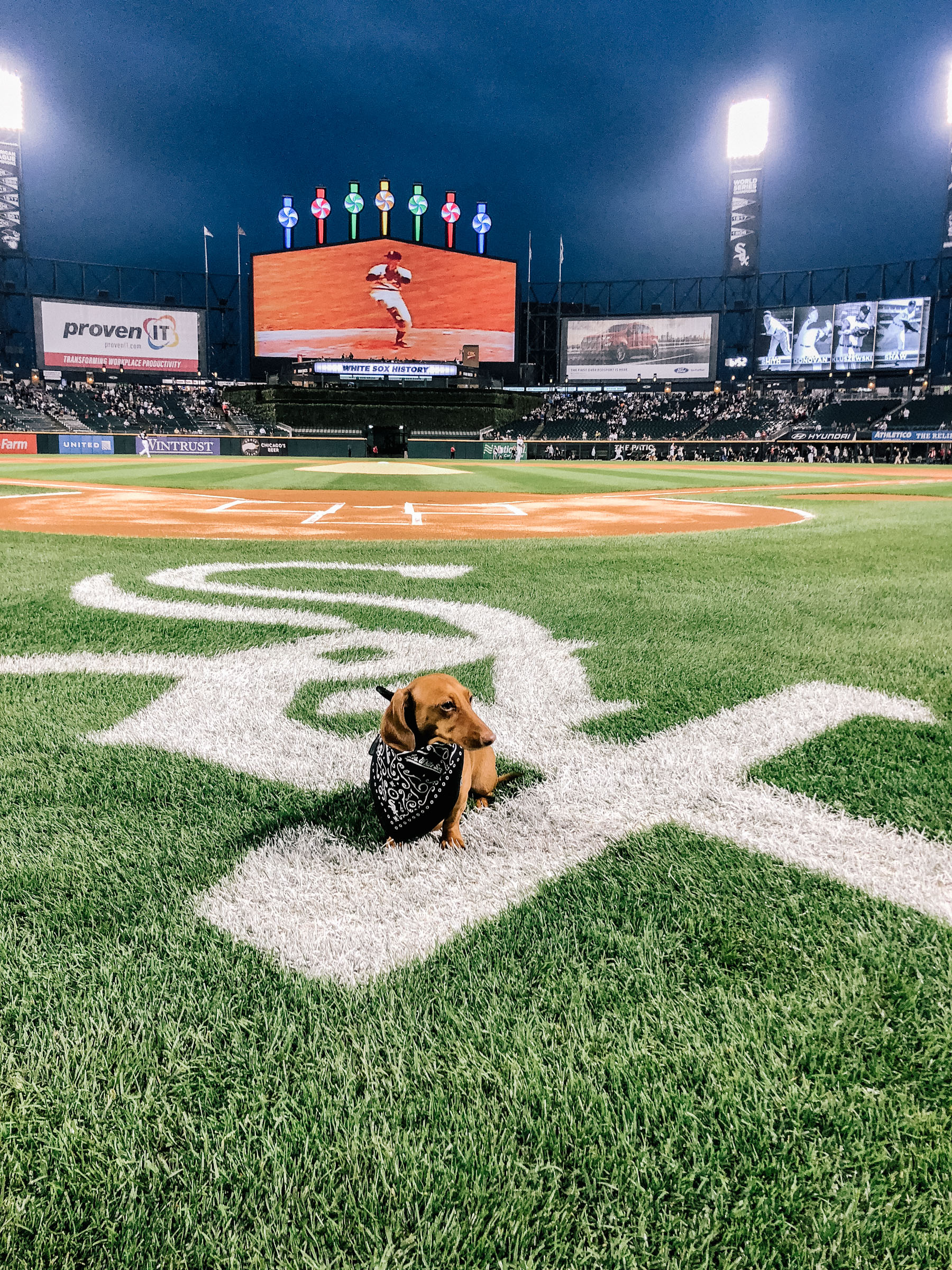 Stepping out onto the field had to be my favorite part of the evening.
We plopped Noodle right in the middle of the Sox logo, and she actually stayed put for her big photo, too! Emma was so in awe that she was speechless, and Mitch looked so incredibly happy to be taking his daughter to her first real baseball game. (We took her to one last year, but she puked all over us, and it was kind of a disaster, haha.) It was definitely one of those "pinch me" moments. :)
Shortly thereafter, Manny handed off the ball for the first pitch. He did such a good job! 100 percent certain that Noodle is more suited for just sitting in the grass, so I'm very glad the famous bulldog was selected for that job. 😂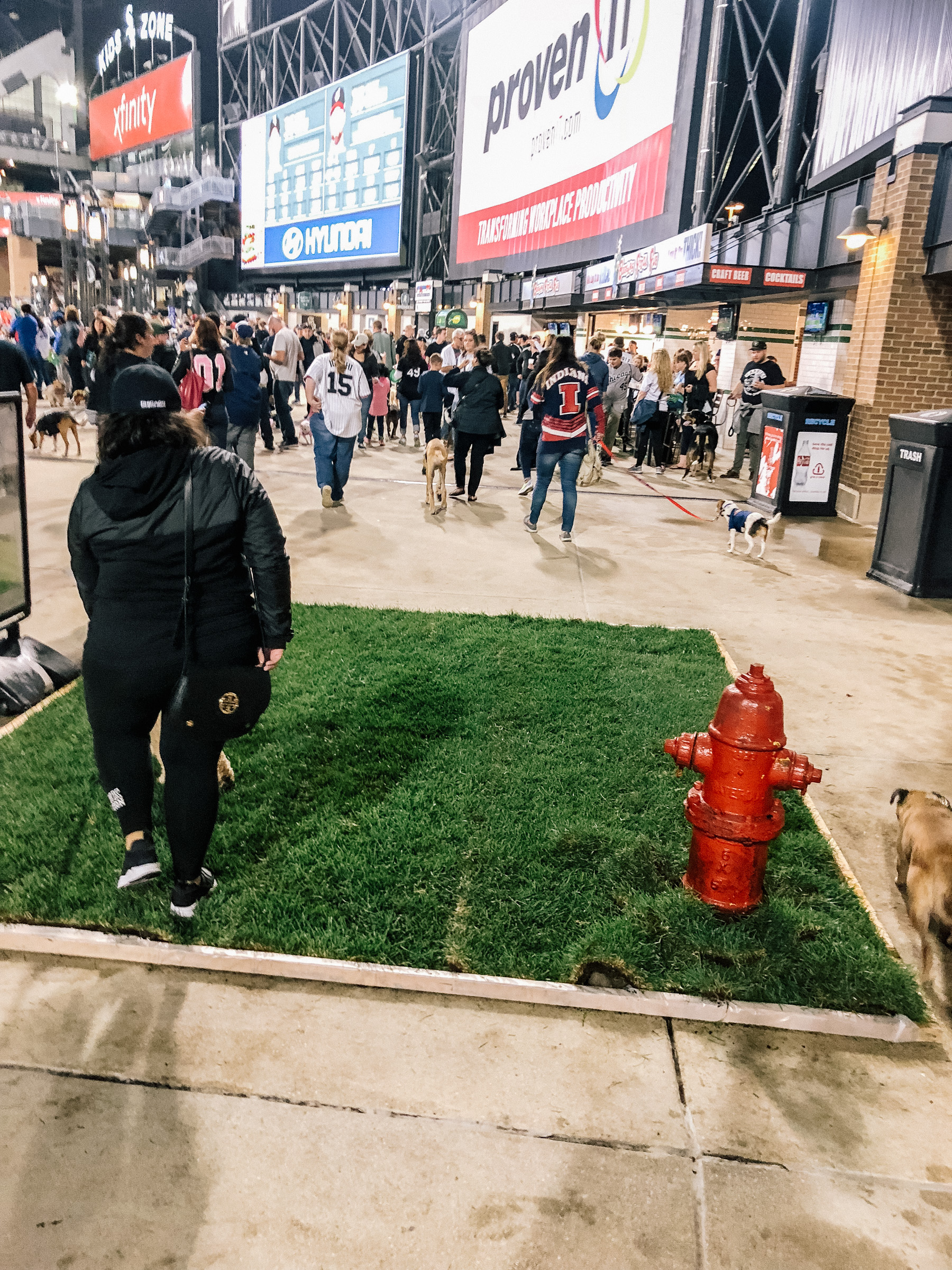 After that, we headed to the dog seating area in the stadium. I envisioned complete and utter chaos, but everything was very calm! There were several relief areas set up, and the dogs sat unperturbed on their owners laps in the seats–or sometimes in their own seats if they were too big. (Saw a couple of Great Danes there!)
I can't even tell you how many "dot dog at the ball game" jokes Noodle received. We loved every minute of it!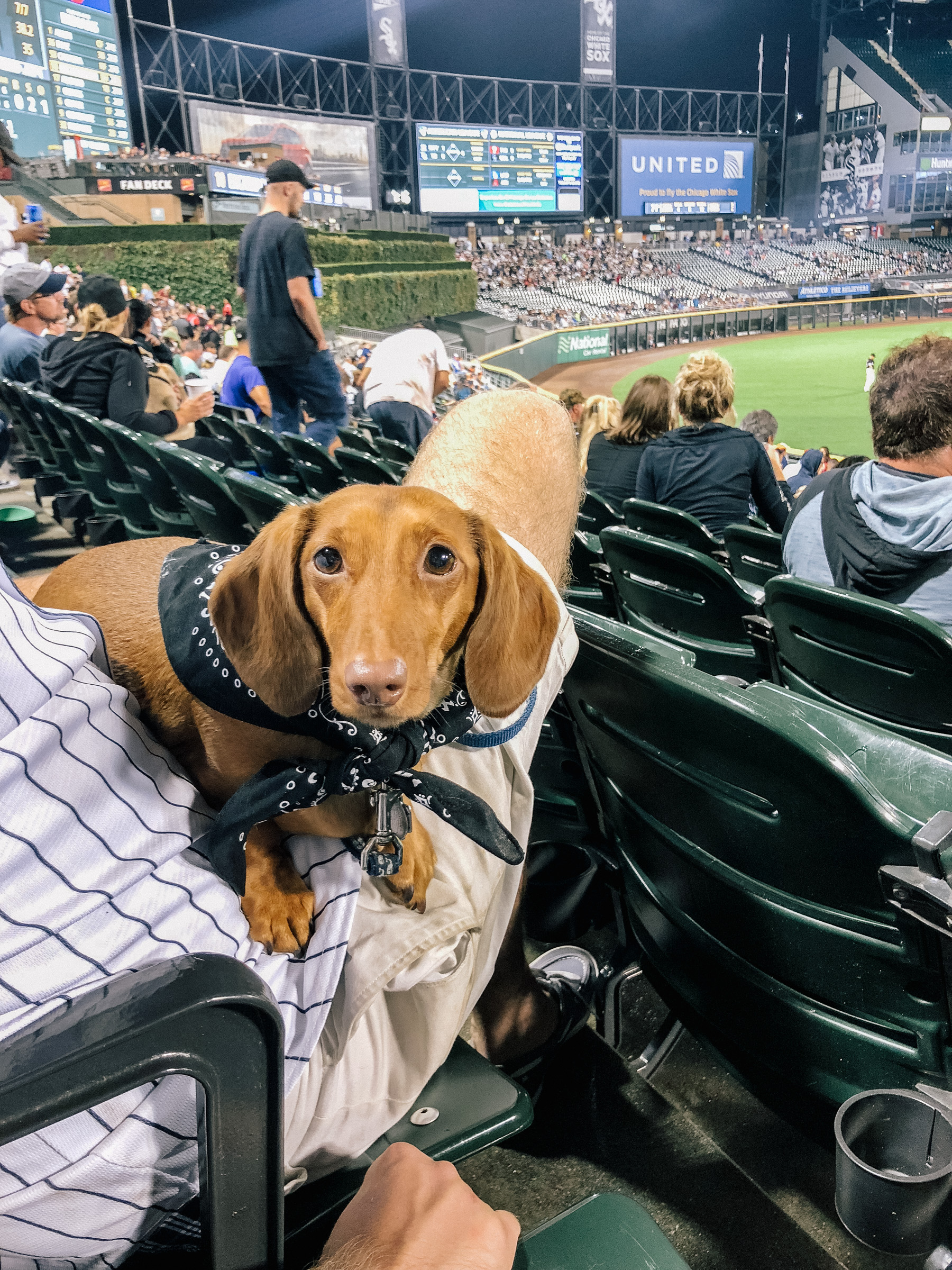 This is the last photo of the night! Here we are in our seats. It was past Emma's bedtime, so we only stayed for three innings, but we had hot dogs (heh) and pretzels, and we cheered on the Sox. All in all, it was such an amazing experience, and we definitely want to make it a Larkin Family tradition!
Also, Noodle, we're so proud of you for not doing this.
A big thanks to the White Sox for hosting us!