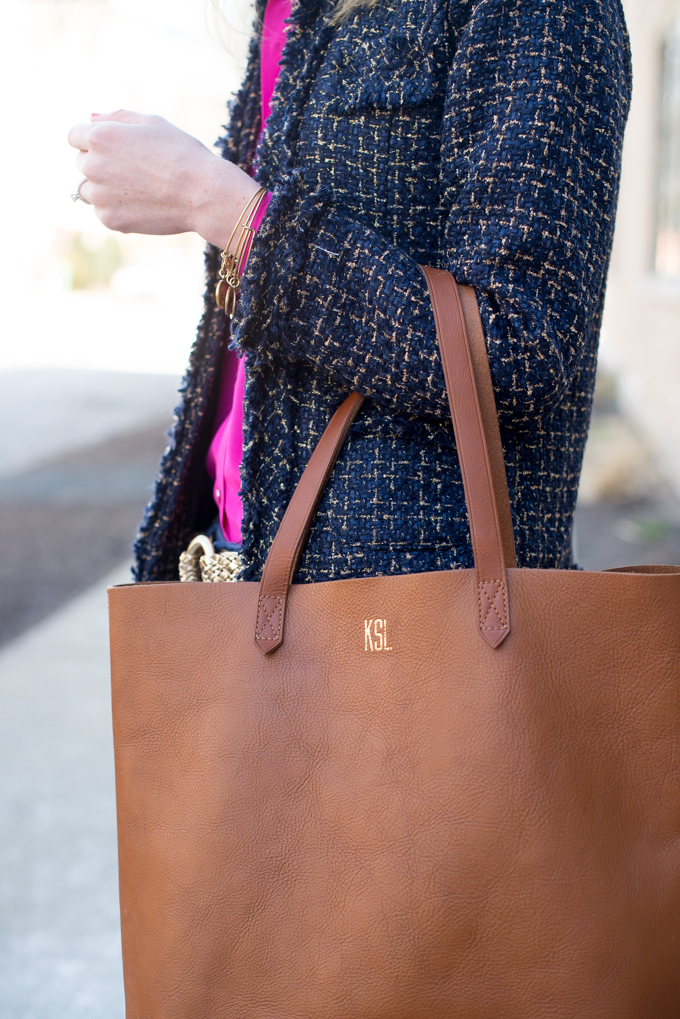 Sheinside Navy Tweed Blazer (c/o) / Madewell Transport Tote / Brooks Brothers Navy Bow Pumps (Similar here) / C.Wonder Silk Shirt (Old, but I love these silky tees–perfect for spring!) / Hudson Jeans (Old, newer styles here) / Kate Spade Pearl Necklace (Old, newer style here) and Tortoise Sunglasses (Old, newer styles here) / Alex & Ani New York City, New Jersey and Nantucket Bracelets (c/o) / Daniel Wellington Watch (c/o — Last day to take 15 percent off your order with code "kellyinthecity15"!) / J.Crew Pearl Earrings
There was a time back in September and October, during my first couple of months in the freelance game, when I didn't shower until noon. (#darkdays) I've since cleaned up my act, and now get ready before sitting down to the computer, as A) that was gross, and B) I'm happier and far more productive when I feel put-together. But I keep things casual, as–let's be serious–I'm more often than not sitting at my desk or working from local coffee shops. Jeans and button-down shirts are my staples, and I simply change around 4 p.m. or so for whatever I have going on in the evening.
A couple of times per week, though, I'm out and about for the majority of the day, and need to look relatively presentable for meetings and events. At the same time, I want to be comfortable, as I'm usually hopping from one place to the next. This navy tweed blazer does an amazing job of classing up my favorite pair of dark jeans. (I love that it has a bit more personality than my J.Crew Schoolboy blazer, and that it's a fraction of the cost.) Slip on a pair of kitten heels (pumps for wimps) and a silk shirt, and voilà! Classy, comfy and warm… and a look brings me from day to night. :)
Sizing: I'm wearing the small. For reference, I wear a 0 or 2 in the J.Crew Schoolboy.
Photos by Maya of Charmingly Styled