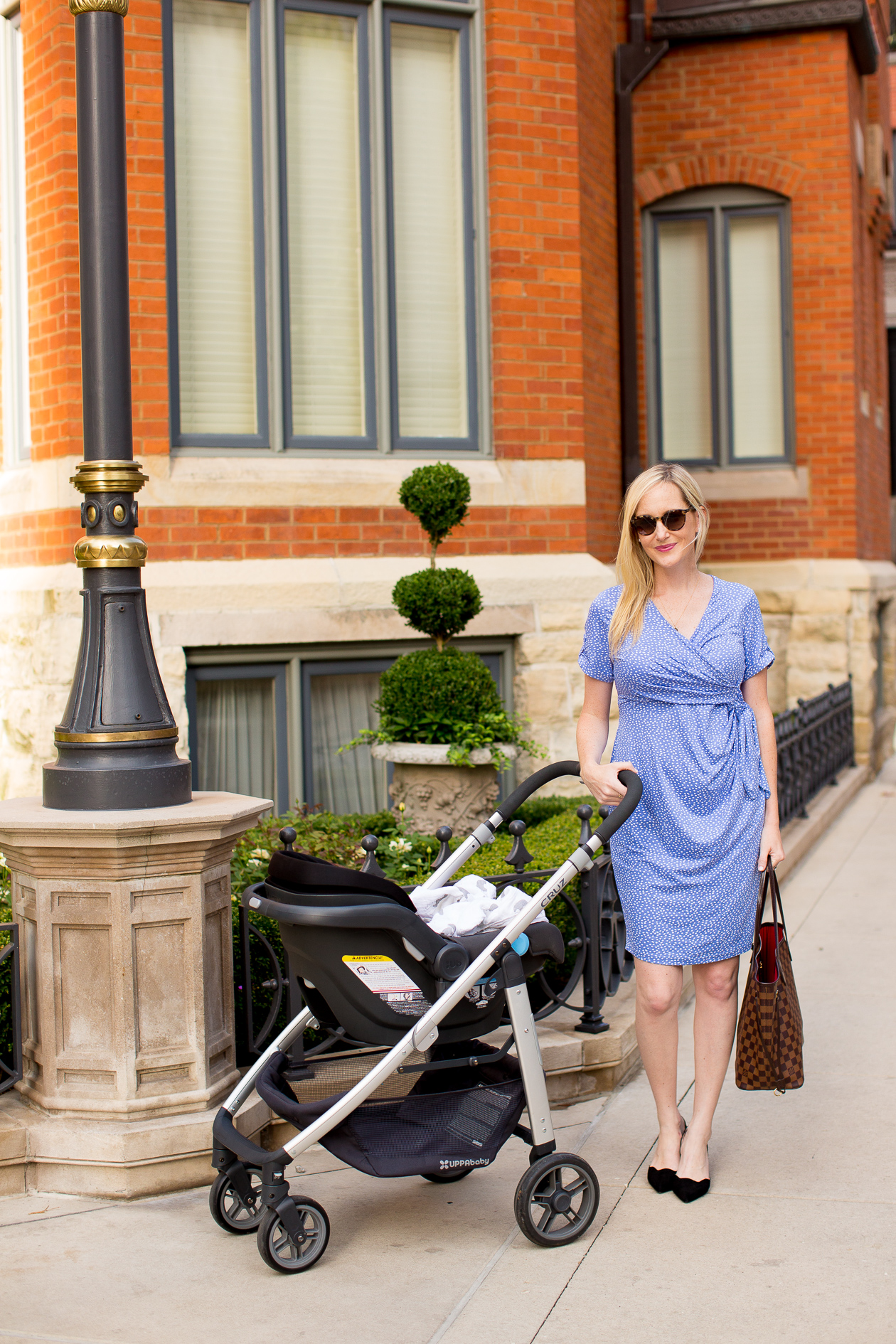 Sole Society Pumps c/o / Similar  Sunglasses / Nearly Identical Necklace / UppaBaby Stroller and Car Seat (Which snaps into the stroller for infants) c/o / Seraphine Nursing Dress c/o (Brand also available at Nordstrom)
These photos were taken relatively shortly after Emma's arrival. Seraphine is the BEST company for postpartum/nursing clothing! It's taking my body a while to bounce back from pregnancy, and I definitely wouldn't be able to get by without in-between clothing!
This past weekend was a bit of a rough one.
It was actually shaping up to be an amazing one, as we'd hosted a dinner party for our awesome just-married neighbors, celebrated a friend's 30th birthday, and attended an end-of-summer bash. (All with a happy baby!) But on Saturday night, after the last event, we arrived at our car (which we'd parked on the street) and found a nasty, sarcastic note scribbled on the back of an old envelope… and a slashed tire. Apparently the older gentleman who left the surprises wasn't too happy with us.
Unfortunately for us, we'd missed the "permit zone" parking sign at the very end of the block, and ended up in front of this guy's house. (And he'd missed the giant "Baby on Board" sign on the back of our car.) Many, many hours later, after several dirty diapers changed on the sidewalk–and visits from five police officers, a bunch of absolutely lovely people who lived on the block, and roadside assistance–we were on our way home, donut on our car, police report filed. But we weren't in bed until about 3:30 a.m., which, with an infant, is pretty terrible.
Needless to say, the rest of the weekend was spent trying to undo the damage, both to the car and to poor Emma's sleep schedule. We're a bit of a mess today, but we're trying to remember those incredibly kind police officers, strangers and roadside assistance employees. Chicago is amazing city, filled with some of the friendliest people I've ever met. And we're so lucky to be raising our little girl here.
One curmudgeon means nothing. But seriously: don't park on N North Park Ave. ;)
Hey, Dad. :)
Outfit details:
Sole Society Pumps c/o / Similar  Sunglasses / Nearly Identical Necklace / UppaBaby Stroller and Car Seat (Which snaps into the stroller for infants) c/o / Seraphine Nursing Dress c/o (Brand also available at Nordstrom)