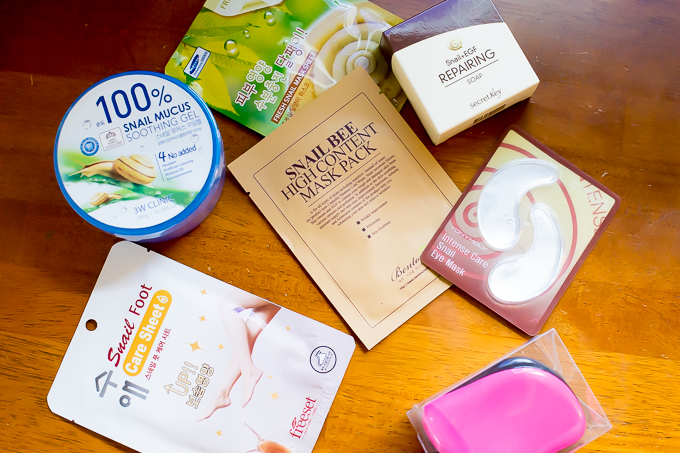 Today, I'm teaming up with Beauteque, a natural cosmetics and skin care retailer, to give away one of the company's most popular–and interesting!–products: the Head-To-Toe Snail Bag.
Yes; you read that correctly. Snail. ;) It's an ingredient that's quickly becoming popular throughout the world, as it has anti-aging, moisture-replenishing, acne-fighting, and wrinkle-reducing properties (like natural acids and elastin). It's also been found to help with acne scars and hyperpigmentation.
Who knew, right?! ABC News actually covered the topic a few days ago. As reported, the ancient Greeks first discovered the beneficial ingreidents in "snail gel," and later, Chilean farmers realized that their hands felt smoother when they handled snails. The trend is currently huge in Korea, and is slowly making its way to the United States.
I know what you're thinking: Yuck. I thought the same thing myself at first, but the products are pretty awesome. They smell great and are super lightweight, and no snails are harmed in creating them. I don't know about you guys, but I have acne-prone skin. (Ugh. Thirty years old and still fightin' the fight!) But over the last month of using my Beauteque products, I can definitely see a difference. My skin is smoother, and I've had fewer breakouts on my chin, which is my biggest problem area.
The Head-To-Toe Snail Bag, valued at $80 and sold for $24, features seven full-sized products: three that are revealed to you (the Secret Key Snail+EGF Repairing Soap, the Tangle Teezer, and the Benton Snail Bee High Content Essence Sheet Mask/Etude House Snail Healing Sheet Mask)… and four that come as a surprise. :)
Want to win one and try it out for yourself? Simply comment on this post, and let me know what you think about Beauteque and/or the beauty and skin care trend! I'll choose the winner on Sunday, October 26th.
And use code "KELLYINTHECITY" to receive a free sheet mask with your Head To Toe Snail Bag purchase! You'll also be automatically entered into a drawing to win a My Beauty Diary face sheet mask set, which includes 16 masks and is valued at $40! (Promotion ends October 31st.)