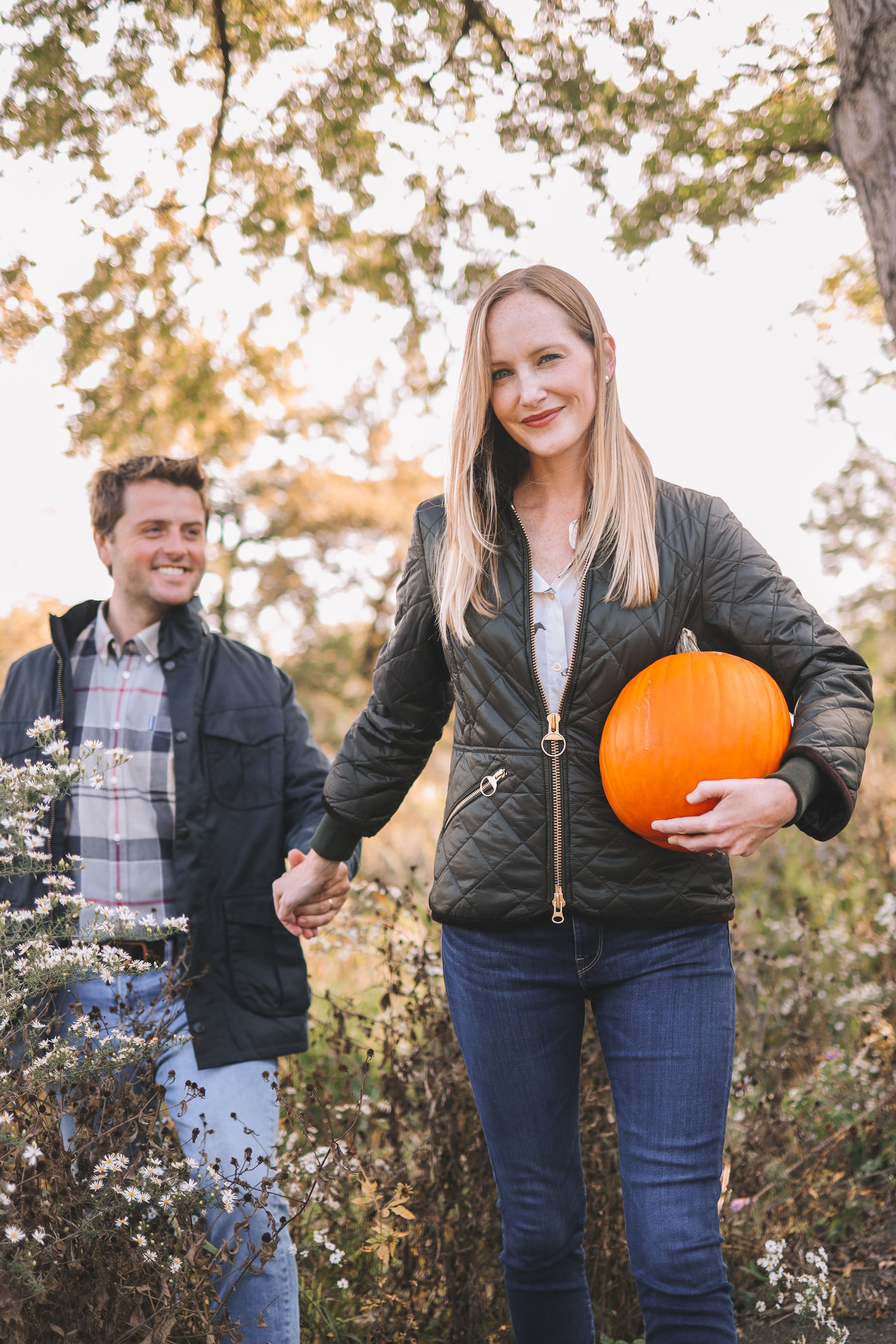 Barbour Liddesdale Jacket (Also available here) / Barbour Horse & Dog Shirt / High-Waisted Jeans / Brown Boots / Mitch's Barbour Latrigg Jacket (Similar here.) / Mitch's Barbour Shirt / Lucy's Barbour Jacket (See all Children's Barbour here.)
Happy 125th Anniversary to Barbour! I'm doing an Instagram collaboration with the brand today, but I couldn't help but share the photos on the blog, too. :) I mean, the Lucy pics?! (Note: Mitch is laying on the ground behind her for support. 😂)
I've had a Barbour for as long as I can remember, and I'm wearing it in so many of my happiest memories. And I meet a lot of people who say the same. But it's no wonder! The iconic brand is deeply rooted in so many families; Barbour itself is a five-generation, family-owned business.
(I think my happiest memory, btw, is getting stuck in the rain with Mitch, Emma and Lucy this past summer in Lincoln Park. We initially all tried to take cover under my Barbour coat, which I always have stashed under the stroller. But then we just embraced it, and we danced and sang and laughed in the downpour. I remember thinking that moments like that one are what life is all about! Also, it's kind of fun that now everyone in the Larkin Fam has a Barbour. Even Lucy and Noodle!)
For its 125th anniversary, Barbour has reworked some of its most-loved and timeless pieces from a century of archives, and made some awesome updates to them! The collection is amazing. Representing the family's fourth generation, the best-selling Barbour Icons Liddesdale Quilted Jacket (which I'm wearing in these photos) was first introduced in 1979 and was called the "Countryman." It was developed as a lightweight, practical and warm garment that would have both rural and urban appeal. Wear it in the fields or out riding… but wear it in the city, too. I love that it works in so many different settings! (Shop it here and here. Note that it runs on the smaller side. I normally wear a size U.S. 4 in Barbour, and I went up to a size U.S. 6. Though I definitely could have worn a U.S. 8! While the Liddesdale obviously features a more tailored design, my best advice would be to go one or two sizes up, depending on how you like your jackets to fit.)
I should also mention that I'm going to be reviewing the Beaufort on the blog soon, so stay tuned for that! I can't get over the gorgeous gold hardware and the classic tartan lining. Stun-ning. (Wondering what my all-time favorite Barbour jacket is?! It's the Barbour Beadnell Polarquilt! It's ridiculously warm and features the same well-known Beadnell style with a feminine cut. It's so flattering!)
Barbour was founded by the Barbour Family, and the company originally supplied English mariners with oilskins. In the late 1960s, after her husband passed away suddenly at the age of 29, Dame Margaret Barbour took the reigns. Today, she is credited with growing the company–originally known for its rural clothing–into a lifestyle brand for men, women, children, celebrities and fashion icons alike. (And dogs. We can't forget the dogs.) Barbour is now sold in 40 countries worldwide!
Happy 125th, Barbour. Here's to many more! 
To learn more about Barbour's history and to shop the rest of the Icons collection, head to Barbour.com and Bloomingdales.
Shop the post:
Barbour Liddesdale Jacket (Also available here) / Barbour Horse & Dog Shirt / High-Waisted Jeans / Brown Boots / Mitch's Barbour Latrigg Jacket (Similar here.) / Mitch's Barbour Shirt / Lucy's Barbour Jacket (See all Children's Barbour here.)
Favorite Barbour Icons products: