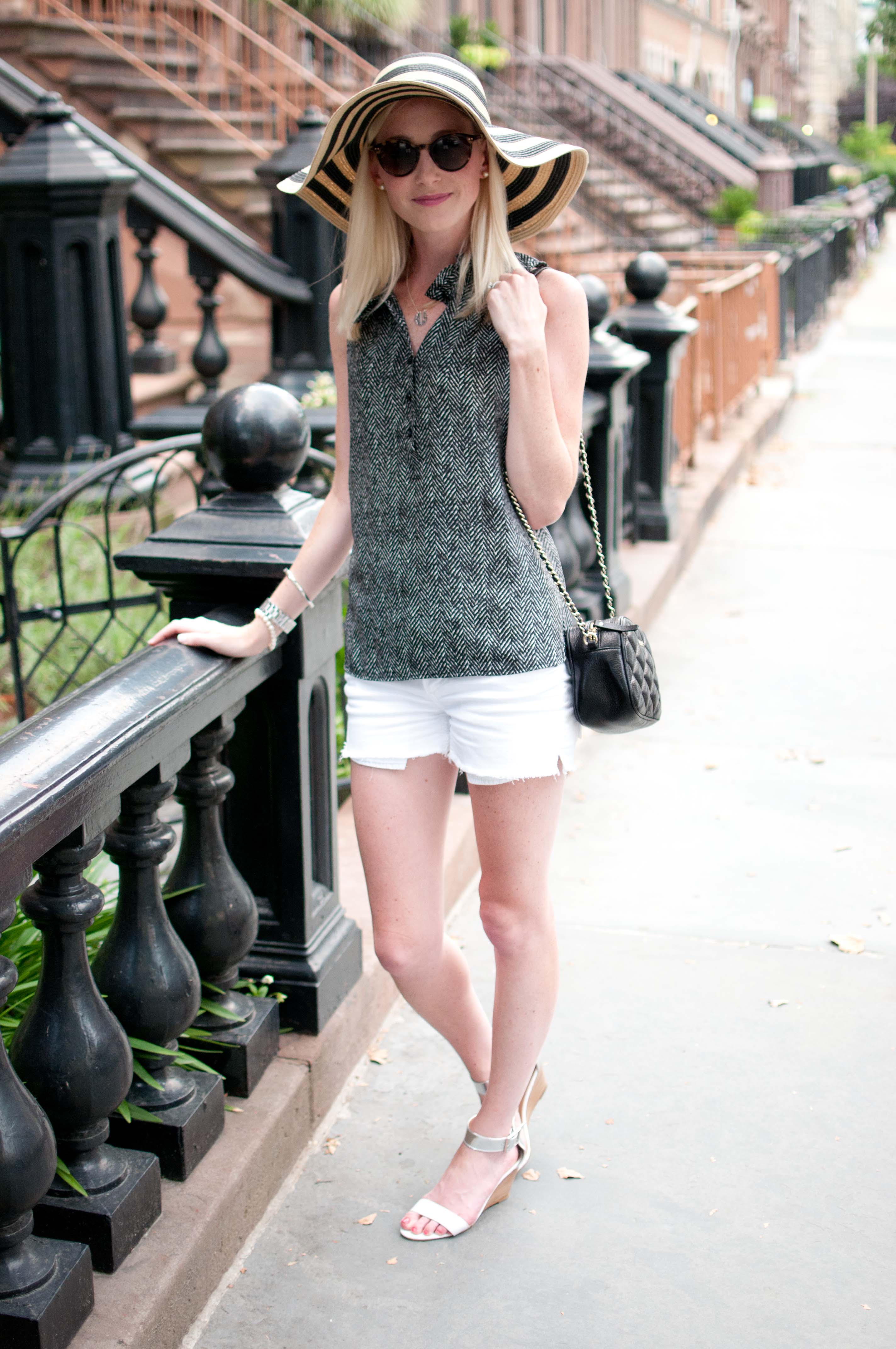 I'm back in the city! (Which is why I'm wearing black and white. Felt appropriate.)
What a whirlwind. While I'm a bit sad that the wedding is over, I'm also really, really happy and excited to start my new life with Mitch. Brooklyn, here we come! (More on that later. We do not have an apartment yet. If anyone knows of a place, hook a girl up. ;) Ha. No, but really.)
Monogrammed necklace: c/o Miriam Merenfeld / Bag: Kate Spade, similar here, here, here and here / Shorts: Stitches / Wedges: Steve Madden (On sale!) / Sunnies: Kate Spade (Sold out), available via eBay here / Watch: Michael Kors, similar here (large) and here (small) / Bracelets: c/o Emitations.com and Swarovski / Top: J.Crew Factory, also available in navy, hot pink, and ivory (All on sale!) / Earrings: J.Crew, more affordable version here / Hat: J.Crew / Lipstick: Clinique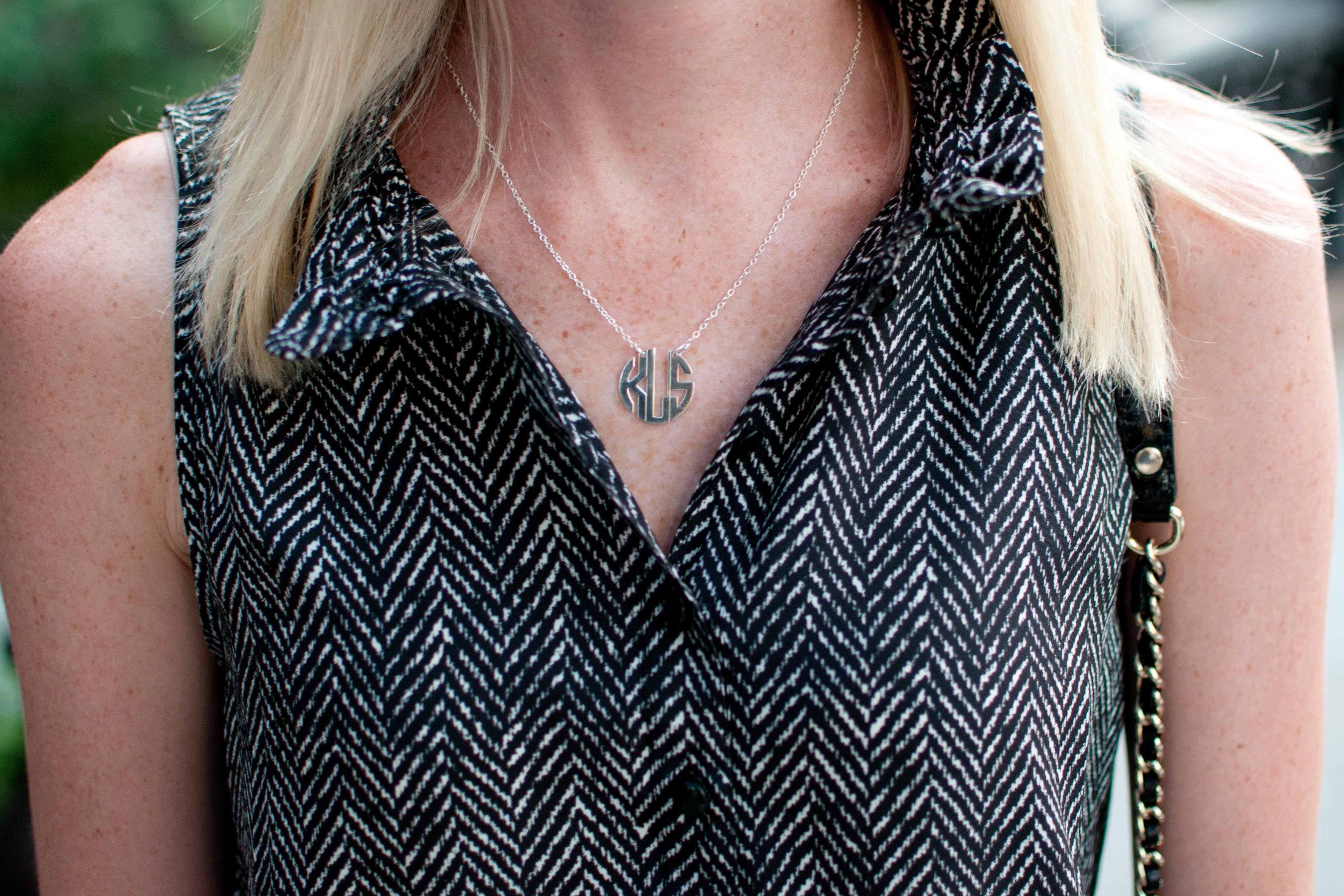 Before I start rambling, let me call your attention to my adorable monogrammed necklace, c/o Miriam Merenfeld. I love how delicate it is, and I love its modern block letters, which remind me of both my urban adulthood and my college days in New England. :) I've also been in need of a silver necklace for a while now to go with my metallic wedges. Clearly, I'm in love. Check out the rest of Miriam Merenfeld's monogrammed jewelry here!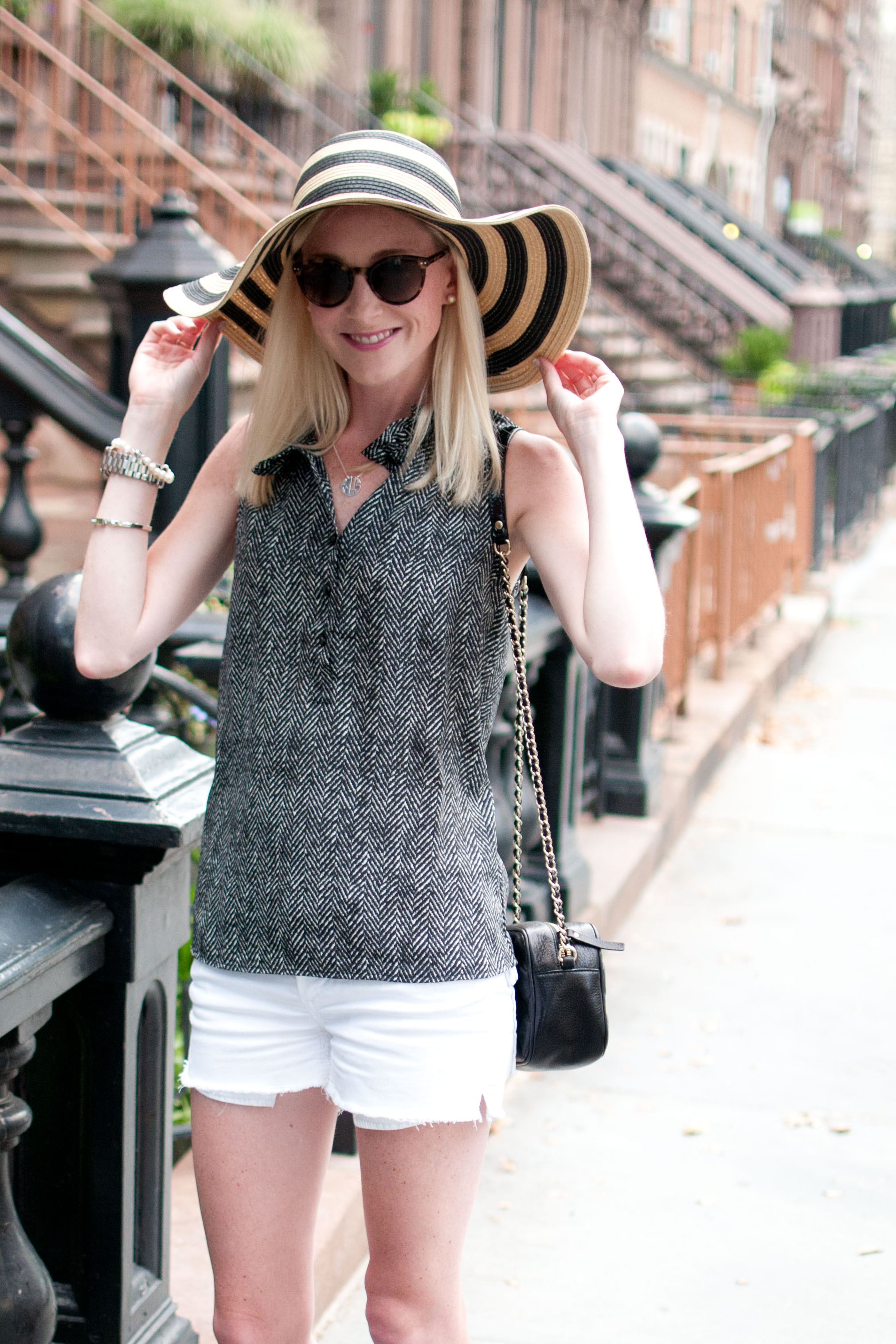 Back to my ramblings. Last night, Mitch and I drove from Ocean City to my parents' house in Bucks County, Pennsylvania. My mom made chicken parm (my favorite), and I hugged Reilly, my 12-year-old black Labrador Retriever, for at least an hour straight. I love that dog. A year and a half ago, Reilly was diagnosed with cancer, and the vet gave her something like three to six months to live. But the dog is going strong. She's blind (completely unrelated to the cancer), so she bumps into things a lot, but she just wags her tail and sits at your feet, happy as a clam. No one–including the vet–understands it. Needless to say, I'm overjoyed every time I get to see her. We've been together since high school, after all! Love my Reilly. Good pup.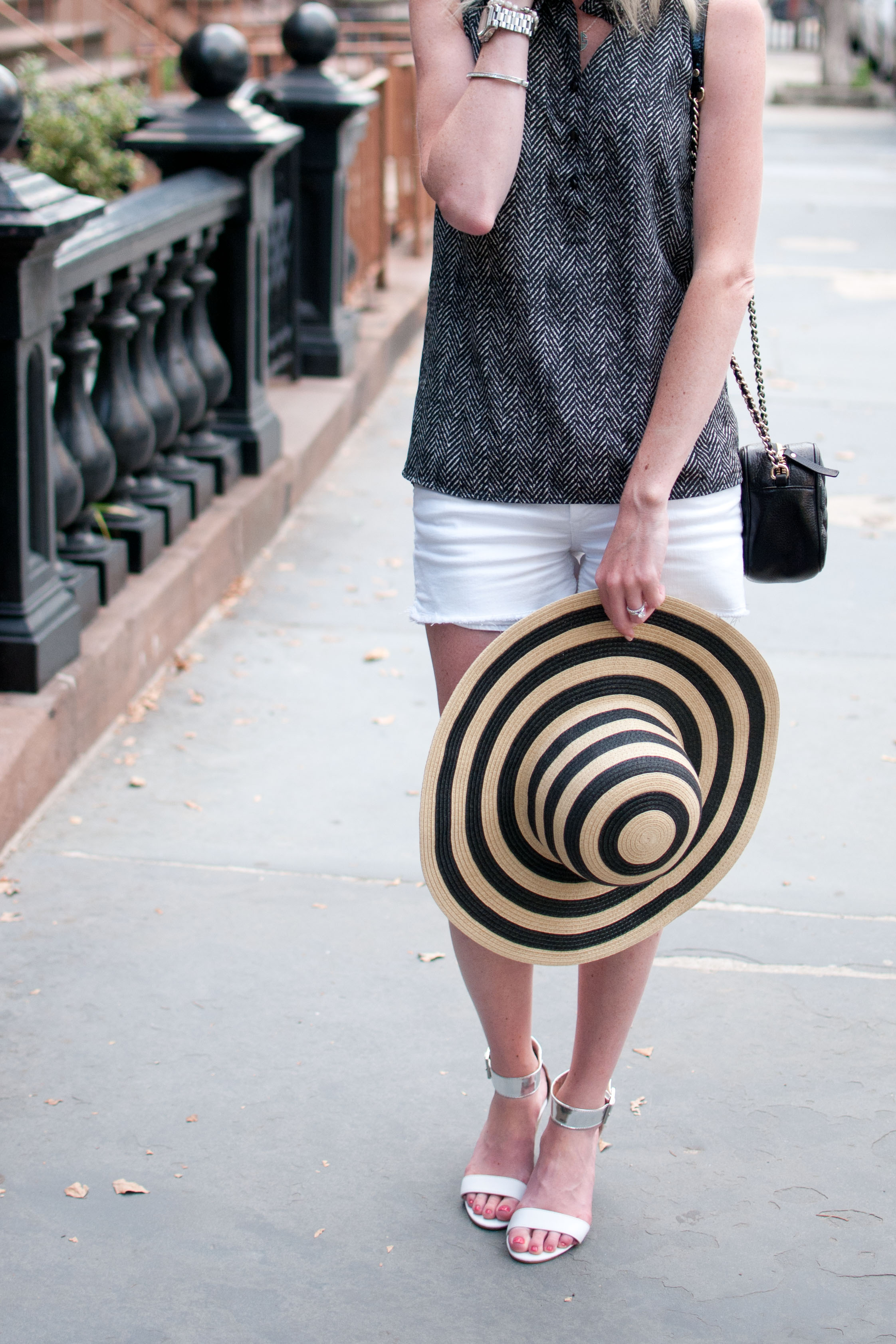 Anyway, home was awesome. Over wine, cheese and chicken parm, we talked incessantly about the wedding until 1 a.m., at which time my father exclaimed, "Oh my God! It's 1 a.m.! I have to go to bed!" (Dad travels from Pennsylvania to New York City every day for work. It's insane. I believe he gets up at 4:45 a.m. Ungodly, if you ask me. But it doesn't bother him! Talk about an optimist.)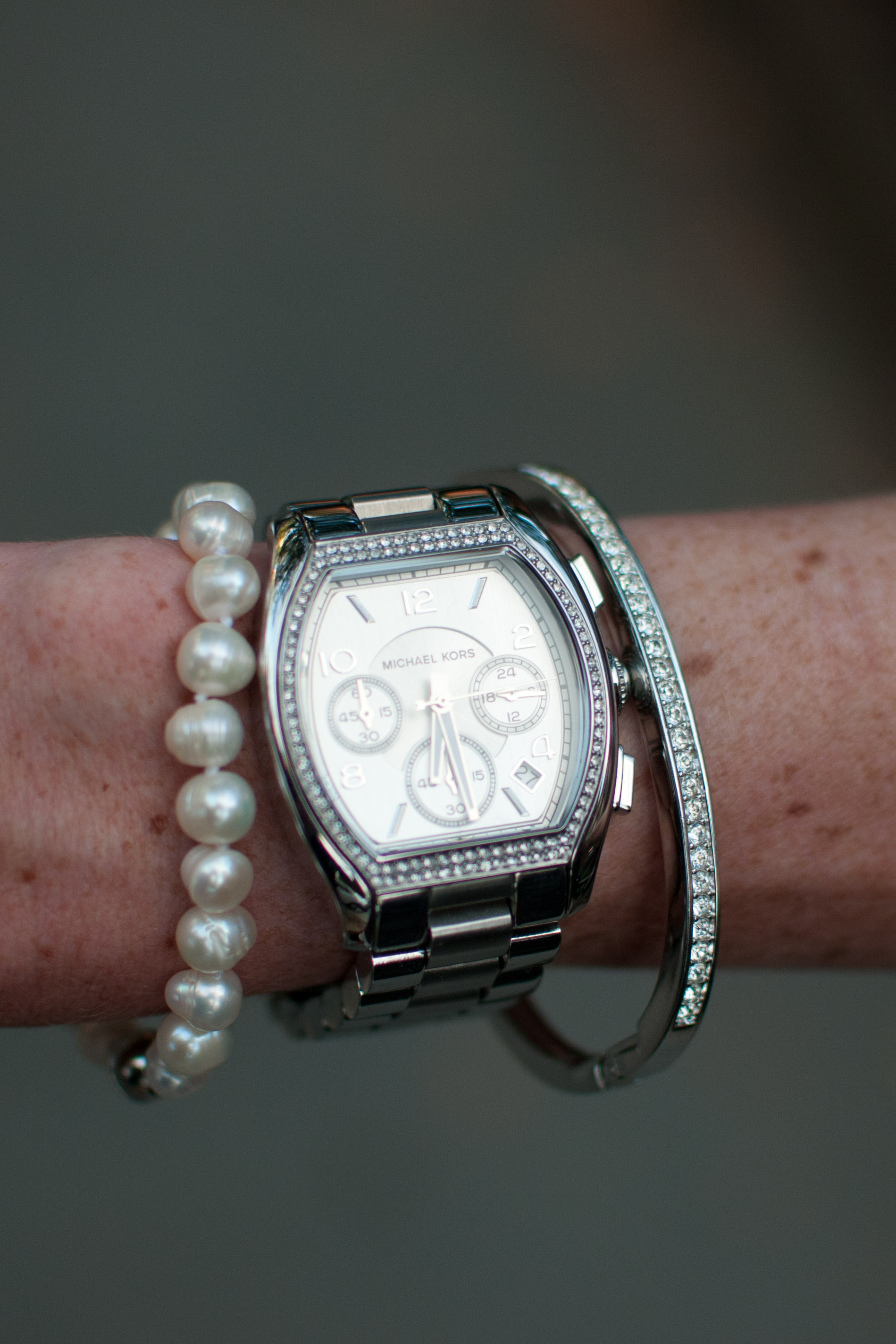 The night was so much fun. I love my parents to pieces, and it was incredible to be able to catch up for so long. (They left the Shore right after the brunch in order to drive my uncle and godfather to the Philadelphia Airport, so this was really our first chance!)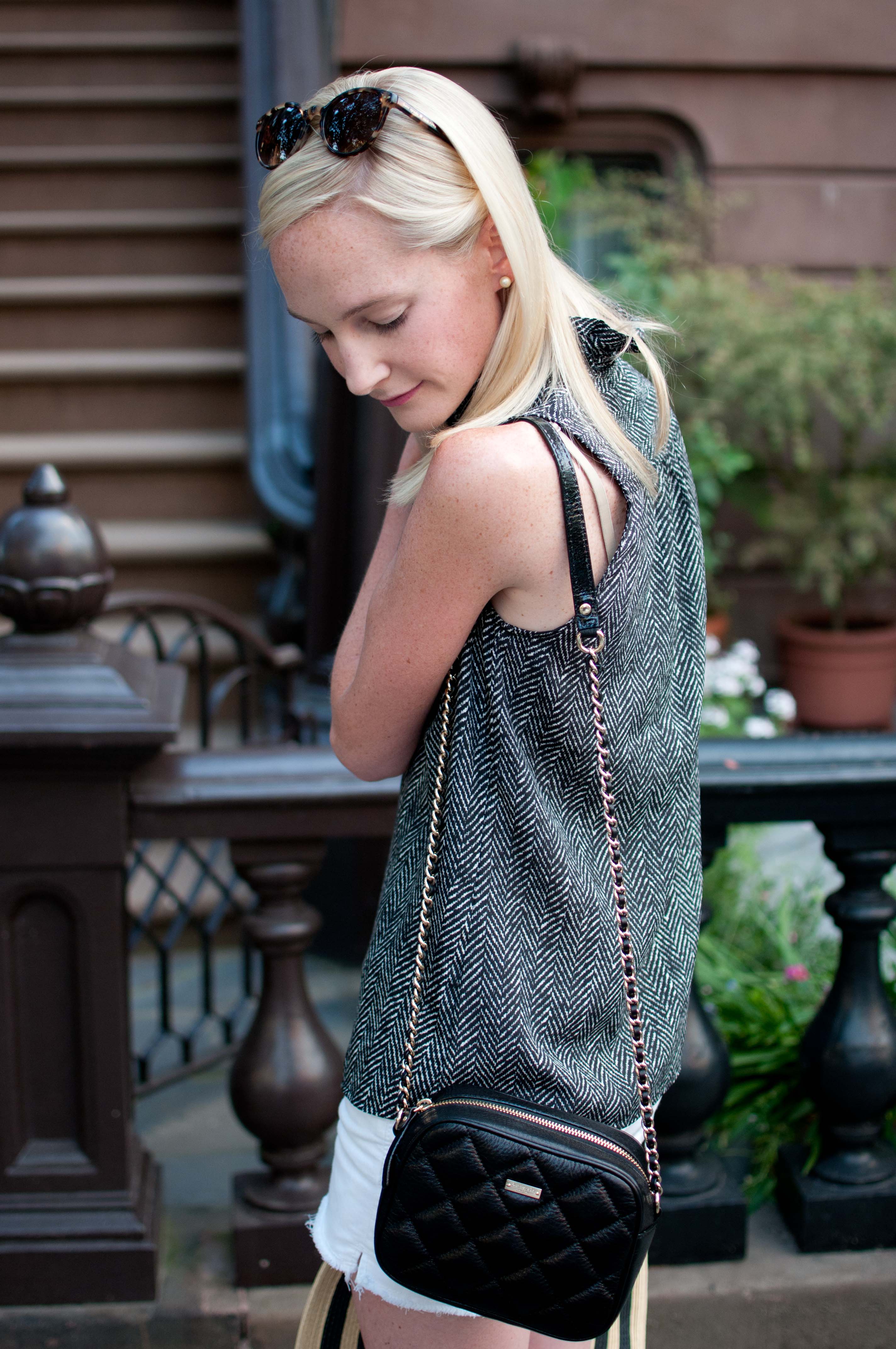 Oh! Here's something to brighten your day. So, over the last year and half of being engaged, I've been trying to grow out my hair. What a pain! I strongly dislike having long hair. I have super thin and stringy hair, so it was always a tangled mess. It was always in my face, and always sticking to my lip gloss. Oh, the agony. I promised myself that after the wedding I'd chop it off.
Of course, I couldn't wait to get back to my hairdresser in New York. I promptly marched myself into the bathroom in Ocean City two days after the wedding with a pair of kitchen shearers, and chopped it all off. On my own. Bravo, Kelly. That was another reason we had to go home. (Thanks for fixing my mess, Mom! I love you!) Goodness.
Stay tuned for tomorrow's post on what I wore to the brunch the day after the day after the wedding! (Going to dish this out slowly, so as not to overwhelm you. ;))
Monogrammed necklace: c/o Miriam Merenfeld / Bag: Kate Spade, similar here, here, here and here / Shorts: Stitches / Wedges: Steve Madden (On sale!) / Sunnies: Kate Spade (Sold out), available via eBay here / Watch: Michael Kors, similar here (large) and here (small) / Bracelets: c/o Emitations.com and Swarovski / Top: J.Crew Factory, also available in navy, hot pink, and ivory (All on sale!) / Earrings: J.Crew, more affordable version here / Hat: J.Crew / Lipstick: Clinique