Before we get started, I want to express my gratitude for all the support I received after the last week's "Ask Kelly" test run! It was a blast, and I'm genuinely excited to keep this thing going. Please know that if you don't see your question posted here tonight, I haven't forgotten about you! Keep checking back! :)
Hi Kelly! My question is how do you plan your outfits? Do you pick out what you will wear the night before? How do you know what goes best with what? Thanks!
-Kira, NYC, Keeping Up With Kira
Okay. In my dream world, I lay out my clothing a week in advance and coordinate everything beforehand. In real life, though, that never happens. (No space or time!) Instead, I rely heavily on inspiration from Pinterest, Instagram, blogs, my friends, store windows, promotional emails and people on the street. You name it, and I'm inspired. I'm constantly snapping inspirational photos on my phone and going back to them, too. These photos really come in handy the night before work (or the morning of), when I have no idea what to wear! Sometimes I'll recreate outfits from them, and other times, they'll simply inspire my own creations.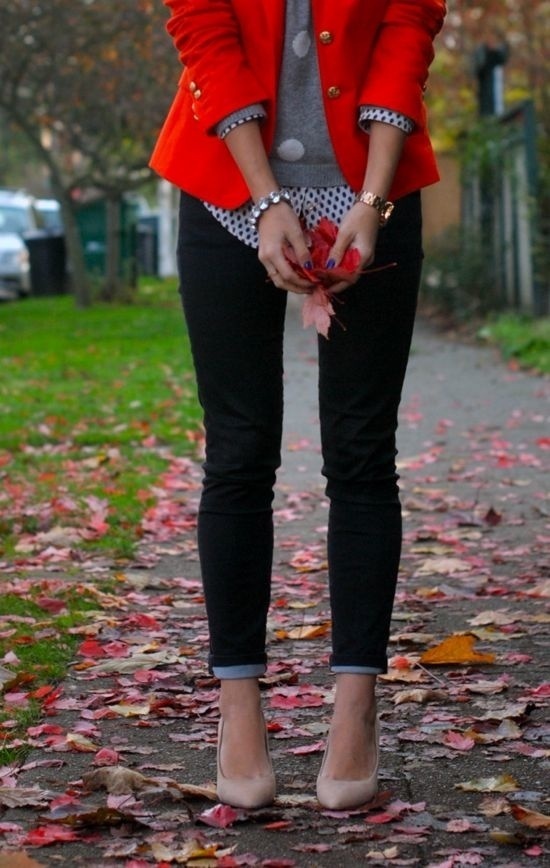 For example, the other day I stumbled upon this adorable photo of a girl wearing a red blazer (pictured left). I didn't have a red blazer, but I did have red pants. I mixed gingham with plaid–kind of how the photographed girl did with polka dots and some other pattern–and voila! Outfit planned in under five minutes! If I'm all out of inspiration, I'll pick a bold statement piece or something I simply haven't worn in a while, and create an outfit around it. When I have more time, I like to play around and experiment with colors, patterns and textures.
Now, sometimes these experiments work well, and I'm able to integrate plaid, scallops, bows, bright colors, monograms, pearls or glitter into my outfits in ways that are fun and classy. Other times, though, it's a major failure, and I end up looking like a nut. I get my fair share of raised eyebrows and inquisitive looks, but I'm kind of okay with this. (Maybe even proud!) Experimenting and taking chances is what fashion is all about, right? ;)
I'm very interested in getting involved with wedding planning after college, and I read that you and Mitch used to do wedding photography. Do you have any advice as far as how to get my foot in the door? I know it's a competitive (and possibly unrealistic) field to want to go into, so I figure I'll try to get all the advice I can!
-Caroline, Florida
Caroline, that's amazing! I should preface this by saying that the reason I stopped shooting weddings was not because I didn't enjoy it, but because I didn't have enough time for it while I was working my full-time job. When I started, I totally thought I was Superwoman. I was under the impression that I could juggle two demanding jobs and the rest of my life while maintaining my sanity. So not the case, haha. I realized a little too late in the game that I'd taken on way too much, and I crumbled under the pressure. (In hindsight, there were also some rather significant mistakes I made with my miniature wedding photography business… but that's another post for another time. ;))
I think wedding planning is such a fabulous field to go into. I mean, seriously. You get to help couples and families create what will be one of the most joyous days of their lives, and make their visions come alive. Can the planning process be stressful? Sure. But there's nothing like seeing the bride and groom during their first dance, when time momentarily stands still, like it does in a John Steinbeck novel. In that moment, everything is perfectly magical for them… and you helped create that, you know?! I adored our wedding planner. She was amazing. Not only was she on top of every little detail (and everything that never even crossed my mind, haha), she was sweet, fun, and genuine. This sounds a little silly, but I'd go so far as to say that things wouldn't have been the same without her!
Anyway… Sorry for going off on that tangent. ;) In terms of getting your foot in the door, I started off by shooting as a backup wedding photographer. Often times I'd assist or shoot alongside the hired photographer, and other times I'd simply try to get as many shots as I could without getting in his or her way. I also shot events for family, friends and acquaintances. After I'd built up a portfolio, I posted advertisements through Craigslist and Backpage. Later, I branched out and started using Facebook. (And posted my photos and advertisements to my personal Facebook wall.) Having a website (and a Facebook page) for my business was awesome, too. I don't maintain one anymore, but at the time, it was huge for me. There, potential clients could see my portfolio and read about my experience, background and personal life.
Oh–and business cards. They're clutch. Whenever a wedding guest asked me whether they'd be able to see photos after the wedding, I'd hand over my card. And while I didn't hear from everyone I handed business cards to, I heard from a lot, and those people often became clients down the line… or they referred others to me. :) Something else I did was set my prices low for my first year. I did this because I wanted to get as much experience and exposure as possible. It was tough not getting compensated much for very, very hard work, but it paid off. Once I'd gained that experience and exposure (and built up my portfolio), I was able to adjust my pricing.
I think my best recommendation, though, is to be as friendly as possible while on the job. Be professional and get the job done well, but don't forget to smile, laugh and joke around a little bit, too. It's a celebratory year, after all! Do those things, and people will be sure to remember and recommend you. Good luck, Caroline! Go for it, girl!
Hi Kelly, I was wondering what platform you used to create your blog when you first began? I've started creating my blog (which isn't yet live) via Blogger, but it seems to be rather limiting. Do you have any advice? Thanks so much, and keep up the good work!
-Lizzie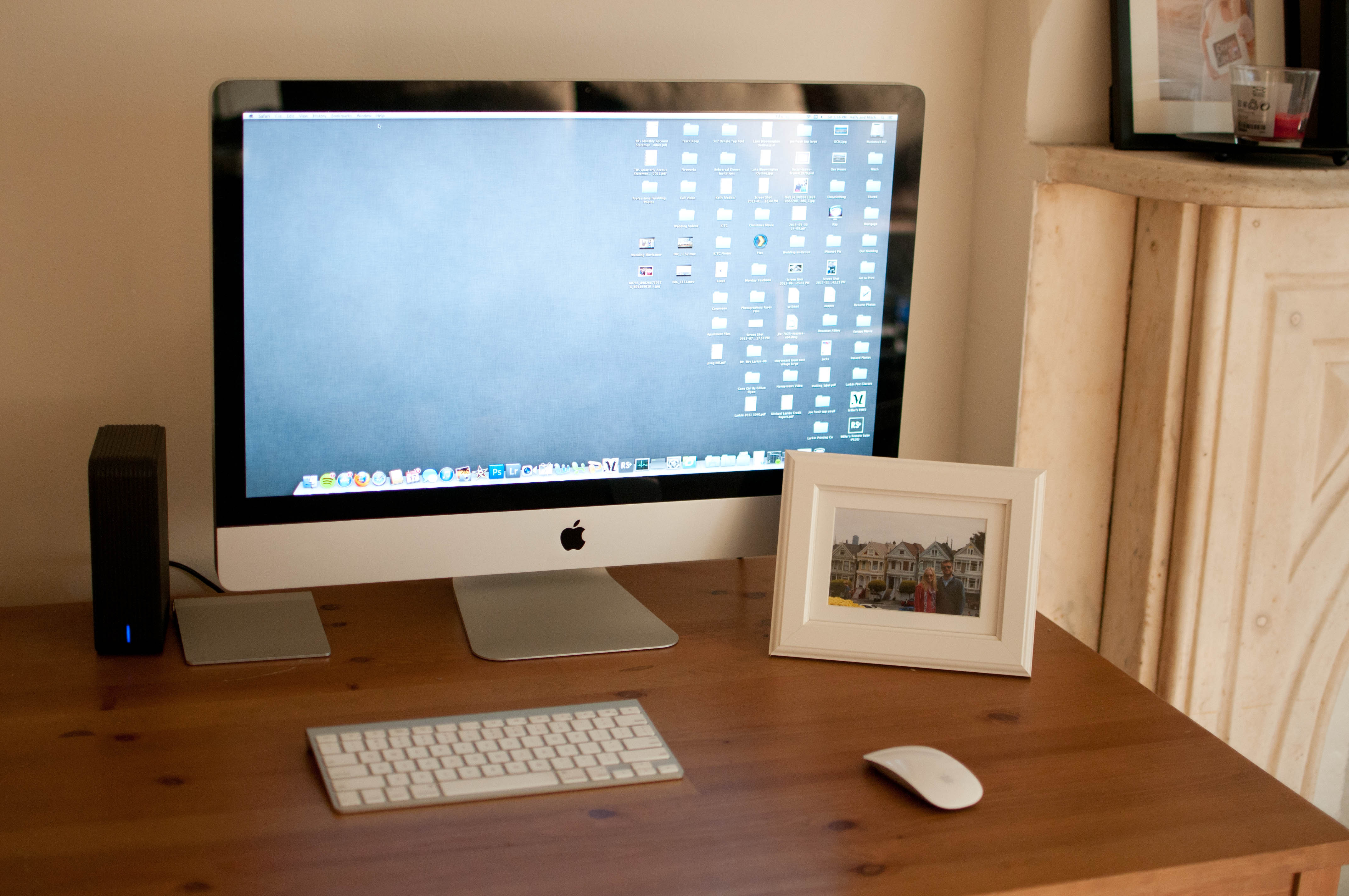 Hi, Lizzie! I used WordPress as my blog's platform in the beginning, and still do. When I decided to start my blog, I really had no idea what I was doing. I mean, I'd used Blogger briefly for a school project, but that was the extent of my knowledge. It was my good friend, Shawn (and Mitch's best, best friend), a website developer and coder, who strongly encouraged me to use WordPress instead of other platforms as it tends to be much more customizable. He explained that it can be fairly difficult, risky and time consuming to transition from other platforms over to WordPress once you have a good amount of content up on your site, too. My site is pretty basic (I use the "Twenty Twelve" theme), but I like its simplicity. I also like that if I one day want to change its theme, I can! WordPress was certainly confusing at first, but over the last year, I've learned a lot, and I'm glad I went with it. If you're interested in having Shawn work on setting up a site for you, feel free to email me at KellySLarkin@gmail.com. He's the best, and I couldn't recommend him more.