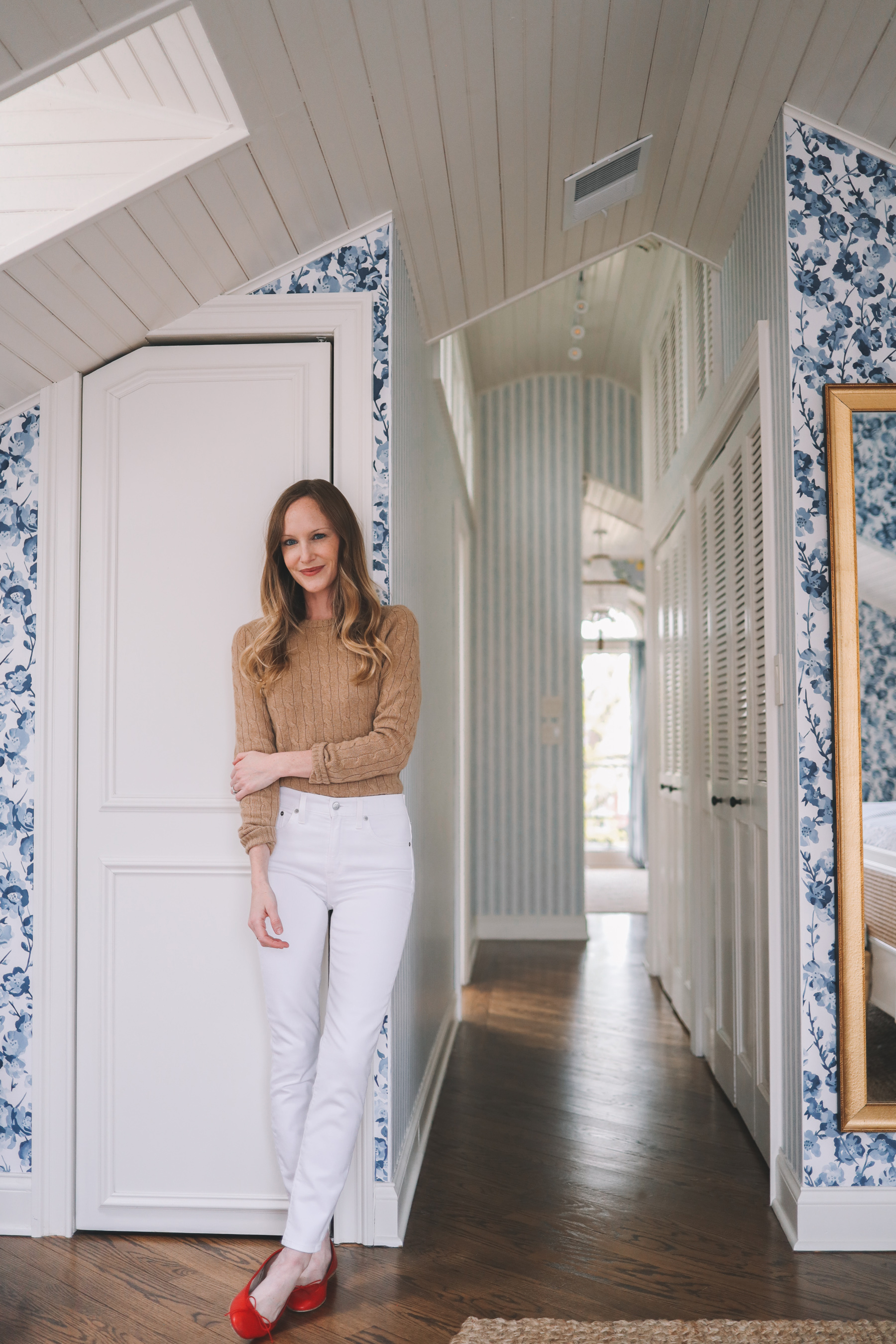 White Jeans (But all my favorites are below!) / Similar Red Ballet Flats / Old Cable-Knit Sweater (But for a similar look, try this beautiful camel cashmere sweater… or this cotton one in"Heather Oatmeal"!)
Oh hellooooooo.
My friend Carly and I are doing a weekly outfit challenge over on Instagram. We'll be putting together some (easy) classic looks, and asking followers to recreate! (Tag us at @kellyinthecity and @carly, and we'll share your recreation on Stories!) I suppose the idea here is that A) we're bored 😆 and B) getting dressed every day tends to yield productivity and positivity. So here goes nothing! (You can find my first post here.)
Anyway. Since spring is finally starting to grace our presence in Chicago, I thought I'd talk today about the white jeans I recommend most.
White Jeans I love:
J.Crew High-Rise White Jeans: This is probably my go-to pair right now! (And what I have on in these photos.) I think they're amazingly flattering, and they're definitely on the softer side. I should note that they aren't super roomy in the calf area; I just have chicken calves. I also look ridiculous in riding boots. It's fine. TTS.
Spanx White Jean-ish Leggings: YES. I know. Kind of weird that they're from Spanx, but they look incredibly polished and they feel very much like pajamas. When I used to go out, I would wear these because they fit how designer jeans would, and hug my calves, too. Highly recommend. TTS.
Factory High-Rise White Jeans: These are fabulous. Kind of similar to J.Crew's version, but considerably more affordable and arguably just as soft. I wore these in Florida in early February and my mom loved them so much that she bought a pair! (Here's the 9-inch version, btw, in case the 10-inch is sold out.) TTS.
J.Crew Striped Wide-Leg White Jeans: White jeans are usually considerably stiffer than other washes, and I really can't handle denim that isn't soft and super comfortable, haha. But this pair–while striped–is SO soft. I reach for these jeans constantly, and regularly pair 'em with solid t-shirts and white sneakers. Sizing: A little big. You might want to order your normal size and one size down and decide which you like best. I went with my normal size and just enjoy the extra room!
White Jeans I'd love to try:
Lysse High-Waist Skinny Denim Leggings: I've long been a big fan of Lysse, mostly for the brand's suede leggings for fall, but I'd LOVE to try these denim leggings and see how they compare to the Spanx version.
Madewell Button-Front High-Rise Jeans: I'm sad that Madewell doesn't make white jeans in the Roadtripper cut, because those are my ABSOLUTE favorite jeans in the world. Alas. But these look good? And they're on crazy sale!
Spanx Ankle Jeans: I figure that since I love the Jean-ish pair, I'd probably love these, too? They're specifically designed to flatter the tummy/hip areas.
J.Crew Slim Wide-Leg Jeans: As I mentioned before, I'm a huge fan of the striped wide-leg jeans. So I'm hoping that these will feel and fit similarly!
Shop the post:
White Jeans (But all my favorites are below!) / Similar Red Ballet Flats / Old Cable-Knit Sweater (But for a similar look, try this beautiful camel cashmere sweater… or this cotton one in"Heather Oatmeal"!) / Jute Rug / Cane Bed / Bench / Stools / Dresser (Also available here.) / Nightstands (Also available here and here.) / Roll-Arm Chair / Chandelier / White Curtains / Brass Sconces / Similar Floor Mirror / Striped "Acadia" Wallpaper / Floral "Fairfax" Wallpaper / Embroidered "Westport" Seersucker Quilt / Embroidered "Westport" Seersucker Euro Shams / Scalloped Plaid Sheet Set  / Floral "Fairfax" Quilt / Floral "Fairfax" Shams / Potential Lamp / Similar Lamp