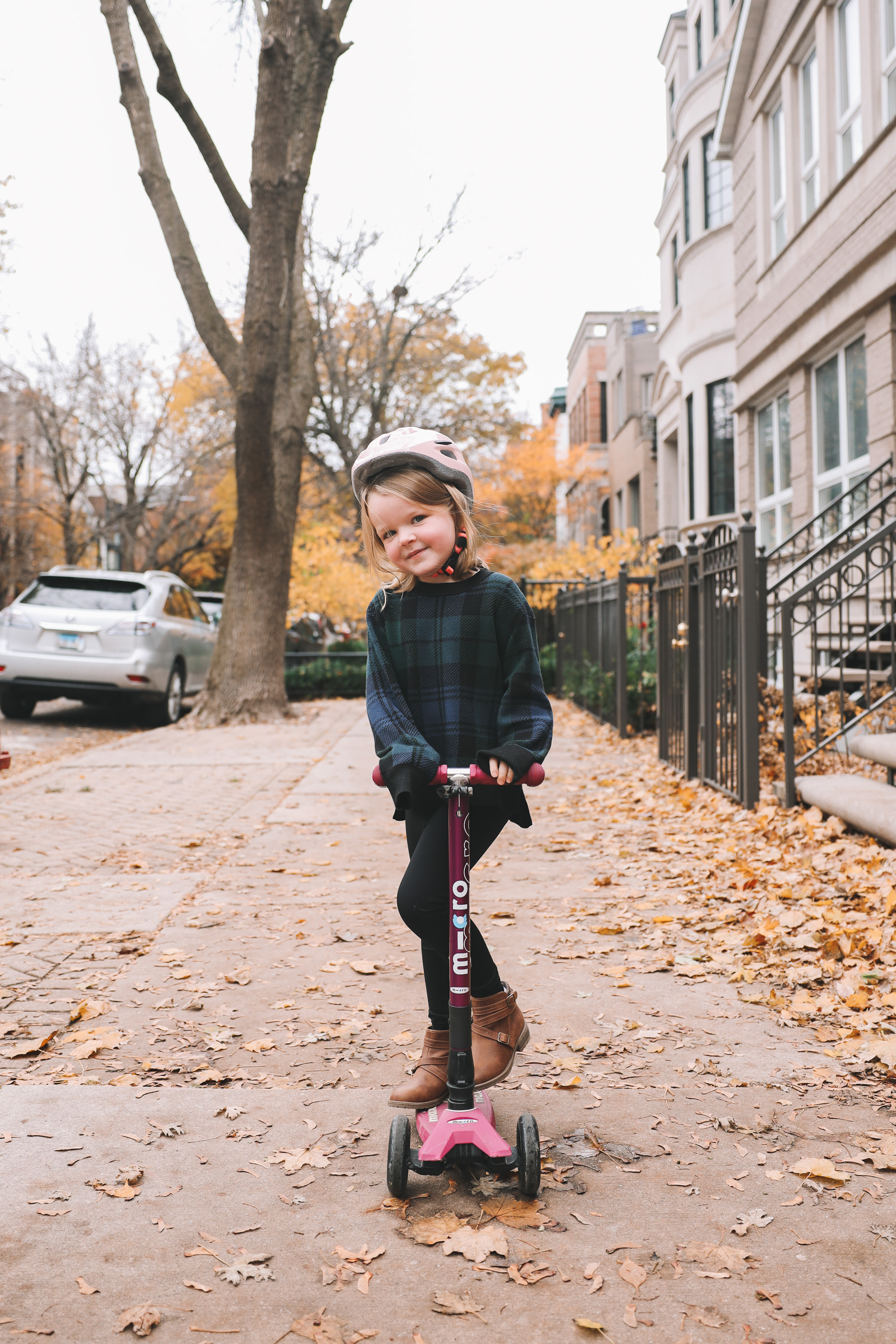 Blackwatch Plaid Sweaters / Leggings / Boots / Scooters
We've had a rough week!
A couple of days after these (adorable 🥰) photos were taken, Emma had an accident at camp, and got her foot stuck in a heavy door. (Kids' camps pop up around Chicago on days when the public schools are closed, and Emma loves going with her friends.) She's okay! And thankfully, nothing is broken. But it does look like she's going to lose the nail. And while the doctor gave us a few tips, apparently there's not much we can do besides take care of it and wait for a new nail to grow in. Emma's doing a lot better now, but witnessing her in so much pain has been tough on the heart. :( Has this ever happened to you? Or to your child? If so, anything that made the process easier?
Back to these pics, though! I'm not doing #60daysofplaid this year. 😉 This is partly because I'm working toward living a slower pace of life—and challenges like that usually do quite the opposite, haha. It's also partly because I've lately been drawn to calming neutrals for myself and home. But for my kids?! BRING ON THE PLAID! It gets everyone in the spirit!
So let me introduce you to an awesome new brand: Free Assembly. It's a sustainable line carried at Walmart, and everything is cute; made to mix and layer; and affordable yet really, really nice. A quick story: The girls have been wearing their black leggings a lot, and just yesterday my mom goes, "Kelly. These must have cost a small fortune." (They had not. 😆 But they're the kind of leggings that don't pill or fade, and are super soft to the touch… so I understood why she would think that!)
In these photos, the girls are wearing super soft and warm Blackwatch Plaid Sweaters, along with the famous leggings. I also bought them these oh-so-cute blackwatch plaid flannel skirts and these blackwatch plaid shirt jackets. I somehow missed these blackwatch plaid shirt dresses, however, so I may need to place another order. ;)
I adore the outfits—and the fact that they're festive while also practical. For example, these are outfits Emma and Lucy can wear to school, activities and playdates… or on scoots around the block. I should also note that under their helmets are cute little red bows, which tie their looks together!

Anyway, please enjoy these photos, and above are some of my favorite girls' styles from Free Assembly. :)
Shop the post:
Blackwatch Plaid Sweaters / Leggings / Boots / Scooters

This post is sponsored by Walmart; all opinions are my own. As always, thank you so, so much for supporting the partnerships that keep Kelly in the City up and running!