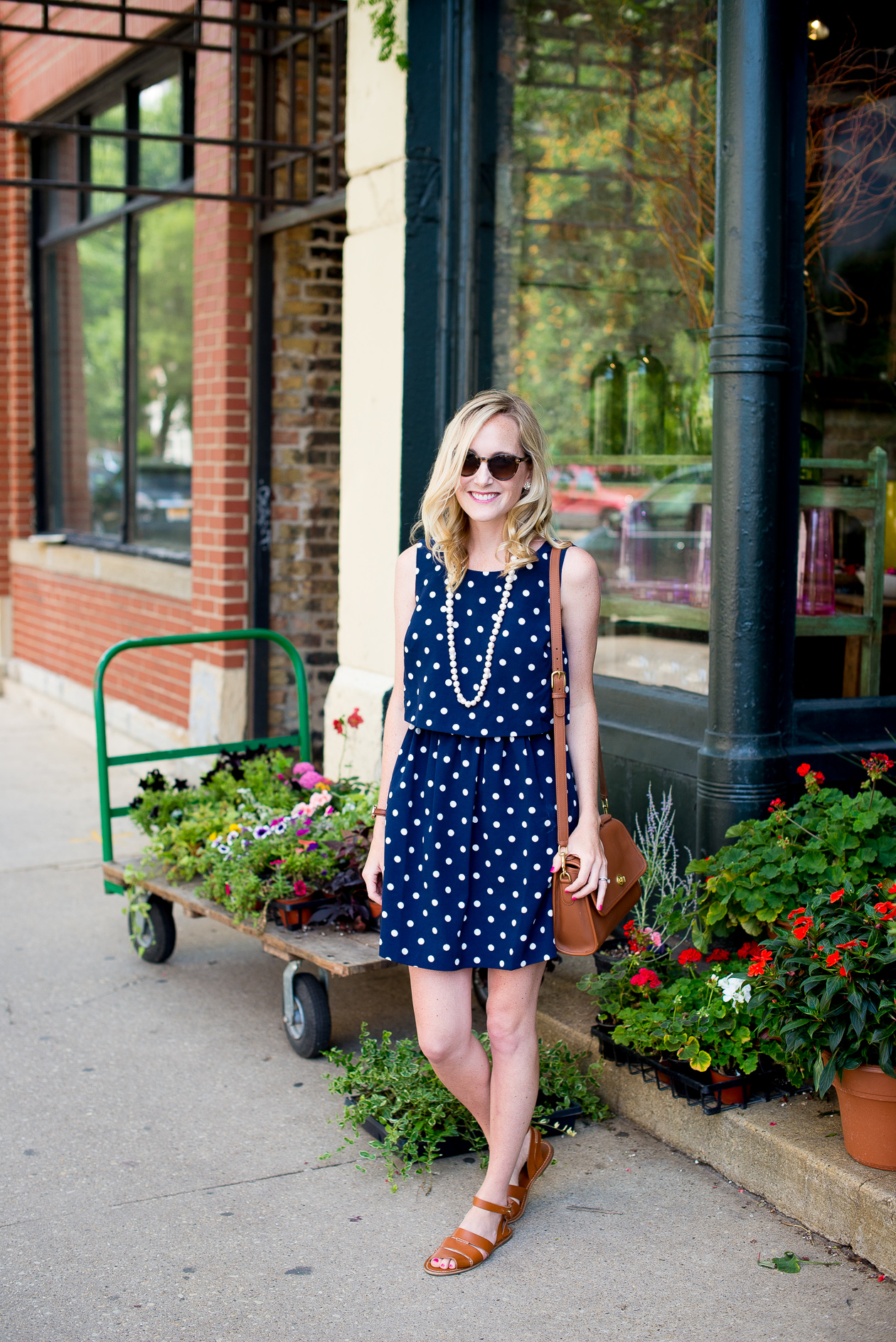 Maison Jules Dress c/o (Sold out, similar here! I also have this striped dress I wore in this post, and this "stamped" dress I wore in this post!) / Tommy Bahama Sandals c/o / Coach Bag (A birthday gift from Mom and Dad. Not available on the Coach website anymore, but they're rumored to be coming back!) / Daniel Wellington Watch c/o (Use code "KELLY" to get 15 percent off!) / Kate Spade Earrings and Sunglasses (Old, similar here and here) / Hazel & Marie Pearl Necklace c/o
Getting our home up and running has been a SLOW process. I kind of thought that it would all come together in a week or two–and that everything would be perfectly decorated within that time frame. But goodness. That is certainly not the case.
There are a bunch of big, very time-consuming projects to complete… and more little projects than I can count. And I'm having a really hard time making decisions! When I was a renter, I knew I couldn't invest very much in my space. I mean, I invested a little, but it wasn't like I was buying stuff I'd have forever. Decorating was easy, because I knew it was no big deal if my style changed in a couple of years.
Now, though, we know that what most of what we pick out will be with us for the long haul. And it's a lot of pressure! ;)
Sometimes I get frustrated and overwhelmed by the fact that Little Home in the City is a work in progress. But lately, I've been thinking that works in progress are a whole lot of fun, too. And we have been getting stuff done. Granted, we were just away for about two weeks, and "home stuff" took the back burner during that time. But we've checked a few things off the list since we've been back in Chicago! We:
Decided that we NEED to furnish the guest room, as we have family and friends coming in the next couple of months. We've decided to go with a daybed with a trundle, since the room is pretty small, and we want to maximize the space. Any suggestions on an affordable metal/iron daybed in white? I love this one because it'll go with whatever white dresser and night table we eventually get, but I'm leaning towards this one because of the price. (Thoughts?) Outfitting a whole house is expensive!
Bought twin-sized mattresses for the daybed. If you have a membership, I suggest Costco for mattresses! We searched all over the place, and ended up getting the best deal there.
Talked to a local contractor about renovating the very 1960s-style fireplace we currently have. He's dropping by next week to take a look at it. We're beyond excited!
Planted flowers in our flower boxes! A little thing, but it's made a big difference in the appearance of the house. These photos were taken outside of A New Leaf, which is an adorable floral shop in Lincoln Park by the lake. Couldn't recommend it more!
Are in the process of building a farmhouse table, kind of like the one that was recently featured on Wandeleur except it'll have wooden legs. The boards are coming from Mitch's grandfather's old barn, so it's really special! My father-in-law had the planks planed the other day, and over Labor Day Weekend, we're going to put it together. Eeee!
Okay… That's all for now! Today, we're running to Home Depot and a fabric store. Oh, such adult things! ;)