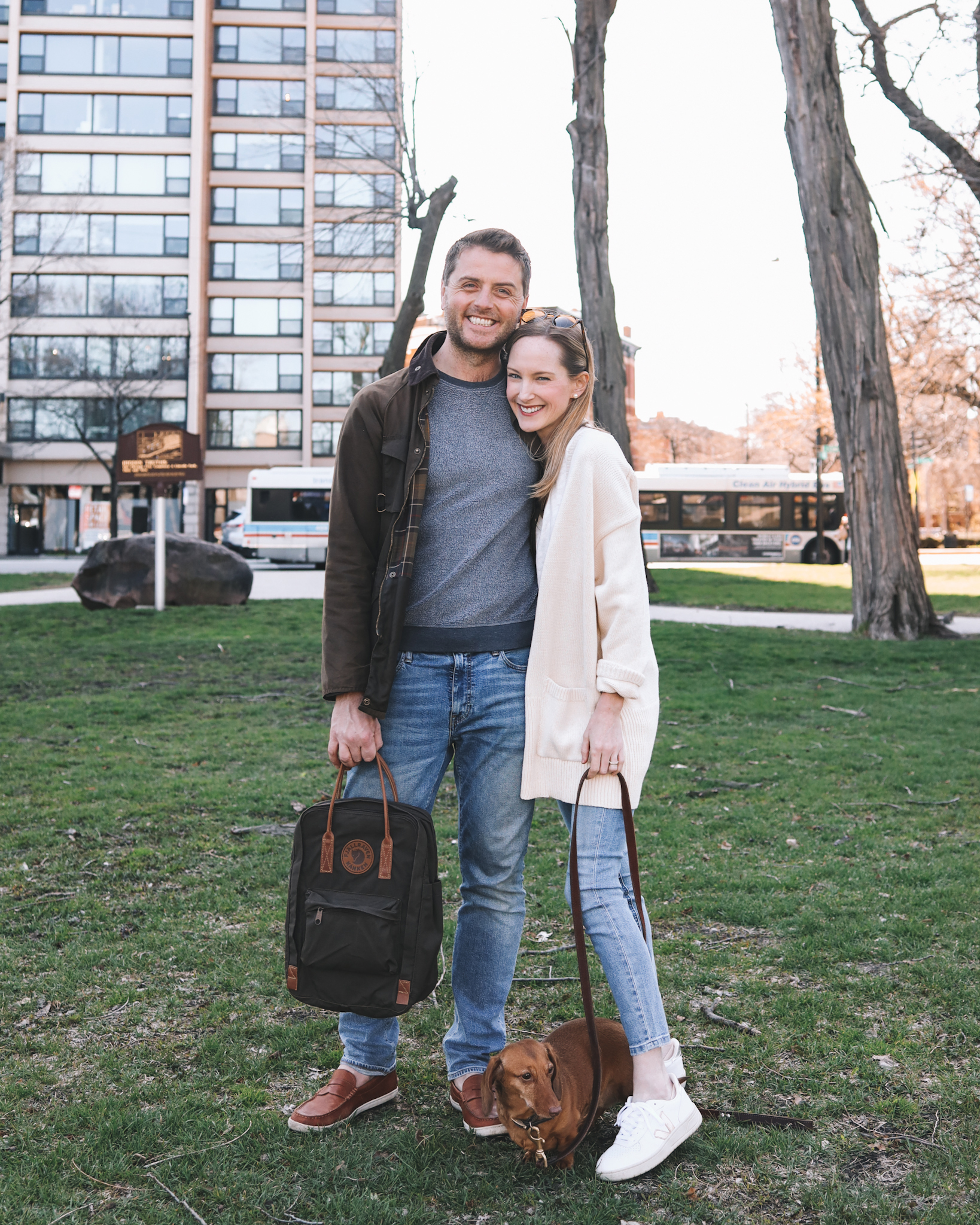 Basin + Range Cotton Sweater Tank / Basin + Range Cardigan / Basin + Range Skinny Jeans / Backcountry Veja Sneakers / FjallravenKanken Backpack
Use code "KELLYBC15" to take 15 percent off your first Backcountry order! (Exclusions apply.)
First day as parents with both kids in the same school during the same times! 👏🏼 (Lucy 's first day at Emma's school is today!) Such a monumental day for our family; we've been crossing our fingers for this situation for ages! The girls are so happy to be together, and I'll admit that Mitch and I are pretty happy to have more together time, too. 😆
Upon dropping the girls off, I'll admit that we just kind of looked at each other in shock, haha. But then we took Noods on a long stroll—without a stroller—through the park, zoo and lakefront area. We weren't rushed or frantic or worried that we'd miss a pickup; we just enjoyed the outdoors, sunshine, warmth and blooming trees. Spring is a time of rebirth and new beginnings, and this is definitely a new beginning for us.
I wore Basin + Range, which is a Backcountry brand built for off-mountain life. The pieces are made to help you comfortable move through the everyday—from drop-offs and pick-ups to dog walks and lakefront strolls. In anticipation of our upcoming lifestyle change, I chose this cotton sweater tank, this oversized cardigan, and these high-waisted skinny jeans. And I need to tell you that I was so happy all day.
My friend Carly and I always say that as moms, we seem to be happiest in jeans and sweaters these days. We have a lot going on in our lives, and have zero patience for clothing that isn't comfy. Over the last couple of years, I've worked to re-home clothing that I don't find myself wanting to wear! Basin + Range, however, is wonderfully comfy, and I totally want to wear it. And I really think you can see that in these photos! The softness of the jeans; the coziness of the cardigan; the drape of the tank. Here are the details:

Sweater Tank: Great for spring and summer! It features a lightweight cotton knit for breathability and softness.
Oversized Cardigan: The perfect layering piece, it's lightweight but plush and has a drop-shoulder cut. Patch pockets are great for stashing small essentials.
High-Waisted Skinny Jeans: I love that they feature a blend of organic and responsibly farmed cotton. They have a lot of stretch, they're super soft, and they're ultra-flattering because of that classic high-rise cut! (TTS, but if in between sizes, size up.)
If you'd like to try Basin + Range, use code "KELLYBC15" to take 15 percent off your first Backcountry order! (Exclusions apply.) And will report back on how the first day/week went soon. Congratulations to our Lucy! ♥️
Shop the post:
Basin + Range Cotton Sweater Tank / Basin + Range Cardigan / Basin + Range Skinny Jeans / Backcountry Veja Sneakers / FjallravenKanken Backpack

Use code "KELLYBC15" to take 15 percent off your first Backcountry order! (Exclusions apply.)
This post is sponsored by Backcountry; all opinions are my own. As always, thank you so, so much for supporting the partnerships that keep Kelly in the City up and running!