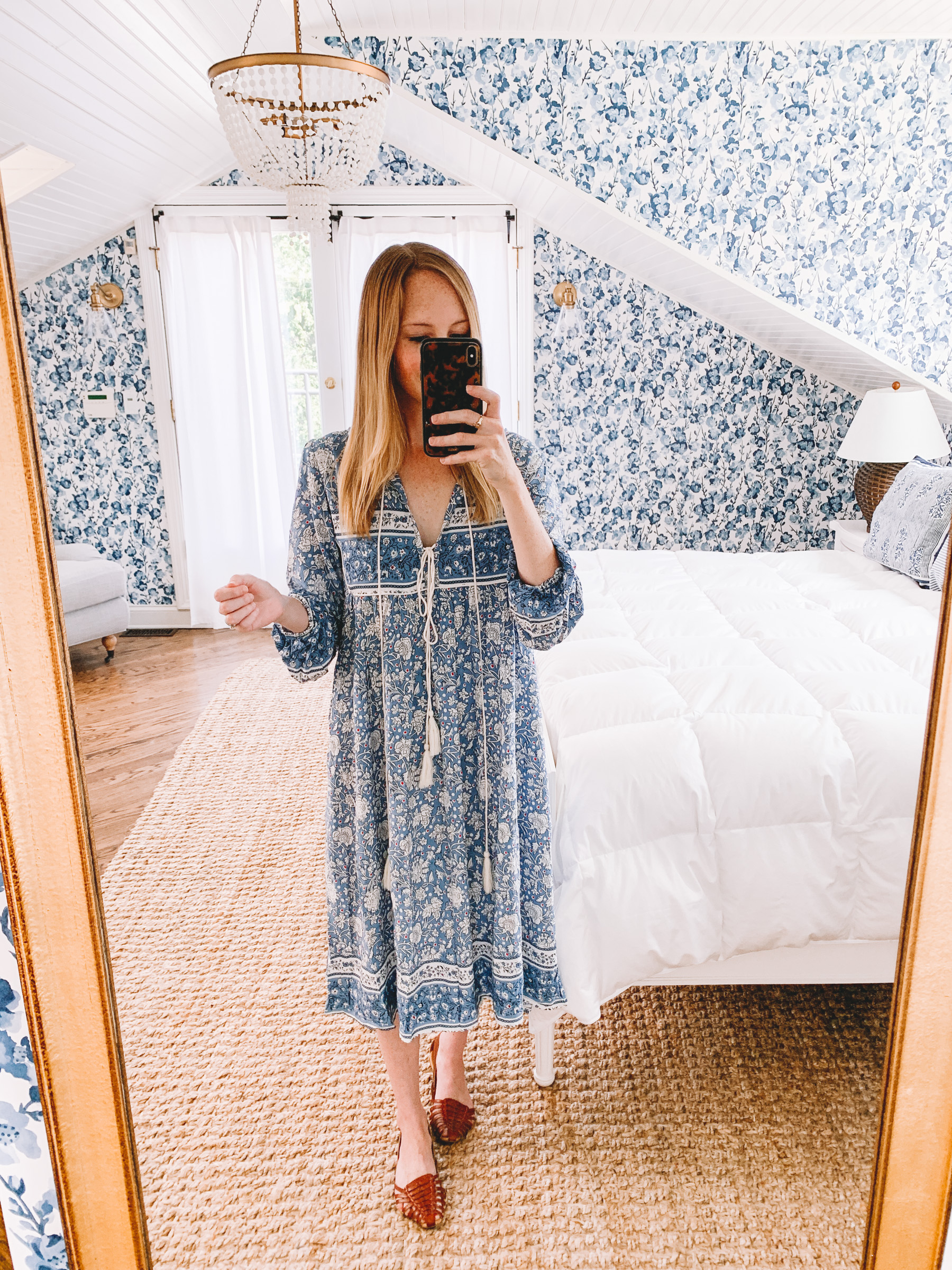 $28 Amazon Vivimos Mumu (Here's the maxi version, which I might like even better!) / J.Crew Factory Huarache Sandals / Tortoise Phone Case for iPhone XS Max, X and XS, and 6, 7 and 8 / Master bedroom room reveal SOON, but this is a pretty solid sneak peek, no?! Some room details: Chandelier (Also have this one in the office), Wallpaper, Cane Bed, Jute Rug, Sconces, Curtains, Duvet, the Mirror I Wish I Had ;) and Interior Define Rose Chair
Oh, hey! Just tryin' to blend into my surroundings over here. 😎
I was recently out to lunch with my girlfriends, and they were like, "WHY haven't you bought the $28 Amazon mumu yet?! It's a Kelly Dress!" And I thought to myself, "Yeah! Why haven't I ordered that thing yet? It would cover both my arms and legs–a quality that I really look for in a good dress." 😂 (Partially for the sun protection and partially because I find myself becoming more and more modest as the years pass. 👵🏼)
But yeah. If you haven't seen the R.Vivimos mumu yet, it's become very popular; an internet sensation, if you will. So I ordered it… because I had to know what all the fuss was about! Btw: I don't know who first discovered it, but I believe it was Grace and Hitha… and then Jess essentially became a spokesperson for the mumu and the verdict's still out on whether she owns all the colors. Kidding, but when I came downstairs in mine the other day, Emma did say, "Mommy, why are you wearing Uncle Jess' clothes?" So there's that. 😜
Anyway, here's my quick review:
Sizing and fit: Because this is the information I always look for first in a review, we'll start with that. The mumu runs large, so definitely order your normal size or one size down. That said, it's a very flowy and falls in a very flattering way. I'm wearing a size small in these photos because that was all that was available in the color I liked, yet I don't think it looks too big! Yes, if I were to curtsy or something, I think you'd recognize that there's a lot of available real estate. But it's 2019 and no one curtsies anymore, so I think we're in the clear. :) Oh, and I should note that because it's so roomy and falls nicely, it makes for a great maternity dress. Very forgiving.  If pregnant, I'd recommend going up one size from your normal size.
Quality and feel: It's SOFT. It's made of a cotton blend, and whatever's blended into it is clearly magic. And as long as you take it out of the wash and hang it up pretty quickly, it dries wrinkle-free. (It does, however, come out of the package a little wrinkled, yet it steams out in 30 seconds.) Hand-washing is recommended, but who has time for that? I threw it in a delicates bag and washed it on "delicate" with cold water, and had zero issues. Granted, I've only washed it once so far. But it didn't deteriorate, so I'm hoping that it holds up. Seems promising! Also, the busy pattern is great for disguising spills and stains from toddlers if someone decides to hug you after eating a bowl of peanut butter.
Cut: I love the billowy sleeves, and the fact that when I push them up, they don't fall down. (The elastic is just right.) And the length is perfect. (I'm almost 5'5, for reference.) My only complaint, I suppose, is the neckline, which is a bit too low-cut for me. If you look closely, you can see that there are two ties, one pretty low and the other up top.
I felt that tying the top one made for a strange look, but tying the bottom one was essential if I didn't want people to see my bra. Because of this, I might sew up the v-neck a little, or simply use the mumu as a beach coverup. (I did try wearing a sports bra under it, but it looked weird.) Take this with a grain of salt, though. Remember: my preferred dresses are ones that cover like 85 percent of my body. 😉
Colors: My favorite mumu colors are Light Blue (which I'm wearing here), Blue (the peacocks), Light Pink, and White Blue. (R.Vivimos sure did put a lot of effort into those names, haha!) The colors go in and out of stock very regularly, so if you don't see what you want, simply check back often and you'll likely be able to score it. :)
Alternative: I might like the R.Vivimos floral drawstring maxi dress even better. It's also $28, but it has a far less revealing neckline, and I adore the combination of patterns. One thing to note, though, is that the maxi dress is tighter in the shoulders than the mumu is. So if you have broader shoulders or a larger bust, you might want to go up a size. And here's the rest of the R.Vivimos line in case you're wondering. It's very hit or miss, but there are a few gems in there!
Okay! I think that's about it, but let me know if you have any questions. :)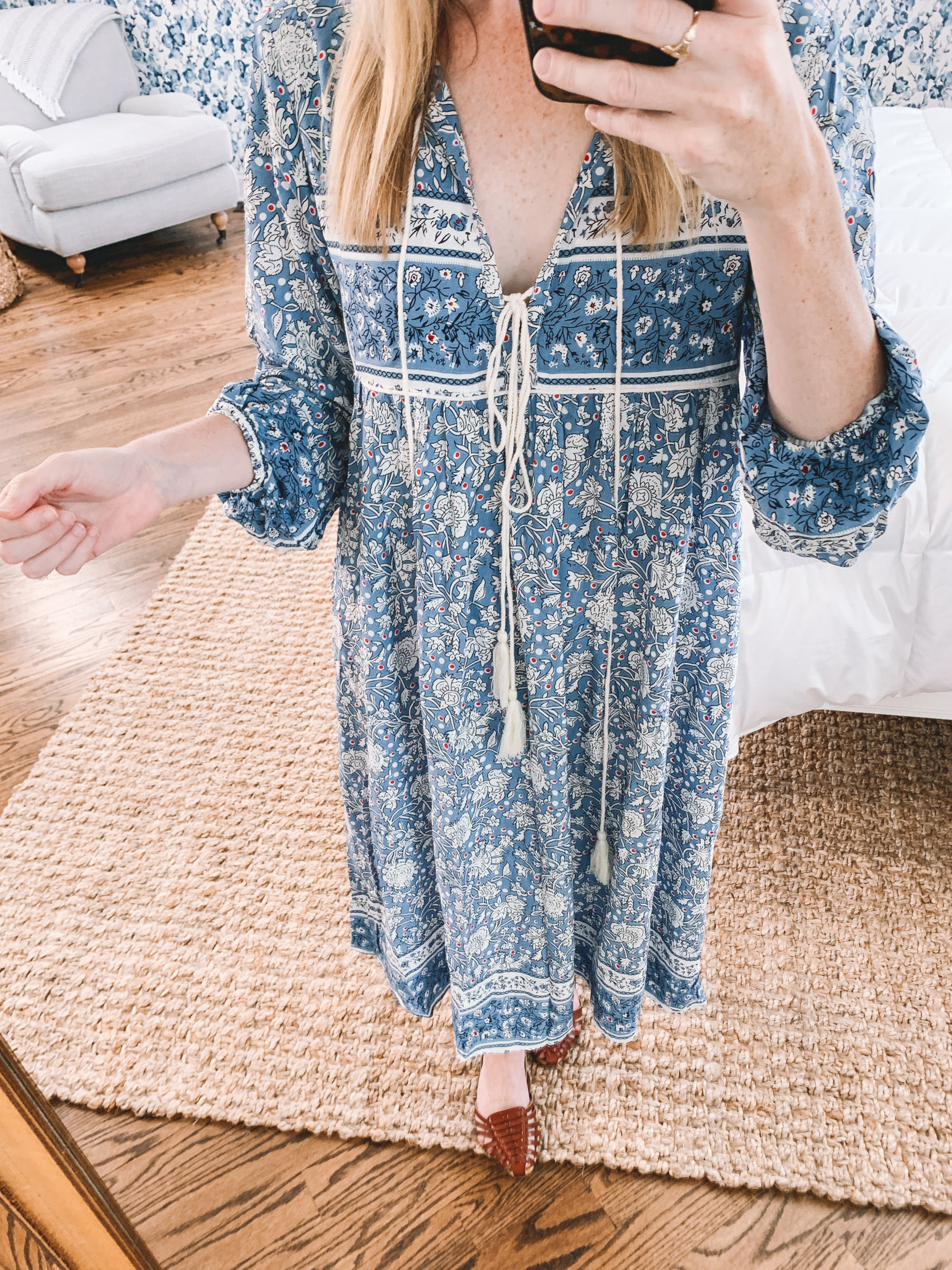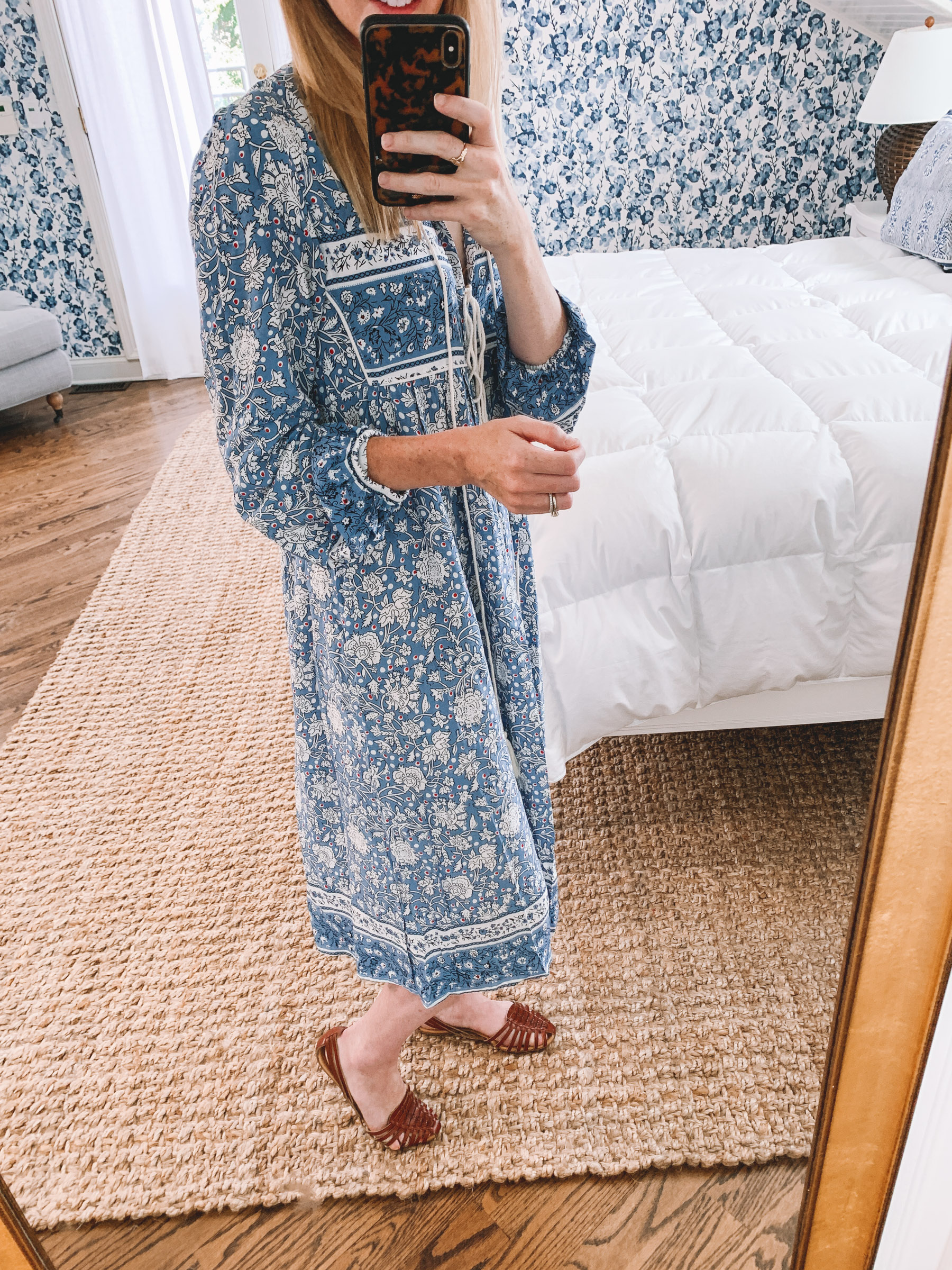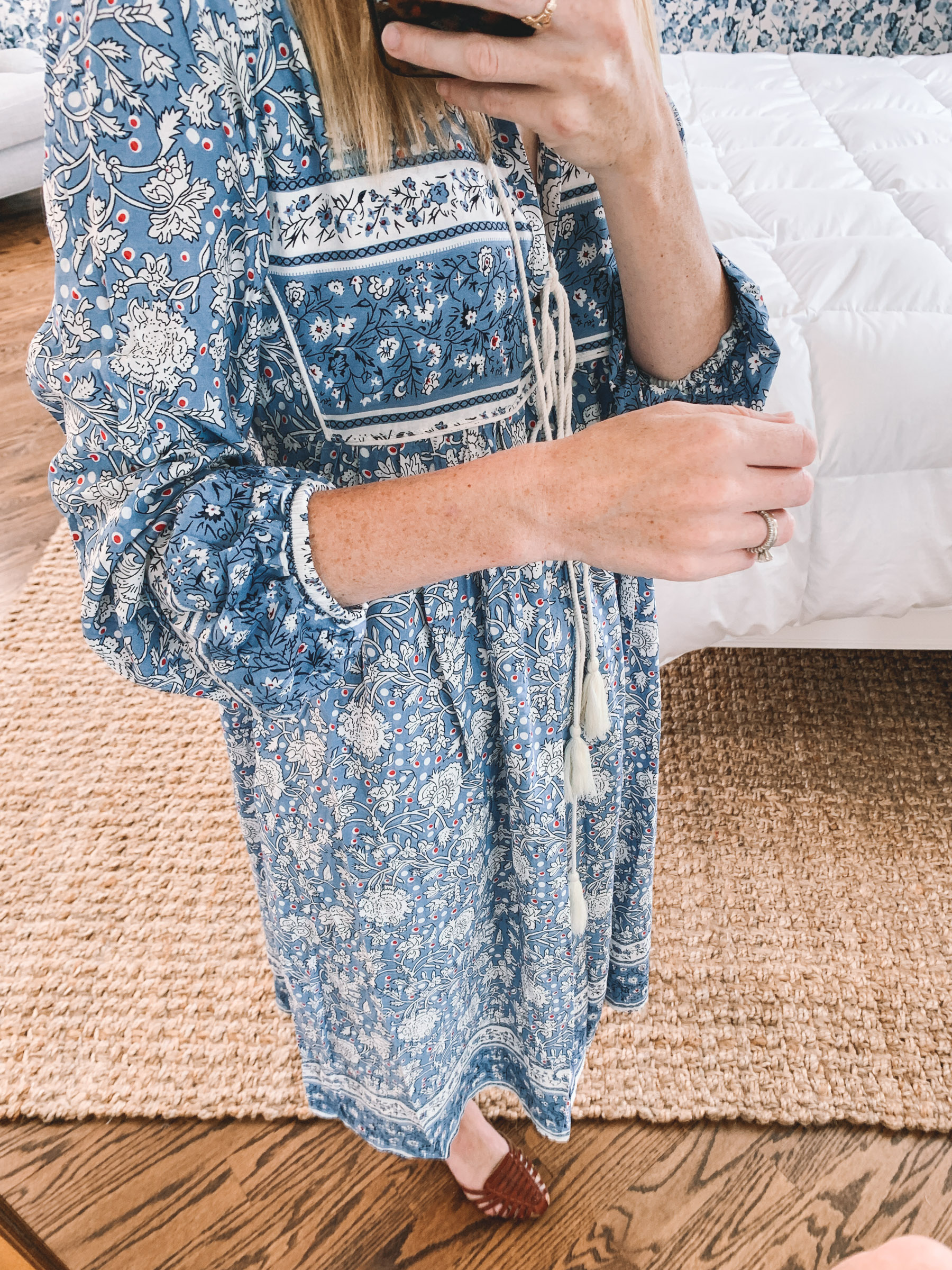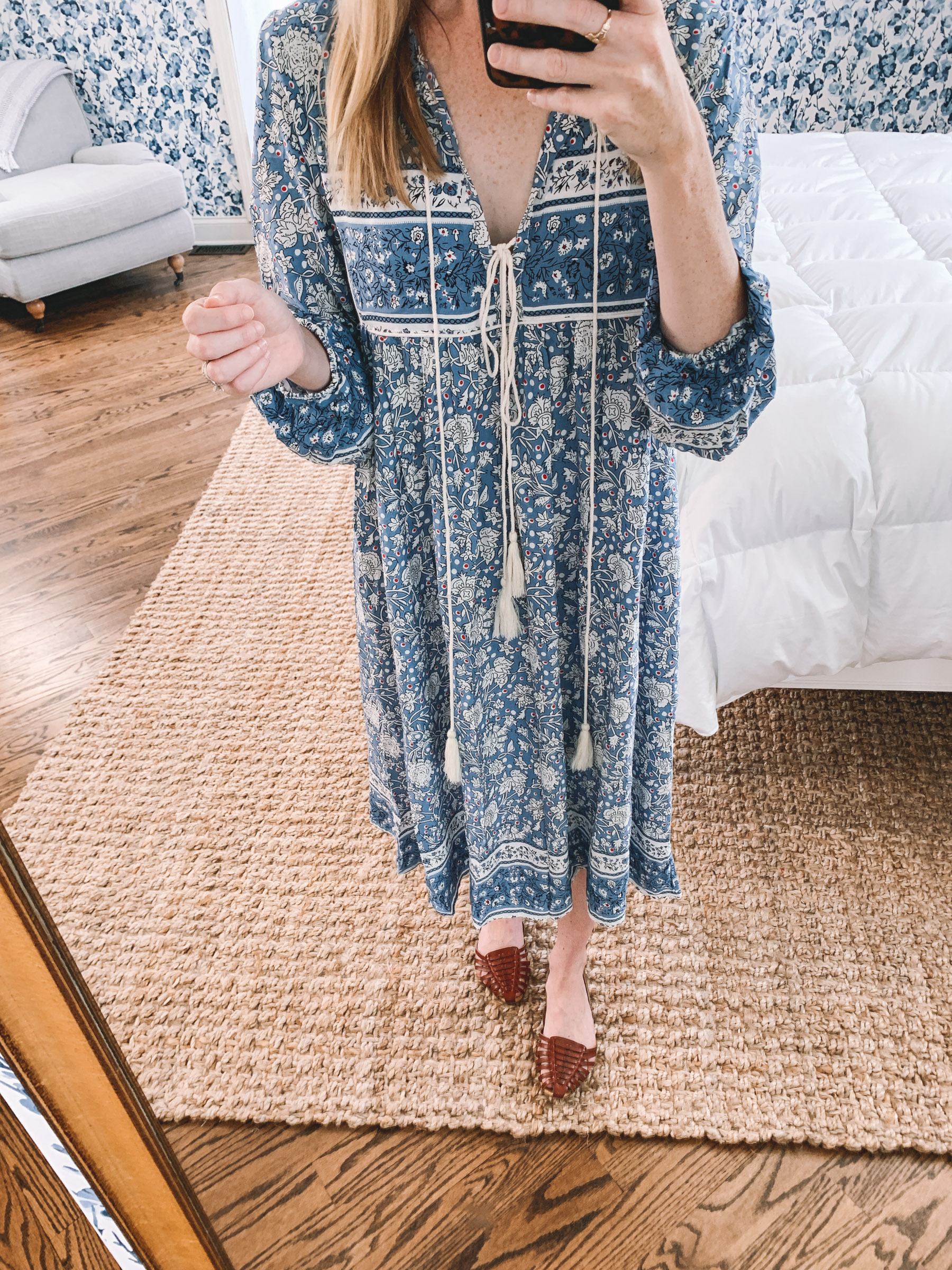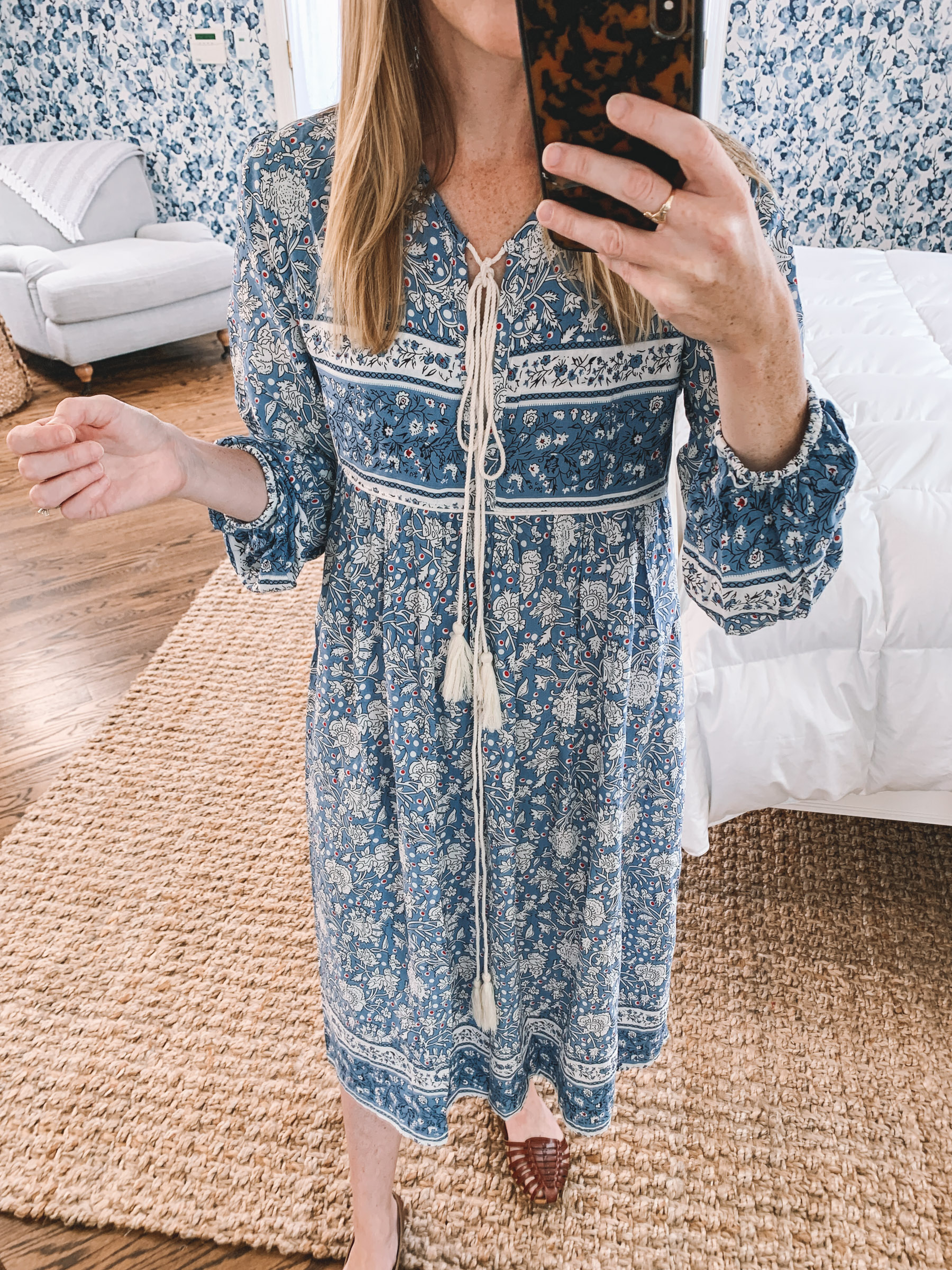 Shop the post:
$28 Amazon Vivimos Mumu (Here's the maxi version, which I might like even better!) / J.Crew Factory Huarache Sandals / Tortoise Phone Case for iPhone XS Max, X and XS, and 6, 7 and 8 / Master bedroom room reveal SOON, but this is a pretty solid sneak peek, no?! Some room details: Chandelier (Also have this one in the office), Wallpaper, Cane Bed, Jute Rug, Sconces, Curtains, Duvet, the Mirror I Wish I Had ;) and Interior Define Rose Chair
Other shockingly affordable dresses: