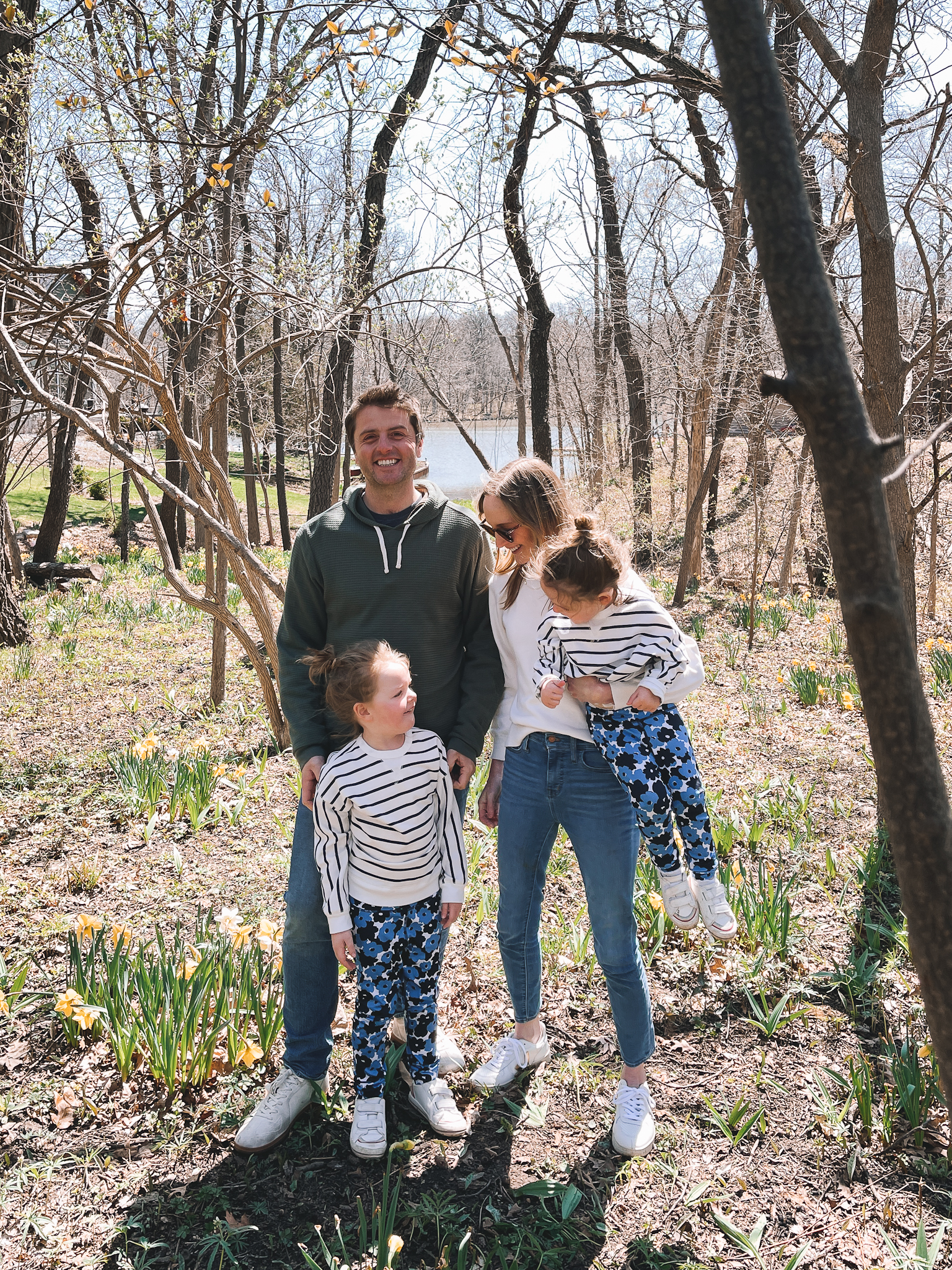 Here are the first things that come to mind today:
I HAVE A NEW NEPHEW! Welcome to the world, Conor Patrick Sheehan. We love you so much already! My parents are down in New Orleans now, and I'll be honest and say I have FOMO, haha. But guys. Conor is just the absolute cutest, and he was born ON his namesake's birthday. (Our cousin is also named Conor and he's the best.) And my sister-in-law, Kim, was and continues to be a total rockstar. Congratulations, guys. LOVE YOU! Two boys and two girls! How did our family get so lucky? (Also the dichotomy is downright hysterical.)
Bloggers have favorite bloggers, too. Shira Gill is one of mine, and she had her home featured in Apartment Therapy earlier this year. Check out this home organization line from Williams Sonoma. SO PRETTY!
This month, we're trying to go organic and replace most highly processed foods with natural ones at home. Mitch read The Fiat Standard, and his dad and brother are currently in the process of turning the family farm into an organic farm. And now Mitch is now on a mission to get our family's health in check… and I have to say: I'm into it. For a long time, I felt like I could barely eat enough to survive while taking care of my babies let alone worry about what I (personally) was eating. So much has changed since then and as Lucy nears three years old, though, and I've made a lot of awesome life changes that have resulted in an improved quality of life, for sure. And Mitch has, too! Anyway, this is all to say that I'm ready to make some changes to what we eat as well. We're not going to be nuts about it; we're fans of moderation. But investing in our health is always a good idea!
Mitch's wonderful graphic designer, Valeriia, is going to be sharing her heartbreaking story regarding the war in Ukraine here on the blog. She's been working on her English, and put a ton of time and effort into her piece. It brought me to tears. I'm working on a way for readers to support her family if interested; hopefully I'll have that set up at some point this week. ♥️
My mother-in-law planted (literally) 5,000 daffodils at the lake house, and it's stunning. My mother-in-law is a certified Master Gardener, and she has always maintained her property beautifully. She really outdid herself this time, though! We had a great time wandering the area last weekend while we were down there, and it inspired me to plant daffodil (and tulip) bulbs in the fall!
I washed a cheese stick in the laundry. I mean, I'm killin' it, no? I am just constantly impressed by how together I have it as a human. Now I have a full load of otherwise clean clothing with streaks of globby yellow goo all over it. It's really something!
Noodle needed some new dog toys, and so we got her this adorable bunny on Amazon. Is it not the sweetest?! The corduroy ones always last the longest, in my opinion, and Noodle likes ones that are almost as big as she is, haha. I also really love Foggy Dog for toys, in case you're looking.
Mitch is moving his warehouse and it's going to be a BIG job. Oh, heavens. Pray for us. Mitch moved into a warehouse on the South Side last year and because of a lot of reasons—the manager is moving and he's running out of space for inventory—he needs to move. I think everyone is overwhelmed by the thought of it, and it's consumed our lives the last few days. But it's going to be okay. :) Working out details now and he's feeling less panicky now!
I think this might be the perfect beach coverup. I feel like everyone is talking about summer plans right now—because before we know it, it'll be here. (How is it almost May? Thank goodness!) I've simplified my swimsuit situation and now just have a seersucker suit and a couple of these solid long-torso suits. But my coverup game could use some help! ;)
Did I tell you that my parents booked two months in Rosemary Beach next January/February? I think I did. But I can't stop thinking about it, haha. Our idea is to fly once with luggage, and then just keep our stuff down there with them so we can visit often on weekends. (The girls will also have a winter break sometime in there!) It's going to be magical! So much family time with my parents and brothers.
We failed with the whole Binky Fairy thing. Sigh. We did SO well the first week, and—100-percent due to my mother-in-law—slept without a pacifier every night. Sadly, though, she had a couple of very rough nights back home in Chicago, and we relented for the sake of everyone in the family. (Emma couldn't fall asleep!) So right now she's not using binkies during the day; only night. (And yes, we tried snipping the tips, haha.) Maybe in a week, we'll try again!
This is the prettiest crossbody bag. I've always loved Lo & Sons; I actually have this camera bag, which is undeniably the best camera bag in the world. (It's a dream, it holds everything I need, and it's so pretty.) This crossbody, though?! Ooooh. So lovely. I do not need another crossbody, but maybe you're in the market?!
This is a few years old, but an interesting take on how arachnophobia might be treated in the future. And I feel like people could even try it at home?! Would not be pleasurable, haha, but worth a try!
I love gray sweatshirt dresses paired with sneakers, and this Amazon one is so cute and affordable! I also love this nautical tiered dress.
I'm in love with my new Dana Rebecca necklace. I've had my eye on it for the longest time—I believe I learned about the brand from my friend Liz Adams?!—and it's better than I ever could have hoped. (Note: Liz has a beautiful new collection with Dana Rebecca!) It's stunning and I love that it'll go with everything, forever.
Mitch and I had a lovely, quiet and productive spring break… but we had friends over this past Friday and Saturday and had a great time letting loose. We seriously saw no one over spring break and it was so relaxing, as our lives are usually pretty busy with two little kids. :) But at the end of it, we definitely were missing our crew. So looking forward to a fantastic Chicago summer with everyone!
This adorable girls' sun visor is a must for summer. (Speaking of.) I just donated the last of the girls' bonnets because they look a little silly in them. I think they'd love these, though!
I'm having a girls' weekend with Lucy starting on Friday. Mitch is taking Emma to a family wedding! I'm a firm believer in the value of quality one-on-one time, and I'm really grateful for this. We're going to do a lot, too! If the weather is good, we'll go to the zoo , a few playgrounds and our favorite restaurant… and if not, we'll go to a mommy-and-me class, paint some pottery, get our hair cut, and go to our favorite restaurant. I'm so excited. 😭
My I-Need-to-Reduce-my-Travel-Anxiety backpack is now available for pre-order. I believe I've spoken about this bag before, but I'm in the process of simplifying my travel routine to reduce my flying anxiety. It's ironic: my dad is a U.S. Air Force pilot. And yet flying is the most stressful thing in the world to me! (Same for my brother, haha.) I maintain, however, that I don't have a fear of flying; I just worry about everything that comes with it. Being late, forgetting something, the girls having meltdowns, losing something, losing someone, etc. etc. etc. I read somewhere that there are tons of things you can do to reduce this often-crippling flying anxiety, and I'm now all in. Anything I can do! Once I get to the end of this journey, I will definitely share my new routine, in case anyone is in the same boat.
"One Home Project Every Day" update:

I did all the laundry from our lake house visit. Okay, despite the whole cheese stick thing 😆, I have been pretty on top of our laundry as of late! (I used to be buried in it all the time.) I credit this to finally handling the piles of random laundry that were hard to wash—like silks, wools, cashmere, etc.—with Laundress products. (Seriously such a game-changer.) Now there is nothing at the bottom of the laundry hamper when I'm done. No more "one day" piles. (Am I the only one who had "one day" piles?! Laundry is a never-ending task, so who needs to pile on such a defeating notion?!)
I fixed an electronic system in our house. Meaning that I called someone to help me, haha. But this system has been broken for literally 2.5 years, and it feels incredible to have it back up and running.
We returned a rug I ended up hating. Bah. The story is that Mitch totally destroyed our old rug by essentially spilling an entire bottle of red wine on it during a party. 😂 (It's fine! Accidents happen, and I want our family to live in our home; not treat it like a museum.) So I spent weeks picking out a new one, and finally decided on one that looked gorgeous online. Only problem was that it looked very drab in person. Luckily, though, they took it back! And now I think we're going with this one, to add a little color to our living room. Hopefully it works!
I replaced the backyard gravel with polished stones. It needed it! We still had the original gravel from when we moved in, and it was covered with moss and looked very tired. This was a relatively affordable update that really elevated the patio! I love it. The black makes a statement against the white paint, too.
I labeled the kitchen pantry bins. I originally didn't think it was necessary, but turns out it's super annoying having to pull out nine bins looking for salad dressing. ;)
I spruced up the coat closet again. It's my ongoing quest, and apparently just something I need to do on a monthly basis since it's in such a high-traffic area and used so much. With Chicago weather, it's also pretty important to stay on top of our outdoor gear. What do we need this month? What don't we need anymore? Get it out!
Photo Organization Project: I made a teeny bit of progress. But honestly, not much. Baby steps!
I spruced up the craft cabinet. I mostly moved Emma's leveled reading books up to the mini library in her room where they belong, but wow! So much more space for project materials.
I organized and labeled the shelves at the bottom of the basement stairs using our favorite bins. Woo! That was the last of the playroom organization tasks, and I'm thrilled with the result. Emma can now easily identify what's in each bin and help Lucy bring them down when they want to play with their contents. The best!