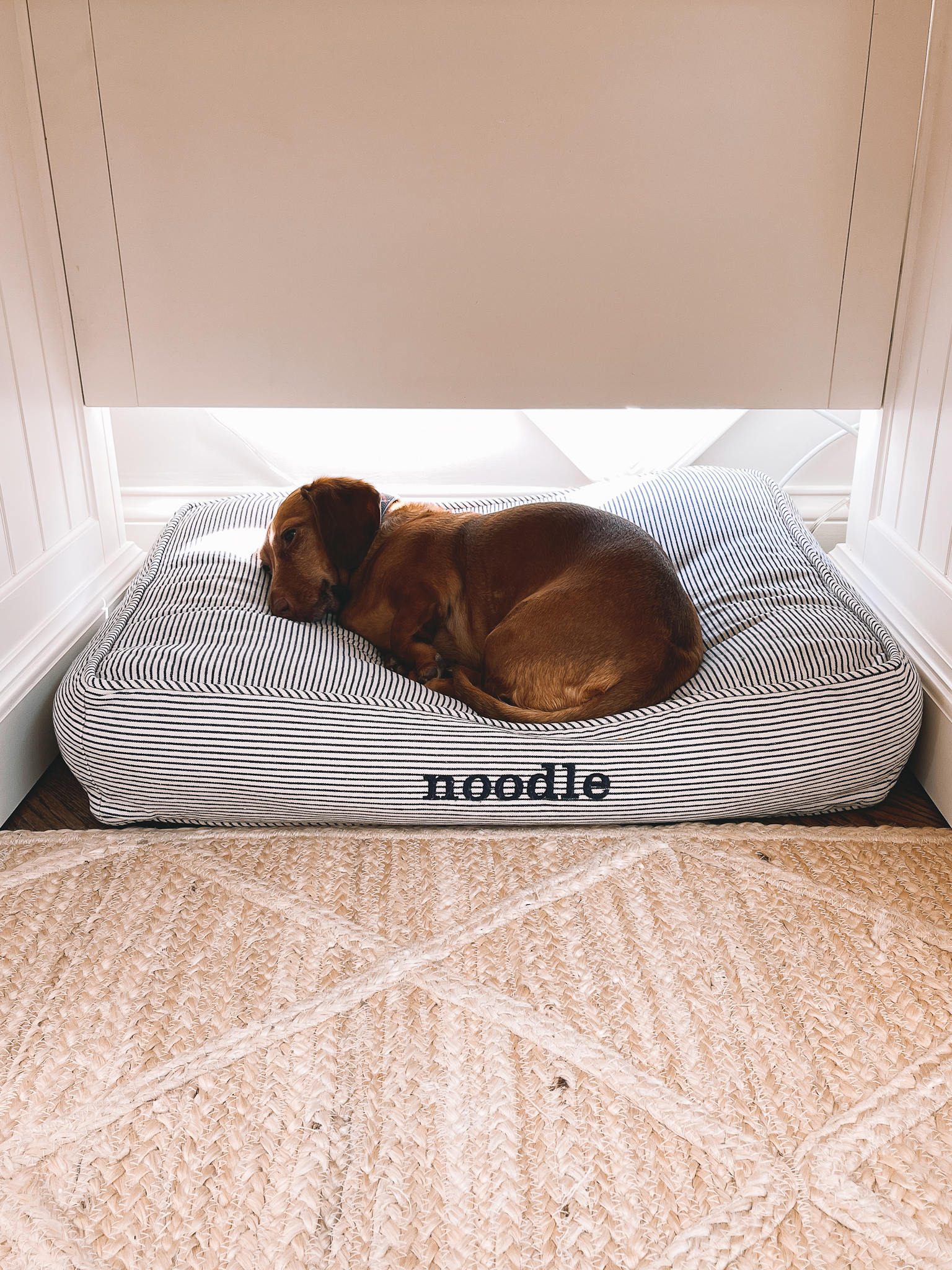 My little buddy!
Second week of spring break, and the girls are in camp together! Which means I'm back for another straight week. 😜 Here's what's on my mind:
We ended up going down to my in-laws' lake house for Easter and it was wonderful. We'd originally planned on celebrating Easter at home in Chicago, but plans were shifted and I'm honestly glad they did! It was really nice to be together, and the girls were so cute with their baskets, which I admittedly spent way too much time on. How was your holiday?!
I've been struggling with the notion that I will never again be able to hold Emma and Lucy as babies again. I truly believe that each stage is magical and wonderful. Life only gets better and better with our children! But how are they no longer babies? I just wish there was a way to transport myself back to that time for five minutes every day. I NEED A GENIE.
My cousin, Dylan, got engaged! He is marrying Barrett, who is the absolute loveliest, and we're so, so happy for them. This is such an exciting era for my family. I have three cousins who are currently engaged to wonderful people, and I can't wait to celebrate them all. How lucky we are.
My brother Patrick is selling his house in New Orleans! Isn't it beautiful?! It is such a special home; it was their first, and where they brought home their first baby boy, Christopher, named after my father. They did a ton of work to it over the years and made it so charming, and I think everyone hopes another family can build their own happy memories between its walls next. If you know anyone who's looking in NOLA, let them know! :)
I was featured in Fairfield University Magazine! I went to Fairfield for undergrad, and it is such an honor to be included in this piece. I was the News Editor for Fairfield's student newspaper, The Mirror, while there—and that experience was a big part of the reason I wanted to pursue a career in writing in some capacity. It's funny; I remember sitting in Dr. Simon's class, learning about what a blog was, and thinking how I'd never want to do that. My heart was set on print! Amazing how much things can change… ;)
Mitch's cousin, Matt, released an album on Spotify! GO MATT, GO! Uncle Matt, as the girls call him—or "Uncle Smitty"—is a beloved part of our family, and we're so proud of him. You're incredibly talented, Matt. Congratulations!
Have you heard of Alexander and Co.? My Auntie-M gave us a gorgeous piece of personalized art for our wedding with a scene from Ocean City, where we were married. It's beautiful. Highly recommend if you're looking for a meaningful gift for someone you love!
THE GARAGE IS DONE. Okay, it's not "done done," but we've done as much as we can do until we drywall.  I can't get over it. The state of the garage has always seemed to match the state of our lives, and how much chaos we were experiencing. I now finally feel that it's aligned with this new calmer stage we find ourselves in,  and I can't tell you how good it feels to walk through the space every day and not feel overwhelmed. Goodbye, literal and emotional baggage! 😜
On a related note, we are starting a new chapter of life next week. To be honest, it feels like we've started way too many "new chapters of life" over the last few years, haha. But this is a huge one! For the first time ever, our girls will be going to school together, which is what we always wanted. This isn't the exact situation we'd envisioned, but I do think it's the one we're meant to be in.
If you live in Chicago, check out Madison Reed for hair color. It's so affordable and apparently much better for your hair than traditional dye! Haven't been yet, but they invited me in to their Lincoln Park location try their services and I'm pumped. What if it's amazing?!
I ended up ordering my dream overnight bag because it was on sale and I had a gift card. The girls needed one for trips to the lake house so they got my MZ Wallace one! Worked out great. Mitch uses this one. Another great option is this beautiful vegan leather one from Mark & Graham.
The Photo Organization Project (POP?) is off to a ROCKY start. Oh, heavens. What a disaster. First, I should note that the biggest arguments Mitch and I have ever had were over mixing different types of pasta, haha, and data storage. With the pasta, I maintain that it's no big deal. 😆 With the data storage, I admit defeat. I am a walking nightmare when it comes to digital organization, and it has to change this year. Long story short, I attempted to start up my old MacBook, which has a ton of family photos on it, and it would not boot. I tried everything. (Didn't cry, but was close!) After several trips to Apple and Best Buy, I ended up bringing it to a data recovery center I've had success with in the past. (Just that mere sentence proves what I wreck I am!) I do actually have a good number of the files backed up, which is great, but not all. Here's hoping that they can be recovered, and also that I'm able to get my digital life in order! Tsk, tsk.
I ran a year's worth of errands last week and it felt amazing. I had the girls' princess dresses hemmed, I picked up prescriptions, I mailed important documents, I had some shoes repaired, I picked up various birthday presents—the list goes on and on. Crazy what you can get accomplished while the kids are at their grandparents, no?! ;)
This seersucker top is so cute. This is a weird time in Chicago. It sometimes feels like spring, but it's still wicked cold. ;) I'll be in jeans and sweaters for a while, but looking forward to wearing things like this in the foreseeable future!
These super affordable Amazon pointed ballet flats, the square-toed version, and these loafers are all the rage right now. There's also a Chanel flat lookalike!
This flowy Amazon dress is also a big deal. It's ultra flattering, and there are so many cute colors and prints—including gingham.
We are not moving. Ever, haha. But we do keep getting questions about whether we are! The answer is no, though. We're so happy here. We're simply really into Facebook Marketplace right now. Our spin on spring cleaning, I suppose! Get.it.out.
On a related note, I bought myself a really simple label-maker. It made financial sense, haha. I love these Etsy labels—they're seriously the best quality and look incredible—but they add up. (The label-maker is actually a tiny photo printer, but it prints on stickers, so works for labels as well!) I'll report back after I spend some time with it.
Lucy has been singing "Total Eclipse of the Heart" a lot and it's absolutely hilarious. I have no idea where she learned it—maybe Kids Bop?!—but Mitch and I are rolling on the floor every time she does it.
THE BINKY FAIRY CAME LAST NIGHT. We pumped it up for a long time, and my amazing mother-in-law hid the pacifiers while the girls were at the lake and Lucy did exceptionally well. I'll report back on how it goes back in Chicago. Fingers crossed.
"One Home Project Every Day":

I started organizing the contents of the garage cabinets and putting them into the old containers from the playroom shelves. It brings joy. Slow but steady.
I put together the last deck box and moved the cushions into it. As a result, we regained so much shelf space in the garage! Mitch was thrilled.
I said goodbye to some sun-damaged outdoor pots. They were looking mighty tired. Exhausted, really.
We set up the remaining planters for May flowers! YAY. A little too early in Chicago to plant them, but first year with real flowers in the backyard. What is happening?!
I FOUND THE PAINT TO FIX UP THE KITCHEN ISLAND CHIPS. I'll let you know if I ever get around to actually fixing it, though. It's currently on the stove.
We parted with the outdoor rug on the deck. It was frayed and moldy. Remind me never to do an outdoor rug in Chicago again.
Mitch sold the last of our extra ginger jars on Facebook Marketplace. I still have a few favorites in the house, but that's more than enough!