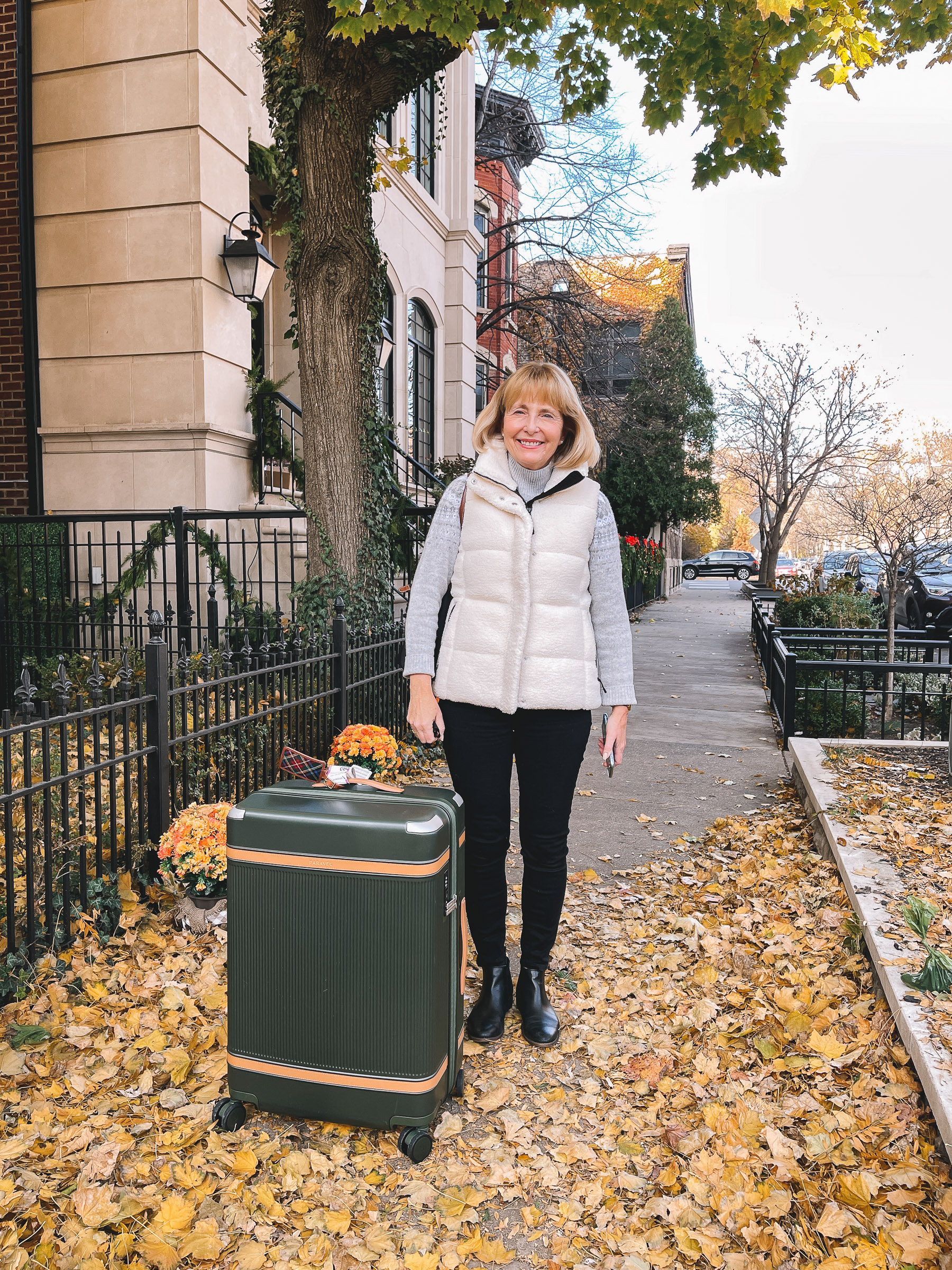 How cute is my mom's travel outfit?! Here's what she's wearing: Talbots Vest / J.Crew Jeans / Vineyard Vines Fair Isle Sweater / Similar Boots / Paravel Suitcase / Newer Luggage Tag
I have a lot on my mind today. 😉
Girls' Weekend was a success! I can't remember if I mentioned this last week, but Mitch went on a golf trip with my dad and brothers to Mississippi this past weekend, and my mom flew to Chicago to hang with the girls and me! It was awesome. We're still in temper tantrum mode (more on that below) with a particular adorable two-year-old, so I'm honestly not sure whether I would have survived had Mom not come. 😜 Tons of laughs and lots of memories made. Here are some highlights:

Dinner at Summer House: I'm not ashamed of how often we go here with guests, haha. It's our go-to neighborhood spot as the food is incredible and the atmosphere is stunningly gorgeous, and we've celebrated so many happy occasions there. The lively environment, menu and staff are all very kid-friendly, too. Emma loves ordering pancakes for dinner… and then at the end, we ge the girls cookies from the cookie cart. Totes not the healthiest dinner but YOLO it's fine. ;)
Brought Emma to a birthday party: Emma and some of their girlfriends had their nails done and then made perfume, and it was the cutest thing. She was so excited, and came home with hot pink glittery nails and her own signature scent—which I have to admit smells very good, haha!
Breakfast at Blue Door Farm Stand: I'd actually never had breakfast/brunch there—only lunch and dinner—and it didn't disappoint! It's a gorgeous space if you've never been, and they have highchairs. :)
Went shopping on Halsted/Armitage: I stopped in at Warby Parker and ordered a year's worth of contacts, as my prescription is about to come up and my vision hasn't noticeably changed. Can't believe I got something big like that accomplished with two kids in tow but somehow got it done and I feel like I'm killin' it as a result. It's the little things, no?
Went to Zoo Lights: Guys, you HAVE to go. It was so magical, and the girls were absolutely giddy. I highly recommend visiting the new lion house while you're there, riding the carousel, and saving yourself oodles of money by ordering these light-up lollipops from Amazon in advance. (You know: if you have kids, haha. They're the "IT" Zoo Lights toy this year, and they're half-price on Amazon!)
Visited the Children's Museum: It's open and it's not crowded. We went on a Saturday and were delighted to learn that we're still members. (Not sure whether they decided to extend memberships due to Covid or what, but regardless, yay!) The girls played for a solid three hours and fell fast asleep the moment their heads hit the pillows that night. Such a godsend for Chicago parents, especially in the winter!

Instacart just delivered our Aldi groceries, and I now realize that I accidentally (?) ordered five chocolate syrups. I use it every morning to make a mocha latte, haha, and I've been out for a while. I guess I've been adding one to the cart every few days, desperate for my morning chocolate fix. Fail.
PIE PANIC. I *almost* forgot to do it but then remembered over the weekend and sneaked my order in to Klein's Bakery & Cafe up on Diversey. I didn't know about Klein's, but I want to start supporting the local business way more as they totally saved my Thanksgiving and accepted a last-minute order. :) You guys rock! Thank you!
I told Mitch "it doesn't have to be perfect" while centering our bed against the wall, and we laughed so hard that we doubled over. Because we both knew that it did have to be perfect in order for me to sleep that night. I've always maintained that I am not "Type A"—partly because I did not have a 4.0 GPA, partly because my home isn't always tidy, and partly because I often drop the ball on stuff. But it's become abundantly clear to me in my 30s that it's more so about how I allow things like that—grades, tidying, (im)perfectionism—affect me, and that I often times can't let them go. It's honestly taken me years to feel comfortable with outsourcing behind-the-scenes blog-related tasks and publishing posts that aren't "perfect." (Like this one! 😜) Finally doing it, as I simply don't have the time anymore to read over my words a zillion times. But it still pains me, haha! (And yes, hilariously ironic that I was so adamant about not being Type A.) Can you relate? If so, read this article on how to manage the tricky personality traits. It's a good read! I've personally found self-awareness, gratitude and laughter—like when we laughed about the bed—to be the best medicine. ;)
Building on that, I'm feeling very grateful lately, which is convenient, as Thanksgiving is somehow THURSDAY. 😉 How did that happen?! This morning, Mitch and I were talking about how the golf trip—obviously a great thing for everyone!—reminded us of how lucky we are. Sappy, yes, but I was overjoyed when Mitch walked in the door late last night… and you should have seen the girls fall into their daddy's arms this morning. Not to mention that my father and brothers are so close with my husband that they all took a trip together, and had a blast. Or the fact that my mom—my best friend—flew to Chicago to spend the weekend with her daughter and granddaughter. Life is good.
Building on that, I've been thinking a lot about how to curb stress and anxiety this holiday season and enjoy it. I love Christmas. I really, really do. But it also often eats me up and spits me out and I'm a shell of a person come January. 😆 Covid really forced me to slow down during the holidays, though, and last year was ironically our best Christmas yet, IMO. So it's obvious that I CANNOT self-sabotage anymore, haha. I'm finishing up my Christmas shopping this week, wrapping everything this coming weekend, and making sure we don't overcommit. (Really, haha.) Btw: For the girls' gifts, I'm just using Black Friday toy guides from Target, Amazon and Walmart. And I bought this green ticking stripe wrapping paper from Target, this winter scene wrapping paper from Target, and this "Holiday Love" wrapping paper from Sugar Paper @ Target.
I've been trying to work in different locations around the house, and it's really helped with productivity and happiness. I've been working from home since I moved to Chicago (!), and I'm somehow only trying this now?! Woof. What's wrong with me? It's great. I move from my office to the living room to the kitchen on the reg now, and sometimes even sit at Emma's desk, haha. You'd think the stop-and-go would slow me down, but it really doesn't! I just carry the laptop from room to room.
My space bar just broke. Well, this is convenient. 😆 Is anyone else cursed with technology? Sometimes I feel like I need a personal IT assistant to help with all my tech issues. Even our freakin' garage opener quit on me today. HALP.
My (freezing) cold weather essentials:
Lucy broke something like seven Christmas ornaments this past weekend. Have you heard of Wondershop? They carry adorable felt ornaments, which I should have ordered earlier. C'est la vie. ;)
A bunch of my gift holiday gift guides are live on the blog, and you can find them all here! The Larkin Family has been insanely busy these past couple of weeks, and I've been struggling to keep up with blog posts. But these have been going live every other day or so, and I'm proud of that, at least, haha! I'm trying to get as many up as possible over these next few weeks. I hope they're helpful!
Recent adorable Emma conversation:
Emma: Guys! Today we find out what classroom jobs we get for the week.
Mom + Dad: Wow! What are you hoping for?
Emma: I'm reaaaaaaally hoping for 'Bathroom Cop.'
😆
These leather boots are BUTTERY soft and on super sale. They're reportedly very much like the old Everlane Day Boot, which is surprisingly still available in some sizes. (Comfiest boot ever. Ridiculously soft leather.) Wish the Roxie Boots came in brown!
We just refinanced our home (15 minutes ago), and I forgot how to sign my name. Like, I had to practice my signature on a separate sheet of paper before signing the stack. 😆 I suppose I rarely sign with a pen these days?! I don't even know.
This tiny thing helps curb or even eliminate stroller-related temper tantrums. I feel like I talk about this a lot, and I apologize. ;) But we're in the throes of the "terrible twos," and I'm in constant search of strategies to manage 'em. I bought this clip-on speaker last year for our long wintery "happiness walks" for Lucy's entertainment and also language development. I broke it out last week when she'd repeatedly refused to get into the stroller—and boom! Problem solved. I simply turned on Jojo Siwa and she was happy as a clam. If the stroller is a point of contention for you and your little one, TRY IT! (It's really easy to use. It connects to your phone's Spotify or other music app.)
"One Home Project Every Day" Update:

I steamed our curtains. They were pretty badly crumpled last week, but the wrinkles came out quickly! I use this Rowenta steamer and it's the best.
I'm trying to decide on a neutral rug for our bedroom! Kira David Design is obviously helping me. <3 I really love this one, this one and this one. Though I'm leaning toward this one because it's on sale, and I think this one would work well in Mitch's office. (Still don't have a rug in there.) NEVER MIND. It sold out. Back to the drawing board, haha. This one?!
We fixed one jammed closet door and in the process of fixing another. I can't tell you how long it took me to find this stupid thing, but I did it.
We're monitoring a leak in the ceiling in Emma's bathroom. Did I tell you about this? Her ceiling started dripping. It's a whole thing. We had a plumber come, and he cut out a big square and tinkered with some stuff, and now we need to watch it for a couple of weeks to determine whether it's fixed.
I ordered this Josh Young print for our dining room. I am OBSESSED with Josh Young. He's an artist but also has the most exquisite taste in home decor, and he and Kira are friends! While I know my home will never look like Josh's 😜, I'm definitely using his website and Instagram as inspiration. :)
These ~$35 sheets are AMAZING. I ordered two sets for our bedroom, as we're going neutral in that space. They're crazy soft and come out of the dryer wrinkle-free.
I'm considering buying these towels. We have a bunch of different sets—four hot pink towels, four striped towels, four blueish greenish towels—and they're showing signs of wear and have lost their absorbency. It would be a lot easier (for ourselves and for when we have guests) to only have one color in the house, so that's why I'm drawn to these! If you have towels you love, though, let me know!
I discovered this Etsy store full of downloadable prints for other potential art. Just download and send to Framebridge. So easy! (Isn't everything so beautiful?)
In closet-decluttering news, I'm pretty sure I've said goodbye to all my wool sweaters… except this one. I really can't handle wool–it makes me so itchy–so in an effort to only have things I love in my closet, I bid adieu. The actual act of putting them in the donate/sell bag was difficult, as some were really pretty. ;) But I haven't thought of them since, as I rarely—if ever—wore them. Funny how I almost never have regret over things I KonMari! Less is more.

Do you get the Kelly in the City newsletter? I should mention this more, but you can sign up here to receive weekly or daily e-mail updates from the site. :)
These are the best mittens for kids. Emma is very picky, but she's in LOVE with these affordable little guys. I get them in one size, and both Emma and Lucy can wear them. So much more convenient than last year, when Lucy was in baby mittens.
I love the Hearth & Hand with Magnolia toy collection. Everything is so cute!
Let's help some teachers: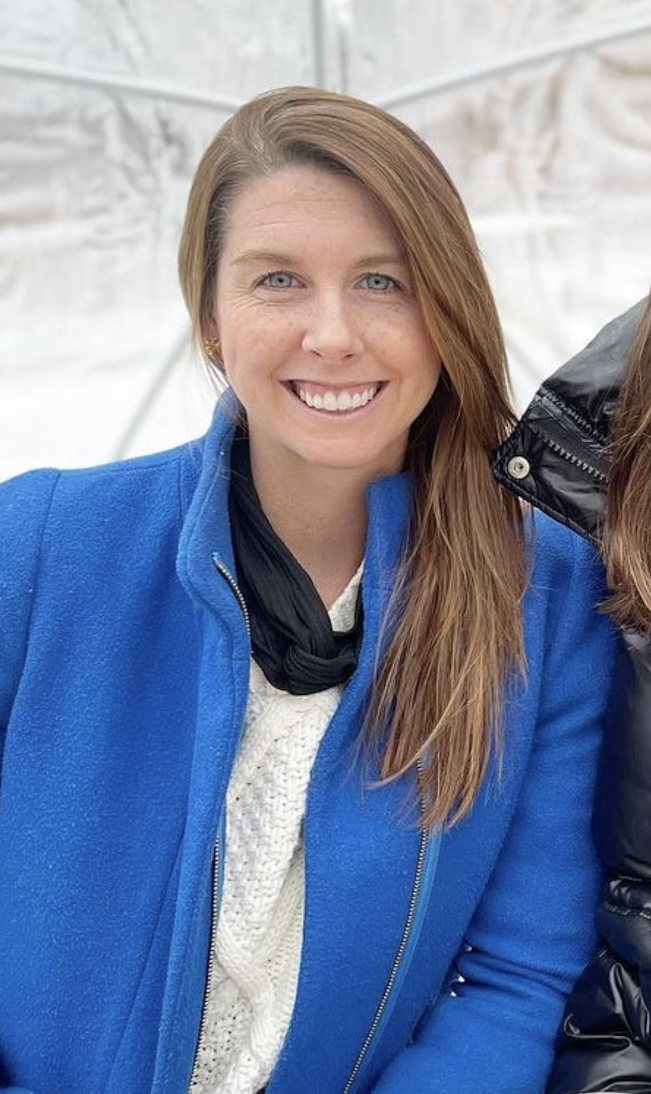 Name: Maky
Title: Fourth Grade Teacher
Location: Boston
Story: My name is Maky Sullivan. I am a fourth grade teacher in the Boston Public School District. I have been teaching at this school for two years now, and I absolutely love what I do. My school community and colleagues are what make coming to school so rewarding and enjoyable. I want the very best for all of my students and their diverse and unique backgrounds are what shape our classroom each year. My goal as an educator is to create a space that welcomes diversity, challenges and acceptance. I love what I do, and with the help of #clearthelist, I am able to enhance my instruction and provide a colorful classroom!
Amazon Wish List: https://www.amazon.com/hz/wishlist/ls/11OTVDJPVWVDE/ref=nav_wishlist_lists_1?_encoding=UTF8&type=wishlist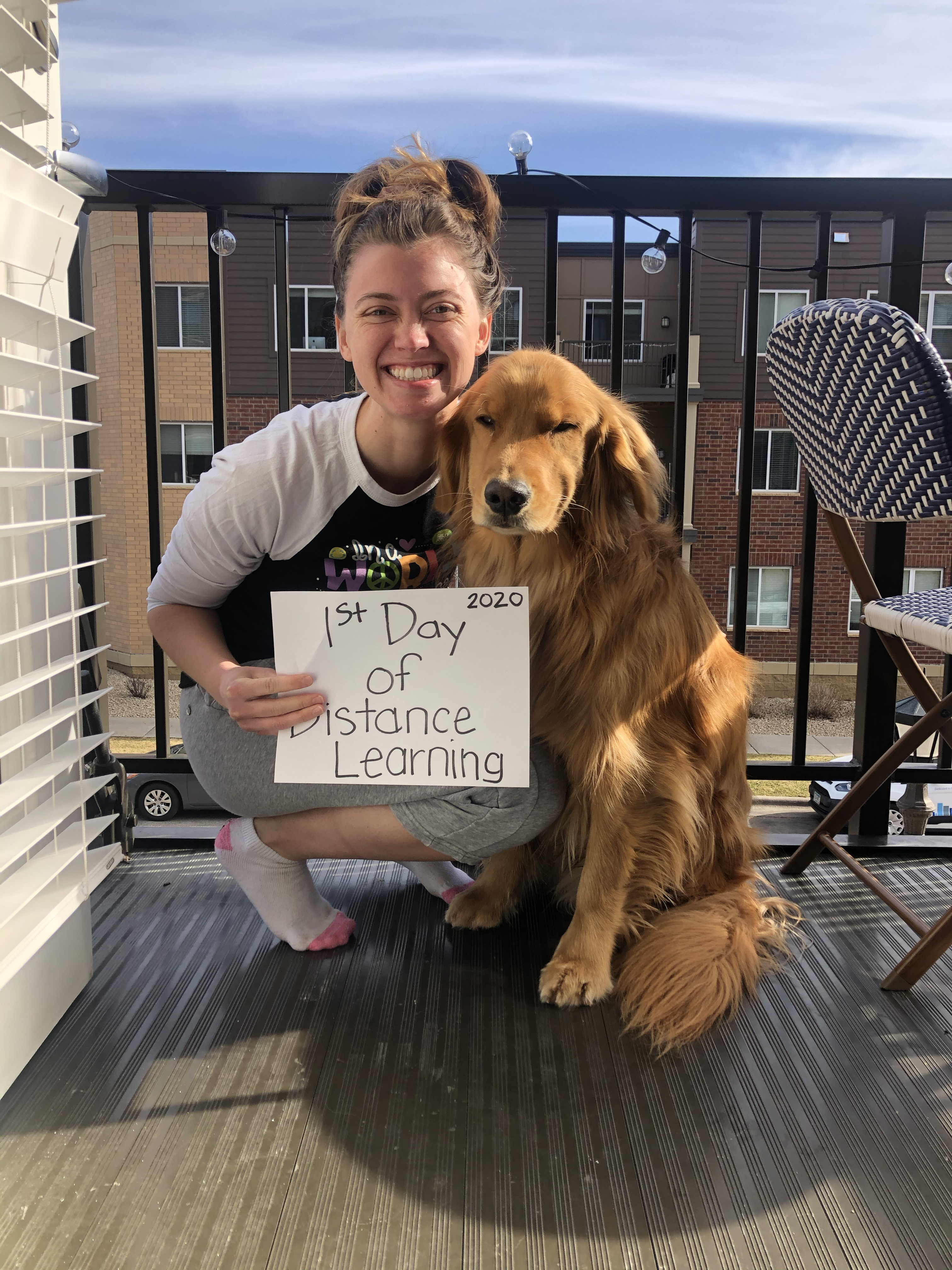 Name: Kari
Title: Third Grade Teacher
Location: Eagan, MN
Story: I am a third grade teacher in the Twin Cities area! This school year, I am looking for ways to add more items to our classroom Safe Space, which is an area for kids to go to in our classroom to manage their own feelings (with support). With events that have happened in our community over the past two years, this will be a place in our classroom that will be used frequently. This year, I will also be heading back to school for a certificate in Urban Teaching, to learn more about teaching to students' individual needs in our diverse world. In our current Covid world, many schools have had to cut funding, like mine, so anything is helpful!
Amazon Wish List: https://www.amazon.com/hz/wishlist/ls/1G0OAYNEYYSAU?ref_=wl_share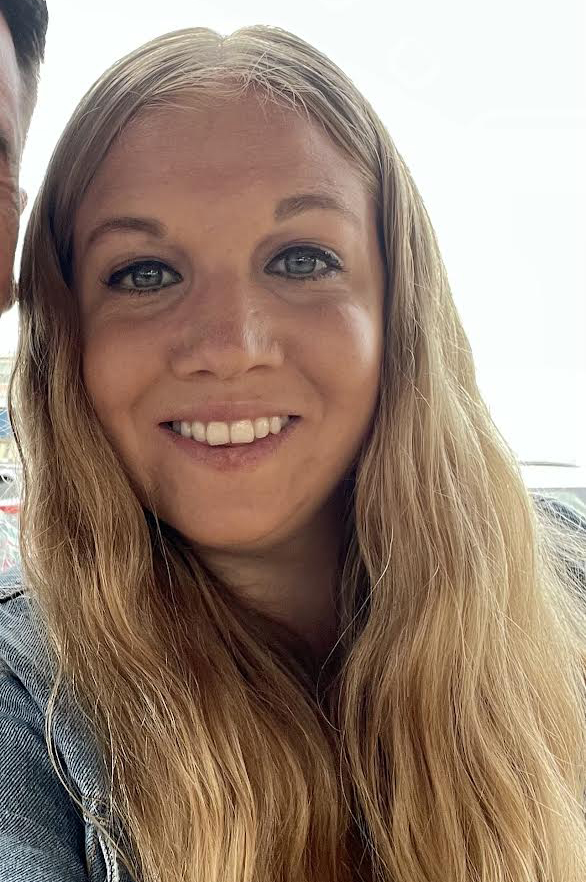 Name: Ashley
Title: Third Grade Teacher
Location: Johnston, RI
Story: Hi! This will be my third year teaching third grade after having previously taught special education for two years. I absolutely love working with third graders. They are so fun, and they work independently while also keeping you on your toes each and every day. I love what I do and could not imagine myself doing anything else! I am still continuing to build my classroom by gathering new resources, supplies and materials. Anything will help and is very much appreciated! Thank you SO much! <3
Amazon Wish List: https://www.amazon.com/hz/wishlist/ls/260O16S3TUCF1?ref_=wl_share