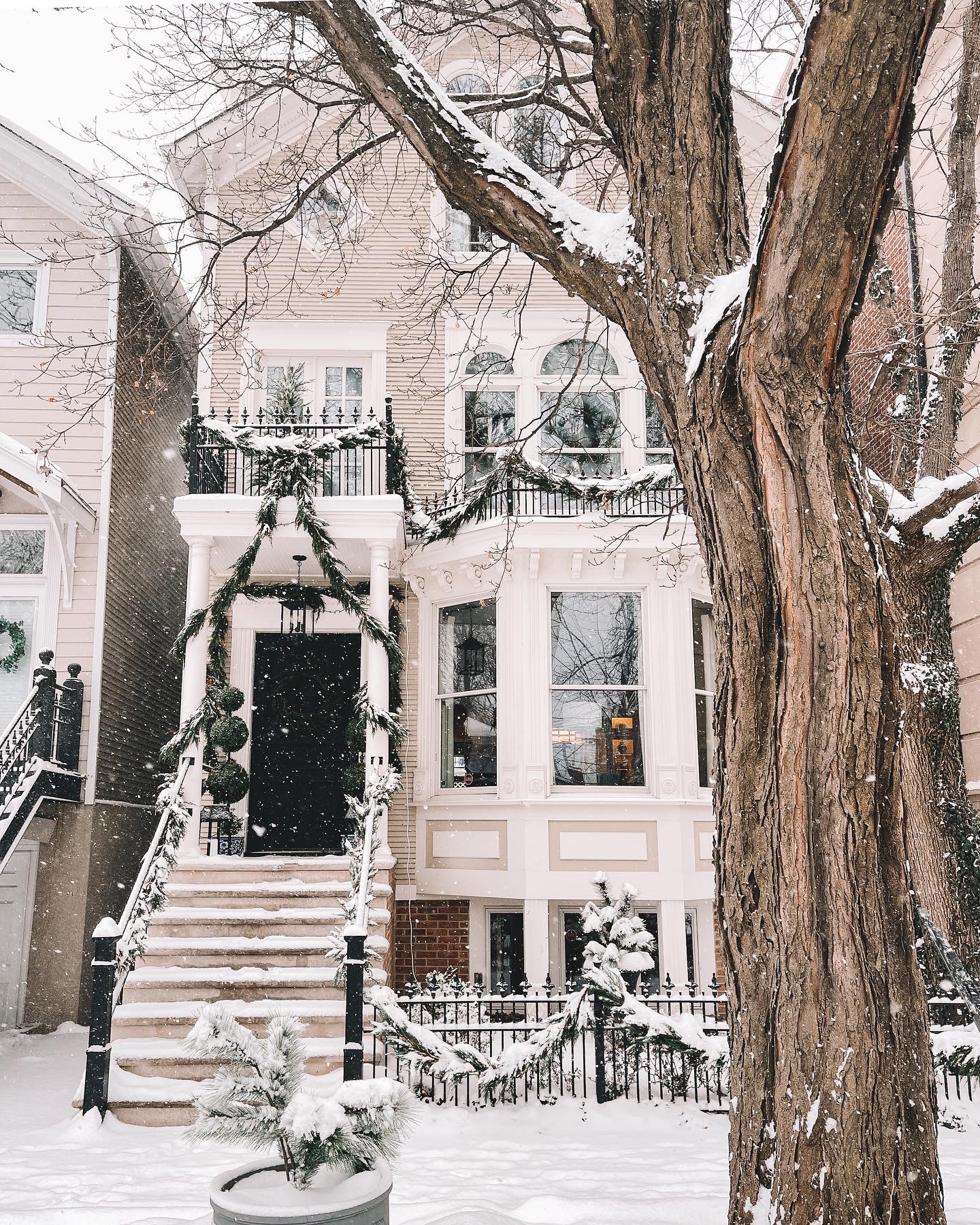 Good morning!
Here are the first 20+ things that come to mind this morning because I'm feeling chatty. 😉
It's the last day of January, and therefore it's probably time to take down the garland and lights. BUT IT'S SO COLD. It's a whole thing, too. Gotta wait for a parking spot to open up, drive the car around, take everything down, neatly pack it in these bags, and load it in the car, get the car in the garage, and then unload and store in the garage. Fingers crossed it isn't as bad as I think it's going to be. Oh wait, I can't cross my fingers… because they're frozen…
I've been loving the snow. I know I'm going to regret saying this—especially after it essentially snowed every day of February last year (13 days in a row, I believe?!—but it sure makes the winter more magical and fun. I ducked out of the house before anyone was awake last week to snap the above pic. Word up to Ken, my sweet older neighbor, for graciously taking a different parking spot when he drove up so I could get the photo. 😆 Ken is the man.
Reading: Minimalista by Shira Gil: I'll probably never be a true minimalist; I like clothes and shoes too much. 😜 (Though what is a true minimalist?! So many ideas out there!) But I sure as heck find myself drawn to its practices and teachings. While we don't have one of those stark white, empty homes, we are working on cutting the excess and keeping around what actually makes life better. (Of course, it's a process with kids!) Life is simpler, and our family seems to have so much more free time since embracing a less is more way of life. I've been reading Minimalista for a few minutes every night by the fire with some of that free time, and it's been so enjoyable. Gill is funny and real, and I think her approach is perhaps even more useful than Marie Kondo's. She talks to people with real homes, and through fun activities, helps make those homes comfortable, inviting, functional and calming. She's motivating and encouraging, that's for sure!
Watching: Stay Close on Netflix: My friend Nicki and I have been texting a lot at night about shows. There's nothing worse these days than finishing a series you enjoyed, am I right?! We stumbled upon Stay Close the other night, and Mitch and I watched three episodes in one sitting. We died the next morning—I'm writing this from heaven—but the sign of a good show. We recommend!
This is the best blanket in the world: It's so soft, big and cuddly, and it's indestructible. You can wash and dry it, too. This is the pattern I love the most because it goes with most rooms. We just move ours around the house! (The other one we adore is this American Flag one, which we use for the beach and picnics.)
Two fun things from this past week: My in-laws came to stay, and I went out with some Chicago mom friends! As always, I'm writing this in advance, so I have no details to share, haha. But we hadn't seen John and Lisa since Christmas, so I'm guessing it was the loveliest visit, with our typical late-night adult hang out session. So lucky to love both sides of our fam. And as for my Chicago mom friends, I know we needed it! It's been a rough start to the year with schools, and everyone has been needing to get.out.of.their.houses. I remember the first time we got together during 2020; we did it during a snowstorm, sitting far apart in lawn chairs in a friend's garage with space heaters. We stayed there for hours just catching up, commiserating and laughing in our puffer coats, wine in hand. So good for the soul.

J.Crew has new arrivals! I love the classic boatneck tee in bronzed clay, the washable silk cami (a "going out" staple for me!), this sweater that would work so well for going out as well, this linen dress, this sweater blazer, and this STUNNING bow dress. Oh, and look at this super soft leather shoulder bag!
I'm all about supporting Chicago artists (counting those with Chicago roots) this year. Here are some of my favorites:
Let's talk underwear. The best bra I've ever owned is BY FAR the Feathers Bra. Holy goodness. Feels like I'm not wearing anything, and it's beautiful. And my favorite undies are from Gap. (Though I do replace every January, and I ordered through Negative Underwear this time around because I feel like everyone raves about the company. We'll see!)
Our next-door neighbors got an adorable new dog, and its bark sounds JUST like Noodle's. And I am constantly thinking that Noodle's gotten out of the house. 😆 She's always just hanging out next to the heating vent, though.
I've been going to bed early a LOT, and shocker—it's had such a wonderful effect on my life. As a parent of two young kids, I often push myself to stay up late so I can have alone time or time with my husband. And while I do think doing that a couple of times per week is important for my personal happiness, I should not be doing it every night. ;) A hard habit to break, that's for sure, but ahhh. Nothing like taking a hot shower and cuddling into bed with a good book before the clock strikes 10.
"One Home Project Every Day" update: Aaaaand we're back!

We moved our bedroom rug into the playroom and rolled out this new one in our bedroom. (In "Ivory Multi.") I am SO IN LOVE. It took me nearly three years to pick out a rug for our bedroom, but I'm glad I did. :) The quality is beautiful and it laid flat immediately, which was a lovely surprise. Will take photos soon, but for now, you can see a little glimpse here!
Mitch worked on the garage a little. The garage is our big project of 2022. I know. We could do it in a weekend, haha. But honestly, if we purge and organize it by the end of the year, I'll be proud. It's a relic of that crazy time when we moved in and had a baby on the same day. I know I always use that as an excuse, but we just NEVER RECOVERED. And working on it in -2 degree weather is really tough. Anyway, Mitch spent a half hour on it, and it's looking better. Thank you, Mitch!
I moved some decor around and gave our living room shelves a refresh. Didn't buy anything new; just tinkered. Love the new look!
I started up with donating/trashing five things per day again. Ahhhhh. Keep in mind that the five things could be anything! Today, for example, I trashed some kids' art (after digitizing it), set aside a blanket to donate (because I swear someone is growing blankets in our home—where do they all come from?!), made a pile of clothing that Lucy has outgrown, and retired a pair of jeans with a brokenish zipper. I'm all for big clean-outs once in a while, but I swear by teeny small ones every day. (They usually prevent needing bigger ones!)
I organized my nightstand. I keep my favorite everyday leggings, outdoor fleece leggings, J.Crew pajamas and Eberjey pajamas in there. Leggings nicely rolled and stored in one drawer, and pajamas in the other.
I kept up with the laundry. Hallelujah! Literal fresh start to the week.

Fashion product spotlight: Puffer Wrap Coat: Okay, the people have spoken. This is super chic.
Carly sent us Sockerbit candy and my mind is blown! GOODNESS. This is the best candy I've ever tasted. If you have a sweets lover in your life, this would make for a great gift. The watermelon-flavored sour candy is my fave. (Seriously eating it as I type this.) Thank you, Carly! You definitely made January sweeter. ♥️
Also watching: Sex Lives of College Girls: I'm sorry, Mom! But a friend recommended it, and it's sweetly hilarious. (And not as bad as you would think.)
I'm feeling good. Life has really calmed down for us in the last week or so, and we've been taking it easy/doing less. It feels like I went from totally frazzled to somewhat collected. (Somewhat. 😉) THIS IS WHY JANUARY IS MY FAVORITE MONTH, haha. I suppose that because of this, I've really been enjoying blogging, too.
Beauty product spotlight: Olaplex: If your hair is dry and/or damaged and you've always dreamed of silky locks, please read my review on this magical product! While I use it year-round, it's particularly helpful during the winter while we have the heat on.
Lately I've been thinking about how wonderfully Lucy's name fits her. She's just such a riot. We went back and forth on a few names for a while—Mitch loved "Maggie" and I loved "Caroline," and we both adored "Kate" but we'd named Emma "Emma Catherine" and that seemed weird. In the end, though, we just KNEW she was Lucy. And it's perfect for her. She's spunky and hilariously moody yet lovable and cuddly.
We're visiting Shaheen and Trevor with Jess and Neal over one of Emma's breaks! It's going to be wild with five kids, haha, but an absolute blast to be back together again. I can't wait. Just wish that Blair could be there!
Have you tried Madewell's Cali Demi-Boot Jeans yet? You can find all the washes here. They're the BEST jeans. I always say this, but if you've only ever worn skinny jeans but want to branch out, these are a great step. They're fitted through the hips so they still give you that same pulled-together feel that skinny jeans do, but they have a wider kick-out shape on the bottom that's super flattering and works really well with booties. (And all shoes, really!) I feel cool in them. And I am NOT cool.
We're thinking about planning a staycation. Because planning a true vacation just feels way too stressful. Maybe sometime in late February or March? Find a hotel that has a pool and a nice restaurant or two and just hang and play all day?! Sounds lovely.
This affordable Nordstrom sweater is the coziest. From January-March, I'm in jeans and a sweater almost daily. Truth.
Home product spotlight: This scalloped bowl from Target: If it's in stock, grab it! It's stunning, and looks like a $300 piece. Can't recommend it enough!