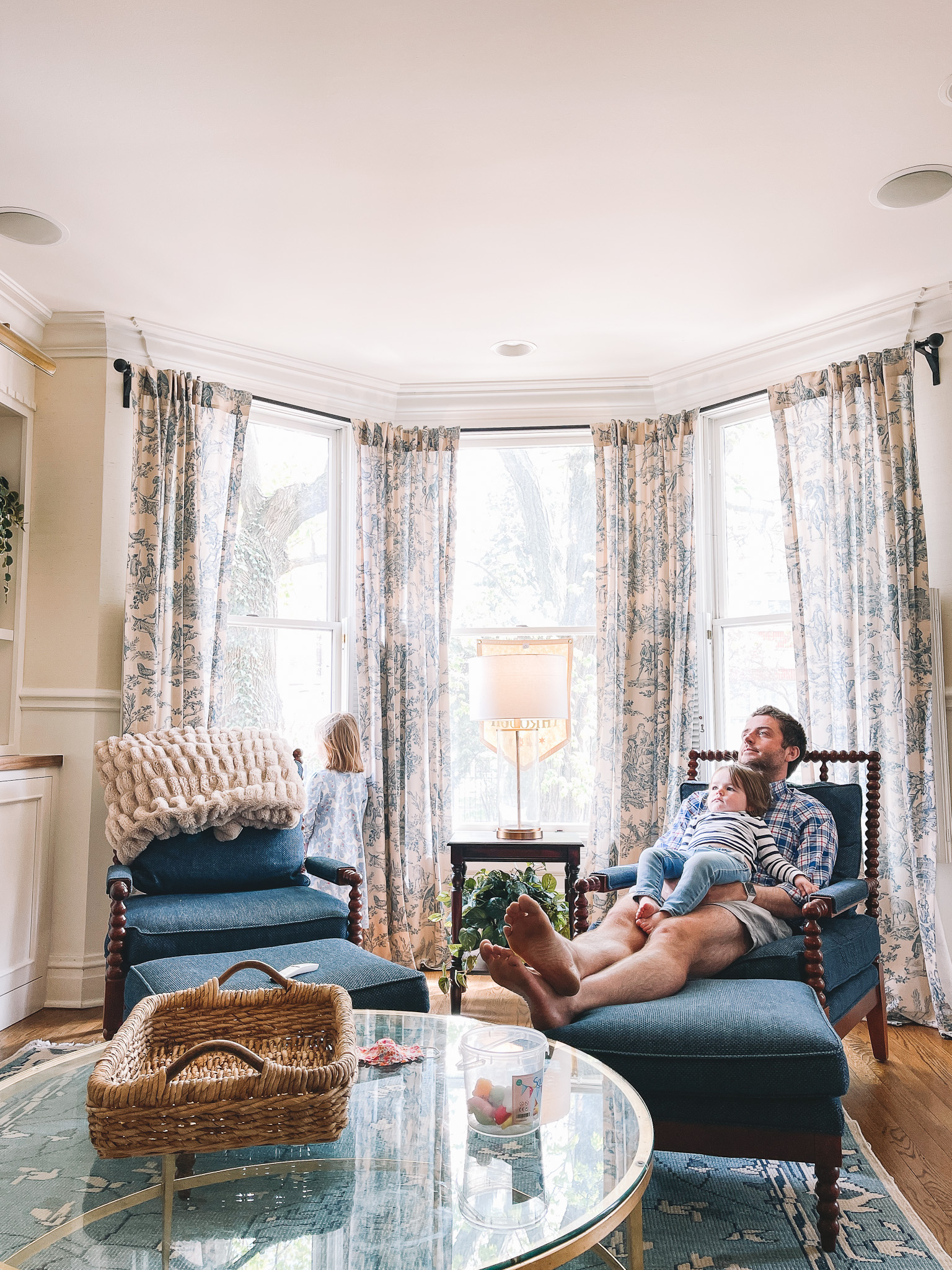 Missing Gamma and Pa. There were tears but we're doing better!
Coffee Table / Rug / $45 toile curtain panels in blue / Spool chairs / Side table / Similar Lamp / Faux plant / Faux Fur Throw Blanket / Newer Tray
Hello! Have your coffee on hand? Here are the first 15 things that come to mind:
My parents' visit was awesome. It was our first time seeing them in 2021 as we were waiting for vaccinations to come through! Such a wonderful time. It was so nice to catch up, spend time with the girls, and hunker down with them due to the inclement weather they always bring with them, haha. My parents were very kind, too, and encouraged us to go on a few date nights and spend some time alone. It really was so good for the soul… and our marriage! ;)
Read: "George Floyd Was Also a Father" by Clint Smith. Clint Smith is one of my favorite writers and I thought this piece was exceptional.
Look: Winners of the 2021 Sony World Photography Awards. I particularly loved the sheep and the horse!
I bought this little power grout cleaner for spring cleaning. Our main bathroom is very, very white—and keeping the grout white requires a whole lot of arm strength that I admittedly don't have. 😆 Anyway, I stumbled across this power cleaner on Amazon and it's legit. In case you're wondering, I mostly rely on a baking soda paste for bathroom/shower floors, made with either water, cleaning vinegar (stronger) or hydrogen peroxide (strongest). I let it sit overnight and then rinse off. If it needs more, I use a Clorox bleach pen with the power grout cleaner… and/or steam with this Bissell steamer. I then seal everything. I use Microban regularly for maintenance. One day I really hope to have grout with Microban installed but re-grouting seems like it would be very expensive!
Speaking of spring cleaning, what do you guys have on your list? I'm actually more so focused on the exterior of our home this year. After a long, hard Chicago winter, it's tired-looking. Once the weather warms up, I can't wait to scrub the deck and patio, power wash everything, and plant some flowers out front. Oh, and soak the cushion covers in Oxyclean! Nothing better.
Beauty find: Kate Somerville ExfoliKate. ADD THIS TO YOUR CART. The price is scary but it's insanity. I have very sensitive skin, but I use this twice a week and no problems. It's the best exfoliator I've ever tried. It's both a physical and chemical exfoliator, and it works in under two minutes. My skin looks awesome after I use it; it truly glows, and it leaves it looking and feeling wonderfully soft. Worth every penny and one of my top skincare products ever purchased.
I found this blog post that features Benjamin Moore "Dove Wing" on the walls—which we're using for our kitchen cabinets!—and I'm even more in love with the color. The author says it's "the softest creamy warm gray white.  It feels light and fresh without being cold and stark." EXACTLY what I'm going for! Sorry I keep talking about this, haha, but it's nerve-racking. I really can't thank Kira David Design for all the time she's spent with me on it. She's AMAZING! (The kitchen cabinets in this house are also painted "Dove Wing.")
Re: "One Home Project Every Day," we've been up to quite a lot!

While my dad was here, he replaced the kitchen island light fixtures with these. They're for a blog collaboration once the kitchen is finished. I'm SO in love and can't believe what a huge difference they make in the space!
We switched all the lightbulbs back to 3000K. (Some were 3000k and some were 4000k because I'm a mess and couldn't figure out what looked best. The previous owners had also generously left a ton behind!) I decided that the 4000k was making our home look a little sterile. The 3000K bulbs are so much warmer. So happy with the final decision, haha.
Dad and Mitch installed the Brilliant Smart Home Control (with built-in Alexa control) in the kitchen. I torture Mitch about his obsession with light switches, haha… but this thing is pretty cool. My favorite feature is that I can tell it to turn the music on on the first floor. Really makes our home so much more inviting! Oh, and the fact that I can see who's at the door with the little video screen. Great for safety.
I put some photos in empty frames. Only took me two years! Love sitting down at my desk every day every so often ;) and having the girls be the first thing I see. :)
I finally got matching knobs (in "Aged Brass") for the rest of the basement playroom. Not sure why I was dragging my feet on that for so long but it'll be fun to swap out the mismatched ones!
I found a replacement outdoor lantern for our front stoop. Haven't pulled the trigger on it yet but pretty sure it's the one. Isn't it timeless-looking?!

Style find: Have you seen these new puffy sandals from J.Crew?! COMFORT LIKE WHOA. And also this adorable ruffled linen top. And then this striped bow-back dress!
Emma's been having some homesickness issues at school and this affordable locket has REALLY been helping. The Easter Bunny coincidentally brought it, before any of this started. We put a photo of our family on one side and a photo of Emma and Lucy on the other. Whenever she gets sad at school, she looks at the photos and "feels better." So sweet. Mark and Graham carries a beautiful version for adults!
New Orleans is beautiful and I really miss it. We just had the nicest time down there visiting my brothers, sister-in-law and nephew. Really want to get back there at least once a winter from here on out! So happy for my family members who are building such wonderful lives there.
Style find: Have you seen this Boden sweatshirt dress? Comfy-cozy for this transitional time we're in!
We're still really loving our VW Atlas. We honestly have zero complaints about the SUV, which is kind of wild! I love it, Mitch loves it, and the girls love it. I'm also going to try to get my license once I'm fully vaccinated so I can have a bit more freedom and experience more of the city with the girls. Cross your fingers for me. It's been a minute!
We signed Emma up for tennis lessons. I was terrible at tennis growing up but Mitch was a rockstar. So this could go either way, haha. Also, I need to note how excited I am about this little girls' tennis collection from Maisonette. SO CUTE!
Why has the laundry been never-ending as of late? I just caught up but whoa. Things got intense for a moment. I guess I just never recovered after our Mississippi trip. Feels good to have my head above water now!
Style find: These Ann Taylor shoes are so pretty. That is all.
Why do kids wipe their hands in their hair while eating? Seriously. Lucy looks like she put oil in her hair every day despite how many baths I give her. Really looking for that phase to be over!