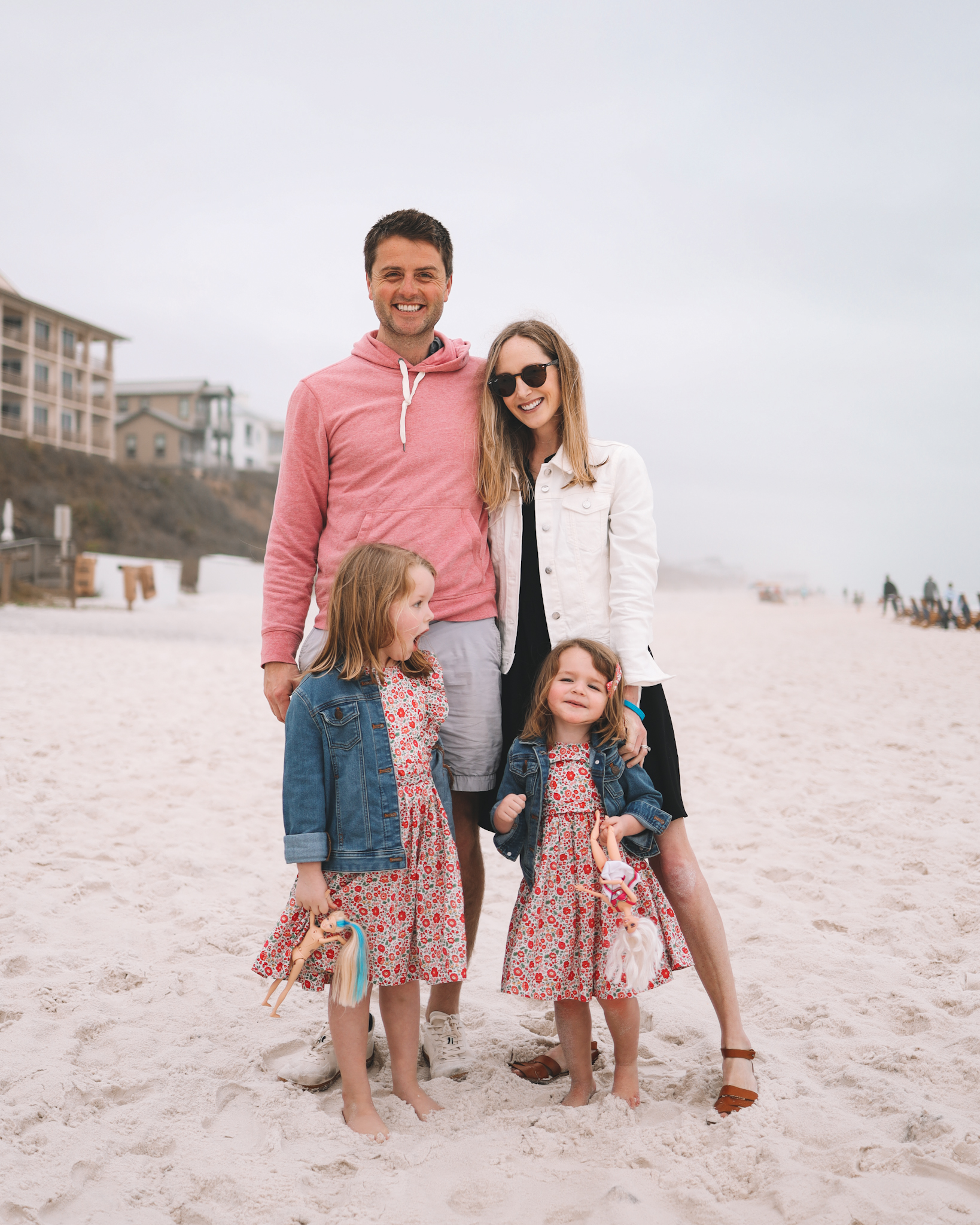 Best Black Everyday Dress / White Denim Jacket (Also loving this longer one!) / Similar Sandals / Newer Liberty Dresses / Girls' Denim Jackets / Mitch's Favorite Hoodie / Liberty Hair Clip Bows 
Aaaaand we're back! I feel all over the place right now, but here are the first things that come to mind this morning:
My family absolutely loved Rosemary Beach. Wow. I'm putting together a blog post on where we stayed, what we did, and where we ate, and I hope to have that up on the blog in the coming days. But everyone was totally blown away. Keep in mind that we had three kids under the age of six in tow, so our experience was fairly limited. We loved it, though, and can't wait to get to know the Panhandle area better. More importantly, I'm so excited for my parents and all the family togetherness we'll have when Dad one day retires! The Jersey Shore will always have a special place in my heart, but at the end of the day, turns out [it's] not where but who you're with that really matters. Yep, I just quoted Dave Matthews. ✌️
I can't remember where I saw this (or if I'm even getting the quote correct 😆) but "Pro Tip: Stop attending every potentially dramatic situation you're invited to." LOVE THIS. I mean, right?! I don't think I have much drama in my life right now, besides the fact that I apparently lost our favorite LOL Surprise doll on the plane. ;) But I think that this is a great reminder to not engage, if at all possible, when it arises. So many ways to diffuse, divert and avoid.
I'm working with Birch Lane on a blog post and I'm freaking out with excitement, as so much of our home is outfitted in the brand. Here are some faves!
I've been reading a lot of organizing/decluttering books lately, and they've had such a positive impact on our home and lives. I am really into it, haha. 🙈 Like, I'm so into it that I… could see myself launching some sort of organizing business later in life?! Okay, probably not. 😉 But I loved Minimalista by Shira Gill, and Declutter Like a Mother by Allie Casazza was super helpful, too. And I'm currently reading both Beautifully Organized by Nikki Boyd and Decluttering at the Speed of Life by Dana White because I'm an insane, obsessive person. (Did I ever tell you about my collection of sandbag lizards I had when I was young?! I must have owned roughly 50. And yes, the irony of it all…)
Chicago Chefs Cook for Ukraine: A

 group of over 70 chefs from Chicagoland will be hosting a fundraiser for Ukraine at Navy Pier tomorrow, March 16. 

It's the biggest chef effort in the city on the two-year anniversary of the Covid-19 lockdown. Proceeds go to World Central Kitchen. If you're free, please consider going!

The Dyson Airwrap (COMPLETE) is on major sale today. It went out of stock briefly yesterday but then came back today. Grab it while you can; best hair tool I've ever owned, and this one comes decked out.
I love these super soft paper bag jeans. The wash, the cut, the fabric—everything, really!
One Home Project Every Day:

I donated games that don't get played with by our family. The game cabinet was stuffed to the max beforehand!
I started turning our laundry room into a "general store" of sorts. I read about this in one of my books recently, but the idea is that if you have cabinet space in your laundry area, why not put family essentials in there? Everything—from first aid, toilet paper, small tools and batteries to sunblock, lightbulbs, pet supplies and sewing kits—goes into labeled bins. It prevents both overbuying and clutter buildup. You know I love it. ;)
I unpacked the whole family from Florida and the laundry is in progress. This was a big job! But I got it done last night, and I feel so much better. I'm really trying to unpack immediately when I get home from trips; I used to leave the suitcases on the floor for days—sometimes even weeks 🙈—and that's a habit I think I may have finally broken.
Emma and I beautified the girls' "libraries." We feel very lucky that the previous owners installed wonderful shelving systems in their bedroom closets. There is ample space for all their books, and they read constantly because they're always at an arm's reach. I like that when they get messy (which they should, from time to time!), I can also just close the closet doors. ;) Anyway,  Emma and I took some time to get all the series together and line everything up nicely. Now that their libraries are organized, they're sometimes even excited about bedtime!
The fireplace is getting fixed as I type this. YAY. This has been big project, as we weren't even sure whether it was possible. But we finally found a team that says they can do it, and my hopes are high as I hear the drills downstairs going. (Eek!) I can't wait to snuggle in front of it for a movie in the coming days. I know it's almost spring, but springtime in Chicago is cold!
My Amazon bamboo spice containers from my last post are back in stock! I'm a lunatic, but the organized spice drawer brings me great joy. Highly recommend.
I set out the new kitchen stools and Mitch listed the old ones for sale. To be honest, though, I'm just not sure whether I love them. They're a little more modern than I was expecting. But the family seems to love them, and they're very sturdy and well-made! I just don't know, haha. THE STOOL SAGA CONTINUES. I like these, too?! And these, haha.
I found a great affordable leather sectional sofa which we might use for the basement. Previously, the magic no-scratch leather we love so much was only available in regular sofa sizes. Recently, though, Wayfair added a bunch of magic leather sectionals to the collection, and I'm so glad we didn't pull the trigger on a pricier setup.

I spent a ton of time with my sister-in-law, Kim, this past week, and it was so good for the soul. I wasn't blessed with sisters growing up, but I now have three amazing sisters-in-law as an adult, and I couldn't be more thankful. Kim and I took a lot of walks and had some wonderful heart-to-hearts, and it almost felt like a girls' getaway! Can't wait to get down to New Orleans after the baby comes. :)
It's definitely time to start planning Easter baskets! Some ideas:
I love this plunge seersucker swimsuit, this one-shoulder one, and this strapless one, all of which come in long torso versions! Long torso swimsuits are hard to find, and I never expected to get this lucky. Hahahaha. I'm a nut.
The dilapidated bank that we used to live next to was turned into luxury condos and my mind is blown. This bank had squatters living in it at one point, and at another, flooded so badly that they had to board it up for safety purposes. Its exterior had graffiti all over it and its sidewalk was always strewn with garbage and broken glass. The transformation is unreal!
There's a new Royal Shirt Dress in town. Favorite dress of all time. Enough said!
Very random, but have you seen photos/videos of the waves in Nazare, Portugal?! They're apparently caused by an underwater canyon, and surfers flock to the area in the winter to ride them. SO SCARY.
Lately I've been thinking about how lucky we are to have Noodle. I missed her so much while we were in Florida! It seems that dachshunds are like a fine wine, haha. They get better with age. Noodle was a lunatic puppy and a really tough younger dog, but she's come into her own this past year. She now actually enjoys walks and playing outside, and she's always by my side at home. Love you, Beale.
We got Lucy sparkly Native sneakers while in Florida because she was so insanely jealous of Emma's, and she was SO happy. They're a little offensive looking 😆, but worth it for the pure joy. Also, have you heard of Pink Chicken swimwear via Maisonette or Sammy + Nat?! And then there's this suit from Minnow… I love having little girls!