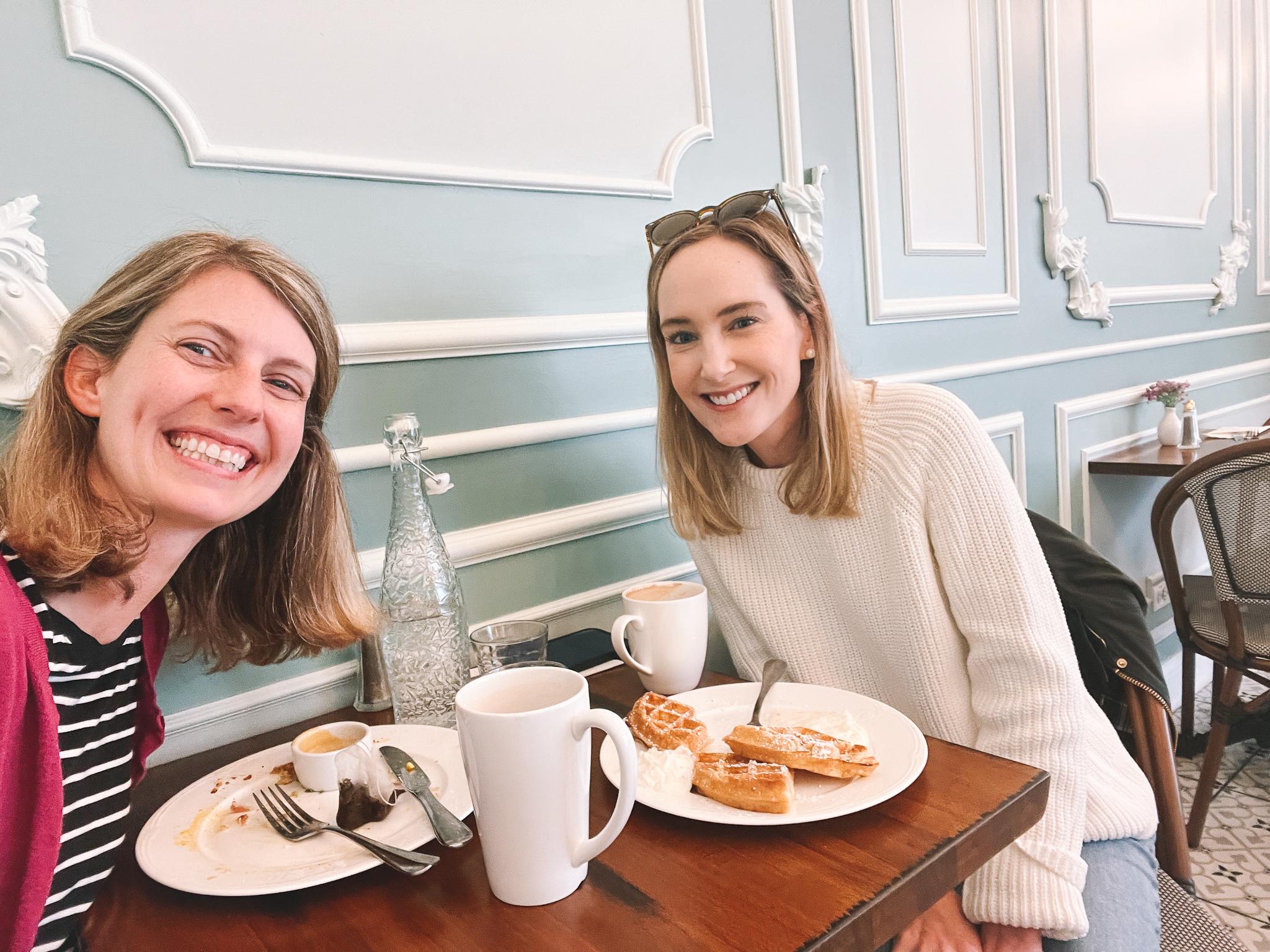 $39.90 Quince Fisherman Sweater (The BEST alternative to the Jenni Kayne fisherman!)
My first friend (from the Air Force!) is here visiting. We grabbed breakfast at Maison Parisienne. Read her Spanish education blog here!
Hello, Friends! Here's what's going on with us:
We woke up to snow on Monday. That was quite the shock. Just a few days before, we'd been frolicking around the city in the warmth clad in dresses. (Well, not Mitch.) But here's hoping that was the last of it. I can't tell you how much we enjoyed riding our bikes, visiting playgrounds, eating outside and picnicking. Bring back summer. (Said in Olaf's voice, of course.)
After a great (and very warm) two-week spring break, we're back to school. The girls' summers are shorter than the ones I had growing up, but they have longer and more frequent breaks throughout the year—which has proven to be so good for everyone. We're able to unwind and recharge more frequently, and we love having the breaks to look forward to. We also seem to value our breaks more. While I loved my long summers growing up, the days did often run together, and I'd often forget to appreciate my freedom. (I guess it makes sense why I felt such deep heartbreak and regret when September rolled around every year, haha.) All of this is to say that we're really looking forward to our Memorial Day break, when we're going to visit my parents. Emma and Lucy already have a countdown. :)
My first friend ever, AnneMarie, is visiting from Nevada! AnneMarie and her sister, Betsy, are the daughters of my dad's co-captain (and best friend) in the Air Force. My mom was best (and still is) best friends with their mom, and we've all remained close over the years, despite our distance. (I spent most of my life on the East Coast and they spent theirs on the West Coast!) It's so nice having Am here. ♥️ Miss you, Bets! (Btw: AnneMarie has a Spanish education blog that's wildly successful! She's here because she's been hired to speak at a conference. So proud of you, Am.)
My cousin is looking for a two- or three-bedroom longterm apartment in Lincoln Park. Yikes. Finding an apartment these days is tough. I remember it being hard when we moved here, but nothing like this. We luckily think we found a gem with the help of YOU GUYS (thank you!) but if you know of any additional places, please let us know just in case. They're arriving tomorrow for The Great Apartment Search and I'm beyond excited.
Lucy's birthday is coming up, and she's following in her sister's footsteps and just having a special day with her best friend (along with Emma and Emma's bff). I can't believe our luck. 😆 I've planned a handful of full-fledged kiddie birthday parties, and woo-ee stress. But the "special day" birthday celebrations are a joy. Lucy wants to go to the trampoline park and then either go get chicken fingers at a local restaurant or have pizza back at the house, followed by a dance party/sleepover. Taylor-Swift-and-Hello-Kitty-themed, of course. I'm truly looking forward to it!
Shopbop Sale: The big sale is on, and now's a great time to purchase products that normally don't go on sale. You can shop all my picks here; use code "STYLE" to take up to 25 percent off! (These Veja sneakers are included! Mind blown.)
We caught up with our friends Gretchen and James over the weekend and it was so much fun. It was so warm, and we somehow grabbed an outdoor dining reservation despite the fact that it seemed like every other person in the city was trying to do the same. ;) So excited for more great outdoor time with great friends. It's all happening.
Deal of the day: These classic summer sneakers are 50 percent off today, coming to $39.50!
Amazon Finds:
One Home Project Every Day:

I FINISHED CLEANING OUT OUR GARAGE! I can't tell you how happy and proud I am. Now, it's far from a Pinterest garage. So far from it, I can't even tell you, actually. 😆 However, we now only have what we actually use in there. No more "what if I need this someday" items, and no more baby items just in case someone comes over with a baby. (We decided that typically people have their own stuff, and also we do not currently have any friends with true babies.) It feels amazing. In the morning when we leave for school through the garage, I no longer feel overwhelmed and ashamed. I'm like, "K, this is super ugly, haha, but it's no longer cluttered and disorganized; it's only what we need."
I "installed" a hidden printer in my office. Emma and I have really gotten into using the Cricut Joy together, and we've learned so much. One thing we've learned is that the Cricut isn't actually a printer. We can rig it do "draw" things, but that is fairly limiting. However, we can use a regular printer for half the job and then feed the printed pictures/photos into the Cricut—and this has made our crafting sessions SO much better. I'm incredibly glad that I made learning how to use the Cricut a priority this year because it's one of my favorite hobbies to do with my daughter.
I cleaned Lucy's rug. (Lucy actually has an older version of this rug, but the Quince rug is more similar in appearance!) There was an accident, and I'll spare you the details. But somehow I saved it, and I consider this one of my biggest mom feats. ;)
I switched over my closet to spring/summer (just in time for snow, haha!) and donated a bunch of stuff that didn't fit properly. I do this at least twice a year, sometimes more, and it really helps me stay on top of my wardrobe and not purchase things I already basically own.
I cleaned out my desk. Like most, my desk is always the most disorganized part of my home. It's where I shove stuff. Took everything out and asked myself what I wanted to keep, instead of what I wanted to get rid of. Totes worked. Highly recommend this approach!
I framed a family photo that's been in said desk for years. And then I realized there was one member of the family missing because she hadn't been born yet. Fail.
I started up "5 Things" again, this time with a buddy! This is where I find five things—ANYTHING—to donate or trash, depending on condition. Sometimes the things are physically large, like an old or unused comforter or bicycle or piece of furniture—but more often they're small bits of clutter that I can quickly swipe up and toss. Seems like it wouldn't make a difference in everyday life, but it truly does. Try it!