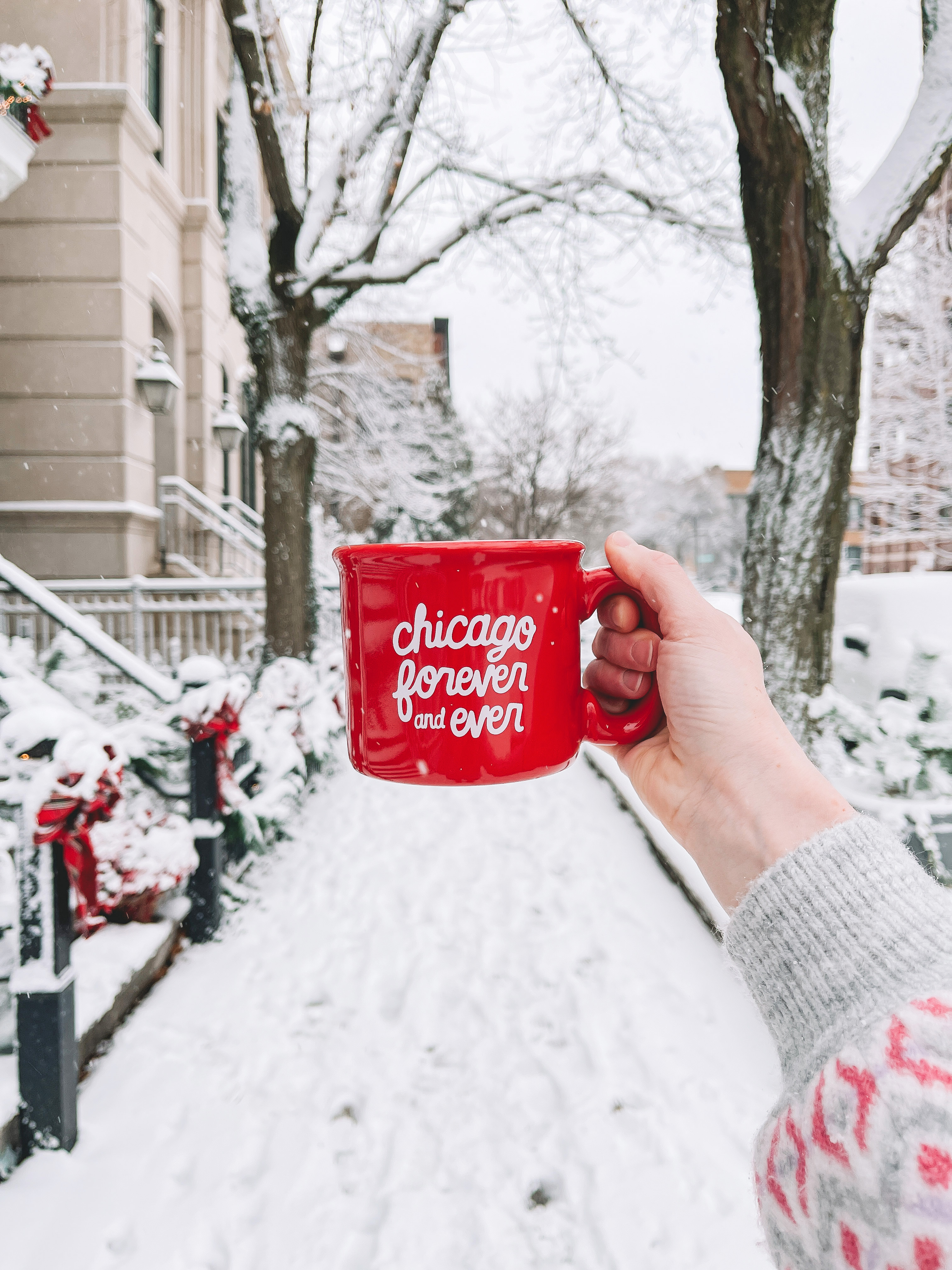 "Chicago Forever and Ever" Mug / Heart Sweater (Also look into this striped heart sweater, this heart turtleneck fleece and this polar bear sweater!) / Yes, I still have my Christmas decor up. But I'm writing this post in January so it's okay. With any luck, it'll be down when you read this. 😆
Hello and happy February! We're under so much snow right now. It blizzard-ed for more than 24 hours here from Saturday afternoon through Sunday evening, and it made the weekend magical and exciting and DIFFERENT. I wrote this post last week, but I'll be sharing photos from the fun in the next few days. If you're on the East Coast, I hope you're able to get out and enjoy it today! I highly recommend building a snowman or even just taking a long walk. So good for mental health!
Onward:
My mom was vaccinated! She's a nurse, so it was just her—not my dad. But this is absolutely amazing for tons of reasons, especially because seeing Grammie will soon be far safer for her. Fingers are crossed that she'll be able to come out here way more often, too. I miss her terribly, and she needs to be with Emma and Lucy more!
My front hall closet organization project is bringing me a lot of happiness. I would show you a photo, but it's not very impressive-looking, haha. I hung some 3M hooks on the backs of the doors so Emma can put her own coat away, and we now only have stuff in there that we actually wear. The puffer coats are hanging up, the hats and mittens are in baskets, and there's a little rug for one pair of winter boots per person. It's no longer overflowing, and therefore we can get ready so much faster. And since everything has a place, it never gets messy! Hallelujah. Highly recommend.
That said, I got very little else accomplished from my "one home project per day" list last week. I think I need to stop making lists, and just see where the wind takes me. And give myself credit for vacuuming, cleaning the kitchen, doing the laundry, and tidying the playroom every night. THAT'S A LOT!
Speaking of wind, my camera was thrown off its tripod during last week's snowstorm. Somehow, though, it's okay?! Tiny but mighty, I always say. I have this mirrorless camera and this very affordable lens, and it's what I shoot with 99 percent of the time. (Though this 24-70mm lens is an incredible all-purpose lens. The price tag is just steep, and it's a lot bigger than the tiny 35mm.)
Speaking of camera equipment 😉, I'm selling a lot of mine. To be honest, I just don't use it anymore! A while back, I found that I was leaving my big camera at home nearly all the time because of its heft and weight. Kids require so much gear to begin with, and there was no way I was adding a DSLR to the mix on our outings. But I really missed shooting, and I wanted good photos of the girls! So I invested in the much smaller Canon EOS R mirrorless camera and the very light and compact 35mm lens, as I mentioned above. And now I have my old Canon 5D Mark III for sale, as well as several L-series lenses: the 24mm f/1.4L II, the 35mm f/1.4L II, the 50mm f/1.3L and the the 85mm f/1.2L II. (I bought the 85mm f/1.2L II for a wedding and I think I took a total of 20 photos with it, so it's basically brand new!) I'm going to sell them on Craigslist next week, but if you're interested in anything, feel free to reach out to Mitch at mitch@kellyinthecity.com. Would obviously love the gear to go to someone I'm connected to rather than a stranger! :)
I really feel like today is the start of the new year for me. I took things really easy in January. I needed to; I felt totally depleted by 2020 at the end of December, and the thought of hitting the ground running in 2021 made me ill. I was overwhelmed, uninspired and admittedly pretty sad. And while I did work throughout January, I gave myself a lot of downtime and grace. I walked; I played with the kids; I took long showers; I watched television and read a little; I organized and wandered around my home. Haha—it was good. I should note that I am not in any way "hitting the ground running" today; I simply feel a bit more put-together and excited about the projects I'm working on this month. The drowning feeling is gone. Hallelujah!
Mitch and I went to dinner last weekend with friends for the first time in a year! The Soho House here in Chicago has these gorgeous log cabins set up outside on the rooftop, and we were invited by our neighbors Natalie (who's vaccinated) and Dave (who works from home). We wore masks and were very careful, but it was such a blast to get out and actually do something. Soho House doesn't allow photos on the grounds, but you can see them on their Instagram page!
WELCOME TO THE WORLD, NATALIE! (Different Natalie. The aforementioned Natalie has been around for a while. 😆) Our good friends Dan and Laura who now live in Denver had their first child last week, and she is just precious. Seriously one of the cutest babies I've ever seen! I'm just so happy for them, and now I'm even more excited about getting out to Denver once this is all over. Congrats, guys!
Per your suggestion, we started the television show "Ted Lasso." It's SO GOOD. Thank you! I don't know what's wrong with me, but I really resist new shows. I'm always like, "Nope. No way I'm going to enjoy this as much as I enjoyed the last one we binge-watched." 🙈 Haha—there's something wrong with me. I almost root against the show in the beginning. But three or four episodes into "Ted Lasso" and I was hooked. It's such a happy, feel-good show… and if you've been feeling down lately, I highly recommend it!
WE HAD OUR HUMIDIFIERS FIXED! I have to tell Jennifer, the reader with the Aprilaire humidifier, that that's exactly what we had—but one was broken and one had a leak. (Thanks, Jennifer!) So we replaced the downstairs one and had the upstairs one fixed, and I am so hopeful that all the cracking stops soon. I'm also looking forward to healthier skin. So itchy! The HVAC guy set both to 40, which he says should fix all the problems. (Or at least stop them.) I also must mention that my skin feels so much better, and I'm comfortable when falling asleep instead of itchy! Oof.
We need kids' snow boots for sledding! All Emma has is her waterproof Uggs, which are fantastic for everyday life in winter. But we need boots for true snow play. (So much mud, and the snow gets into her Uggs because they're short!) I wish these Lands' End boots (kids version/toddler version) came in her size because she loves everything sparkly and shiny, haha… but might go with this Sorel pair, as I see them around a lot and they get rave reviews.
Whoa. I almost kept it to 10 this week. Crazy times. Bye!