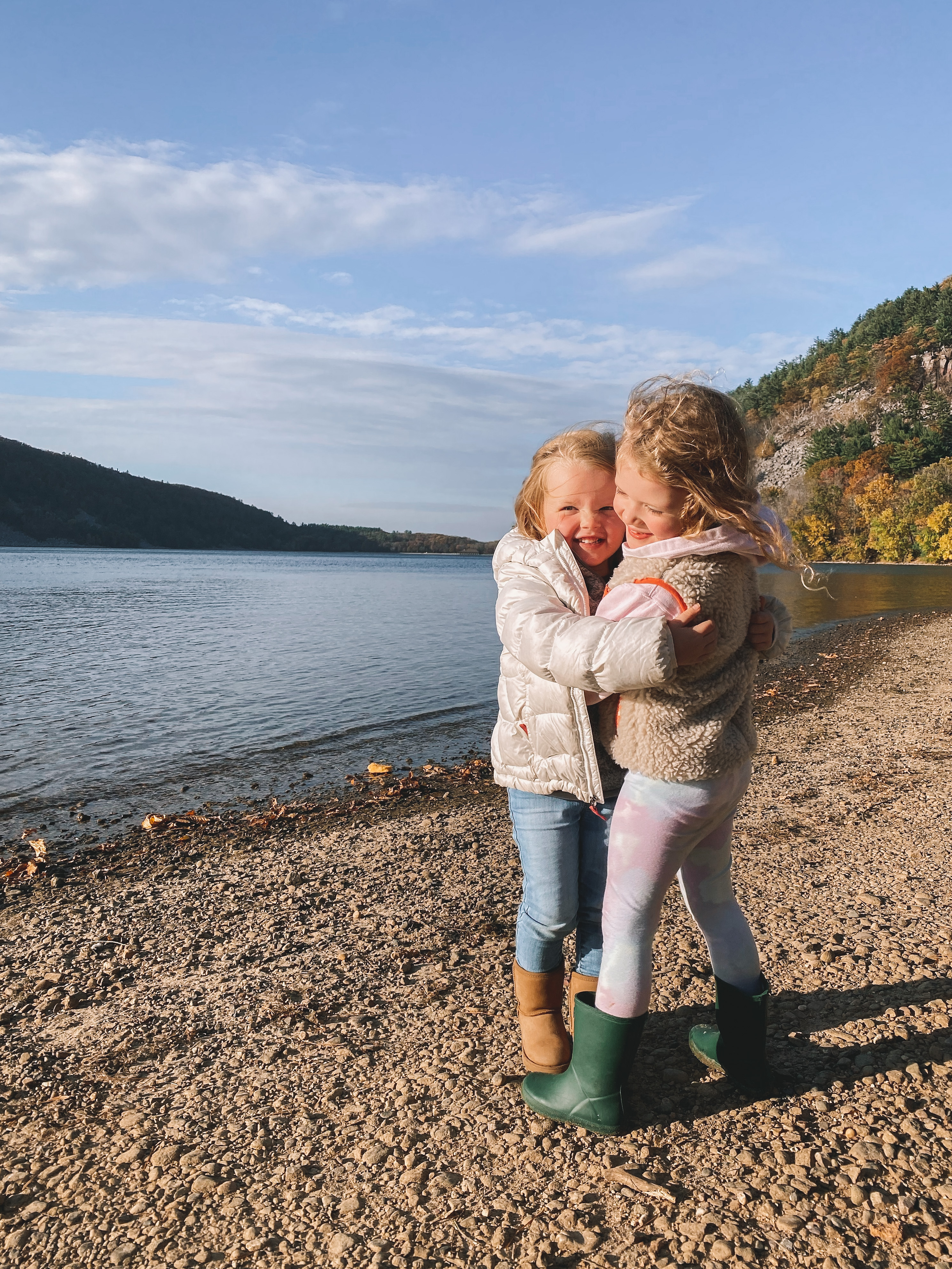 Great Kids' Camping Wear: Down Coat here and here (Size up!) / Waterproof Uggs (Size up!) / Hunter Boots / Vest
First 10 things that come to mind today:
Mitch took Emma camping. Wow. I will admit that I was a tad nervous about this, but Mitch and our friend Peter took Emma and Walker (Emma's bff) camping on Devil's Lake—perfect for Halloween—in Wisconsin, and it all went off without a hitch! Emma had the time of her LIFE. Peter's parents have a lake house under renovation up there, so everyone camped in the backyard yet the girls still had access to a bathroom. (The original plan was to go to the campgrounds, but it was full. Going to the lake house, which was a three-hour drive, meant zero interactions with humans which felt a lot safer anyway!) They spent the entire day hiking and then ended things around the fire before zipping into very warm sleeping bags, and the photos Mitch sent me were 😭. He's going to write a full blog post on the experience this week, so stay tuned!
I hung out with my friend Bradley, Walker's mom, while they were gone. Bradley's family is in our "bubble," as they have very similar Covid "rules." We met them through Emma's peewee program a few years ago, and they've been one of the reasons we've enjoyed raising kids in the city so much! They're about a 10-minute walk from us, too, so driving isn't necessary—so nice for me. ;) We hung out in the basemen playroom and got takeout and let the babies go wild. It almost felt like normal life. <3
I'm making a leaf rainbow, and decorating for Halloween! We've had a sticky note rainbow in our front windows since the pandemic started, but it's started looking faded and tired. So I bought these leaf sticky notes, and we're giving it a facelift! Of course, it's going to take me three days to complete because #littlekids, but it's a nice little project that Emma enjoys working on and Lucy enjoys destroying. I'll keep you posted! (POST-IT JOKE.)
The girls and I threw Mitch a mini surprise birthday party on Sunday. We were the only ones in attendance, haha, but it was great! Mitch's birthday landed on Charlie and Shirley's wedding weekend, so he thought we were skipping it all together… but BOOM. While he was camping, Lucy and I somehow decorated, wrapped the presents, and made a cake. Because Lucy is a little tornado, it took roughly 10x as long as it should have… which is why it's one of my biggest feats as a parent of young children. 😆 Anyway, it was a small celebration but such a good one. Lots of singing, laugher and hugs!
This Amazon sweatshirt dress is phenomenal. So soft! I recommend wearing it with riding boots (LOVE these, these and these) or over-the-knee boots to stay cozy. Size down.
I found awesome wallpaper for our living/dining rooms. I've been wanting to install grasscloth for roughly a year now, but have been dragging my feet. I can't believe the prices on the Magnolia line. Looks so good! Thinking about pulling the trigger.
Have you ever used Framebridge? If you haven't, you should. I recently framed a photo of the grandchildren at "Camp Gammy" for my mother-in-law and I couldn't believe the quality—or the size! (SO BIG, haha!) I've been using Framebridge for years, but every time I receive the finished products, my jaw is on the ground. Highly recommend doing this for hard-to-buy-for people in your life for the holidays. Frame a special photo and boom. Most sentimental gift ever! (With digital photos, you just upload, select a frame and matting options, and order. Takes no more than five minutes!)
I am LIVING in my Birkenstock clogs, which you can find at Nordstrom, Backcountry or Zappos.
I'm almost done editing wedding photos! Charlie and Shirley's wedding was a photographer's dream, but I admittedly took way too many photos out of nervousness. Almost done, though, and so excited to deliver them to my favorite "clients" (ha) ever!
I found affordable toy storage bins. My Chicago mom friend, Alex—of Allie and the Oven!—has been telling me for years that I need to invest in and label very inexpensive clear boxes for toy storage. I'd had my eye on these $0.99 guys from Target but couldn't locate them anywhere and was sad… until I finally found these and these from Home Depot for pickup. Not sure whether I'll actually label them, but the idea is that sets of toys go inside them, and young children (probably around age 3) can learn that they can only take out another bin once they clean up and put away the last one. It WORKS. If you're up to your eyeballs in toys and frustrated with the clutter and mess, try it. It also helps to clean out the junk!