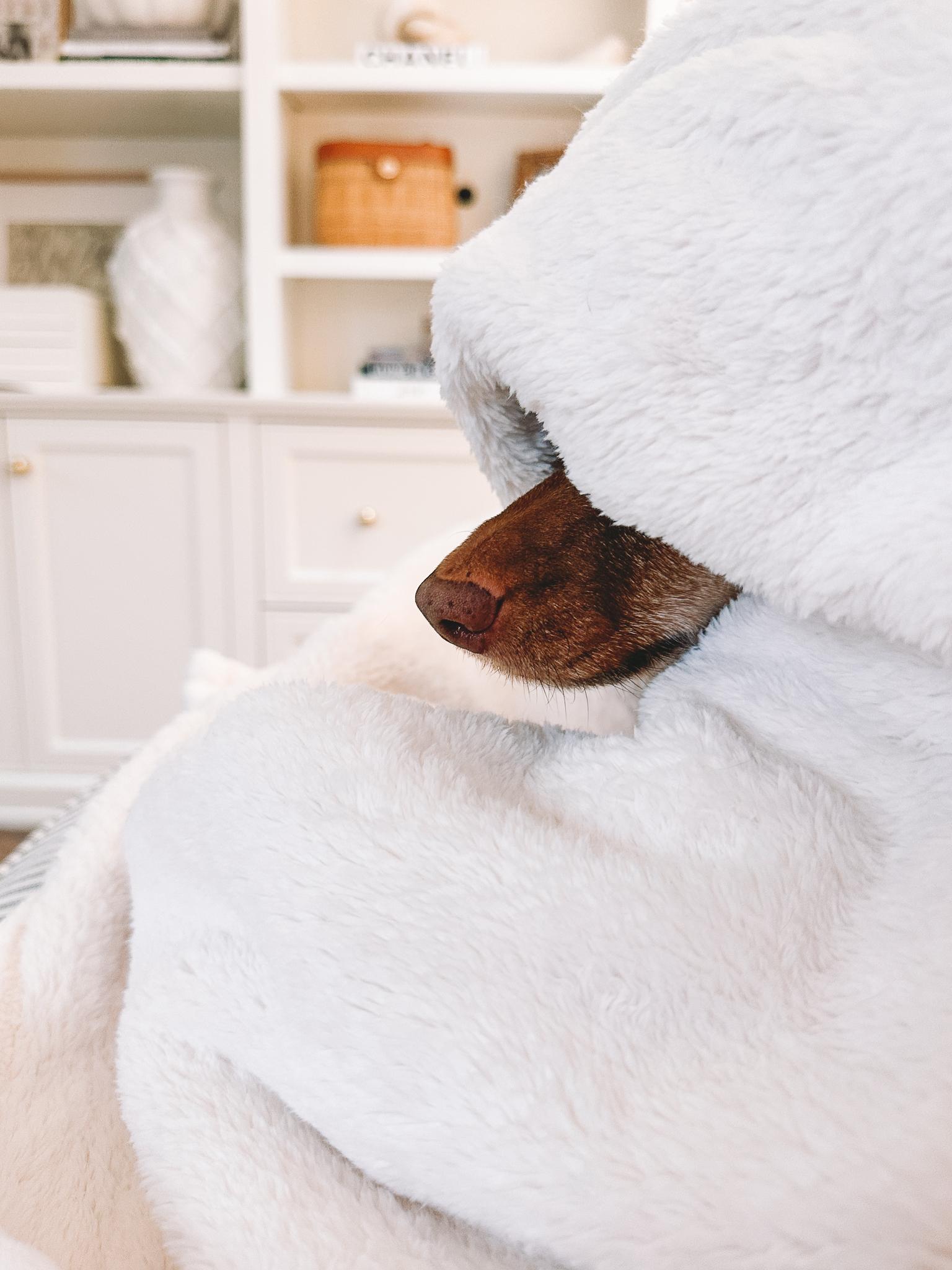 Noodle in January mode.
Hello! Here's what's on my mind today:
This is our first week of normalcy. Monday through Friday, school and work. Nuts! It's been nearly a month. Let's just say it's a welcomed change. ;) The house is tidy, the laundry is done, and we're back on a schedule—with regular activities and birthday parties and bedtimes. Everyone seems so happy. Very grateful for vacations, but I'm more grateful that we enjoy the life we normally live.
Let's talk about the magic that is Kindle Kids+. IT'S AMAZING, guys. (Though a yearlong membership does come free with the purchase of this Kindle, designed for children.)
If you do one organization project this month, consider creating your address book with this insanely amazing holiday card company. My dad discovered the service for me last year after I failed to get my Christmas cards out on time yet again. 😆 Postable prints and mails the holiday cards for you, and you literally never see them. (Unless you address one to yourself, which I did, just because I was curious about what they'd look like.) Yes, they're pricier than popular companies like Minted, Shutterfly and Mixbook, all of which I've used for various things and have loved. But man. Having the cards mailed for me is so helpful during the holiday season as a busy mom who is also normally drowning in work, too. I click "order," and that's it. They magically appear in my family and friends' mailboxes roughly a week later, with no involvement from me whatsoever. I was super impressed with the designs and quality, too. GREAT FIND, Dad! Thank you!
I am making a Harry Potter-style secret room under our stairs for the girls, and it's nearly done! Friends, I can't tell you how excited I am—and how motivated I am to tackle other DIY home projects now. This is going to sound so dorky, but what a thrill! I don't know: I always thought I was incapable of this kind of stuff, but I actually think it was just all in my head. My first attempt at painting and wallpapering didn't yield perfect results, but they weren't awful, either! I now have the confidence to tackle other DIY home projects, and my head is spinning with ideas. :) In regard to the Harry Potter closet, my hope is that I can finish it by the end of the week! Just waiting on a light fixture and some cute decor.
Please watch these videos featuring a frog made of yarn. Carly found it, and it made my day. I sent it to my family and they were less than excited, though. But you decide, haha.
I took Emma to dinner this past Saturday—just us—and it was the best. I love family time, but I place a lot of value in one-on-one time with my children, too. This past weekend, Lucy had an evening birthday party, so Mitch took her and I took Emma to a local restaurant for spaghetti and meatballs. She got all dressed up in her favorite Zara dress, velvet leggings and Chelsea boots, and we laughed throughout the whole meal. Afterwards, an older man came up to us and told us how much seeing us together made his night, and his words reminded me just how lucky I am to have my daughters, who are both turning into my mini best friends. It was a great night.
IT'S TIME TO BUY THESE $20 FAUX LEATHER LEGGINGS! They're a copy of the famous Lululemon Align leggings from the faux leather line (now nearly sold out). If they're not in stock in your size, go for this pair or this pair. (Same leggings under different brand names!)
We sorted out some health insurance stuff and I'm so happy. Because we're self-employed, our options are fairly limited, which makes dealing with an already broken system incredibly confusing and frustrating. But we finally figured out how to get on a particular plan that allows us to see Northwestern doctors in Chicago and go to Northwestern hospitals in the city, and I can't tell you how relieved I am. So stupid that it needs to be this hard, but for anyone else in Chicago in this predicament, the BCBS group number is #475. Look into it!
Lucy is dressing herself and brushing her teeth by herself. Major thanks to her phenomenally talented, patient and gifted teacher for all the progress she's made with our adorably stubborn little girl this year. While I have a background in teaching, I think it takes a very special kind of person to be able to teach small children, especially three- and four-year-olds. Lucy's teacher made getting dressed and brushing her teeth a game, and it's been wonderfully successful. I'm really proud of our Lucy, and really happy for us—because getting ready in the morning is no longer the battle it used to be. ;)
How great does this super-padded (and washable) kids' play mat look? As we shift out of the baby years, I so appreciate kids' gear and larger toys that blend in with our home and don't add to visual and mental clutter. Of course, a whole lot of my girls' toys are neon, rainbow or covered in glitter. And that's great! They love that stuff so much. But it's nice when big things—the stuff that isn't put away at the end of the day—can be magical without being neon, rainbow or covered in glitter. This isn't a funhouse. 😆 I love how neutral the play mat is (and how adaptable it is). Other favorite blend-in-with-our-home kids' stuff that's still magical:
I was influenced by my six-year-old daughter and bought Chelsea Lug-sole boots. Turns out Emma is really cool. And I want to be like her when I grow up. ;)
I finished my Christmas ornament project. I used my trusty little photo printer (which is on sale!) I'm totally in love with the final result. My goal is to order new ones every year and add to our collection. We have a handful of meaningful ornaments, yes, but the rest are just fillers; how meaningful will it to be able to recall these special memories when putting our photo ornaments on the tree every year?!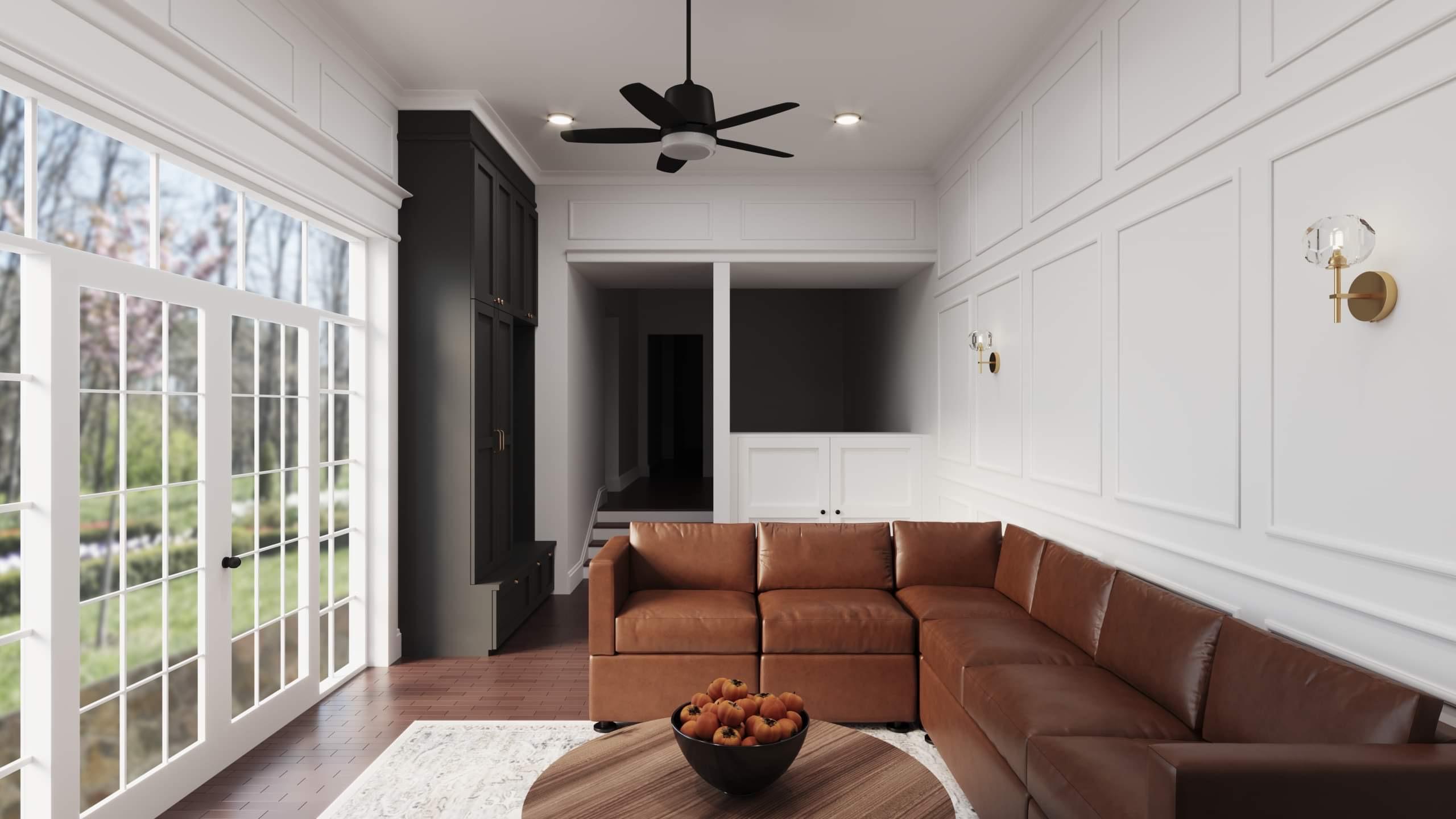 New Orleans Living Room Details
My brother's family room project is coming along and it's been so fun to be involved. Can you get over the above rendering?! It's by our amazing assistant Valeriia, who is a Ukrainian refugee living in Poland right now. She's wildly talented! If you'd like to hire her, please reach out to me via Kelly@kellyinthecity.com. (All products in my brother's family room are linked here!) Also, can you get over the fact that Patrick is doing the entirety of the job by himself? Unclear how we're related, but so impressed!
This black Patagonia jacket is on my wishlist because a chicken ripped open my white one. Like, true story. I was at my brother-in-law's farm, and I just can't resist hugging and tickling the chickens while I'm there. (They make human-like laughter sounds when tickled. It's hysterical.) Anyway, while putting one down, my jacket got ripped, and now I leave behind a trail of feathers—much like my chicken friends do. It might be time for an upgrade.
If you're looking for kids' cards for Valentine's Day exchanges at school, these are adorable and no-fuss. They come with friendship bracelets, which makes things extra fun. :)
Emma's lost half her bottom teeth and she's having a little trouble eating! They're all on one side, of course, haha. Poor thing.
I'm back on my Facebook Marketplace (selling) kick. If you haven't already tried it, YOU NEED TO, especially in first quarter when most people are inspired to both declutter and improve their homes. I take photos of things I find around the house that we don't use or need (or that don't bring joy, haha), and then put them in the garage in tubs. If something sells, yay! If it doesn't, it gets donated. It's been a really easy way to get stuff out. (Physically and mentally.) I ask myself, "Do I want this thing… or x number of $ instead?" If the answer is the dollars, it goes in the garage! (Note: We're not moving. Decluttering is apparently a lifelong process. Never ends!) The one thing I'll say is that as a woman, I don't feel comfortable meeting buyers in person. So Mitch, who's very comfortable, happily does it. Regardless of who's doing it, I would recommend doing the exchange in a very public place!
Amazon Finds:
J.Crew has a collaboration with Mount Snow and it's bringing back all the happy memories. I spent Christmases up there with my cousins as a kid/teenager/20's something, and I so wish this sweatshirt came in women's or kids' sizes!
Have you heard of Yohana? My cousin Chase and I were discussing household management options as he and his significant other have demanding jobs that don't leave much time for everyday life tasks. While I don't have any experience with it and really can't speak to it, haha, this outsourcing service seems perfect.
One Home Project Every Day:

I TAUGHT MYSELF TO WALLPAPER! I've already covered this but it had to make the list. ;)
Mitch installed hardwired custom phone chargers in our car. Wires, be gone! Interested in doing the same? E-mail him at mitch@kellyinthecity.com and he'll talk your ear off.
I donated 75 percent of our tote bags. Why do tote bags accumulate? Granted, I held onto a lot of them for way too long. But I only kept our most-used and favorite bags, and man. It feels good! Btw: this is our most-used tote (size large with the long handles), though the girls frequently use these mini VV totes for activities.
I organized our holiday/seasonal decor storage closet. I've been on a quest to reduce our holiday decor, and I finally feel like we own a reasonable amount. Only favorites survived! Everything is stored in these striped storage bins. Brings joy.
I did a mini closet purge—for everyone in the family. I struggled with this for the longest time! You know: Getting rid of stuff that is still perfectly good. But I learned that I need to be honest with myself: What does my family actually love/wear? What stuff don't they love/wear? That goes in the donate bin. It will be of better use to someone who wants/needs it anyway!
I vacuumed the house. I hate doing it. But man does it make a difference.
We sold Lucy's changing table/dresser and some more baby toys. She now uses this gorgeous armoire/cabinet, which I am so in love with!
I ordered the remaining knobs for unfinished house projects. I did Lucy's closet and one last shutter in the stairwell. Yay!