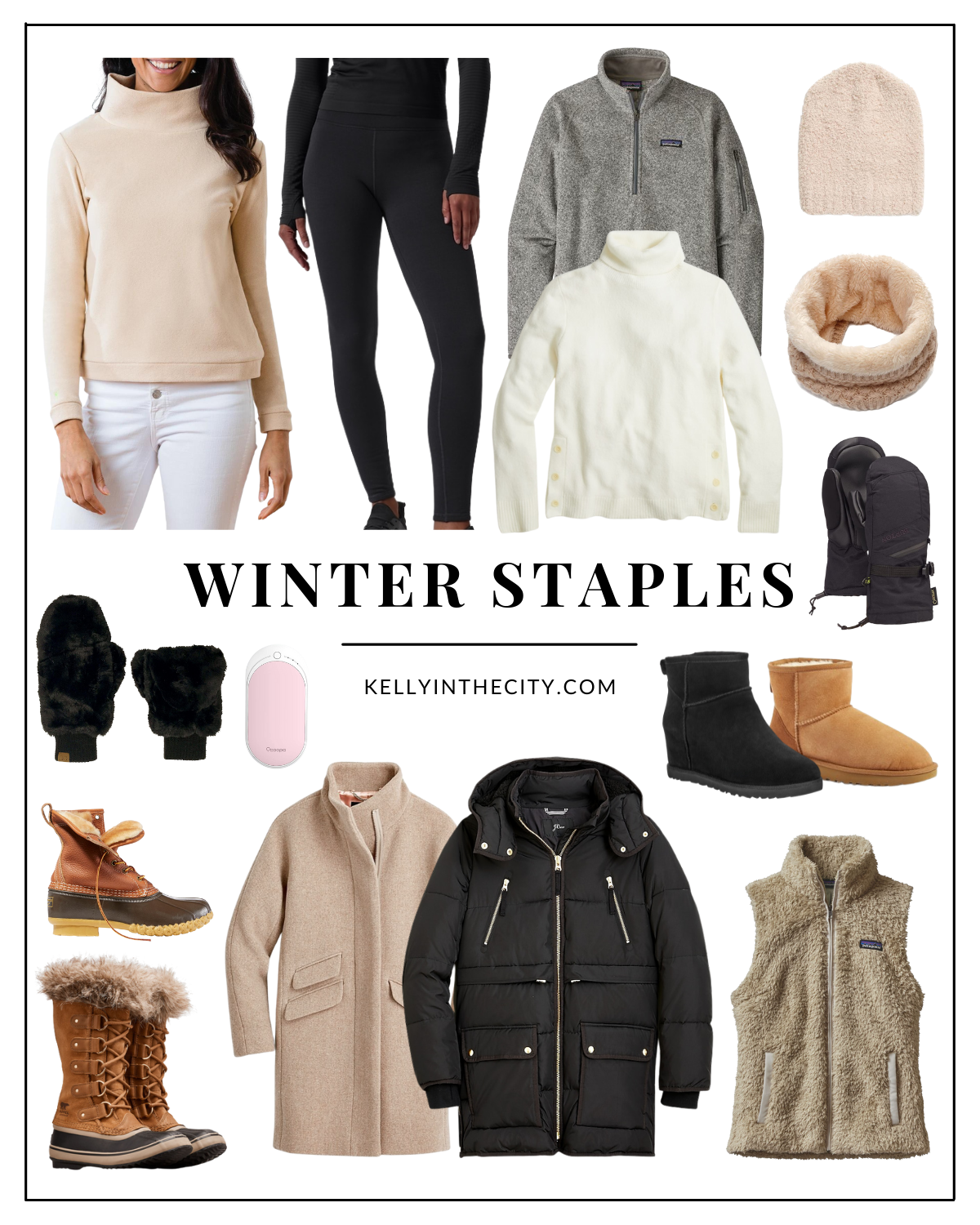 Dudley Stephens Turtleneck /Fleece Lined Leggings/Patagonia Quarter-Zip Pullover / Extra Soft Cozy Turtleneck / Barefoot Dreams Beanie / Neck Warmer / Gore-Tex Mittens / Fluffy Mittens / Rechargeable Hand Warmers / Shearling-Lined Bean Boots / Sorel Boots / Cocoon Coat /Puffer Coat/Patagonia Vest / Wedge Bootie/ Mini Ugg Boot
When I first moved to Chicago, I was not nearly prepared enough for the long, intense winters that the city is known for. Over the years, I've accumulated a few cold-weather essentials that get the job done, from puffer jackets to mittens and everything in between. The freezing temperatures will not stop me from getting some fresh air and sunshine, whether in the form of a long morning walk with the girls or an afternoon trip to the playground. So if you also endure harsh winters where you live, I hope my holy grail winter-weather essentials can help you get through the winter and maybe even enjoy it a little too.
Dudley Stephens Turtleneck: I couldn't live without these Dudley Stephens turtlenecks in the winter. They're ridiculously warm!
Fleece Lined Leggings: No joke, I probably tried 10 different pairs of leggings, and these are by far the warmest and comfiest for winter. Tip: Snip the elastic drawstring in the front of the leggings. It makes the waistband even comfier without them falling down!
Patagonia Quarter-Zip Pullover: This is probably my most-worn pullover. It's lasted me for years and looks just as good as when I first bought it! It's a cross between a sweatshirt and sweater and is so warm and cozy. It looks really cute with jeans or leggings for a more casual look! Patagonia generally runs small, so I always go up one size in all products. Try code "KELLYCITY15" at Backcountry.
Extra Soft Cozy Turtleneck: These cozy tops are some of my most-worn tops for my winter walks and various family activities and adventures. While they aren't bulky, they add a lot of warmth!
Barefoot Dreams Beanie: This is, without a doubt, 100-percent my favorite winter beanie out of all the hats I've ever owned! It's especially great if you find wool makes you itchy.
Neck Warmer: These are technically for kids, but they're big, so I bought one for all three of the Larkin Girls. They're wonderfully soft and cozy, and you never have to worry about your neck becoming exposed to the winter elements.

Gore-Tex Mittens: To be honest, I gave up on cute gloves a few years ago. I broke out my snowboarding mittens, and I'm never going back.
Fluffy Mittens: If it's warm enough for regular gloves, I own and love these! I prefer mittens over gloves any day, as they keep your hands much warmer with your fingers being together. Of course, your hands are usually rendered useless, haha, but these have little slits in them that allow you to pop your fingers out when necessary.
Rechargeable Hand Warmers: I have to say these might be the best purchase I've ever made?! WOW. I hated the disposable ones because they felt so wasteful and were such a hassle. However, I have nothing but good things to say about these. Last year, I used them all winter long! I plugged them in every night, and they were good to go for the day when I woke up. Tip: They get hot! So, use these on the lowest setting.
Shearling-Lined Bean Boots: These are the warmest and best Bean boots out there! I've also found them to be way more versatile than the regular version. These are lined with shearling, which means I can wear them during the coldest Chicago snowstorm, and my feet stay toasty!
Sorel Boots: These are what I break out when temps dip into the negatives. You just can't beat 'em!
Cocoon Coat: This coat is so versatile, and it lasts forever. I've had mine since I lived in New York! It's the only wool coat I've ever been able to wear during the dead of winter in Chicago – somehow, it keeps me warm.
Puffer Coat: I stay just as warm in this puffer as I do in the $1k designer versions. While I wish it were a tad longer, it's still an insanely warm puffer for a very low price. Comes in Black, Red, and Gray. It runs big, so size down.
Patagonia Vest: Probably my favorite winter vest. It's not structured so, it's ideal for layering and great to throw on when I'm chilly in the house. Note size up, as Patagonia tends to run small.
Wedge Bootie: These really are my "winter heels." They're the only way I'm able to get some height during the coldest Chicago days!
Mini Ugg Boot: The ultimate cozy shoe that's helped me not hate Chicago winters. My feet have never been cold while wearing Uggs, and I've also really come to love the way they look.