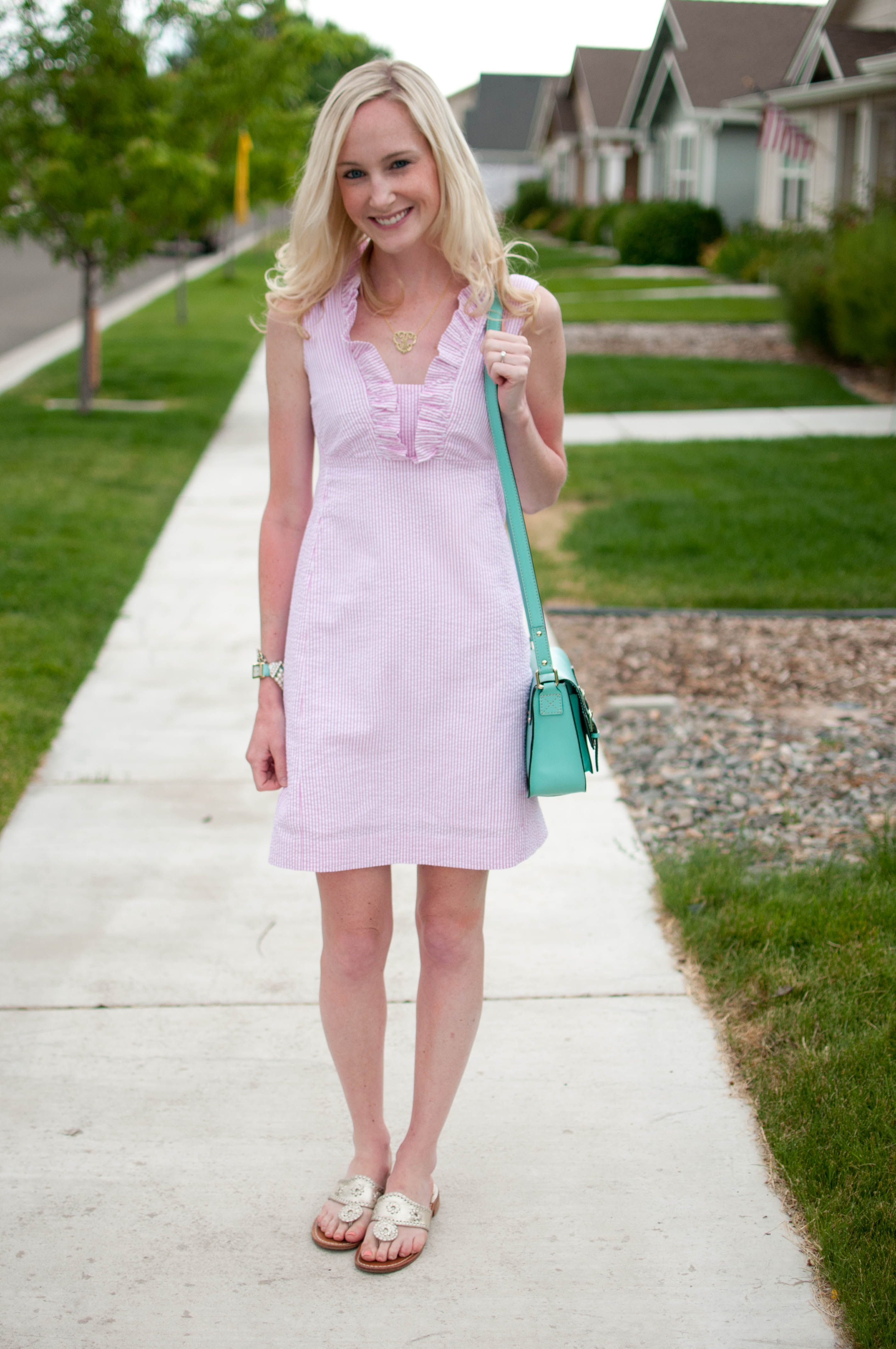 One of my favorite days that we spent on the West Coast this past week was the day of AnneMarie's rehearsal dinner. Back on the East Coast, I'm very used to fairly formal affairs for rehearsals. Don't get me wrong: they're awesome and loads of fun. But Amm's rehearsal was refreshingly different. It was classy, fun and informal. I loved it!
Dress: Lilly Pulitzer, and can we talk about how much I love these pink seersucker scalloped shorts? And the matching wedges?! Swoon. / Necklace: C.Wonder (Best deal you'll find for a monogrammed necklace!), also loving the longer version here and the bracelet version here. Check out the brand's other monogrammed items here! / Bag: Kate Spade, lots of similar bags here, and really loving this similar bag in silver / Sandals: Jack Rogers, same in platinum here (I'm a huge platinum fan), but I also love the cork version (which I feel like I talk about ALL the time… sorry!), and the navy/white version (Swoon, swoon, swoon!) Actually, wait. New obsession: Nantucket gold version. (AH!) / Earrings: J.Crew, more affordable version here (WOWZAH–Super cheap today!) / Watch: Kate Spade, also available in hot pink, peach, white and black (And currently obsessed with the quilted version!) / Bracelet: J.Crew (Sold out), similar here by J.Crew, and here by Kate (LOVE.) / Lipstick: Clinique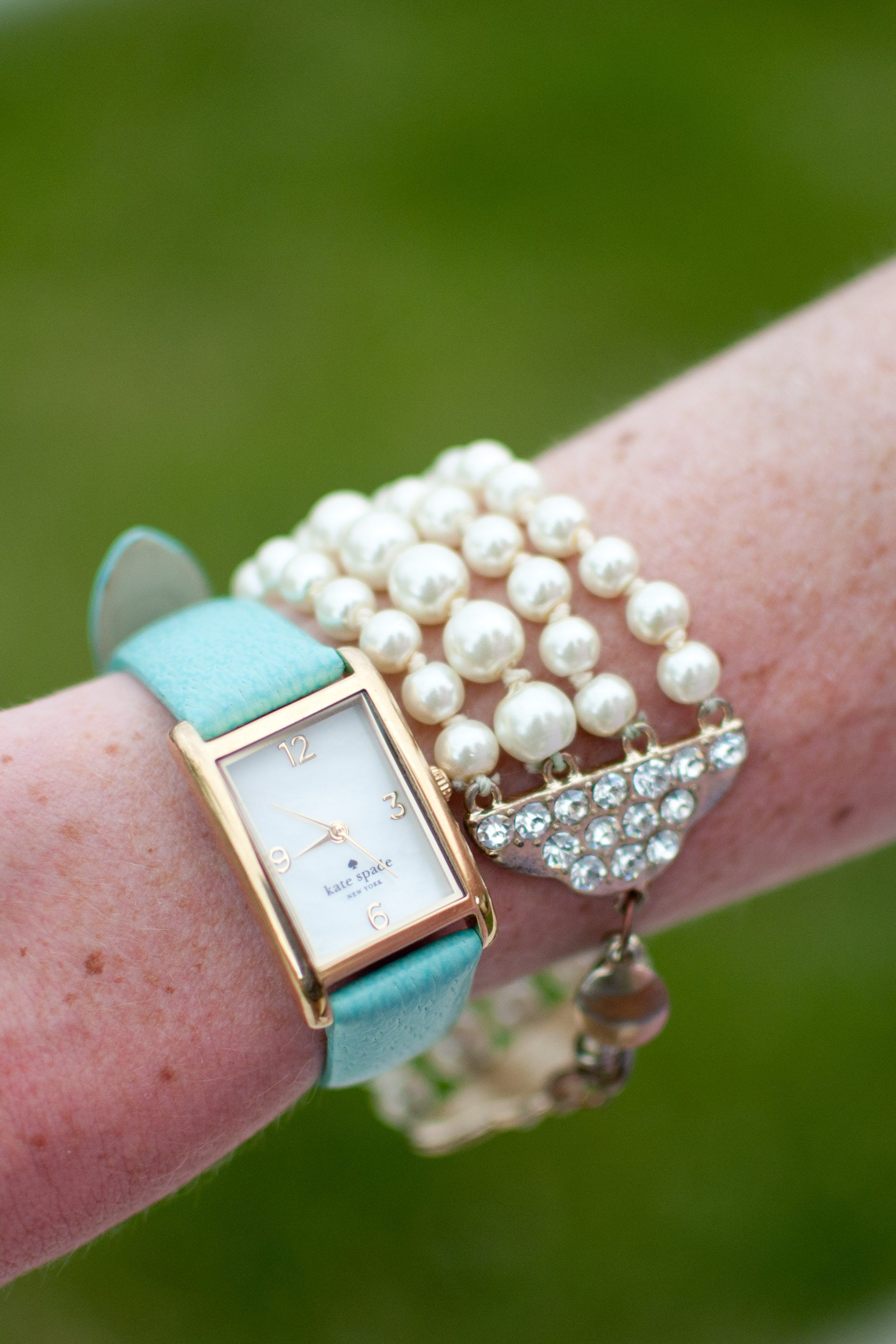 The rehearsal was held in the backyard of AnneMarie's now-husband, Ian. Not sure if the word "backyard" does the space justice, though. It is gorgeous. His family has clearly put a lot of time and effort into making their yard the perfect place for family and friend get-togethers. They have everything from a bonfire area to a full kitchen, equipped with a fridge, stove and microwave out there. Twinkle lights are strewn everywhere, and a babbling brook runs through the back of the property. Heaven.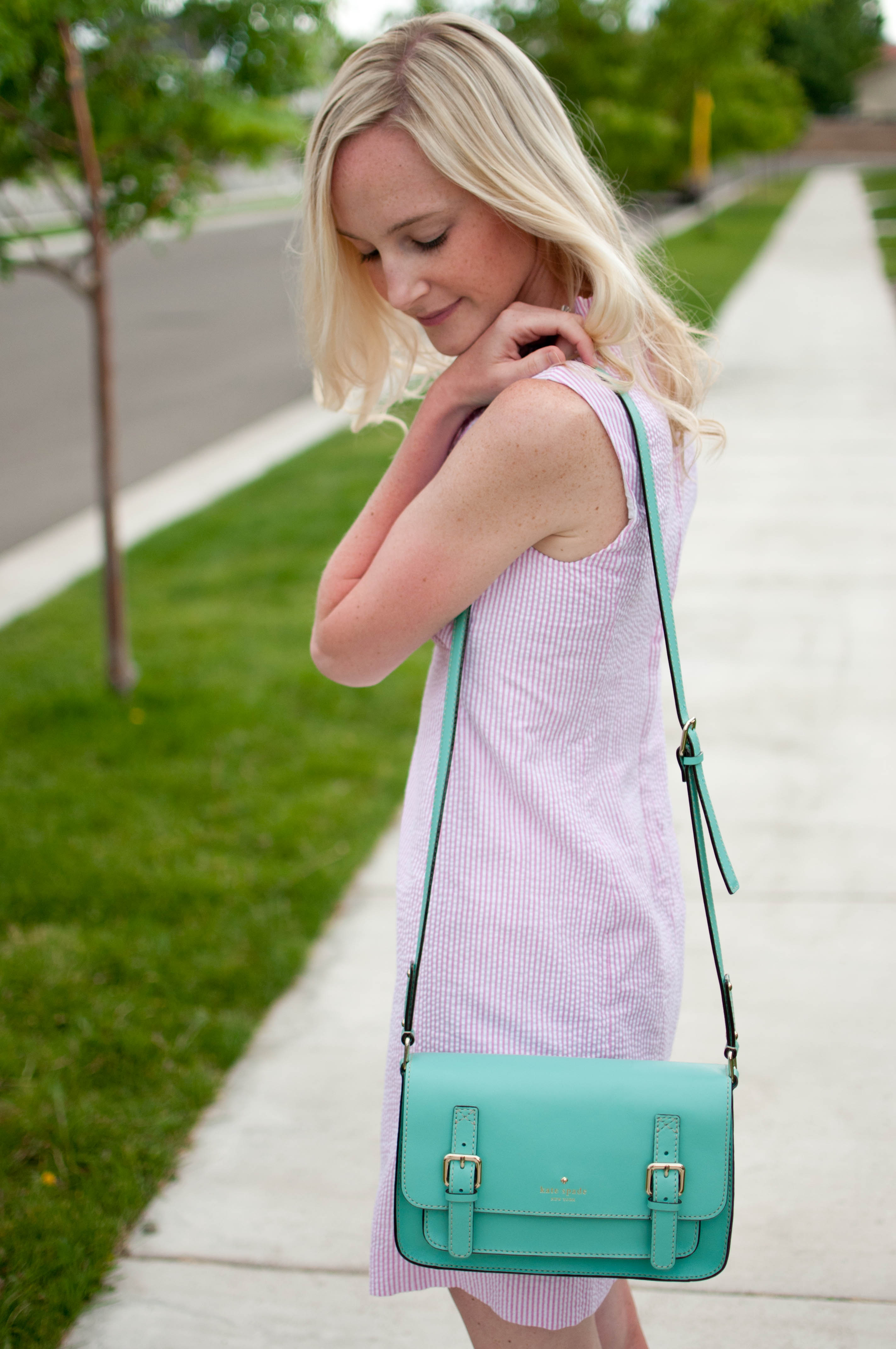 AnneMarie does quite a bit of service down in Mexico during her summers (and she's a Spanish teacher during the school year), so the obvious choice for the menu was tacos. Mmmm. I had a great time wandering around, taco in hand, catching up with some of my favorite people in the world. It isn't every day that this East Coast Gal gets to see her West Coast buds, so this day was super special. And AnneMarie and Ian were beaming. Love those two!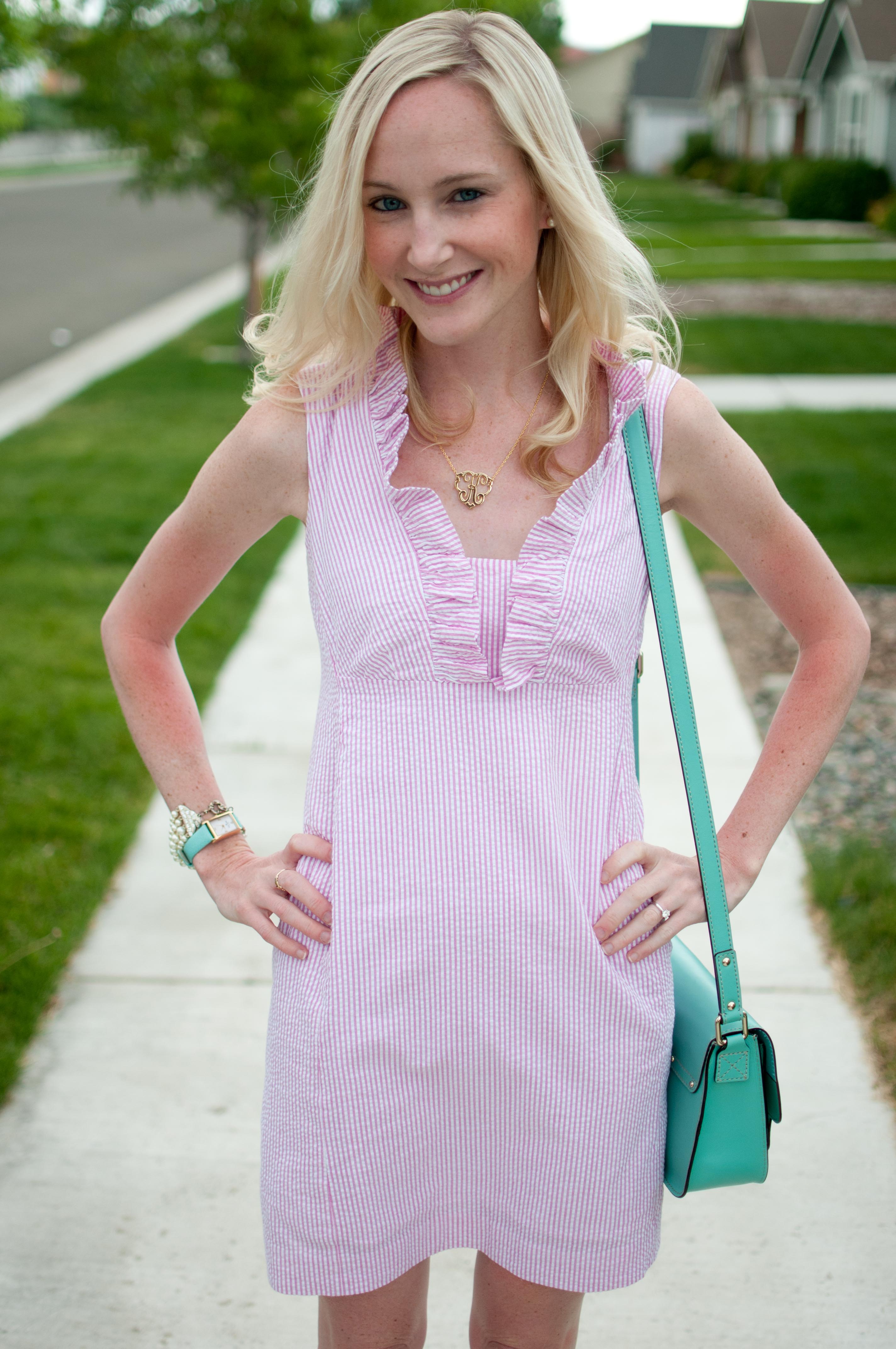 As for my attire, I kept it simple. Like I said before: I only brought a carryon for my weeklong excursion to California, so I was fairly limited in terms of fashion! This easy, breezy, beautiful (ha) pink seersucker dress did the trick. (Especially considering it was 100+ degrees that day! But no humidity. For the love, New York City. Try to emulate Cali's weather for once, okay?)
Dress: Lilly Pulitzer, and can we talk about how much I love these pink seersucker scalloped shorts? And the matching wedges?! Swoon. / Necklace: C.Wonder (Best deal you'll find for a monogrammed necklace!), also loving the longer version here and the bracelet version here. Check out the brand's other monogrammed items here! / Bag: Kate Spade, lots of similar bags here, and really loving this similar bag in silver / Sandals: Jack Rogers, same in platinum here (I'm a huge platinum fan), but I also love the cork version (which I feel like I talk about ALL the time… sorry!), and the navy/white version (Swoon, swoon, swoon!) Actually, wait. New obsession: Nantucket gold version. (AH!) / Earrings: J.Crew, more affordable version here (WOWZAH–Super cheap today!) / Watch: Kate Spade, also available in hot pink, peach, white and black (And currently obsessed with the quilted version!) / Bracelet: J.Crew (Sold out), similar here by J.Crew, and here by Kate (LOVE.) / Lipstick: Clinique