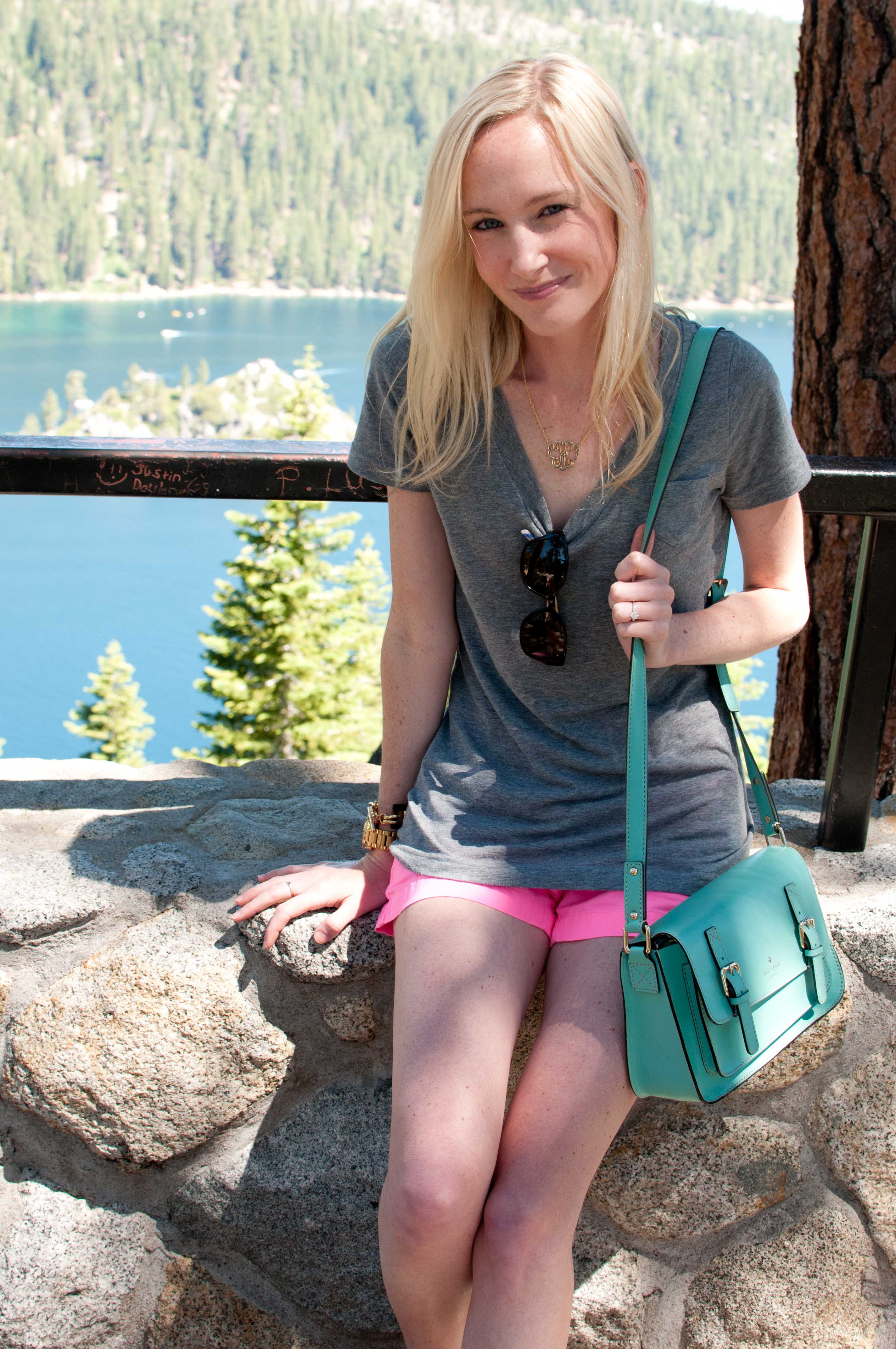 Lake Tahoe is one of my favorite vacation locations. Two of my best friends–AnneMarie and Betsy–grew up on the lake in Incline Village with their mom, so I've made a few trips out there in my time. ;) This trip to the giant lake, however, was my favorite.
Shorts: J.Crew* / Necklace: C.Wonder (Best deal you'll find for a monogrammed necklace!), also loving the longer version here and the bracelet version here. Check out the brand's other monogrammed items here! / T-Shirt: Target ($6… And the softest t-shirt I own!) / Bag: Kate Spade, lots of similar bags here, and really loving this similar bag in silver / Sunnies: Kate Spade / Watch: Michael Kors / Bracelet: C.Wonder (On sale! I love this bracelet. Get it now before it's gone! Also, there's a big C.Wonder promotion going on right now… Check it out on the website! Additionally, the same bracelet is available in the lighter tortoise version as well as the gold version. And don't forget the tortoise necklace version and the gold necklace version!) / Jacket: Zara, similar here (Swooning over Barbour jackets these days) / Sandals: Jack Rogers, same in platinum here (I'm a huge platinum fan), but I also love the cork version (which I feel like I talk about ALL the time… sorry!), and the navy/white version (Swoon, swoon, swoon!) Actually, wait. New obsession: Nantucket gold version. (AH!) / Earrings: J.Crew, more affordable version here (WOWZAH–Super cheap today!) / Lipstick: Clinique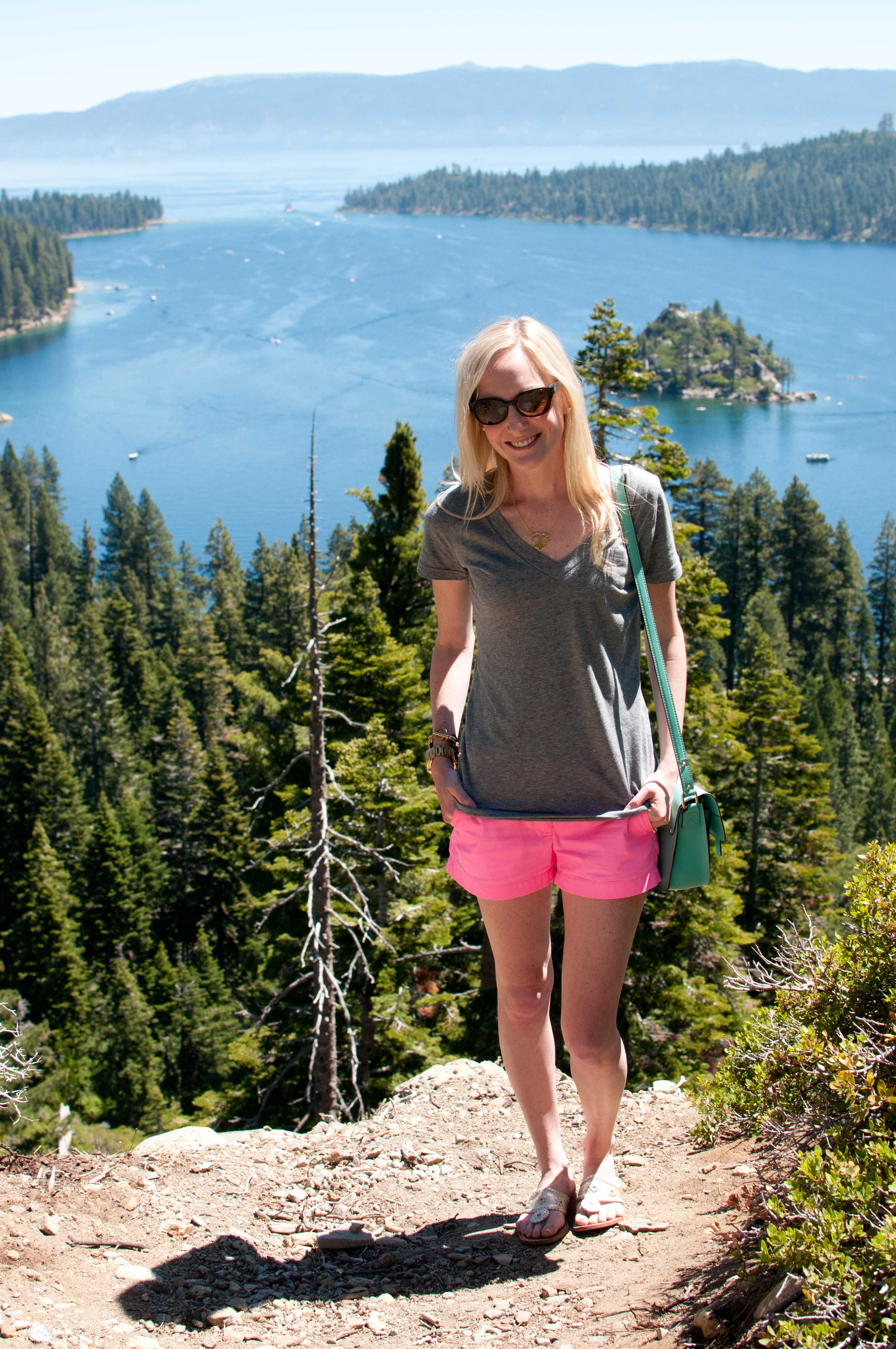 The visit was kind of unexpected, as Mitch and I hadn't originally planned on stopping at the lake. We had planned on staying in San Francisco for the night… but when we finally got to Cali, we realized our trip would be incomplete without a Tahoe stop.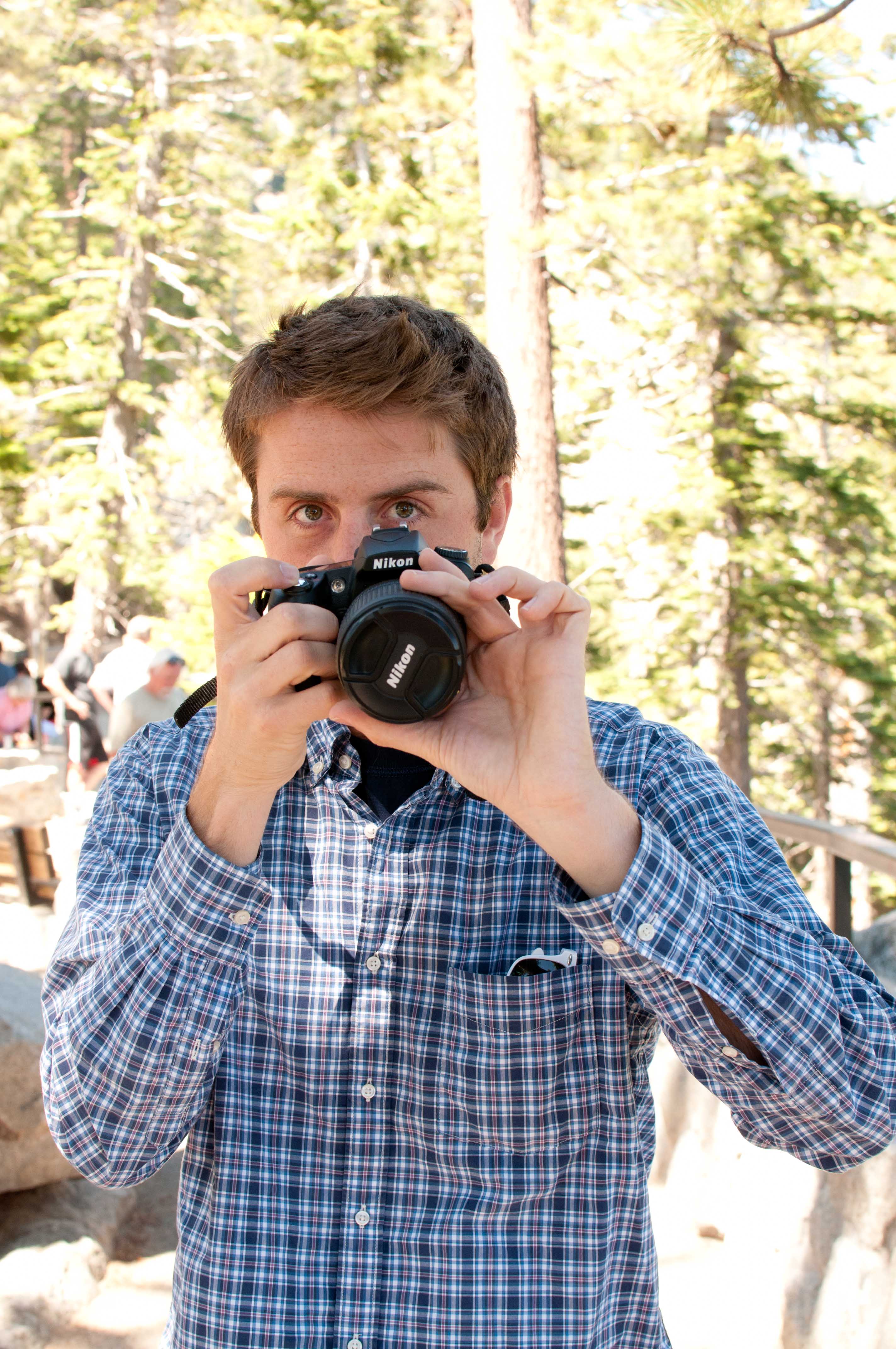 When all was said and done–rental car picked up, city sufficiently explored, food in bellies–we were exhausted. We'd been up for 24 hours, after all. Oh–I forgot to mention this! We left New York City at 2:30 in the morning. True story. Months ago, buying the flights seemed like a great idea. They were only $350! That's insane for a flight from NYC to SFO. But… Not so cool when you have to execute the plan, ha. ;) It was kind of hilarious, though. All on three hours of sleep, we walked our luggage a mile to the subway, trained it to the Penn Station area, cabbed it to Laguardia Airport, Airtranned it to our terminal, and got on the flight. Phew. ;) I'm pretty surprised we pulled it all off.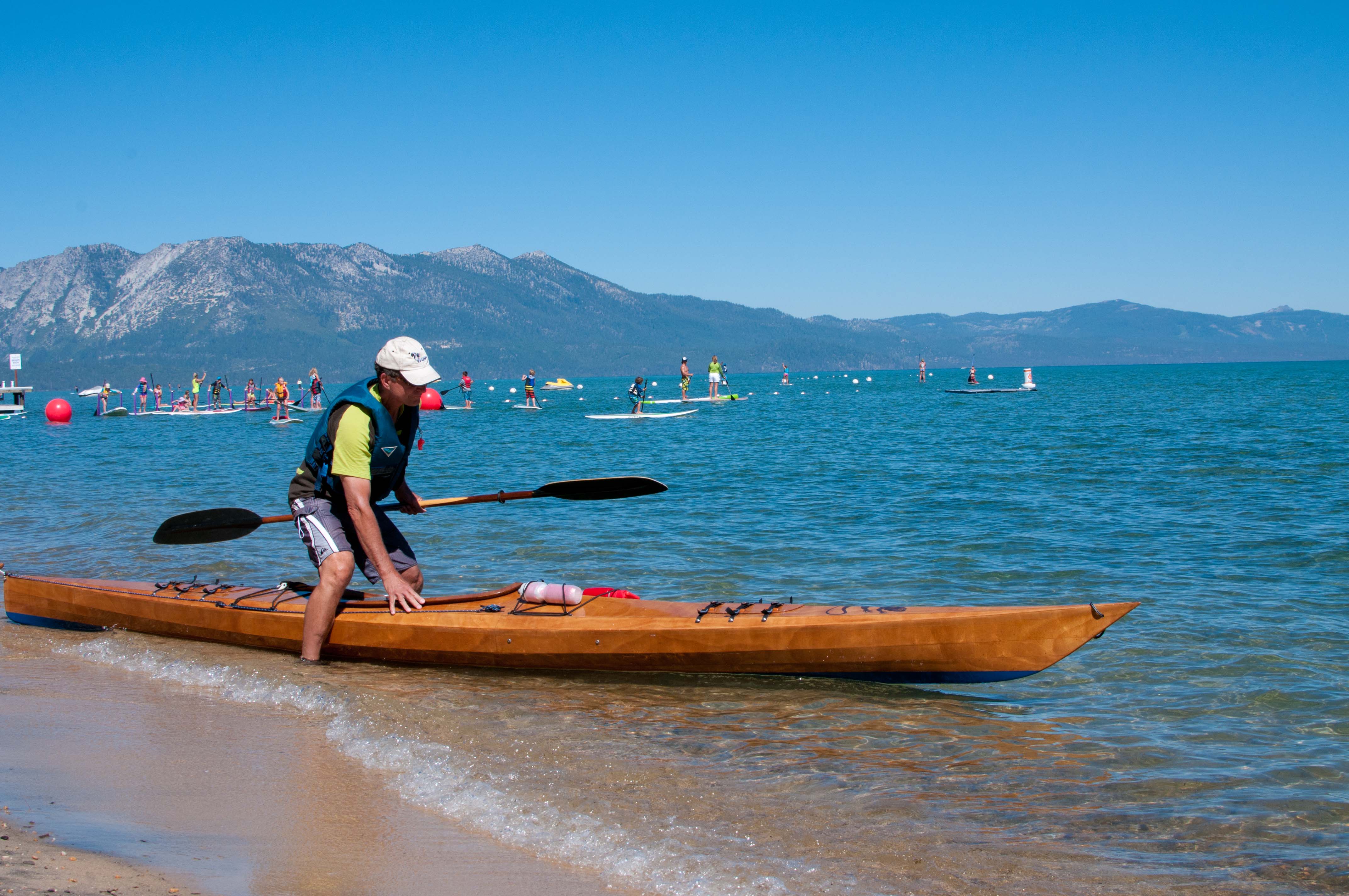 Anyway, we were determined to make it to Tahoe. In hindsight, we probably should have stayed in San Fran for the night, considering how long we'd been up for. It was pretty unsafe for us to make the 3.5-hour drive to Tahoe, but we really wanted to get the driving out of the way so we could enjoy the lake the following day before attending Amm's rehearsal dinner. So–of course–we drove it.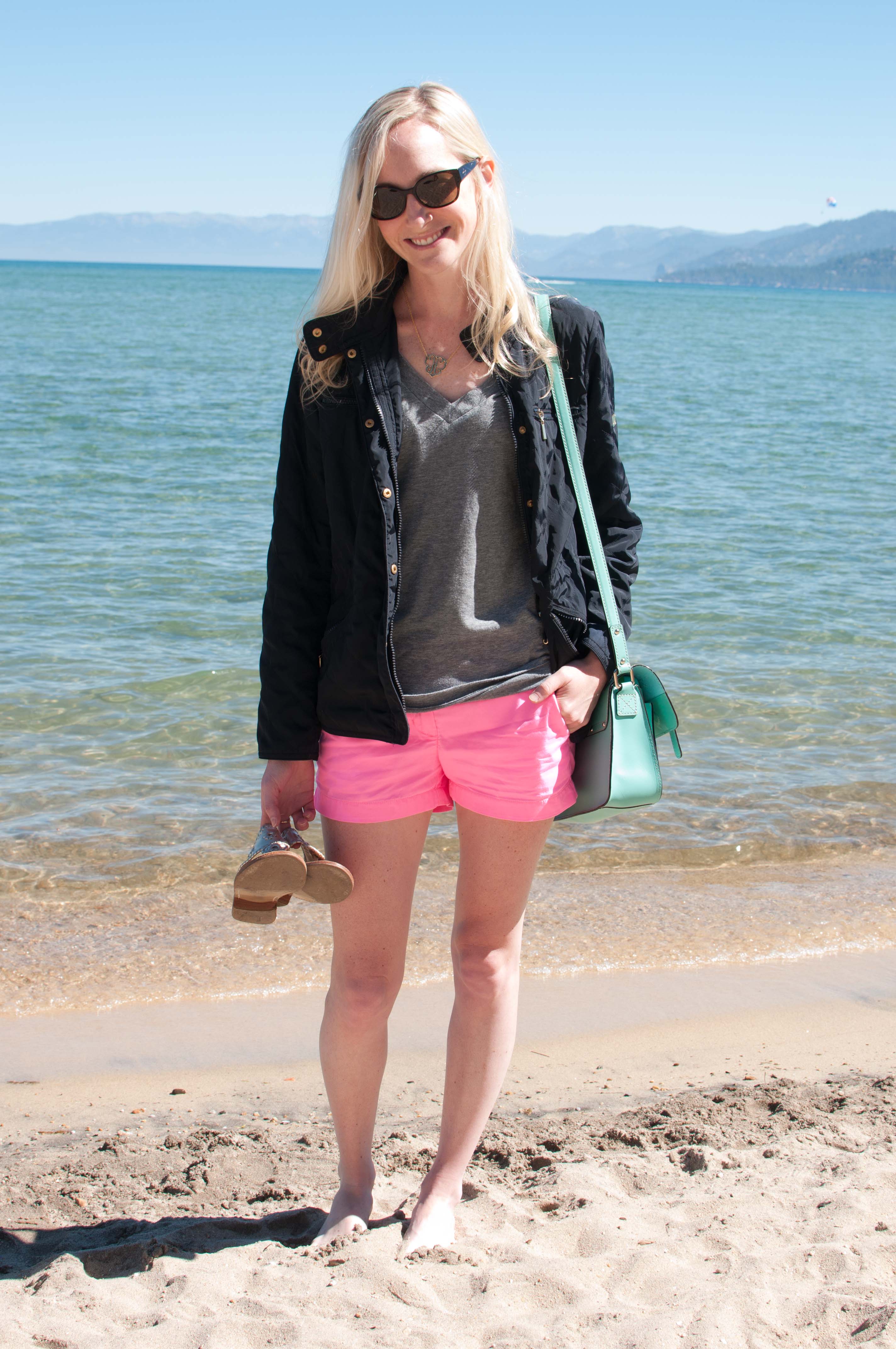 By the way: I'm not an outdoorsy girl. I used to try to cover this up, but now I just own it. I'm a city girl. It's fine. I hate spiders. I enjoy showering every morning. I burn easily. It's just not for me. ;) So my "hiking clothes" consisted of hot pink shorts, my favorite gray t-shirt, Jacks, and my new favorite Kate bag. Whatev.
Despite how out of place I must have looked, we had a great day. We drove around the lake for hours, making frequent stops to take in the beauty of Lake Tahoe. We found a waterfall overlooking Emerald Bay (one of the most beautiful sites I've ever seen), and had lunch and drinks on the lake at a gorgeous restaurant. Everything was beautiful, and everything was perfect.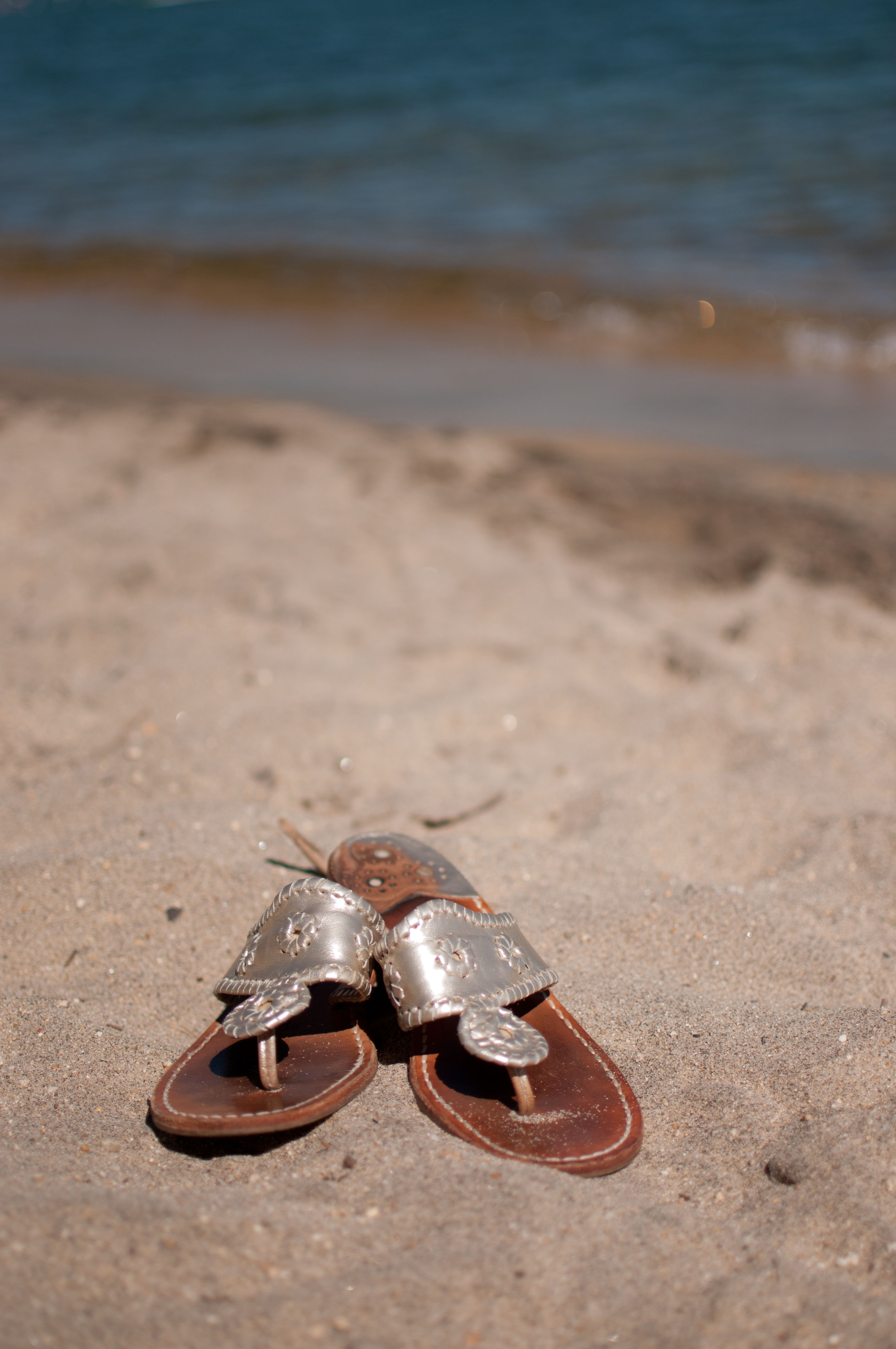 Did I get a sunburn? Yes. Was it worth it? Yes. Now I just have to work on evening out my splotchiness for the wedding. ;)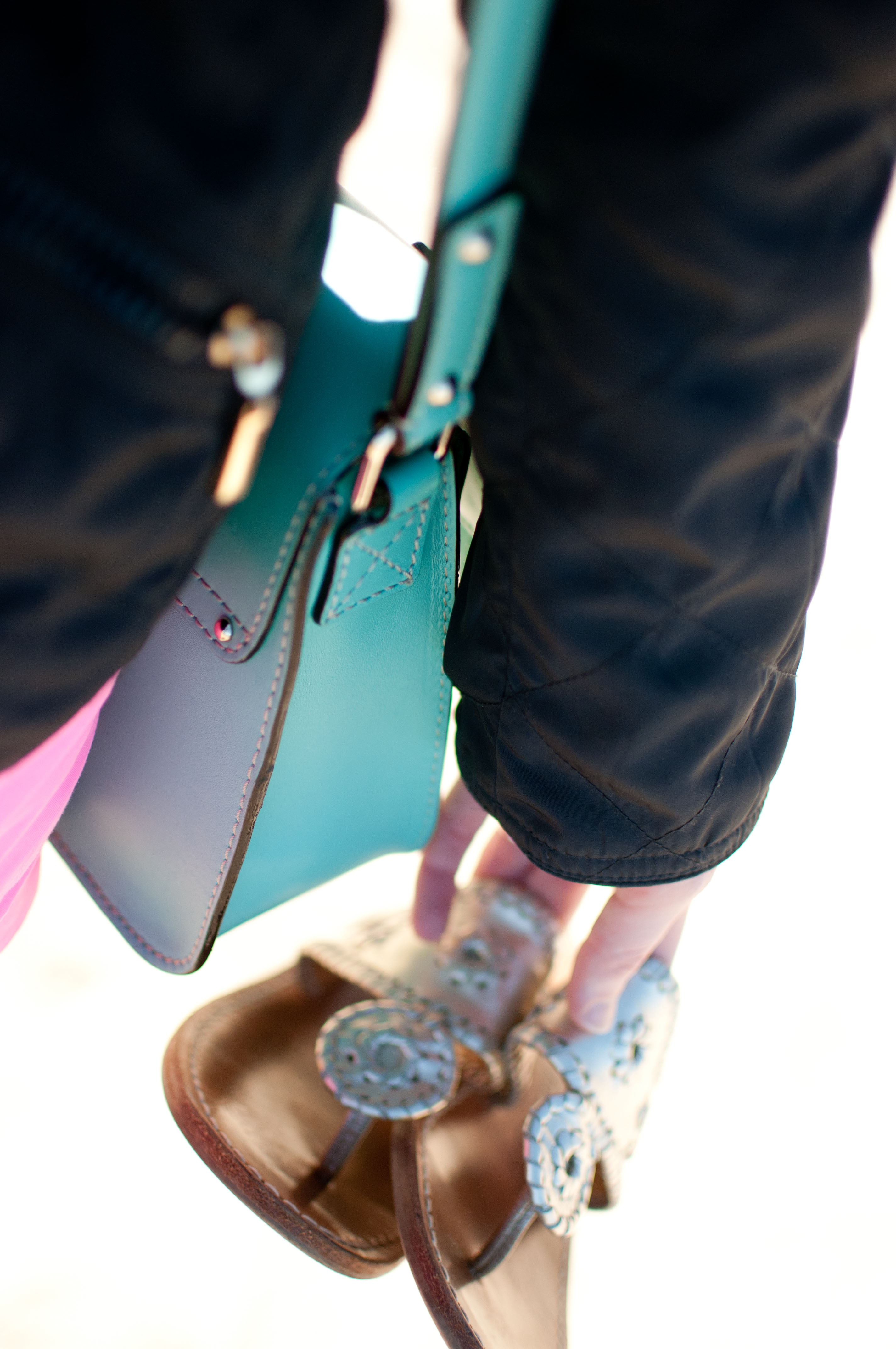 Shorts: J.Crew* / Necklace: C.Wonder (Best deal you'll find for a monogrammed necklace!), also loving the longer version here and the bracelet version here. Check out the brand's other monogrammed items here! / T-Shirt: Target ($6… And the softest t-shirt I own!) / Bag: Kate Spade, lots of similar bags here, and really loving this similar bag in silver / Sunnies: Kate Spade / Watch: Michael Kors / Bracelet: C.Wonder (On sale! I love this bracelet. Get it now before it's gone! Also, there's a big C.Wonder promotion going on right now… Check it out on the website! Additionally, the same bracelet is available in the lighter tortoise version as well as the gold version. And don't forget the tortoise necklace version and the gold necklace version!) / Jacket: Zara, similar here (Swooning over Barbour jackets these days) / Sandals: Jack Rogers, same in platinum here (I'm a huge platinum fan), but I also love the cork version (which I feel like I talk about ALL the time… sorry!), and the navy/white version (Swoon, swoon, swoon!) Actually, wait. New obsession: Nantucket gold version. (AH!) / Earrings: J.Crew, more affordable version here (WOWZAH–Super cheap today!) / Lipstick: Clinique
*40 percent off with code "STYLE40"