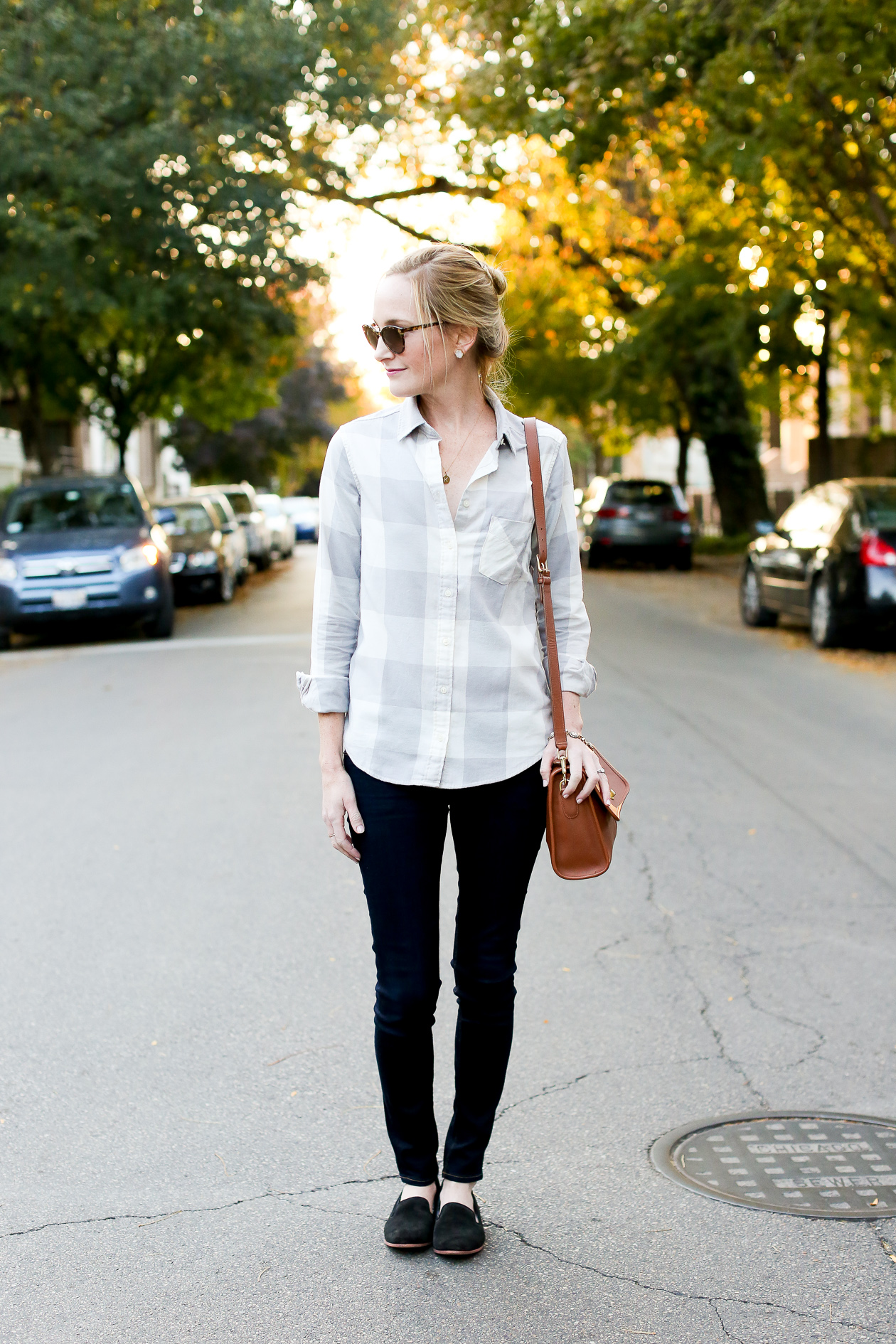 Uniqlo Plaid Button-Down c/o (Also picked up this one, and I can't get enough!) / Sebago Flats c/o / Hudson Jeans c/o Zappos / Coach Bag (Temporarily discontinued but apparently coming back soon!) / Helen Ficalora Necklace c/o / J.Crew Bracelet (Old, similar here) / Kendra Scott Earrings c/o / Kate Spade Sunglasses (Old, similar here and here)

Private Tory Burch Sale ends Monday, Oct. 26 at 11:59 ET
Oops. Repeat background, guys. But I love this block–and every time Mitch and I are passing it on our way out, I can't help but stop. I mean, the lighting. It almost makes up for the ugly cars alongside the curbs. ;) Any other bloggers out there who've developed an extreme hatred for on-street parking, too?
Clearly I'm in need of a reality check. City blocks will always be lined with cars, Kelly. Move to Maine if you don't want that.
(Something I can't say I haven't considered. Hi, Kit!)
Anywho. A few (completely unrelated) things:
Uniqlo has arrived in Chicago! The new store is located at 830 North Michigan Avenue, and it's fabulous. You know how a really good flannel shirt is hard to find? Well, Uniqlo has a ton of them right now, and they're super affordable. My favorites are this one and this one. Preppy, flannel-loving girls, get your butts to Uniqlo! :)
Sebago has been killing it lately. I've been looking for a good black smoking flat for a while, and this is it. And can we talk about these navy booties? And these ribbon-clad boots?!
Kendra Scott is everything. I find myself reaching for her jewelry every day, and I'm constantly falling in love with new pieces. My eyes are on this necklace in navy!
I love my neighbors. I was pretty sad to leave my old street in Lincoln Park, as I'd grown close to so many people on the block. But I'm so happy that I'm starting to get to know my new neighbors! (And grateful that Maya is still only a few short blocks away!) One of Chicago's best qualities, in my opinion, is how friendly the city's residents are. And I consider myself very lucky to live here. I'm also a quick five-minute walk to my old block. Noodle and I walk there often!
I'm not into being blonde anymore. Not sure if you've noticed (#probably, haha), but I've stopped highlighting my hair. Over the last year, I've grown tired of visiting the salon, and I find myself wanting to return to my roots. (See what I did there?) Not exactly sure how this is going to go, but I'm hoping to go much darker in the coming months. Cross your fingers for me! Let us not forget the time I tried to go brown and ended up with olive green locks. ;)
I'm off to the lake for the annual Larkin Fall Fest. And I'm so excited about it. I'm looking forward to cooking, carving pumpkins, relaxing by the fire, and spending time with some of my favorite people in the world. (Photos to follow!)
Happy weekend! What are your plans?!