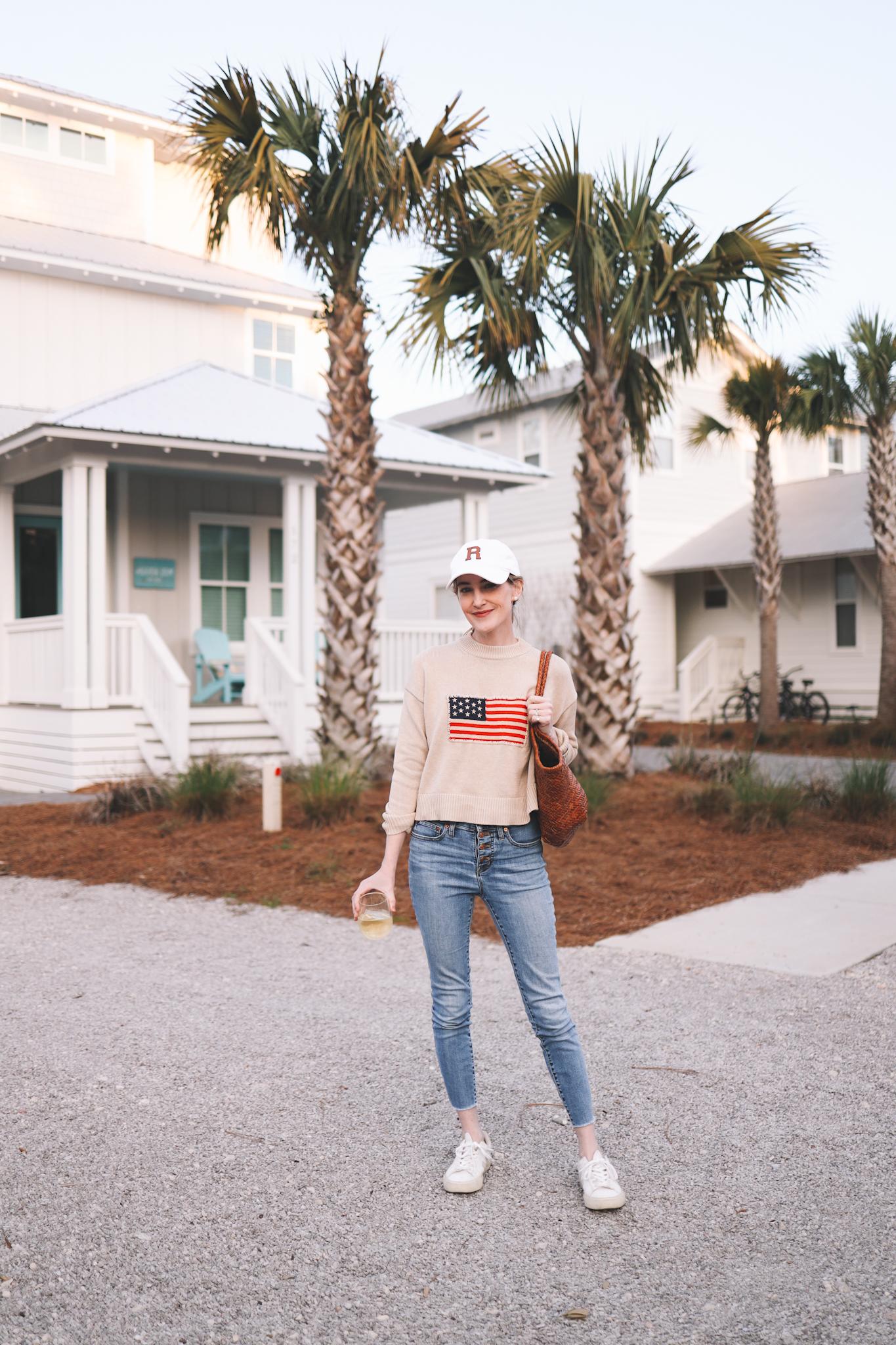 Americana Sweater (There are both cropped and longer versions, and lots of colors!) / Dragon Diffusion Large Nantucket Tote (Tuckernuck has a bunch, too.) / Veja Sneakers (You can also find them here and here.) / Newer J.Crew Toothpick Skinny Jeans (Check out this pair from Madewell, too! Great light blue wash.)
Ah, the Tuckernuck Americana Flag Sweater. (Cropped version here.) I'm a huge fan, and if you follow me on social media, you know that I wear mine a lot.

First of all, yes: It's very similar to the Ralph Lauren version. But it's better. And here's why:
It's $100 less. The prices on both are kind of insane, but the Tuckernuck version, in my opinion, is worth it, whereas the RL one is not.
It's softer, comfier and more flattering. It's true! It's a really lovely soft cotton. I bring it on every beach/lake trip because it looks polished yet is very cozy and comforting after a long day in the sun. :) The Ralph Lauren one was restricting. The cropped version looks adorable with high-waisted jeans, and the longer one is awesome with skinny jeans or even leggings. Guys, it's the best.
There's more detail. I love the stitching around the flag! The RL version doesn't have that.
I reach for it more. After I got the Tuckernuck flag sweater, I literally never wore my RL one again. So off it went! And isn't that the most telling part of a review?
Sizing: The cropped version is more fitted than the longer version. I took a size small (which is what I normally order in sweaters) in the cropped, but a size XS in the longer one, as it was very generous. Keep this in mind when ordering!
Love it. And my mom loves it. ;) Hope you do too!
xoxo
Shop the post:
Americana Sweater (There are both cropped and longer versions, and lots of colors!) / Dragon Diffusion Large Nantucket Tote (Tuckernuck has a bunch, too.) / Veja Sneakers (You can also find them here and here.) / Newer J.Crew Toothpick Skinny Jeans (Check out this pair from Madewell, too! Great light blue wash.)