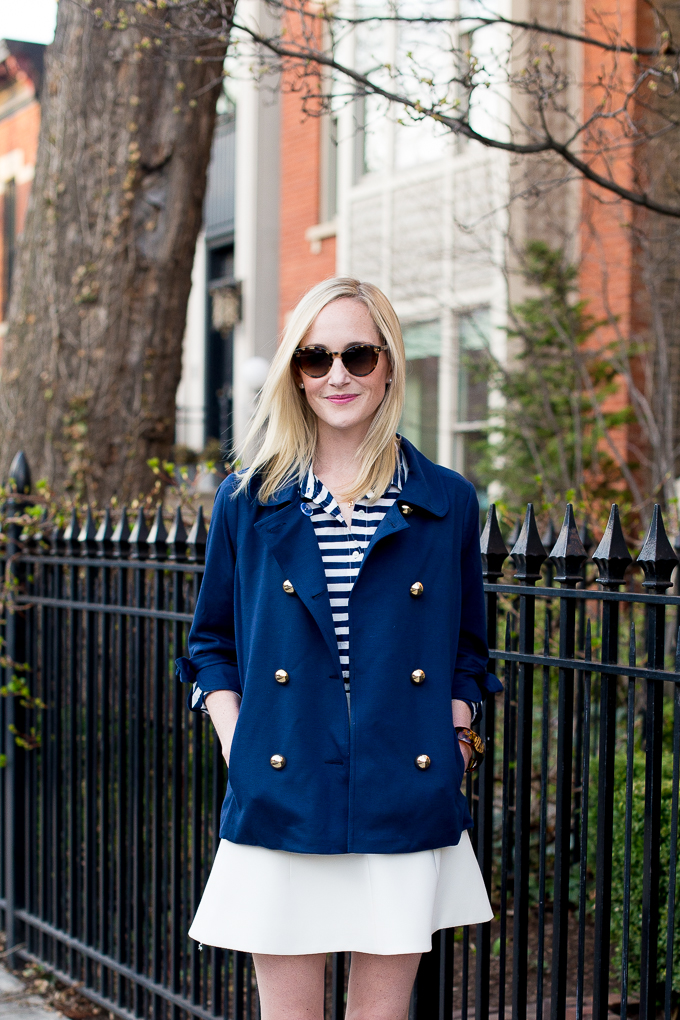 Julie Brown Designs Coat (Other colors here), Sperry Striped Flats (Sold out, but see Nordstrom Rack's huge Sperry collection here!), and Leighton Duck Umbrella (c/o Nordstrom Rack) / J.Crew Striped Button-Down (Old) and Fluted Skirt (Factory version here) / Moon and Lola Bangle (c/o) / Kate Spade Bag (Old, see other Kate Spade products at Nordstrom Rack!) and Sunglasses (Old, other options here!) / Emma McKinstry "Save the Date" Necklace (c/o)
I refuse to pay full price for clothing, shoes, jewelry or accessories. I mean, I've certainly done it—but only when I've been in a bind, or when I've known I have very little chance of finding the product on sale. Why throw away my hard-earned money, you know?
Still, the waiting is the hardest part. (Well said, Tom Petty.) It also takes a lot of time. Scouring the internet for deals; signing up for newsletters with the hope of scoring coupon codes; reading the newsletters. And time is money!
But search no more.
Recently, I discovered the magic of Nordstrom Rack. The retailer carries a ton of the brands I adore—like Sperry, Barbour, Hunter, Jack Rogers and Kate Spade, just to name a few—yet at a fraction of the original price. So much less work. You can shop in-store (find your nearest location here) and online, too!
So what did I pick up during my shopping trip? A few springtime accessories for this wacky weather we've been experiencing here in Chicago. :)
Julie Brown Designs "Aiden" Coat: While the afternoons have been warm enough to go sans coat, the mornings and evenings have been on the chilly side. This navy coat from Julie Brown—one of my favorite New York City designers; she's such a sweetheart!—has been a go-to. It's lightweight and warm… and how perfect are the bow-adorned arms?!
Sperry Striped Smoking Slippers: Holy preppiness. NAVY AND WHITE STRIPED FLATS ON SALE! Adore. They run true-to-size, in case you're wondering. (I find that I almost always wear a size 7 in Sperry's topsiders, but in these, I went with my usual 7.5 and they fit perfectly!)
Update: Sadly, this pair is sold out, but see Nordstrom Rack's huge Sperry collection here!
Leighton Wooden Duck Handle Umbrella: We all know the saying. But gracious. It's been a rainy April! This little guy, though, has been getting me through. He's so cute that I don't even mind carrying him around (just in case)! I've also always wanted a "Duck Umbrella." ;)
Anyway, shop my favorites from Nordstrom Rack below! And check out the Kate Spade Saturday sale currently going on at Nordstrom Rack! (#deals)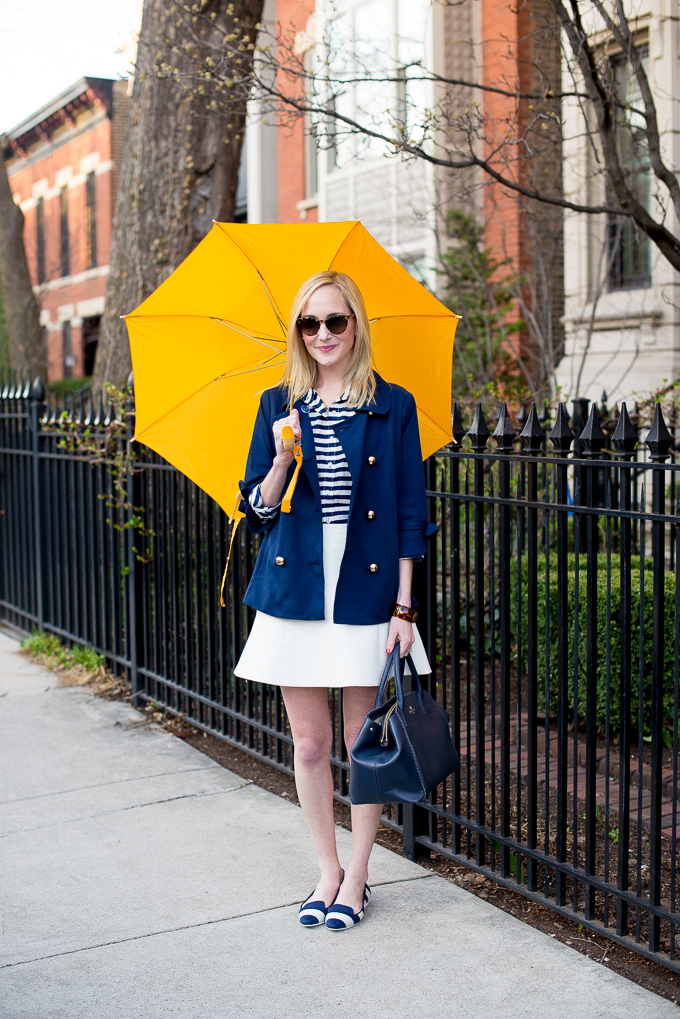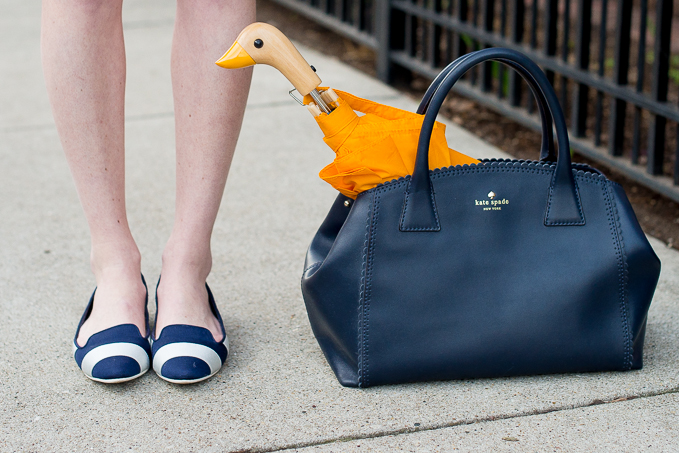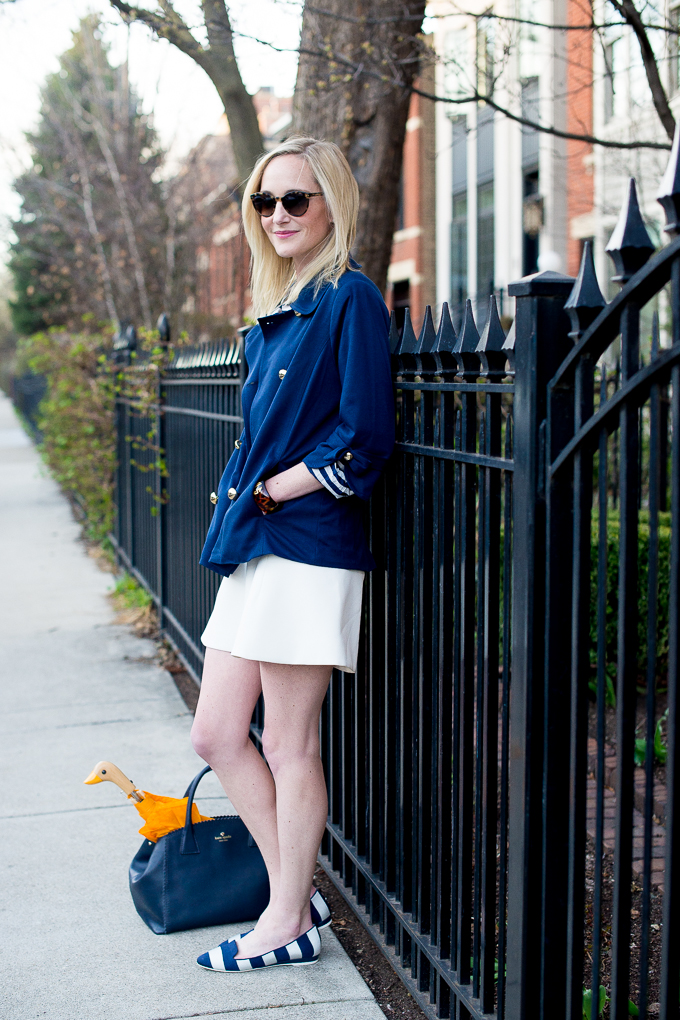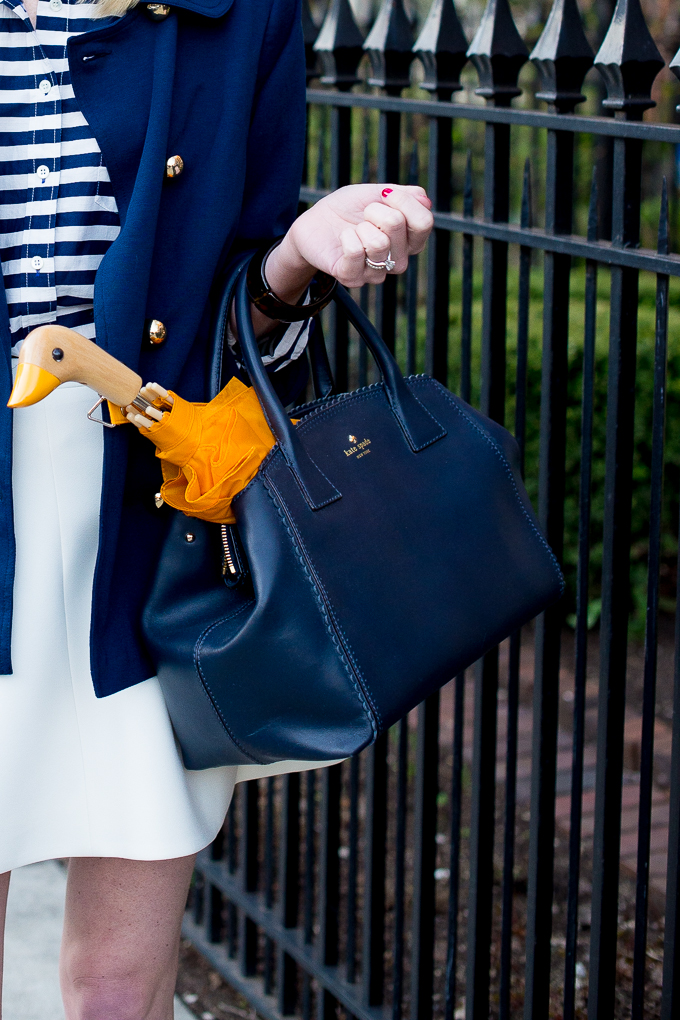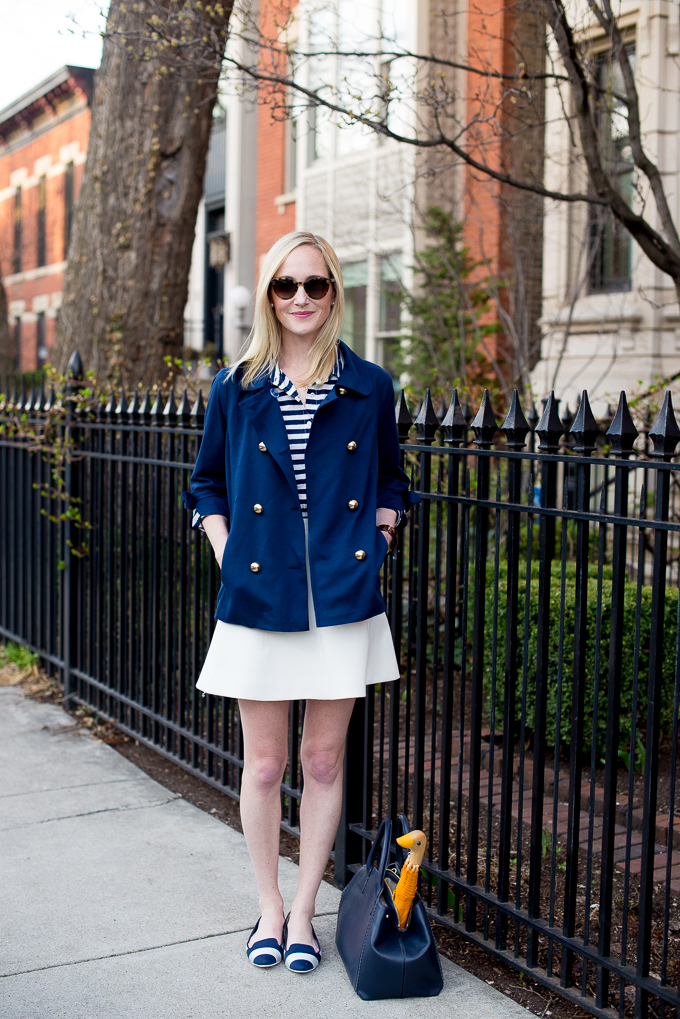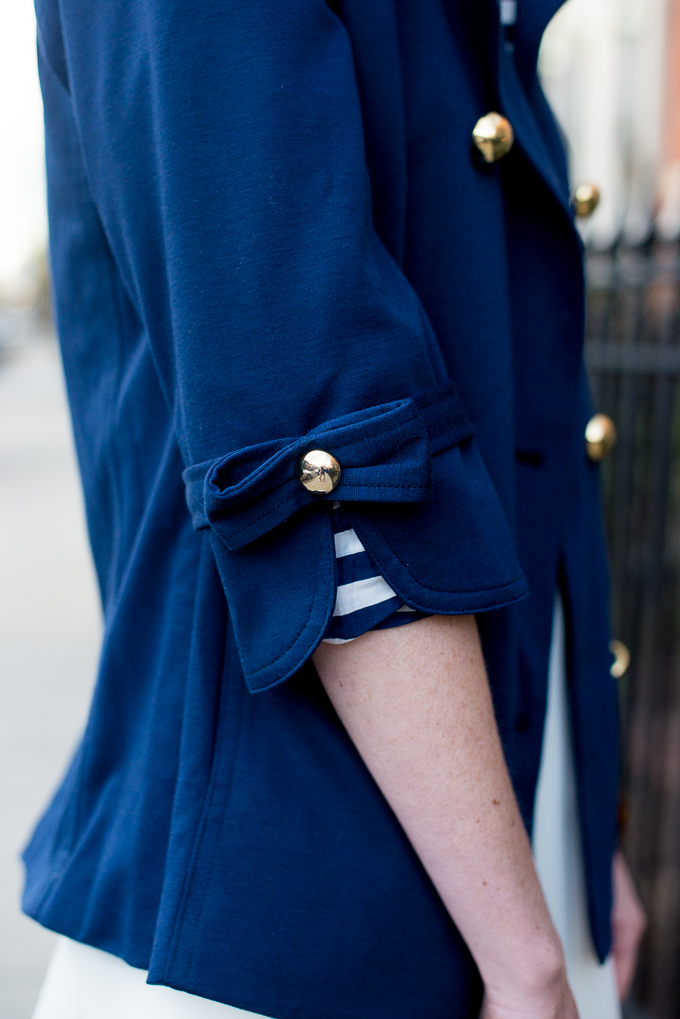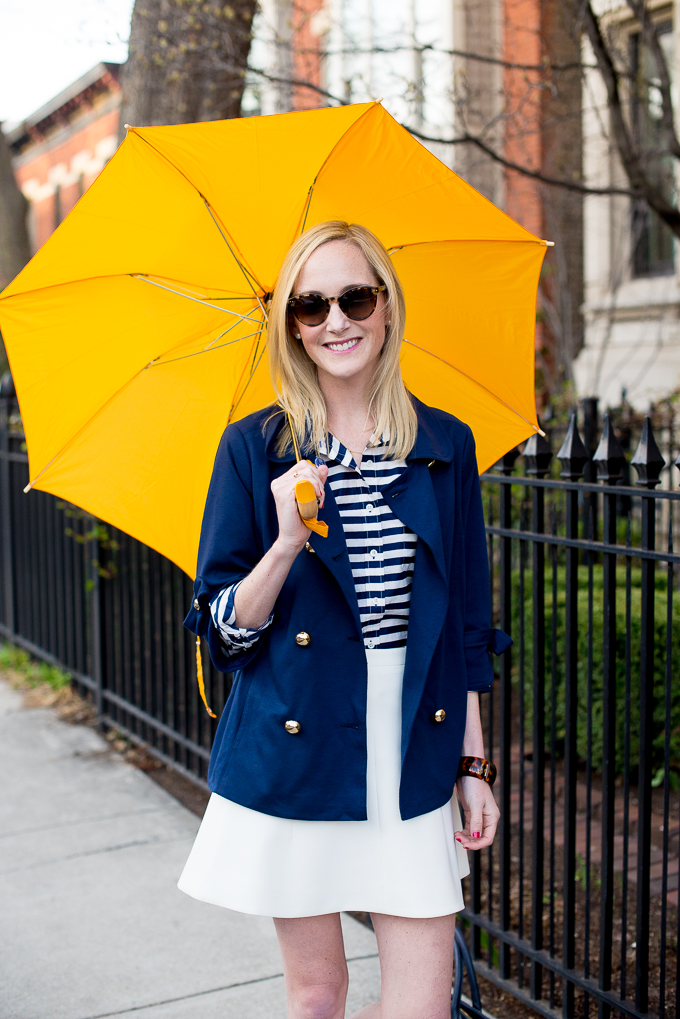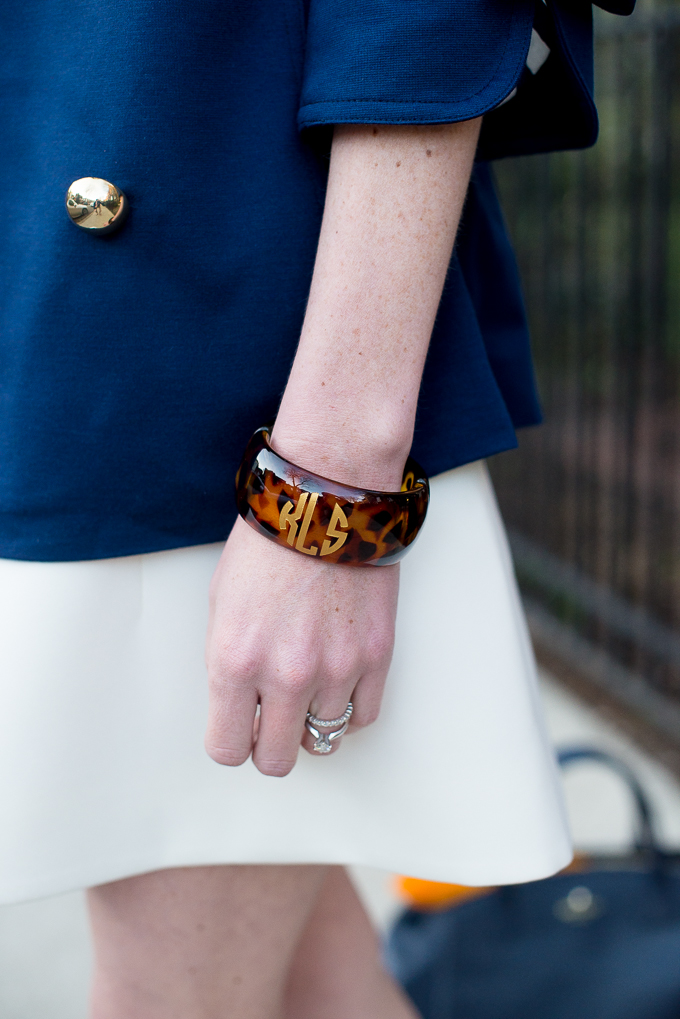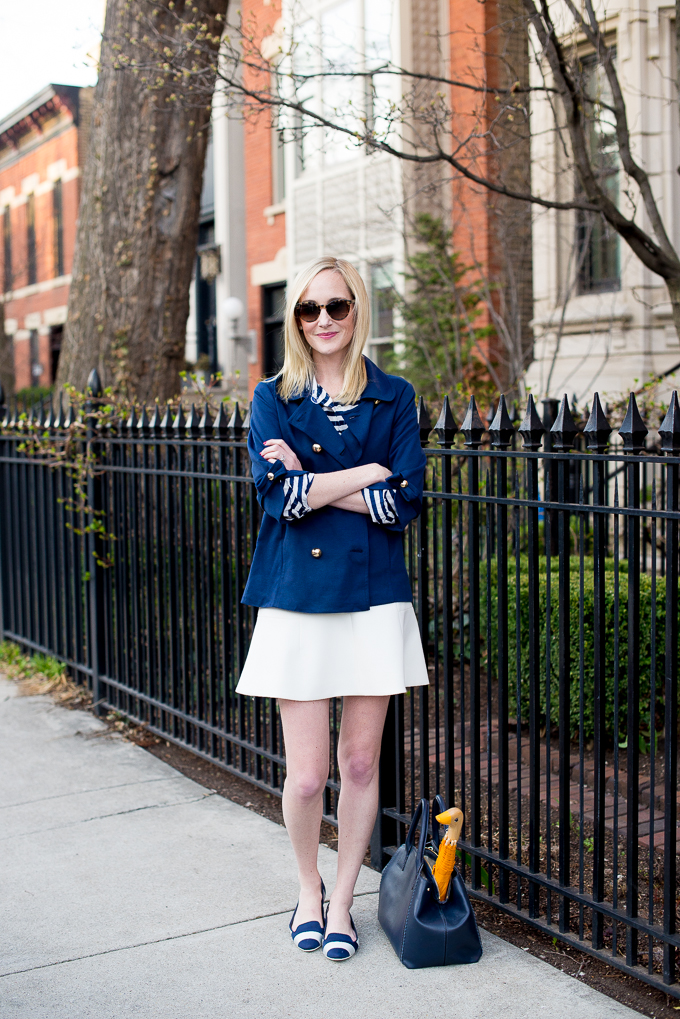 Disclosure: This post was sponsored by Nordstrom Rack and ShopStyle. Thank you for supporting the brands and collaborations that keep Kelly in the City up and running!