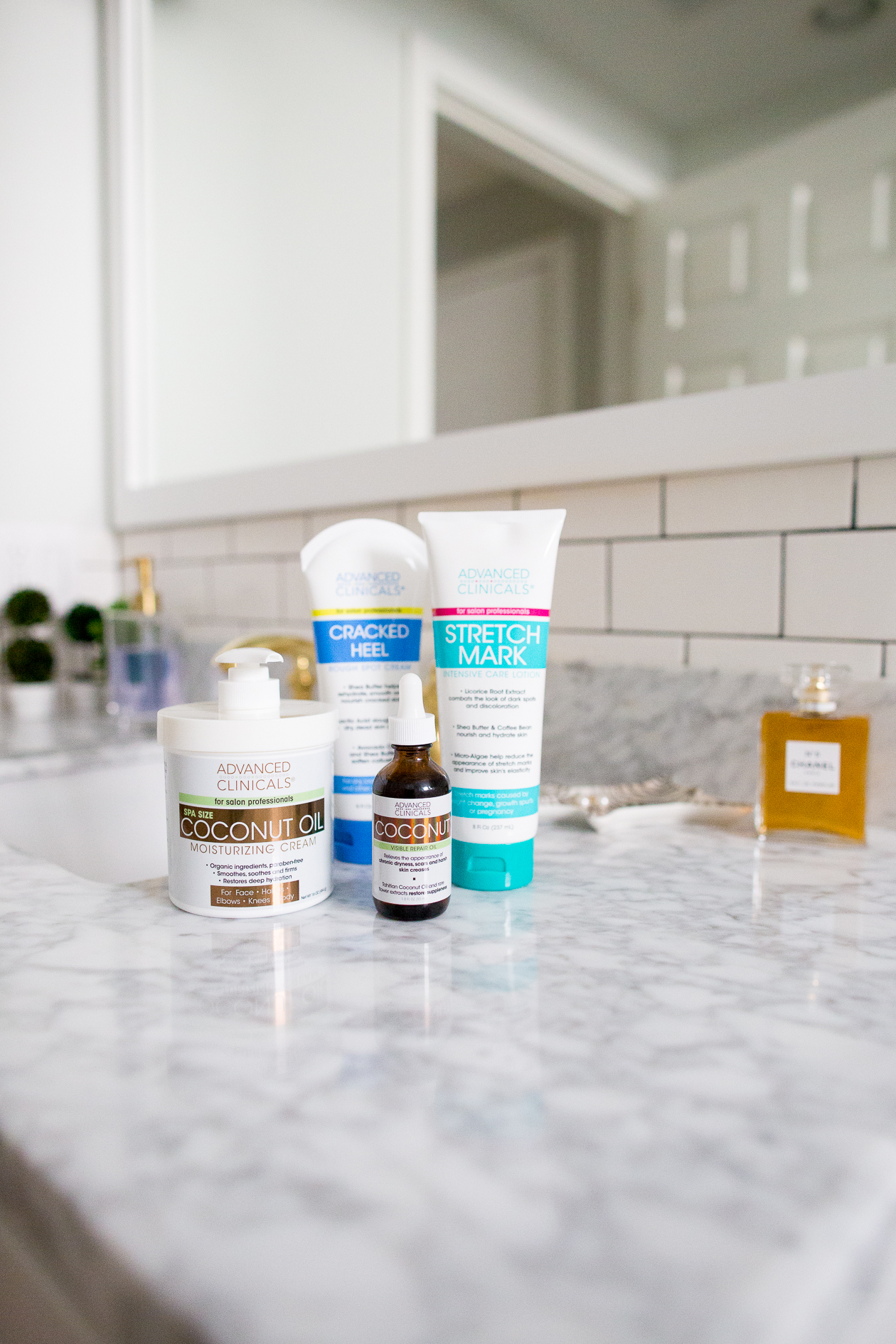 Clearly the only thing on my mind these days is my due date–which, I realize, is kind of meaningless. I mean, according to Parents.com, only five percent of women actually deliver on their EDDs. Still, July 28th is only a few days away, and that's pretty crazy. So before I "go," I thought I'd get the last of my pregnancy posts up for you!
Today's? Some of my favorite skincare products that have helped me through. (Along with some sneak peek photos of our completed master bathroom renovation! Full post coming soon.)
Over the last couple of months, I've been using four products from Advanced Clinicals: Coconut Moisturizing Cream, Coconut Visible Repair Oil, Cracked Heel Rough Spot Cream, and Stretch Mark Intensive Care Lotion. And the verdict's out.
They've made a BIG difference in my skin. Which is pretty amazing, considering what a toll pregnancy can take on one's body in the third trimester!
Let's dive a little deeper: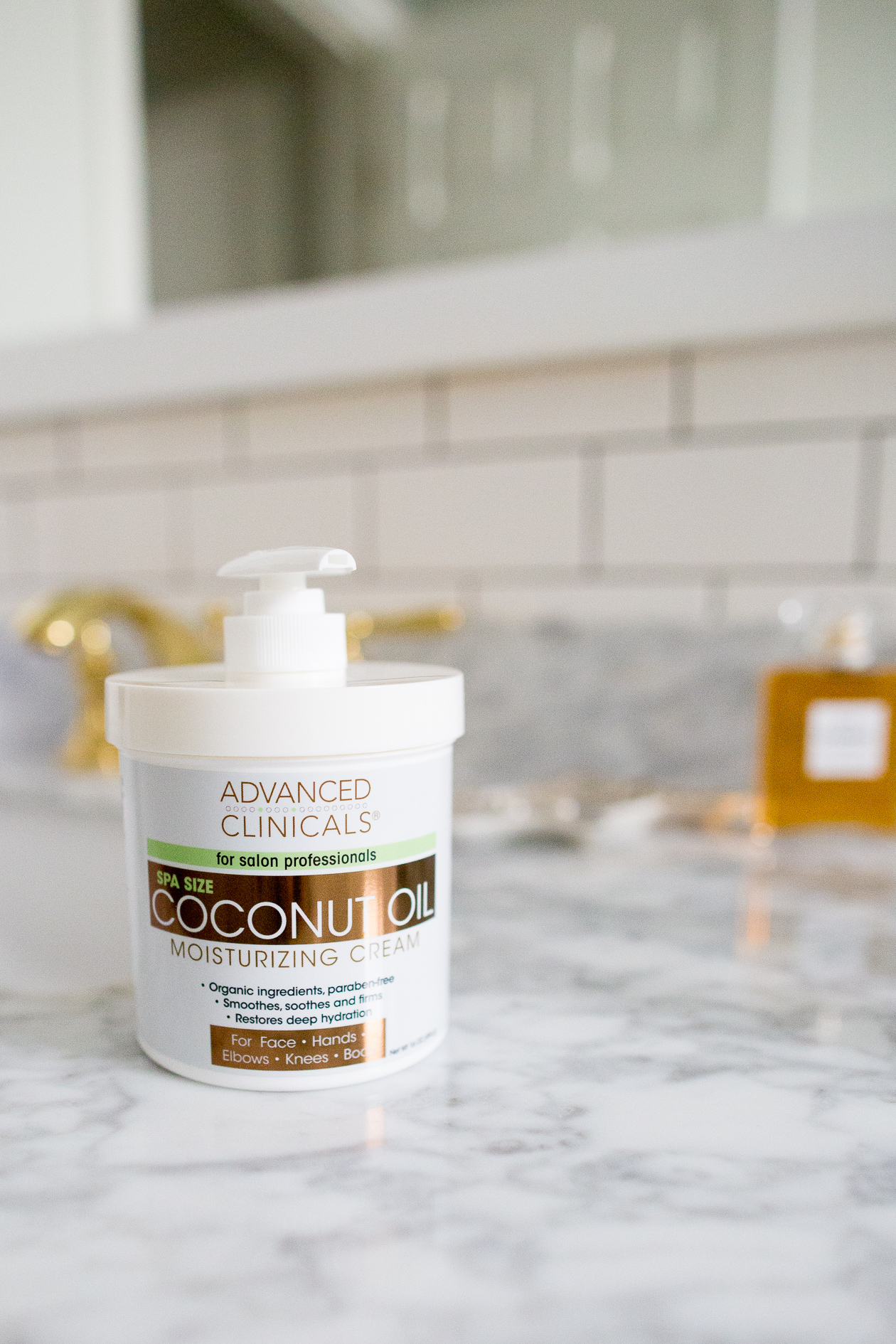 Advanced Clinicals' Coconut Moisturizing Cream is a $15 tub of magic. One of my biggest problems as of late has been itchiness–most likely due to my skin being tugged in different directions by Baby Larkin, or a very minor case of PUPPP. (Never heard of it? I hadn't either! Apparently it's a fairly common and harmless skin condition for preggos, though. Essentially, it's just a rash that typically goes away after pregnancy.)
Since using the Coconut Moisturizing Cream twice per day, though, I've been much more comfy! The product's small particle size helps nourish and repair dull, parched skin for deep hydration–which means that it acts fast. I also love its scent (definitely reminds me of the Jersey Shore!) and the fact that it's non-greasy and absorbs quickly. (I hate waiting for moisturizer to dry so I can get dressed. Long morning and nighttime routines are the worst!) Typically, I use the Coconut Moisturizing Cream on my arms, legs, chest and neck.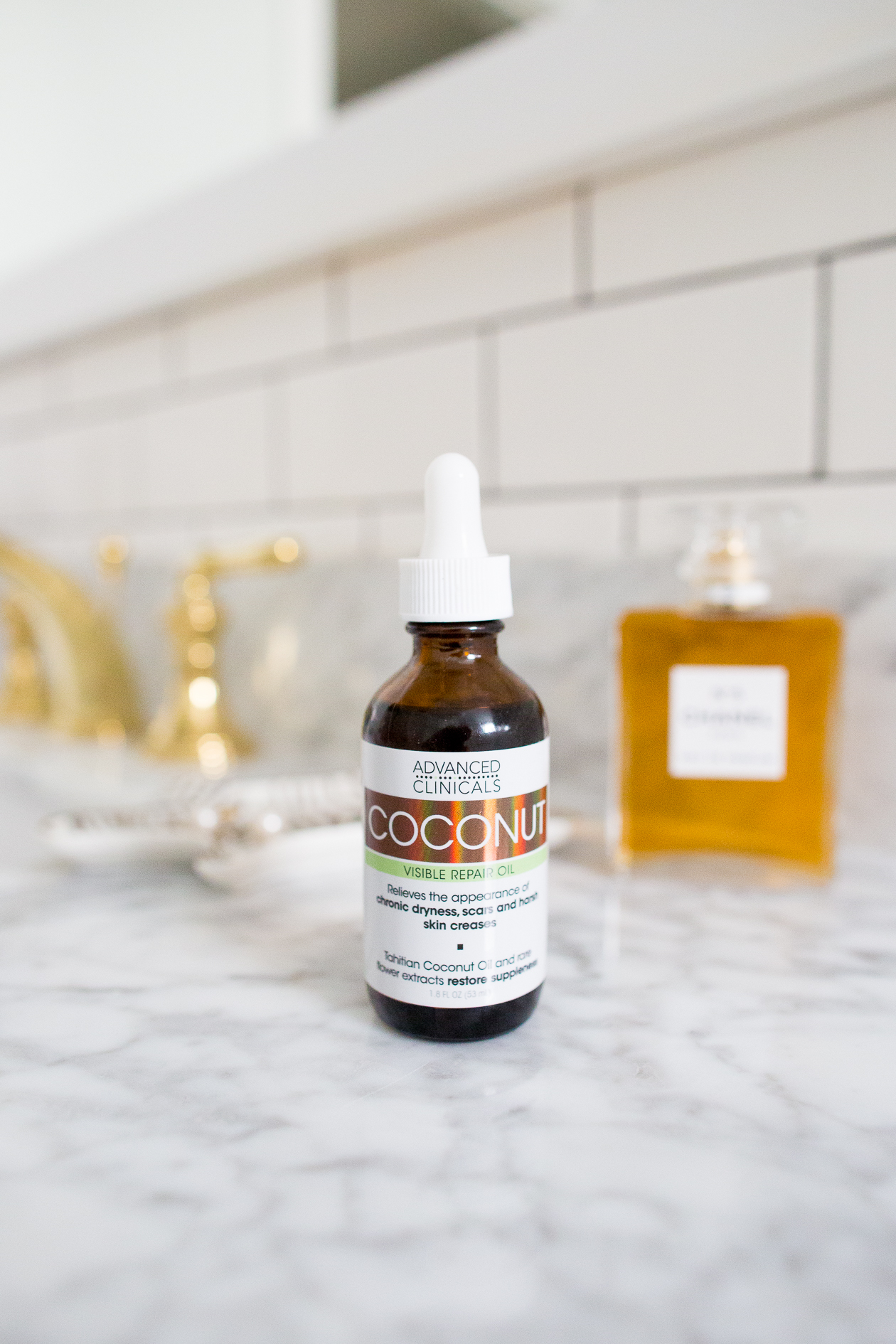 As I hear so much about the skin benefits of coconut these days, I had to try Advanced Clinicals' Coconut Visible Repair Oil while I was at it. ;) It's meant to be a highly concentrated face oil, as it contains ingredients that are proven to repair dryness, scars and harsh creases. However, I've been using it in my hair, as I'd read that you can use the product in a variety of ways and my locks are SO dry.
I simply apply a dab to the ends every morning after I shower, and holy softness. That said, I've also used it on my face whenever I start feeling too dried out. It almost immediately softens things up, and I don't break out. (Miracle for Kelly Larkin, the girl with the most sensitive skin ever.)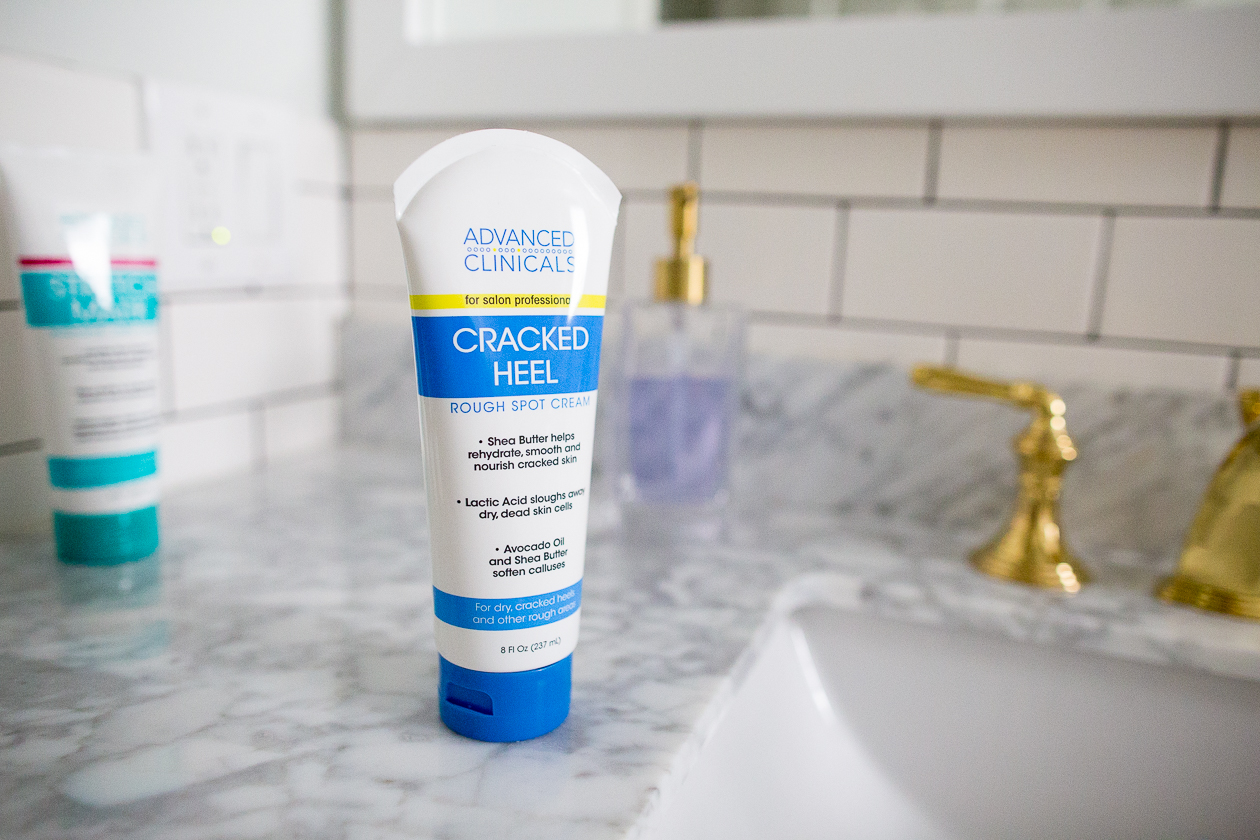 City Girls, unite. If you're like me and you're embarrassed about how quickly your feet seem to go from presentable to oh-my-goodness-it-looks-like-I-just-walked-30-miles-in-the-desert, this is the stuff for you. And honestly: wherever you live, your feet are probably feeling the effects of summer by now… am I right?!
I've been using Advanced Clinicals' Cracked Heel Rough Spot Cream every few nights before going to bed. I slather it all over the bottoms and tops of my feet, and sometimes I apply ridiculously liberally and simply wear socks to bed to keep things from getting too messy. Meant to soften calluses and replenish dry skin, the stuff works wonders. My feet now always have that fresh-from-the-spa feel and touch!
Finally, my favorite: Advanced Clinicals' Stretch Mark Intensive Care Lotion. As I've been using the lotion for over two months now, I'm not sure whether I've simply been lucky or it's actually prevented stretch marks. Regardless, I don't have them, and I'm so grateful.
I've been applying the Stretch Mark Intensive Care Lotion to my belly twice daily: once after showering and once before bed. And again, nothing. :) Coffee seed oil, shea butter, and coconut oil are the active ingredients, and they're used to revitalize your skin's elasticity, tightening and firming. The best part is that it works to prevent stretch marks and get rid of existing ones. Love it!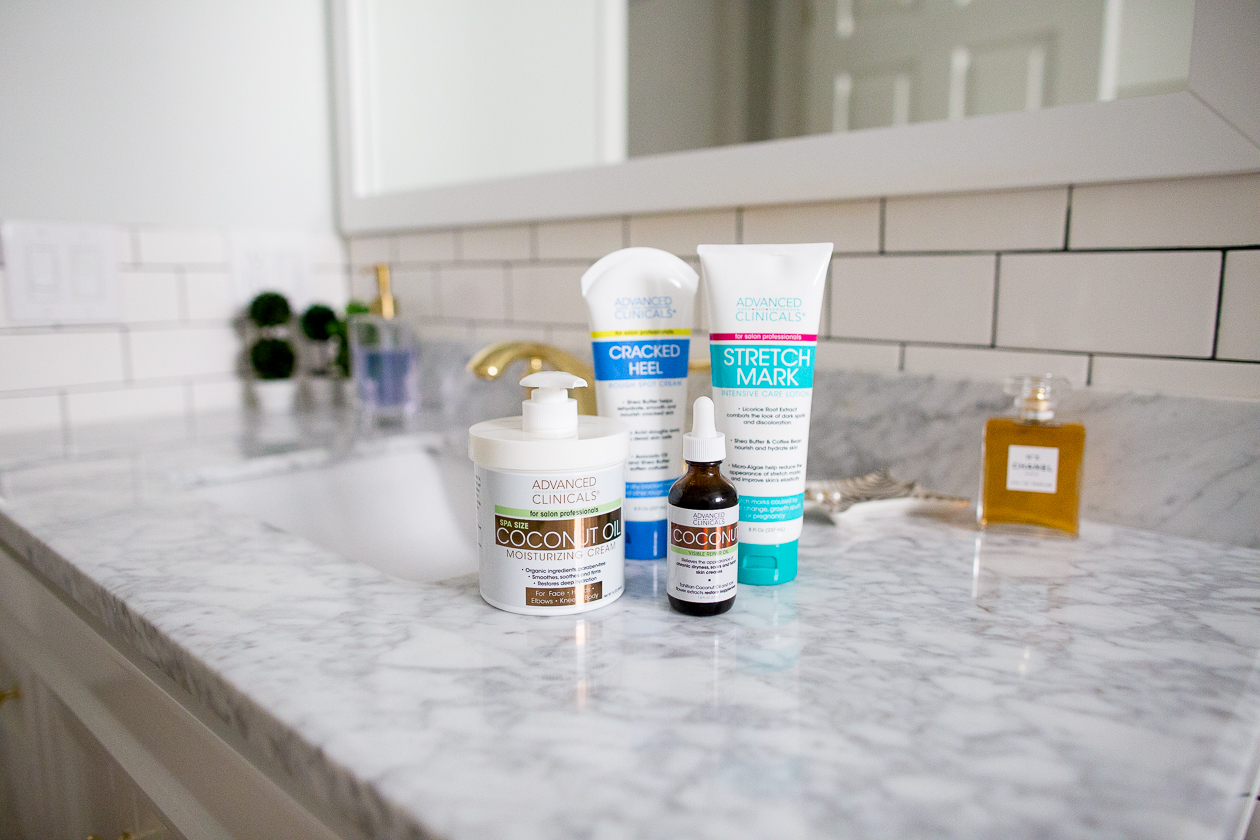 What are your favorite skin products for pregnancy?
This post was sponsored by Advanced Clinicals, but all opinions are my own. As always, thank you so much for supporting the partnerships that keep Kelly in the City up and running!