Fall is in full swing! Time to pour up a pumpkin spice latte and throw on a flannel. But, the plaid pattern is not just for lumberjacks! Plaid is a classic masculine pattern, but it actually looks amazing in dress form! Maybe it's the contrast of those two aesthetics that makes plaid dresses so compelling. I'm probably thinking about it too hard. 
Regardless, a good plaid dress is one of the most versatile items of clothing you can own. From preppy to sporty, daytime to nighttime – it's a timeless motif that can look great in any situation! 
Honestly, dresses are the cheat code for looking like you have everything together. And, weirdly, plaid can be too. There's a reason it's used in so many school uniforms. But, there's also something comforting and earthy about it. Remember the lumberjacks? 
So basically, I'm giving you the key to looking like you have everything together, but in the most cool and effortless way! Today, I have 7 different plaid dress outfit ideas and 7 tips on how to style them. Well, 7 and a half, you'll see.

7 Plaid Dresses For Fall
Tunic Swing Dress
This dress is perfect for that sporty casual look. It has pockets. Is there anything better than a dress with pockets? All you need is the perfect pair of white sneakers, like this pair from Rocket Dog, straight from my Amazon storefront. 
Layering a denim jacket over top will keep you warm and add a few extra pockets. Speaking of warmth, a pair of tights or even some slouchy socks might be in order. This look is totally utilitarian, and not just very cute. Try adding some dainty feminine jewelry to contrast the sportiness. Or you could lean in and wear a baseball cap, Go Cubs! 
Cotton Poplin Smocked Tiered Midi Dress
This is an example of a summery silhouette you can easily transition into Fall! The tiered skirt and frilly straps of this dress make it too cute to put away just yet. I would style it with a long sleeved top underneath, for the warmth and because it's adorable. 
Add some simple flats and a knotted headband to complete the look. Maybe a nice gold necklace if you want to be extra fancy. This is overall kind of a fancy look. Layering pieces for a princess on the run! Or just a mom who likes frilly things. There's nothing wrong with that.
Plaid Mini Sheath Dress 
This dress is my prime example of how dressy plaid can be. It's a very simple, A-line mini dress. I want to style this in a preppy Parisian way. Think "Emily In Paris". A crisp white button down layered underneath, a cute beret, and knee boots to make up for the length and keep those legs warm. 
My legs are cold all the time so I would probably throw on a pair of matching tights. And we can't forget to add a bag to match those boots, of course. The quilted design and chain crossbody strap remind me of a certain French designer.…
Mini Feminine Flannel Shirt Dress
This dress from my Amazon storefront is the perfect mix of casual and cute! I've featured a similar one in an ootd before, but this is a great dupe. I can see it easily becoming a wardrobe staple. It's super cozy, and the flannel fabric gives it that classic Fall feeling. And there's a built in belt which is super flattering. 
Can't you imagine yourself in this, with a leather jacket over top and a pair of matching black leather ankle boots? You could do anything in that look, you could conquer the world. Or just go to brunch, whatever is on the agenda. Lastly, I would add a simple necklace for a touch of femininity, to counterbalance all that leather. Oh, and a wide brimmed hat! 
Maxi Plaid Tank Dress
A dress can have so many lives. Pull a sweater on over it and it becomes a skirt! It's like magic. Plaid skirts usually summon images of school uniforms (especially for me, having worn one growing up), but don't worry! This dress's asymmetrical plaid maxi skirt makes it much more sophisticated and adultish. Is that a word? 
Anyway, you can belt a chunky knit sweater and fold it over for a more flattering cropped look (we've all seen that viral hack by now, right? It's a major lifesaver in the Fall). Add a pair of classy pumps like these, to continue the theme of adultishness. Ok that's definitely not a word.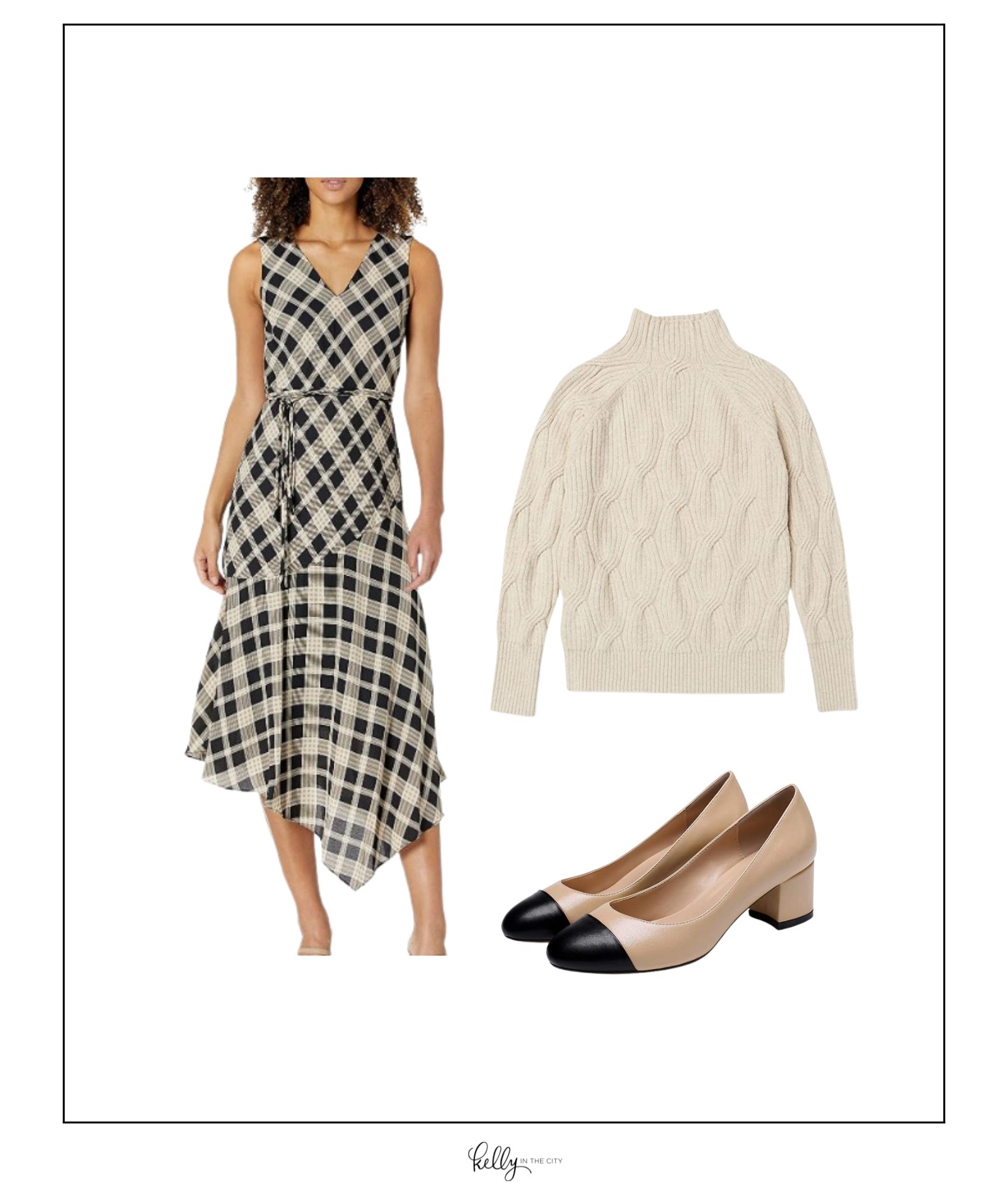 Plaid Midi Shirt Dress
This shirt dress by Bella Dahl is the ultimate plaid party dress. The button front and dark, muted color scheme are very sophisticated and chic. It's not a traditional flannel, instead it drapes on the body and can really compliment your figure! Truly the perfect going out dress.
A pair of fun shoes, like these gold toned mules will bring the party to the look. The three quarter length sleeves give you the perfect opportunity to feature a bracelet or watch. And as beautiful as this dress is, you'll need a coat to wear on the way over to this party, a sophisticated trench that will compliment the look instead of covering it. 
Ruffle Neck Shift Dress 
The sister dress to the cotton-smoked dress. I love this Black Watch plaid from JCrew, it has a very vintage feel. Speaking of vintage feel, the ruffle neck is very formal and dressy, so why not pair it with this rhinestone button cardigan? 
A pair of black knee high boots, because it is Fall and that's what you do. A black clutch, and some very shiny earrings to compliment those rhinestone buttons! You could even try a pearl necklace, I like the way they sit on higher necklines. Maybe it's just the neckline but I am reminded of Audrey Hepburn in GiGi. But we're bringing it into modern day!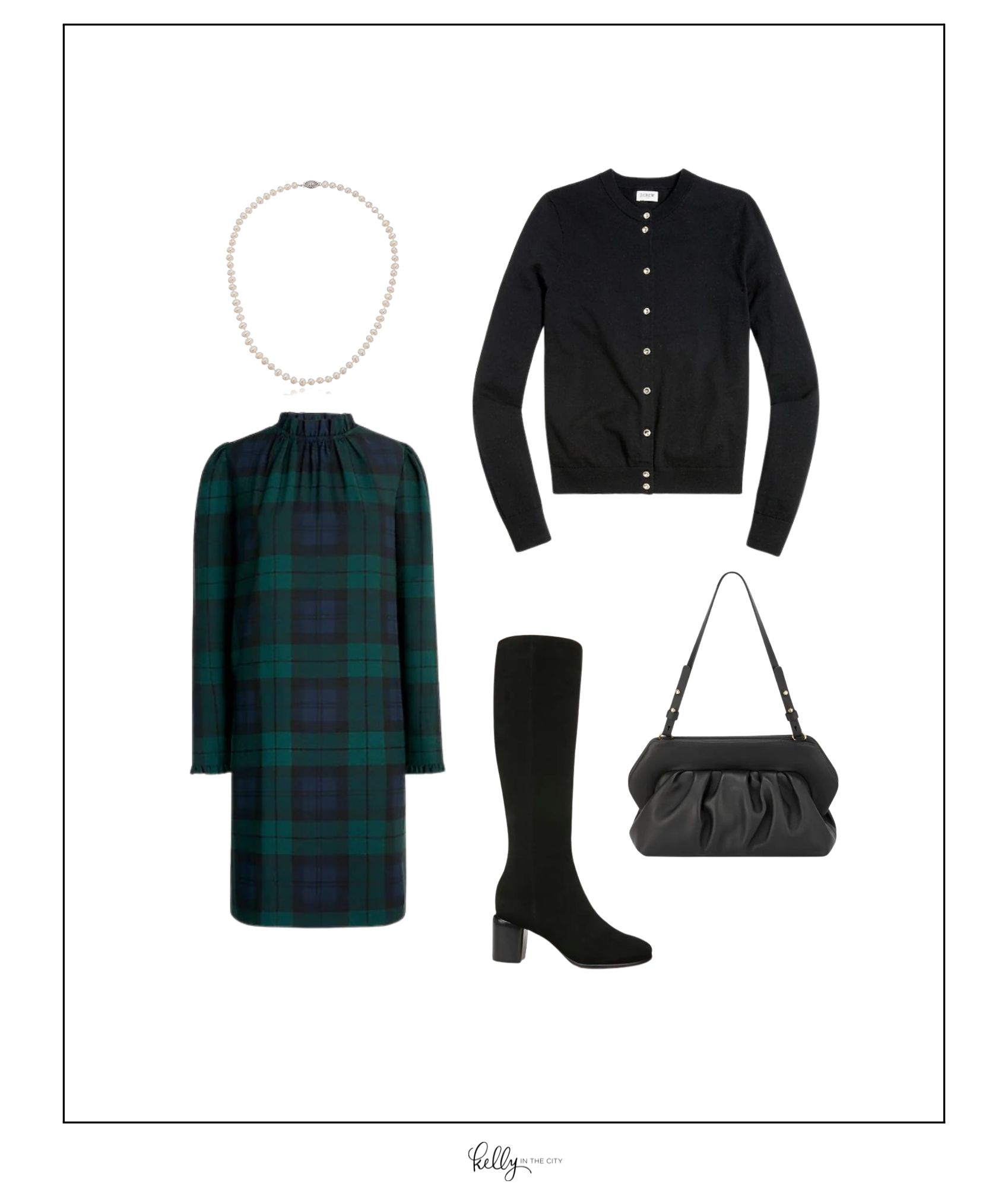 How To Style A Plaid Dress 
1. Layering
If you want to get the most out of your wardrobe, you MUST master the art of layering. And of course, as the weather cools down, you'll want those extra layers. Plaid is so versatile, it can easily be dressed up or down depending on what layering pieces you choose. For example, take your favorite minidress from summer into Fall with a long sleeve top underneath and a cardigan over top! Now, that piece has a totally new life.
2. Wearing Boots 
A classic Fall staple! Pairing a simple pair of booties with your dress can really pull a look together. Or go for a daring pair of knee highs! The right pair of boots will instantly make your look cool.
3. Sporty Style
I just love a dress paired with sneakers. It looks so cool and effortless but still very feminine. A plaid printed shirt dress with a pair of simple white sneakers is comfy enough to run errands in, but stylish enough to do dinner in!
4. Preppy Parisian Style
Everyone looks cute in a beret. Plaid is classic, like so many of the other French Girl staples. So it only makes sense to style it that way! Pair with a button up and some high heeled boots. 
5. All About The Bling
If your outfit is looking a little too casual, adding some jewelry can really take it up a notch! It's a quick and easy way to dress up any look. 
6. Wear A Hat
Did you know you lose the most warmth from the top of your head? It's true, ask your mom. Popping on a hat can completely change an outfit. Like those wide brimmed hats that are so synonymous with Fall, at least for me. They immediately make your look more intentional, which is helpful if you're a girl on the go with not a lot of time to get ready. 
7. Add A Coat
I know this seems obvious: you get cold, you wear a coat. But the kind of coat you wear makes all the difference. And Fall is the perfect time of year to play with silhouettes. Your sherpas, trenches, denims and leathers can all get some love this time of year. It's all about what you pair them with. 
7.5 Or A Vest
This is half a bullet point because a vest is half a jacket. But they are great to just throw on for a little extra warmth. Something like this cozy sherpa vest from Jcrew would be really cute over a printed dress!

Basically, you can never really go wrong with a plaid dress!
I've linked items that I really love and recommend, but I'm sure there are things in your wardrobe you can use to put similar looks together! And with your newfound layering skills you can wear the same dress multiple ways! 
I don't know about you, but I find having a more pared down wardrobe to be much less stressful. I want to be able to throw something on quickly and still look great. Why? I have places to be! 
Speaking of places to be, you can catch me on my blog, and follow my adventures on Instagram. And for more on all things fashion and style, check out my LTK page!