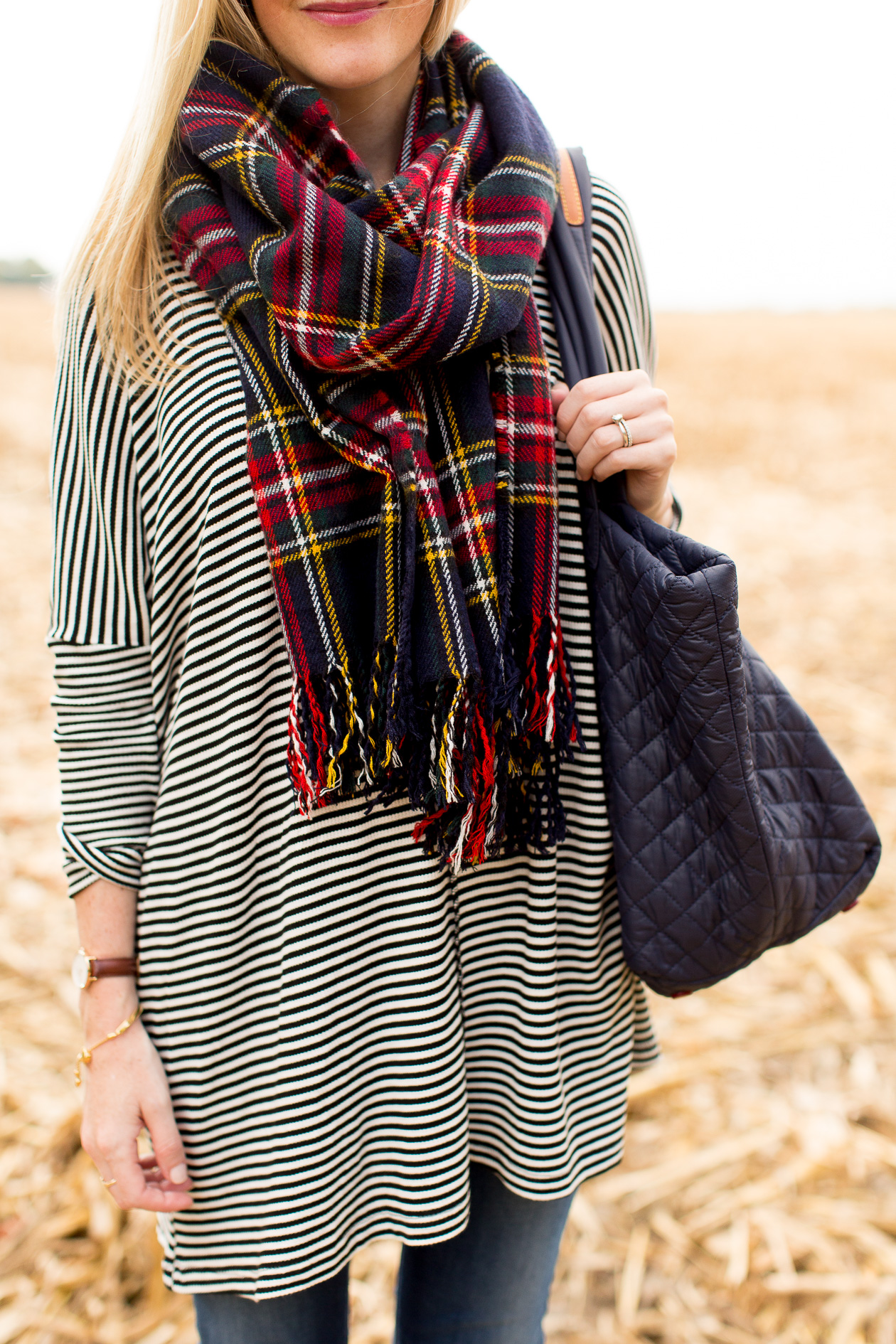 Tuckernuck Scarf c/o (Current faves: here and here) / MZ Wallace Tote c/o (I have it in navy! Also: mine is in the medium size, as the large looked crazy on me.) / Striped Top (Best top ever. Really. It comes in gray, too.) / Daniel Wellington Watch c/o / Monica Vinader Bracelet c/o (My everyday bracelet. So great that it goes with everything! Also love this one.) / Hudson Jeans (Mine are old and a little too big. THESE are spectacular, though. And we all know that these are my faves. Still on sale! Really: best jeans in the world.) / Clarks Boots (But I also love these, and they're on sale!) / Similar Sunglasses
Oh, hey, guys! I know: It's 8 p.m., and this post is JUST going up. But last night was a little crazy in Chicago. ;)
If you watched my dozens of Instagram Stories, I'm really sorry, haha. What can I say? I was clearly very caught up in the excitement of the Cubs winning the World Series!
Seriously, though: it was SO FUN, and that's coming from a girl who didn't follow baseball until this year. We actually had tickets to see Jens Lekman on Wednesday night (purchased a long time ago), and my mother-in-law even came up to watch Emma so we could go to the show. The original plan was to watch the beginning of the game at a restaurant and then duck out for the concert around 9. But literally every restaurant we tried had a line out the door, so we ended up at Irish Eyes, a bar on Lincoln. And sometime during the third inning, we both looked at each other said, "Yeah. No going anywhere."
I'm so glad we didn't.
The sense of community here in Chicago is what I love most about this city. And with the Cubs' success this year, I watched the city's residents grow even closer. (Here's a pic of Mitch and the new friends we made at Irish Eyes, haha!) This fall has been a magical one, and there's been so much excitement and camaraderie. It's a great tie to be a Chicagoan, that's for sure!
After the Cubs won, it seemed like every restaurant and bar exploded out into the streets. People danced, cheered and exchanged high fives. Fans hung out car windows, buses beeped their horns, and establishments blasted the "Go Cubs Go" song.
So.
Much.
Fun.
Anyway, these photos have nothing to do with last night or the Cubs. ;) They were snapped a few weeks ago at my in-laws during Larkin Family Fall Fest. But I happen to be wearing this top today, so I thought I'd put 'em up!

So let's talk about the top really quickly. I originally bought it because I was looking for flowy shirts that allowed me to breastfeed Emma in public. It totally works for that; Emma slips under there super easily. But I find myself reaching for it on days when I'm simply at home, too. It's just so flattering, and it looks adorable with blanket scarves. (This one and this one are my faves this year!) And yes: it's on the more expensive side, but I get a ton of wear out of it! (Confession: I wear it so much that I recently got in in gray, too.)
Culture Phit has definitely become my go-to brand for cozy fall clothing! Can't recommend this top, this dress or this dress more. :) Also thinking about ordering this shirt!
Over and out. It's ramen night for the little fam!
Shop the post:
Tuckernuck Scarf c/o (Current faves: here and here) / MZ Wallace Tote c/o (I have it in navy! Also: mine is in the medium size, as the large looked crazy on me.) / Striped Top (Best top ever. Really. It comes in gray, too.) / Daniel Wellington Watch c/o / Monica Vinader Bracelet c/o (My everyday bracelet. So great that it goes with everything! Also love this one.) / Hudson Jeans (Mine are old and a little too big. THESE are spectacular, though. And we all know that these are my faves. Still on sale! Really: best jeans in the world.) / Clarks Boots (But I also love these, and they're on sale!) / Similar Sunglasses

Shop Culture Phit: