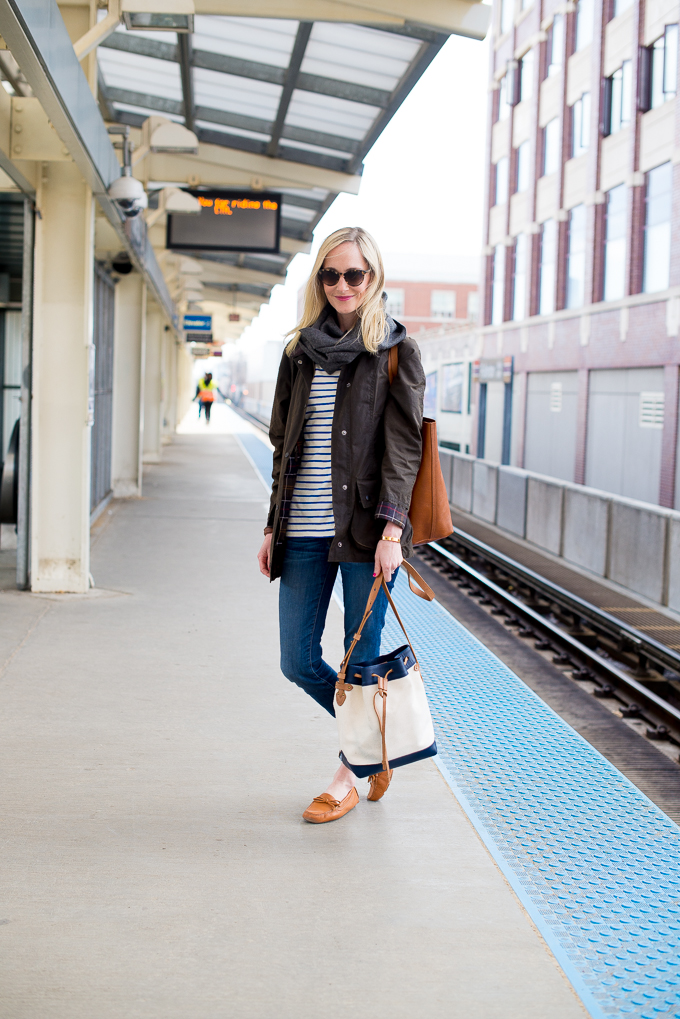 Barbour Jacket c/o / J.Crew Jeans and Earrings / L.L.Bean Signature Mocs, Shirt (Also love this one) and Bag (Sold out, but see the whole Somerset collection here) c/o / Madewell Tote (Also available via Shopbop) / Cuyana Scarf c/o / Daniel Wellington Watch c/o / Kate Spade Bangle (Old, but love the Sailor's Knot version!) and Sunglasses (Old, but love this similar pair from Tory Burch!)
Before I start, let's focus on a few important aspects of the above photo:
1. The dancing subway attendant in the background. She definitely sees the glass as half full, and she makes my day every time I run into her. Dance on, Girlfriend!
2. The fact that I did not, in fact, take the subway from the East Coast back to Chicago. Because that's impossible. But the photo is somewhat related to today's topic, right?! Whatever. ;)
3. The weather in Chicago is freakin' unpredictable! One minute it's 80 degrees, and the next, it's in the 30s. It's like a college boyfriend. UGH.
Anyway, I'm beat. Those 12-hour drives are 100-percent worth it, but they really take it out of me. Seriously, what's a girl to do with 12 hours of alone time?! My activities are always the same: daydreaming, listening to whatever country music stations actually come in, chatting with Mom on speaker phone, talking to Noodle (inconveniently, she doesn't respond), putting on my own concerts, listening to all the Ryan Adams songs ever, touring various rest stops, eating way too much candy and fast food, and playing the license plate game (by myself).
Needless to say, I'm ecstatic that I'm out of the car, and that I'm with Mitch! (#happiness) I'm also spending today in Geneva with girlfriends–so that should be amazing. :) Stay tuned for photos of my brother's new house in Philadelphia. It's incredible!
Happy Wednesday, All. :)