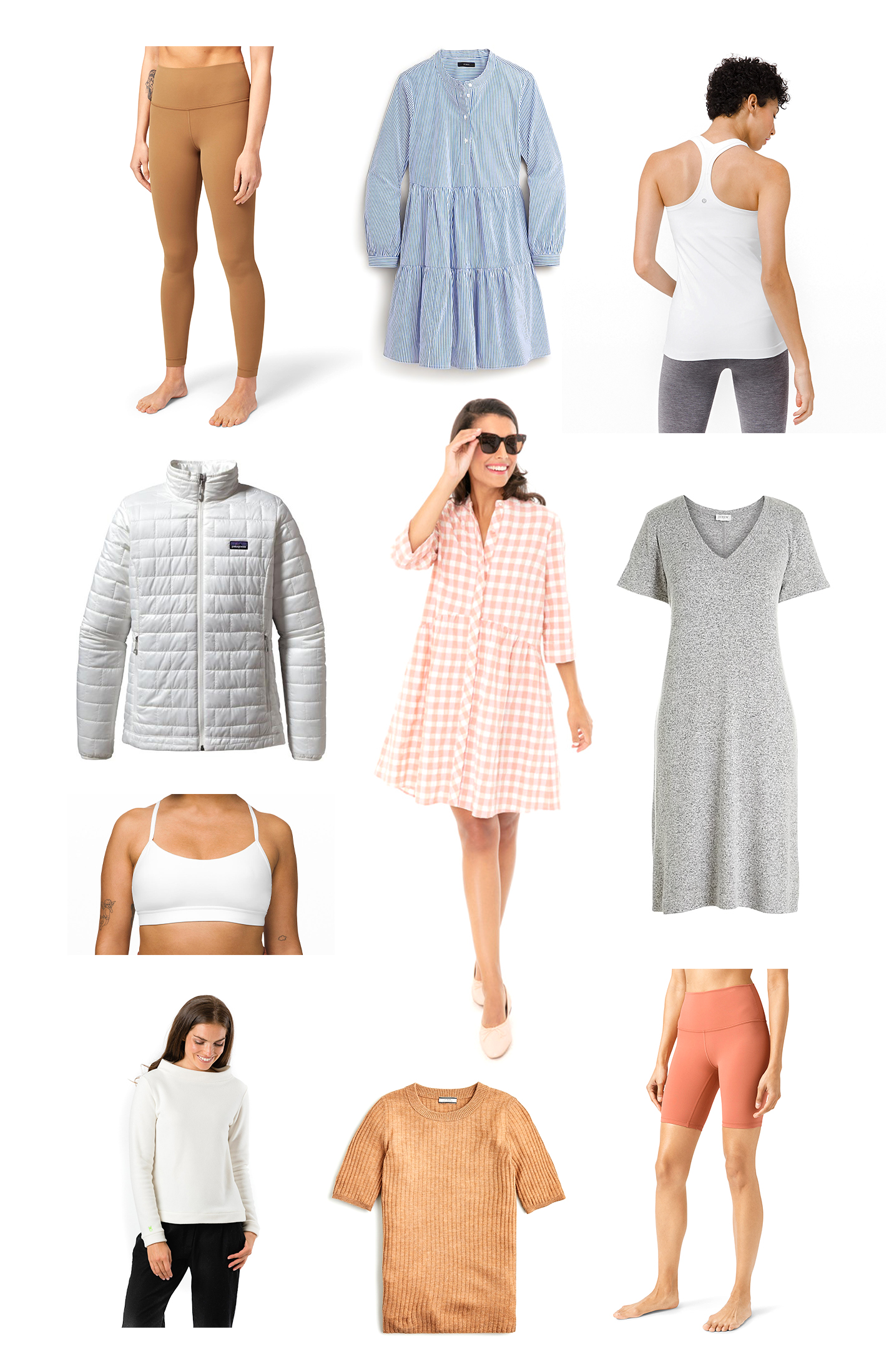 Have I mentioned how much I appreciate this blog? For so many reasons, really, but one that's been awesome this year is the distraction that it's provided this year. I was feeling burnt out and sad when I sat down at my computer today, but putting together something lighthearted–and fine, somewhat meaningless 😆–really helped. Easy on the mind. A little mental break, if you will. I THINK I NEED TO GET INTO GARDENING.
As we ease into fall, I find myself drawn to cozy, comfortable clothing once again. Like, I want to be that mom pushing the stroller and drinking coffee in cute athleisure while the leaves fall down around her. Basic. 😆 In any event, here's what's on my wish list:
Stretchy Striped Tiered Dress: I love this! I'm going to go ahead and assume that this dress is better, haha. BUT I think this one is definitely worth a try since it's so much more affordable. And perfect for the transition from summer to fall, as the stripes give me a collegiate feel. I'm crazy.
Patagonia Nano Puff Jacket in "Birch White": I love the hoodless jacket. I also love the parka version, though… and not sure which I'd go with. Maybe the longer one because I could wear it with longer cardigans, too? Such a big long cardigan person. (Barefoot Dreams cardigans are my favorite but I also love these from Leith!)
Lululemon Align Leggings in "Saddle Brown": Okay, maybe not the prettiest color… but my hope is that they'd provide comfort and give me a cute corduroy-esque or chino-like fall look?! I picture myself wearing long navy striped sweaters and tunics with it. I don't know. It might also make me look like I'm not wearing any pants, though. So there's that. (The Align collection is god's gifts to tired girls, by the way. Softest articles of clothing I've ever put on my body, and I am a happier person because of their existence.)
Lululemon Nantucket Red Align Shorts: Listen. I know people are really divided on the whole biker shorts thing. But they're really great for the warmer days when you're desperate to be in atheisure but it's otherwise too hot. (I would imagine that they're good for working out on warmer days, though I personally cannot speak to that. 😉)
Lululemon Nulu Bra: This is made of Nulu, the same material that Align leggings are made from. So obviously I'd like to try this thing.
Lululemon Nulu Tank: Same here! I want to be sporty, guys.
Ribbed Cashmere T-Shirt in "Hthr Acorn": Beautiful, and 100 percent my most coveted top for fall '20. Tucked into black or dark high-rise jeans? So cute. (Btw: Should have included these on the list, but I love this pair! I swear by Roadtrippers. Comfiest jeans I've ever owned.)
Dudley Stephens Brighton Boatneck in Off White: I've been pining for this for a while now, but it's rarely in stock. It's my favorite Dudley Stephens top because the collar stays up perfectly and it side-tucks into jeans very well. I wear a small in DS, in case you're wondering. There isn't much stretch so consider that when ordering!
Cozy Dress: I'm a big fan of J.Crew Factory's Cozy Jeans, so I was really excited to see that the brand had come out with a Cozy Dress this season. My hopes are high! I'd wear it with crisp white sneakers.
No-Wrinkle Pink Gingham Dress: This is by far my favorite dress of the year, and it now comes in a pink gingham. No-wrinkle and travels wonderfully, and it's looked fabulous on everyone I've seen in it. So flattering. Such a winner! Runs large; do not size up.
Softest Chambray Shirt: This is my favorite chambray shirt, and if I could only wear one forever, I'd choose this one! It's just so soft. I've had mine for years. It runs large, so order accordingly.
Dreamy Rugby Pajamas in Pink: I adore J.Crew's Dreamy line; they're my favorite pajamas. The pink rugby PJs are adorable!